Why a Couple's Massage Is the Best Father's Day Gift
---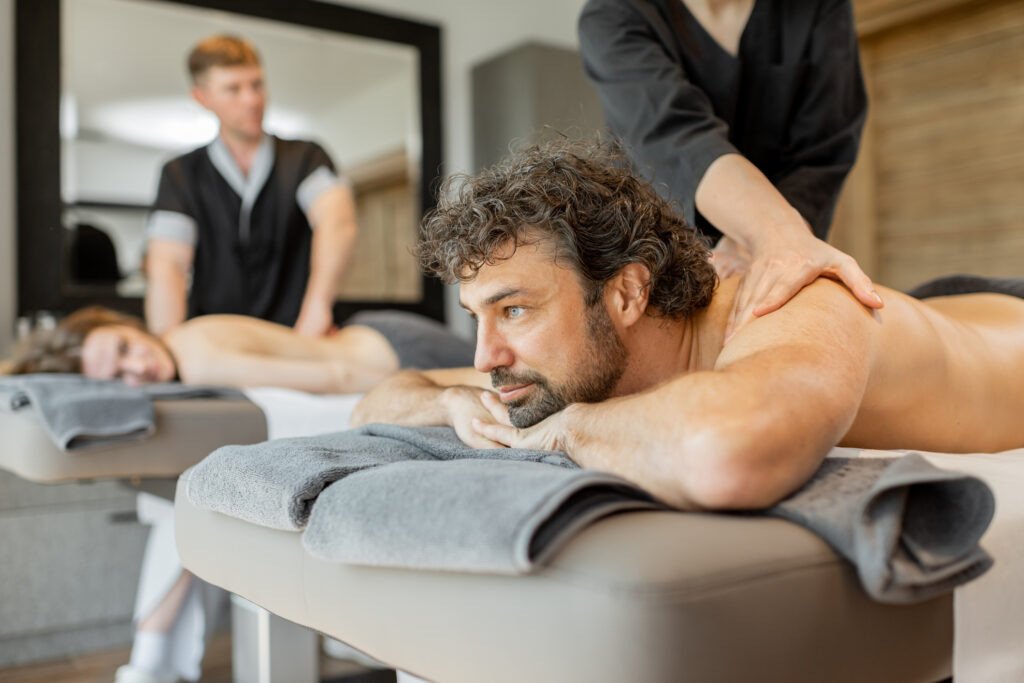 For many people, the term "couple's massage" invokes a certain image. Romantic partners holding hands on a massage table while amongst loving music, perhaps? And while we certainly recommend couple's massages for intimacy, there's so much more that they can celebrate. Like Father's Day on June 19! Your dad was your favorite guy long before your husband or boyfriend, and there's no better bonding experience than relaxing together while enjoying a massage. It may very well be your dad's first massage ever, as men are less likely to get a spa membership than women… but we can almost guarantee that it won't be his last.
The emotional and physical health benefits of a couple's massage can be life-changing, and it's destined to be your most low-key (in the best way!) Father's Day with this treatment. Here are just a few reasons why using a Spafinder Gift Card for a couple's massage makes the best Father's Day gift for all the dads in your life on June 19!
Massage alleviates muscle pain
Does your dad work a physical job, like a mechanic, carpenter, or welder? Or does he just like to spend a lot of time exercising? In this case, a couple's massage isn't just a treat for the mind but also the muscles. As the famous Mayo Clinic points out, massage can be a powerful tool to help you take charge of your health and wellbeing.
Here's how it works. Your massage therapist performs magic with their hands by targeting the tightest muscles. They rub in all the right areas to relieve tension, smooth out stress, and eliminate knots. Those who receive regular massages have reported increased mobility and flexibility with less discomfort, along with less risk of sustaining serious injury from not treating your joints. Your body sadly becomes less sturdy with every passing year, and a couple's massage is the best way to keep your dad happy, healthy, and knot-free. Now you just need to convince him to get a monthly massage for muscle maintenance. More on that later!
Massage creates surprise
Many dads expect the same Father's Day gift every year, whether due to family traditions or marketing advertisements. Think lawn mowers, shirts and ties, watches and grilling equipment. Don't get us wrong, we love these gifts for dad as much as he does. However, a Spafinder Gift Card and/or couples massage can blindside dad in the best way. He'll be curious about the small envelope that his Spafinder Gift Card arrives in, before becoming over-the-moon about his couple's massage with his kid(s). And we love this gift for him on June 19! Full disclosure, this surprise only works once before it transforms into a yearly or monthly tradition. Just see our next point. So you'd better make this bombshell gift as extravagant as you can!
Spa can become a tradition beyond a Father's Day Gift
You already know that a couple's massage is a beautiful spa ritual between mothers and daughters, but who says that dads don't like to be pampered too? Especially with their daughter or son by their side on the massage table? This treatment can become a yearly tradition for Father's Day, or scheduled even more frequently for a bit of bonding time. Birthday gifts? Couples massage. Celebrations for graduating, getting engaged, or just winning big in dad's fantasy football league? Couple's massage.
You don't need an excuse to treat yourself and take care of your favorite dad at the same time, and the couple's massage you gift your dad on Father's Day can set the precedent for future spa sessions. Just like your dad used to take you to the park or toy store when you were a kid, you can return the favor by instilling irresistible spa traditions that benefit both of you. It's a win-win for June 19!
You can do add-ons like exfoliating masks
Now that you have dad right where you want him on Father's Day (AKA, the spa)… it's time to take advantage. Introduce dad to the joys of exfoliating masks, man facials, manicures (pun intended) and all the other self-care treatments that he may have thought were not for him. A not-so-fun-fact is that men have thicker skin than women, which leads to more blackheads, oil, acne, and early signs of aging. Ugh. The good news is that it's nothing that a good skincare routine can't fix.
Plus, he can use his Spafinder Gift Card to stock up on the best exfoliating treatments, moisturizers and cleansers at the Spafinder Shop. Celebrate this Father's Day by teaching all your favorite dads the art of self-care and skincare!