Valentine's Day Couples Massage — Kick Off Intimacy
---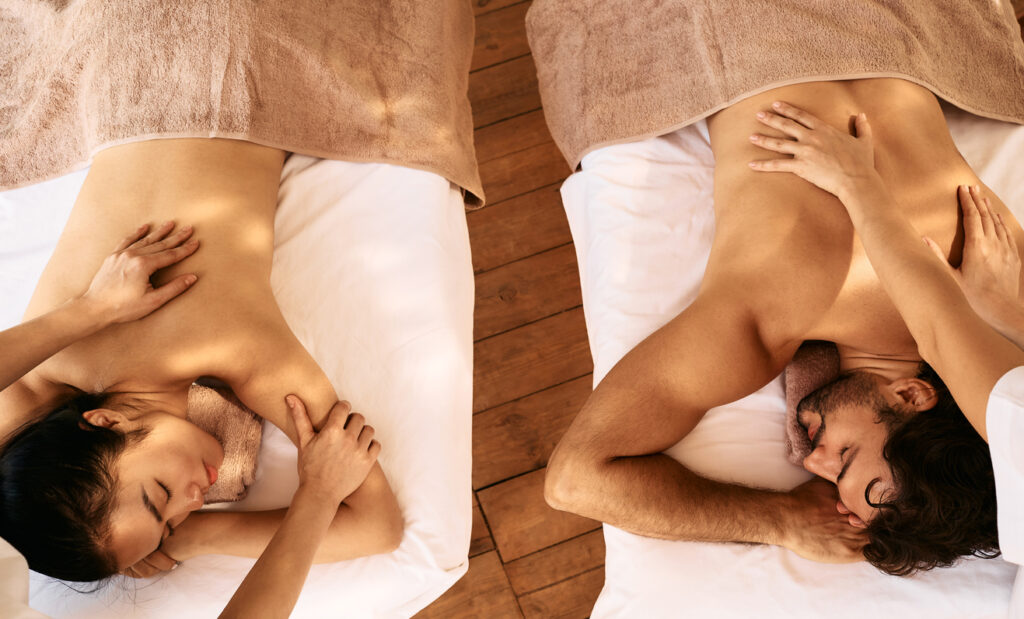 There are few things more intimate than activities that both you and your partner enjoy. Especially when the activity is a couple's massage! Relaxed muscles and loving memories are just the beginning of the joys you'll experience with a joint spa experience. Moreover, the benefits of a couples massage extend far beyond Valentine's Day. With a monthly spa membership, you can quite literally double the monthly massage benefits we've told you about. You will add excitement to your relationship year round as you're both pampered to the extreme. Moreover, inner and outer wellness is the ultimate act of intimacy. (You can even hold hands in the steam room after your Swedish or hot stone massage!) For more reasons to book a couples massage, just keep reading!
Switch up your routine
Many couples desire a break from the typical dinner-and-a-movie date night, especially those who have been together for some time. A couples massage helps to bring variety into the relationship, providing a fresh new experience on a monthly basis. You can choose a favorite type of massage together and stick to it, like a traditional Swedish massage, or switch it up every time. Maybe you're in the mood for reflexology, while your partner is more of an aromatherapy enthusiast? You can discover your favorite wellness treatments with a regular couples massage. And bring romance and relaxation into your daily routine and giving you something to anticipate. Learn more here.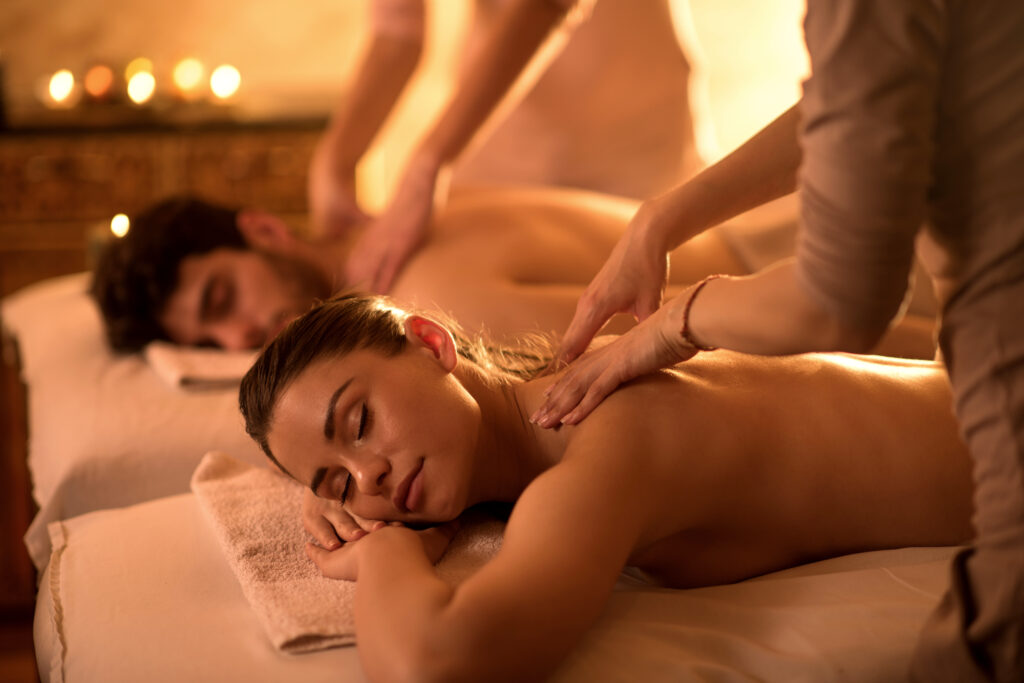 A digital-free zone
Even if you spend plenty of time with your partner, you're often surrounded by distractions and digital devices. Think about it: how many times have you had to pause dinner to respond to a work email, or gotten distracted by your favorite TV show? A couples massage provides a completely digital-free zone, with nothing but intimacy and affection with your favorite person. For your hour long massage, the feelings of pampering and your love for your partner are the only things you need to focus on. Trust us: it's one of the best feelings in the world.
Physical and mental wellness
You already share your life with your partner, why not share the self-care and health benefits too? A study conducted by researchers at the University of Miami states that people who regularly get massages reduced their levels of the stress hormone cortisol by 53%. In addition to feeling relaxed and recharged, you'll also be at less risk for serious health conditions like high blood sugar and cholesterol.
Men, in particular, can benefit from regular massages. Their need for self-care and mental health-boosting activities is just as crucial as it is for women. The good news: everybody is finally beginning to realize this fact. Those who work physical jobs can treat their sore muscles with a massage. Ultimately helping to prevent serious knots and injuries before they happen. Meanwhile, the treatments also release a boost of the "good" hormones, including serotonin and dopamine. These minimize mood swings and help to reduce anxiety and depression, making up a top-rated mental health treatment that you can enjoy with your partner.
You can pick up a few tricks
Receiving a neck or foot massage is one of the greatest acts of intimacy, and your partner is probably lying if they say they've never wanted one from you. The issue? These treatments are a science, and you must practice safety and precision for the deeper massages. However, receiving a couples massage on the regular can provide insight on your partner's needs, and help you pick up a few tricks from your findings. You likely won't become a professional massage therapist, but the power of touch can be transferable. This can be great for a mini-foot massage on the couch or back rub for your partner in between spa visits!
It's easy and affordable
Believe it or not, a monthly spa membership could cost even less than the fancy dinner you were planning on date night. And you get way more bang for your buck! A couples massage gives you a standing reservation for a date night at the spa, while delivering all the health and relationship benefits mentioned above. You don't even have to scramble to find a babysitter at the last minute, as you can make reservations well in advance by booking your massage on the same day each month. Organization, intimacy, and spending less on the small things? These are just a few reasons you should sign your partner and yourself up for a spa membership.
Find your favorite spa or get intimate at home
Book a couples massage at a spa near you simply by clicking here. Or, enjoy an intimate couples massage at home with SOOTHE®, the world's largest on-demand network that delivers at home massage by expert therapists. Also, use your Spafinder Gift Card to purchase spa products, including fine massage oils and creams, at the Spafinder Shop.
Most recent from Wellness