It's Cold Outside—Bring the Workout Home with Peloton and Mirror
---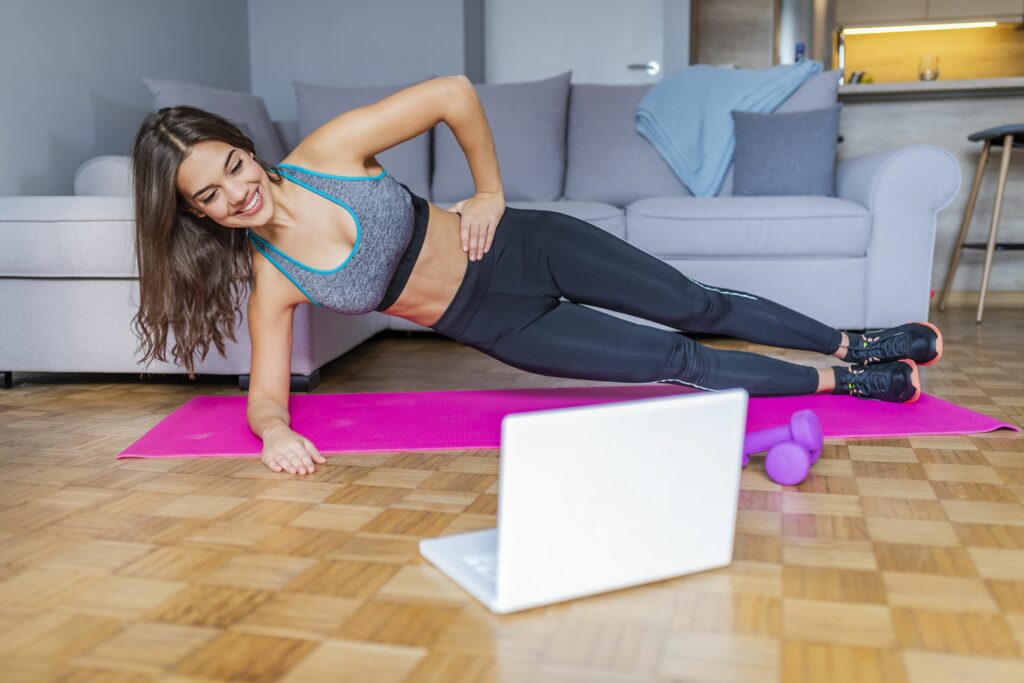 Baby, it's cold outside! But that's no excuse not to work out. Simply bring your workout indoors. Brands like Peloton and Mirror make getting fit accessible—and convenient. They bring the gym to you via sleek technology and effective, interactive workouts, so you exercise without leaving the comforts of home. Here's a quick snapshot of the two so you can get your exercise on, asap.
Peloton·
Community engagement. High energy. Peloton replicates traits typical of a spin or fitness studio with its collection of at-home workout gear. This seemingly cult-like fitness phenom garners fans from the Obamas to Usain Bolt. (For a sneak peek of a Peloton bike at home workout, meet an instructor.)  
Peloton Bike: Stream 14 daily live classes with elite instructors. Opt for one of the thousands of on-demand rides available whenever you fancy. Track your ride metrics in real time and stay driven with familiar motivators like the leaderboard. Simply hook up this indoor bike with the 22-inch HD (sweat-proof) touchscreen to your home network and cycle away.
Peloton Tread: Like its bike counterpart, this 32-inch HD touchscreen-embellished treadmill connects you to thousands of live and on-demand classes. Bootcamp, running, walking, cardio, strength training and stretching, you name it.
Peloton App: This digital membership provides access to an array of live or on-demand workout choices—running, strength, toning, cycling, yoga, meditation and outdoor workouts—wherever you're at (home, gym, traveling), on any device. (The workout app is free for Peloton Bike or Tread owners.)
Cost: This bike and treadmill are not inexpensive. Different package options are available but starting costs are $2,245 and $4,295, respectively. And then there is a $39 monthly membership to access the unlimited class content. But the cost of spin classes also adds up and the Peloton app is a less-expensive option at $12.99 monthly.
Mirror
Mirror, mirror, on the wall, who's the fittest one of all? With Mirror, you can be. And once again, you're in the comfort of your living room (or wherever you decide to place this mirror).
The Mirror's purpose is two-fold: It doubles as a full-length mirror (a chic one, at that) and as an interactive display with an embedded camera (a lens cap for privacy comes with it), microphone and speakers. See yourself, your certified instructor and other workout mates while scrutinizing your form in the reflection.
Again, stream live workouts (Mirror boasts 70-plus classes weekly) and on-demand, 24/7 workouts (barre, yoga, cardio boxing, etc.—there are 10,000-plus available). Track your heart rate by syncing up your Apple Watch or Bluetooth heart rate monitor. Everything's controlled from your Mirror companion app on your iOS or Android.
Cost: Mirror is also not cheap. This mirror-slash-LCD screen will set you back $1,495, plus, it requires a $39 monthly subscription service. The good news is your membership allows unlimited access for up to six members. Plus, you don't have to trudge through howling winds and snow.
Post-Workout Playtime
We wellness advocates live by the motto: Work hard, play (rather, spa) harder. So treat yourself to a sports massage post- your Peloton and Mirror workouts. (And if you're truly serious about staying home—it's cold, after all!)—book an on-demand massage service and have the therapist come to you.