Project Quarantine: Starting (Or Restarting) a Home Renovation
---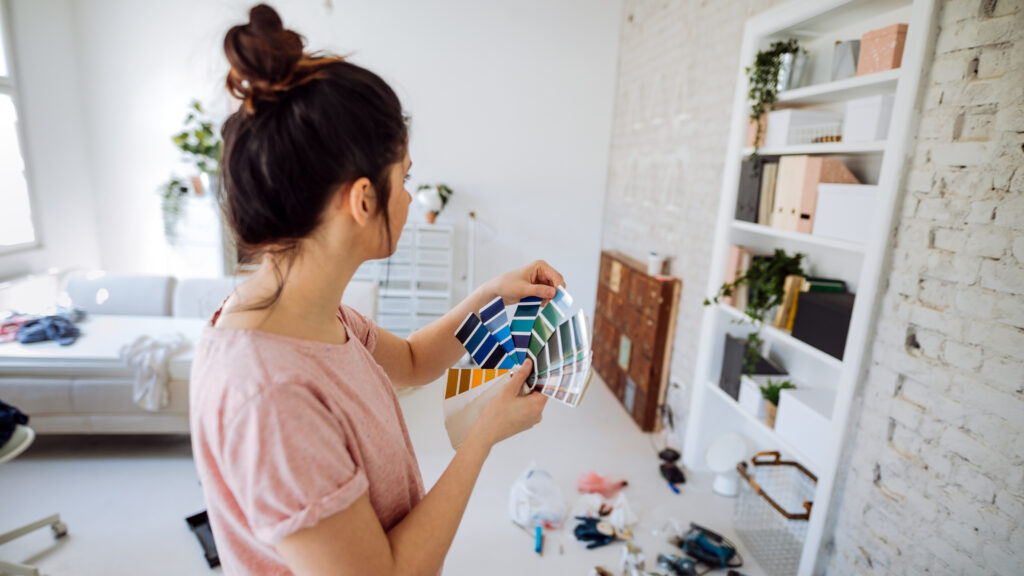 Project One: as we ban together against COVID-19: staying healthy and positive. Project Two: Being productive while staying home. Now's the time to tackle any lingering home renovation projects while we have the time to take on said projects. Nail down a supplies list—paint, brushes, tape, etc.—and head to still-open stores like Home Depot and Lowes. (Choose delivery or curbside pickup if you're uneasy about heading out.) Or, support small business by shopping at your local hardware store.
Project Quarantine, we've got this. Ready, set, DIY with these home reno ideas!
Renovations during Quarantine
Brighten up your space.
1. Paint your bathroom/powder room a cheery hue. Give your bedroom a pop of color. Always dreamed of an accent wall in the living room? Go for it. Or, if you're feeling really motivated, how about a kitchen makeover and freshen up your cabinet color? We like Shanty2Chic's tips found in the aptly named How to Easily Paint Kitchen Cabinets video.
Picture this
2. Hang those photo frames/paintings that've been sitting around, aka collecting dust, in your home. If you're uncertain on their perfect location, think like Tim Gunn and use Command Hooks. No marks left behind should you change your mind.
Small changes, big results
3. For a smaller home renovation, switch out the hardware on your kitchen or bathroom cabinets. New pulls, handles and knobs are a subtle change that can make a bold statement.
Not completely handy? Opt for the less expensive, simpler (and just as lovely) option of swapping your bathroom or kitchen towels to a different shade. Bright white provides a hotel-chic sophistication. Blues or greens present a cozy feel.
Organization
Organize your closet.
Organize your pantry
(You might find the perfect ingredients to whip up a new dinner creation or a homemade face mask or body scrub.)
Organize your bathroom cabinets.
Because who doesn't love being able to view their spa and beauty products?
Organize the cabinet underneath your kitchen sink.
Who knows what's been thrown under there since the last time you cleaned it (um, never?). Plus, we think when you're organized, your wellbeing will improve.
5. In bloom: Plant a garden. Yes, this even applies to those residing in the snowbelt. If you can do so outdoors or indoors, go to town. If the weather's not your friend, invest in an at-home garden-growing kit like Click and Grow Smart Garden 3. For added inspiration, check out the cool ideas here.
6. Get moving: Rearrange your living room for better room flow or ambience (or heck, just a change—you've been staring at-slash-confined-to the same layout for the past few weeks, after all). Or, read up on feng shui-ing your bedroom for the best sleep ever.
7. What's old is new: Upcycle a piece of furniture like a dresser. Get some creative inspo from HGTV Handmade's 10 DIYs to Upgrade Old Furniture..
Special occasions call for Spafinder. Gift today, spa tomorrow.