Spring Cleaning— 3 Easy Hacks
---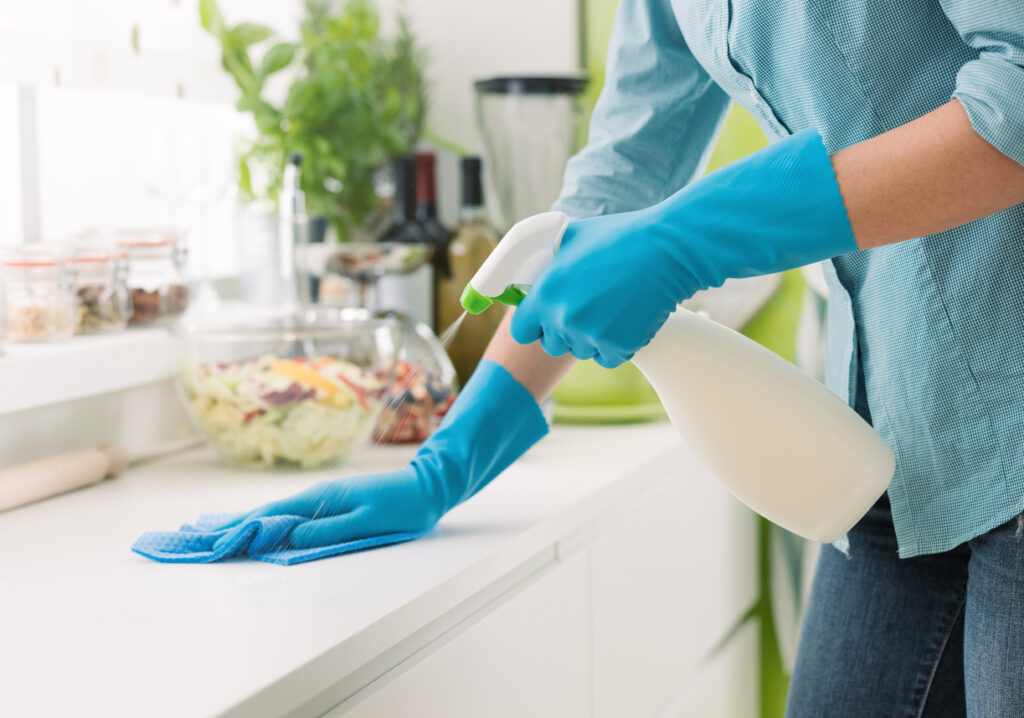 Spring has sprung, and you know what that means… it's time to tackle the beast that is spring cleaning! But don't sweat it, my fellow clean freaks. With these three hacks, we will make spring cleaning feel like a breeze. Say goodbye to grime and hello to a fresh, clean home with these Spafinder-approved tricks and tips!
Vinegar
Ah, vinegar, the miracle liquid that can conquer anything! Not only is it a natural, non-toxic cleaner, but it's also a budget-friendly solution for all your cleaning needs. Check out some of these fun ways to use vinegar for spring cleaning:
Clean windows and mirrors
Mix equal parts vinegar and water in a spray bottle, give it a shake, and spritz away. You'll see those dirty fingerprints, paw prints from your beloved pet, and more disappear like magic!
Remove stains
Did you spill coffee on your carpet one too many times? Have no fear; vinegar is here! Blend it with baking soda (more on that in a bit!) to create a paste, slap it on the stain, and let it sit for 30 minutes. Scrub away with a brush, and voila! Your rug or carpet is as good as new.
Deodorize
Let's face it, some areas of our homes can get a bit… stinky. There's no need to panic, though, because vinegar can help deodorize these spots and take them from funky to fresh in no time. Just fill a mixing bowl with vinegar, leave it in the room while you're asleep, and say goodbye to that sour smell overnight!
Baking Soda
Baking soda may just be the unsung hero of spring cleaning. It's affordable, gentle on surfaces, and works wonders on stains and odors. Let's see what fun we can have with this powdery goodness!
Clean surfaces
Whip up a baking soda and water paste, grab a scrub brush, and let's get to work! The kitchen is one of the most important rooms in your home, after all, and nobody needs grime on the countertops and stove. A sparkling cooking surface is just a few scrubs away with this concoction, which is whipped up in seconds with items you likely already had in your pantry!
Say goodbye to stains and odors
Who knew baking soda was a superhero regarding stains and odors? Spoiler alert: it's Spafinder, and we're so excited to pass along this underrated spring cleaning secret. Apply that same baking soda and water paste from earlier to stains on carpets, upholstery, and clothing. You know, the hard-to-clean ones that you thought were a lost cause. You'll be shocked at how quickly they fade away with this affordable treatment! The same thing goes for odors from your kids or dogs. Just sprinkle some baking soda on the affected area, let it sit for a few hours, and vacuum it up. Easy peasy.
Clean appliances
Let's give our trusty appliances some TLC! Grab that baking soda and water paste once again and get scrubbing. Fingerprints on the fridge, grease marks on the stove, or crumbs in the oven? All will be gone in no time, leaving you with a sparkling kitchen that you can't wait to show off at your next dinner party.
Essential Oils
Everything's coming up roses with this last spring cleaning hack… essential oils! You already know that they're ideal for managing your mood and daily destressing, but they can also turn your pad into a squeaky-clean, spa-like environment that puts you right at home. Pairing your cleaning agents with the perfect essential oils will help to freshen up your home and add flair to every room… are you ready to try these tricks?
Scrub, smell, repeat
Add a few drops of your favorite essential oil, like lavender, peppermint or vanilla, to your water-filled spray bottle before wiping down your bedside table. This gives your cleaning style a beautiful edge and livens up your bedroom unlike any other! As for which oil to choose? That's entirely up to you. Each one has its own calming abilities and spiritual elements that help to shape your psyche and cleaning routine like a dream!
Liven up your laundry
Freshen up your look in more ways than one by adding essential oils to your laundry! No musty smells, just magical jasmine or vanilla. Stir a few drops of your go-to oil into your detergent, dryer balls, or a damp washcloth in the dryer, and your clothes will be delivered smelling better than ever.
Make a room spray
Grab your essential oils, witch hazel and water, and let's make a room spray! Just mix them all together in a spray bottle, give it a shake and spritz away. Your home will smell like a magical forest in no time.