Destress Tip—Try Essential Oils
---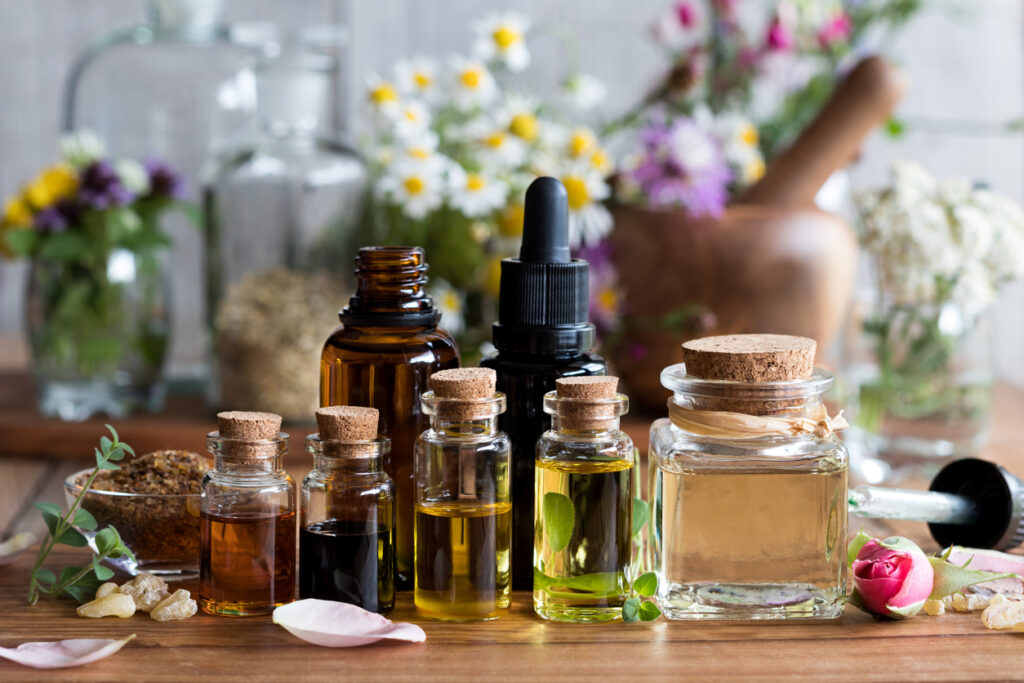 Stress is something we all face in our everyday lives. However, there are many methods of preventing these anxieties and welcoming positive energy. One of our favorites? Essential oils. The path to your mind, heart, and spirit is through your nose, and the best everyday oils can trigger feelings of serenity while helping you eliminate stress. There's a reason that your favorite spas pump the room with lavender, jasmine, or rose as you receive your massage. These scents are proven to boost your mood and may even improve your physical health. If you're not certain where to start, add these essential oils to your de-stressing routine for great results!
Jasmine
Jasmine is believed to originate in the Middle East from the plant of the same name. The scent of Jasmine oil has become universally loved for its romantic and rejuvenating qualities. It's commonly known as an aphrodisiac, found in the sexiest perfumes and body oils. However, it's also regularly used to boost platonic feelings of positivity. Jasmine is one of the most popular essential oils for aromatherapy treatments, with a proven ability to uplift and produce constructive emotions. A simple whiff of Jasmine will help you feel calm and content, making it ideal for those who struggle with feelings of depression and anxiety.
Vanilla
The only thing more comforting than the smell of warm cookies on a rainy day? The vanilla that you likely used to bake them. In fact, vanilla makes for an extremely calming essential oil that you'll want to smell, eat, and smell a bit more. This sweet scent is known to instantly boost the mood of any room, as it's packed with soothing properties that help to relieve anxiety and relax the mind. Unwind during your massage and reminisce on the feelings of baking with your kids. You can also buy vanilla-scented candles for your house, as this essential oil is a must-have for any aromatherapy session.
Lavender
If you love your lavender bath bombs, you'll certainly love a lavender-scented aromatherapy massage to release physical and emotional tension. This affordable oil has been proven to encourage positive thoughts, simultaneously easing anxiety, depression, and insomnia. Therefore, it's no surprise that lavender is often used in the most stressful situations. In addition to soothing you during your spa treatment, it's also been utilized in medical settings. One study showed that lavender aromatherapy helped to calm down women in the postpartum stages. While another trial showed that dental patients find the scent comforting.
Peppermint
An essential oil that invigorates the senses, with a side of soothing properties? Don't mind if we do. Peppermint oil is arguably one of the most beneficial oils for the mind and body, commonly used to soothe nausea, reduce chronic pain, treat migraines and create more energy. How can peppermint oil help to both relax and recharge you at the same time, you may wonder? You'll understand in an aromatherapy treatment. It's also used to improve mental clarity and help you focus more and stress less, which can be very beneficial before a big test at school or work presentation.
Lemon
Lemon is considered the most calming essential oil of them all, with one 2006 study showing that it relieves stress even more efficiently than lavender or jasmine. That's quite the feat! Similar to its peers, its commonly used in medical and aromatherapy environments to infuse uplifting feelings into patients. It helps to fight tiredness while relaxing you simultaneously, and those who use lemon cleaning supplies also know that it can fight off bacteria. Get ready for clear skin and an even clearer mind with a lemon essential oil aromatherapy treatment.
Use your Spafinder Gift Card to buy luscious essential oils and related products in the Spafinder Shop.
Book an aromatherapy massage at a spa near you.
Most recent from Wellness