What is Couples Massage?
---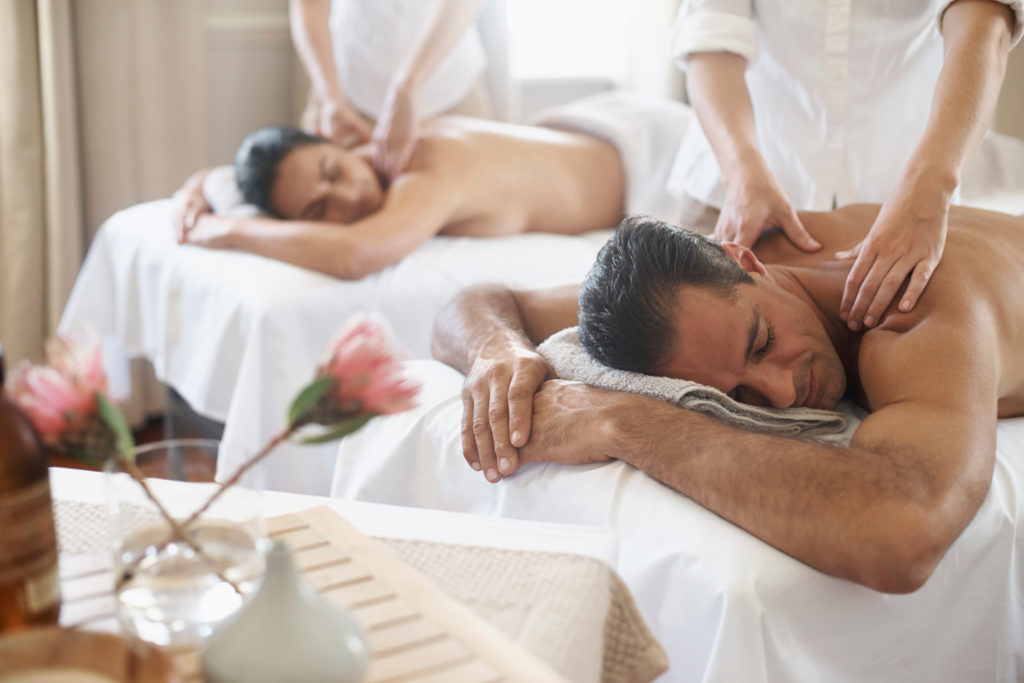 A Couple's Massage can set the tone for a romantic spa-going experience for two because it's designed to be shared with a significant other, or guests can simply enjoy some bonding time with a best friend while indulging in side-by-side services. Take a look at our gift guide with some great romantic gift ideas!
What to expect with a Couples Massage
A Couple's Massage allows partners to experience massage together in the same area as one therapist works on each person.
Spas increasingly continue to cater to couples, and the couple's massage is just one treatment they take to heart.
Some spas turn this into a romantic event that can leave guests starry-eyed, setting the treatment in a special room or suite large enough for two, beachside underneath the stars, or in the couple's guest room at a hotel or resort.
For an extra-special touch, rooms reserved for side-by-side massage treatments may feature cozy spa fixtures such as fireplaces, shower facilities, Jacuzzis, and dual soaking tubs, and some spas offer irresistible amenities like champagne and strawberries as a sumptuous treat.
Two's Company
Many spas offer treatments à deux so spa-goers can share a pampering experience with a significant other, but a couple's massage isn't just for romantics. Mother-daughter duos and best friends may also enjoy side-by-side services.
For couples, this form of massage can offer a double dose of benefits. The tandem treatment invites couples to get a bit closer and reconnect, and it can enhance intimacy and teach each partner how to take care of the other.
Plus, select spas allow lovebirds to get in sync by offering sessions that teach massage techniques. Pampering and rejuvenating facials, massages, and other treatments in a private day or a full day can make up a whole spa package for couples.
Before you book
Before you and your partner book your appointment, be sure to brush up on your spa etiquette.
For many, a couple's massage may be your significant other's first visit to the spa. And while a trip to the spa should be a relaxing experience, if it's your first spa-going encounter, it can be anything but if you don't know what to expect. To calm those nerves, note the following spa protocol tips:
For many guests, nudity may very well be the most nerve-wracking aspect of spa-going. Bear in mind, though, that maintaining guest modesty is a key priority for most therapists in the U.S.
Male or female therapist?
It's your call. Spas make every effort to accommodate guest wishes in this regard, but it's recommended to make advance reservations, particularly during peak hours.
Speak up (if you wish). Couples can feel free to converse during their massage, or stay silent. It's entirely your preference.
De-stress with a Massage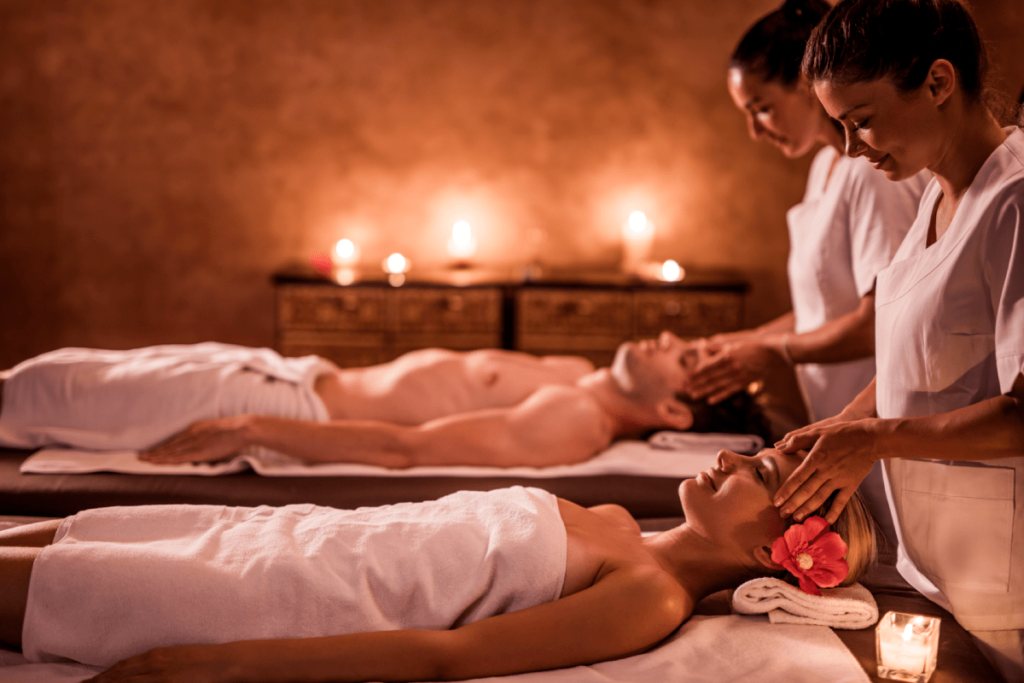 Massage isn't just a luxurious treat to pamper yourself; there are many other healthful reasons to get a massage on a regular basis, including the big one – stress. Since stress can translate in different ways for different people, from aches and pains, to muscle tension, to both physical and emotional exhaustion, massage can actually help your body and mind de-stress, providing relief for some of these ailments.