What is Prenatal Massage?
---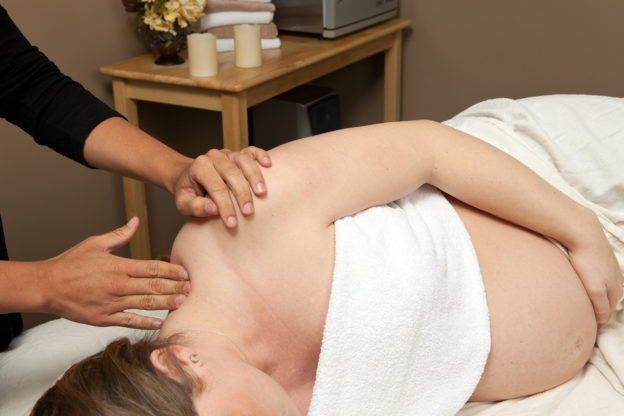 Spa Care for Moms-to-Be
Spa treatments can relieve the main discomforts of pregnancy, and the spa atmosphere can relax expectant mothers overwhelmed by the changes in their bodies.
Some, however, worry that pampering could cause harm. Good news: Manicures, pedicures, and facials are safe for pregnant women. And when you follow these guidelines, massage, water therapies, and body treatments can be, too.
Best for…
Prenatal massage can relieve back pain and improve sleep and mood, as well as decrease stress and reduce labor complications. Prenatal massage is best given while you lie on your side propped up by pillows. Neck and shoulder massage is a safe sitting-up option, as well.
Good To Know:
Avoid contrast hydrotherapy (alternating hot and cold pools or rooms). Constant temperatures are best.
Skip hot baths, steam rooms, and saunas (traditional and infrared). Heat and sweat cause decreased blood flow and blood can pool in your feet, which means the baby gets less oxygen, says Joel Evans, M.D., author of

The Whole Pregnancy Handbook

.
Say "no" to body wraps which cause perspiration and raise the core body temperature.
Detoxifying body scrubs are a don't. It's possible that scrubs release toxins into the bloodstream, not a good idea when a very tiny person is sharing it! Instead: Try light body buffs for itchy and dry skin.
Essential oils (concentrated plant extracts) are off-limits during the first trimester, according to Dr. Evans. It's safe to reintroduce rose, lavender, and chamomile during the second trimester, as long as they're diluted with twice the amount of carrier oil, but peppermint, rosemary, sage, and jasmine shouldn't be used at all, Dr. Evans explains, because they can trigger uterine contractions. Some scents can also trigger nausea, so many spas offer scent-free products.
Request a massage therapist who has been specifically trained in prenatal treatments. A qualified therapist will have completed a maternity course that teaches basics such as positioning and pressure points for pregnancy.
Look for spas that offer special pregnancy services.
Listen to your body and let the therapist know if you're uncomfortable. Some spas use tables with cutouts to accommodate a pregnant belly, but prenatal support pillows are more adjustable and generally more comfortable. Either way, if you aren't comfortable, ask to switch positions or alter the treatment. Also, speak up if you have to use the bathroom, even mid-treatment.
Drink plenty of water throughout and after your spa visit.
 If you're high-risk, check with your doctor before booking.

Before you go…
Prenatal and postnatal massage can be just what an expectant or new mother needs. When choosing a prenatal massage therapist, clients should ensure that their practitioner has had extensive experience practicing massage on pregnant women.
No two women's pregnancy pains are identical, so experienced prenatal massage therapists cater to the specific needs of each client. Many therapists have special chairs or tables specifically designed for pregnant clients, specifically tables that are scooped out in the belly.  Contact your doctor before treatments.
Why get a postnatal massage?
Give the new mommy a break! A massage can be the ideal antidote to postpartum blues. The benefits of postnatal massage therapy include:
relaxation
stress relief
relieving aches on shoulders or neck
hastening the reduction of fluid retention
helping the uterus to shrink to original size
reducing cellulite and to help to tone the body