Why Community Workspaces are Changing the Way We Work, Live & Spa
---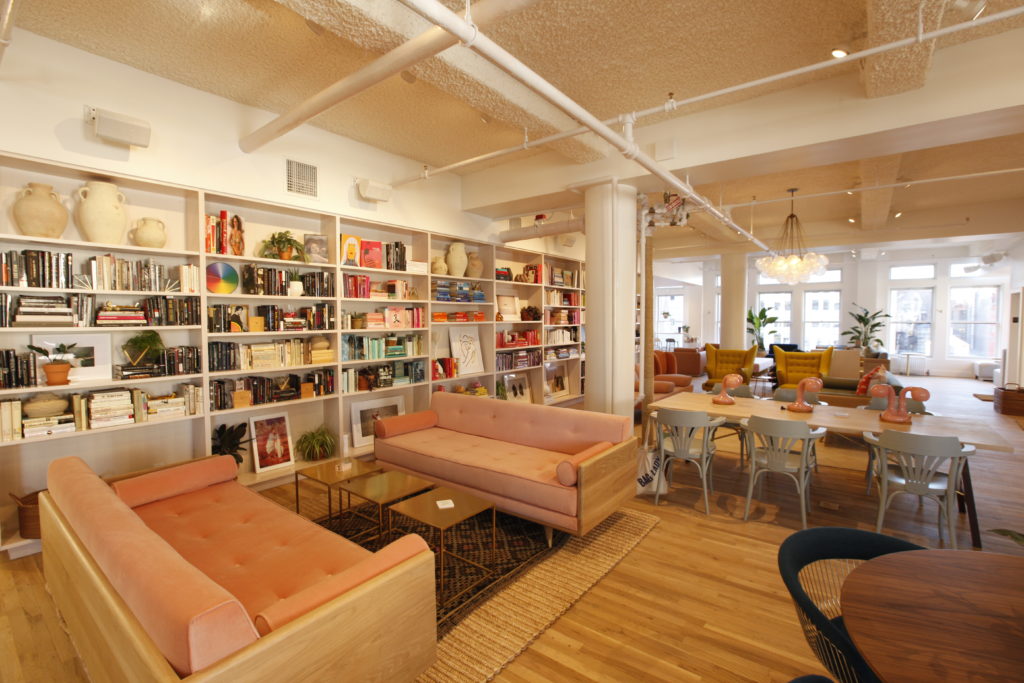 Community, shared workspaces are much more than a passing trend – and far more than a place to plug in your laptop and bang on your keyboard.  Close to two million people are expected to work in nearly 20,000 co-working spaces by the end of 2018, and a desk, technology services, and a cup of coffee are just the beginning of the services. In fact, if you're looking for the perfect space to inspire your workday, expect to see a dizzying array of options like childcare, yoga classes, wine and cheese tastings, social hours, classes and lectures – and even a luxury spa. After all, if work is our life, why should it be boring?
WeWork: A State of Mind
According to the WeWork website, the best known of numerous co-working options, the company "…wants nothing less than to radically transform the way we work, live and play."[1]  (That includes all of you lugging your laptops from coffee house to coffee house.)
WeWork is now in 20 countries and their latest project, Dock 72 in New York, will include a massive co-working space, a luxury spa (yes, a full spa), a juice bar, a real bar, a gym with a boxing studio, an outdoor basketball court and breathtaking views of Manhattan.  WeWork's chief executive and co-founder, Adam Neumanns says there will even be restaurants and possibly services like dry cleaning and a barbershop.
You're probably asking yourself, "Why go home?" Turns out you won't have to: WeWork plans to rent apartments nearby.
What's Your Co-working Style?
According to the New York Times, WeWork sees consuming alcohol as a good thing. Posters encourage people to enjoy a drink; there are wine tastings; and top-shelf liquor flows at company parties. However, the party-party lifestyle isn't for everyone and there are hundreds of options for people with different work styles. For example, The Wing, with locations in New York and DC, is a network of co-working and community spaces designed for women. The spaces have a decidedly feminine vibe with changing stations, lactation rooms and beauty rooms.[2]
In fact, co-working spaces are so popular in Los Angeles that the blog GetCroissant.com went far beyond the top ten and named Tinsel Town's top 40 community spaces.
According to the blog, Collab&Play is greater L.A.'s first shared space to offers on-site childcare. In addition, the kids are supervised at all times, with toys, napping areas and books to keep them happy. Collab&Play also holds classes and workshops to help working moms and members lead a happy, healthy lifestyle.
The Hatchery Press
The Hatchery Press in L.A.'s trendy Larchmont area is a writer's ideas of heaven. First, it's designed to be quiet so authors can focus on their next screenplay or novel. In addition, Academy Award winning guests lead programs and members enjoy prose and poetry parties. The Hatchery is a bit pricier than some community spaces but you're paying for peace and the chance to share space with like-minded writers. (Wait! Didn't the woman at the next table just sign a deal with Netflix?)
The much-hyped work environments at tech companies like Google and Microsoft may have inspired community workspaces. However, today, thousands of shared spaces offer a head-spinning number of work options from playful, less formal settings to magazine-worthy designs and amenities.
Sign up to receive insider tips, luxury destinations and more.
Purchase a Spafinder Gift Card–perfect for every occasion!
[1] New York Times, "The WeWork Manifesto: First, Office Space. Next, the World," David Gelles, February 2018
[2] AnOther, "Examining the Growing Popularity of Co-Working Spaces," Milly Burroughs, April 2018.