Black Seed Oil – A Healthy Newbie For Your Wellness Line Up
---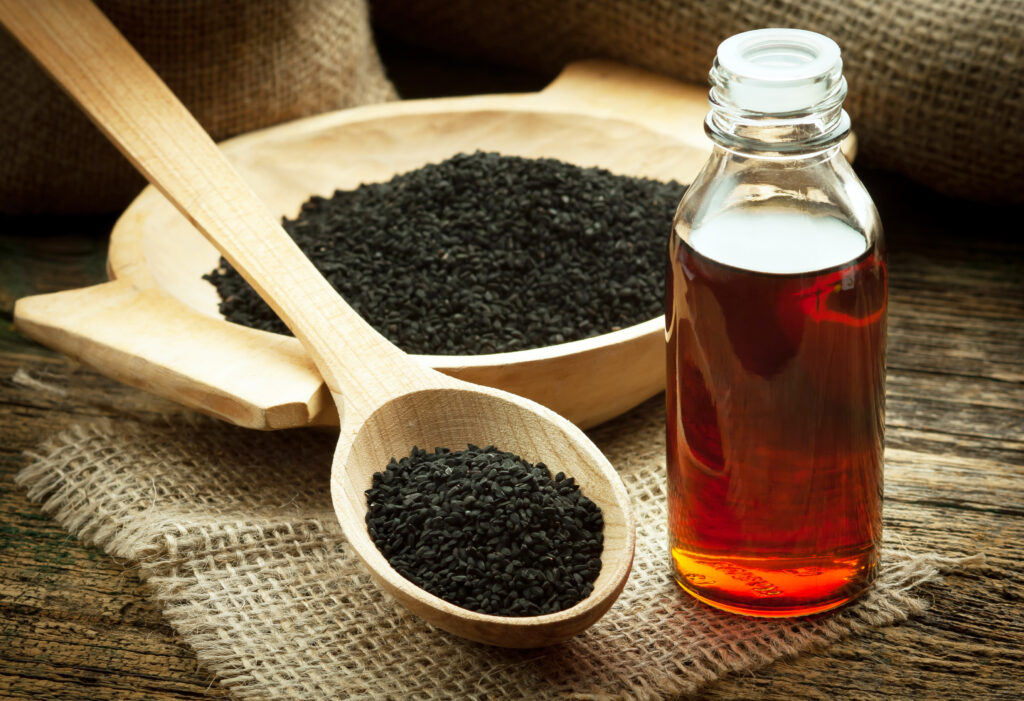 Black Seed Oil has a long history but has only recently received the attention it deserves. Its antioxidant properties can help relieve inflammation inside and outside the body–making it a perfect addition to your pantry and your beauty regime.
What Is Black Seed Oil?
It comes from the Nigella Sativa plant–a shrub with purple or white-tinged flowers found in Eastern Europe, the Middle East, and Western Asia. The plant's fruit produces thousands of black seeds, used in remedies and beauty products since the days of King Tut. You might be more familiar with Black Seed's other names such as black caraway, black cumin, black onion seed, or kalonji. And it is versatile: eat it as seeds, consume it as oil, or apply topically to the skin for a variety of health benefits.
What Can Black Seed Oil Do?
The oil has shown promise in treating some of the most common health conditions. According to Healthline, it has helped reduce high blood pressure and high cholesterol, while also improving rheumatoid arthritis, decreasing asthma symptoms, and even reducing symptoms related to upset stomachs like ulcers and gas. And in certain laboratory studies, it's has shown promise to fight against skin cancers when applied topically.
However, black seed oil is considered a supplement and is not monitored by the FDA. While studies show promising results, it's important to consult a doctor, especially if you are pregnant or breastfeeding.
What About Beauty?
It can also help with your skin and beauty routine. It has shown to reduce acne according to the Journal of Dermatology & Dermatologic Surgery. Plus, it makes a great hair mask and can be used to rehydrate your hair as well as soften your skin when used as a moisturizer.
There's even promising researching that black seed oil can reduce inflammation and bacteria when applied to a cut or wound, allowing the body to heal itself more quickly. As always, be certain to do a small patch test to ensure you are not allergic to the oil before applying it to your body or face.
Some Things to Be Aware Of
If you are on certain types of medications, the oil can interfere with their effectiveness especially medications that assist with the body processes through the cytochrome P450 pathway. These include the beta-blocker metoprolol (Lopressor) and the blood thinner warfarin (Coumadin).
With black seed oil or any health supplement, it's always important to research how it could interact with your current medication and consult with your doctor before adding it to your routine. However, black seed oil could be the missing ingredient in your health journey.
Thinking about starting a family? Learn more about supplements for guys and gals.