Tomato. Tomahto. No Matter How You Say It, This Is One Saucy Superfood
---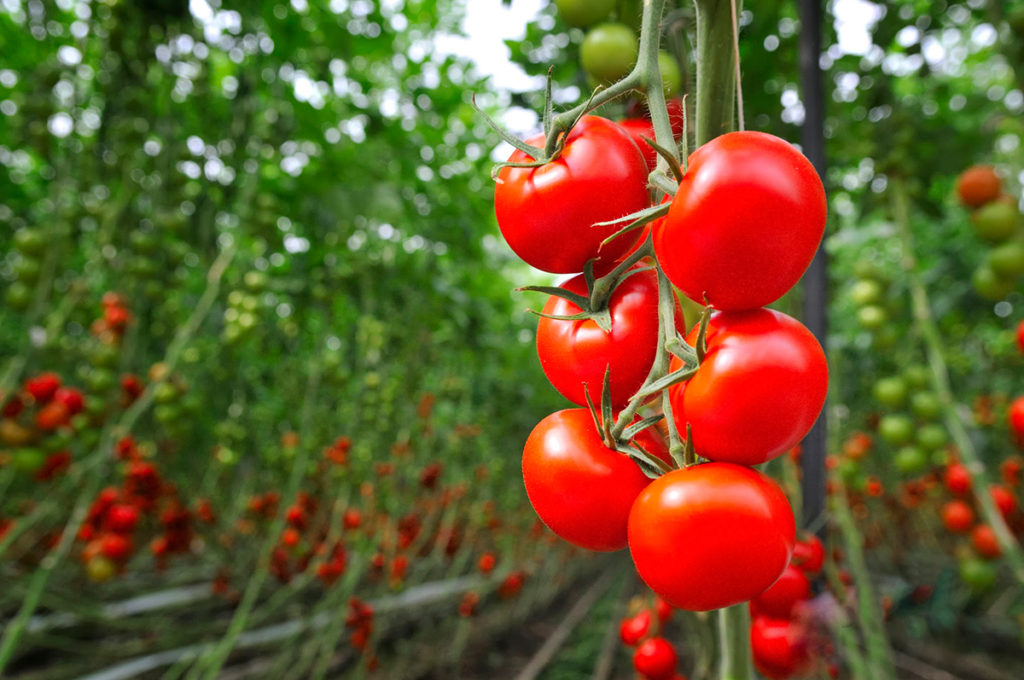 Tomato. Tomahto. No matter how you say it tomatoes are one healthy super food that even picky kids like when they show up on a pizza. Inexpensive and easy to find at grocery stores, farmers' markets and in gardens, they are nutrient dense, i.e., chock full of vitamins and minerals, low in salt and sugar, and a good source of lycopene, which is considered to have anti-inflammatory qualities that protect against common chronic diseases, such as heart disease, diabetes, and cancer.[1]
What's the super in this superfood?
First, let's take a closer look at lycopene, which nutritionists say is effective at reducing the risk of sex-hormone-related cancers like breast and prostate cancer and has been seen to reduce tumor development. Fat-soluble lycopene is what makes tomatoes red and has strong antioxidant qualities.[2]
Tomatoes are also a great source of beta-carotene, an antioxidant that supports the immune system and helps maintain healthy skin and tissue lining. They are also packed with antioxidant flavonoids and vitamin E and are a good source of potassium.[3] Plus, one medium tomato has 50 percent of the RDA of vitamin C.
Yes, experts say choose organic
Tomatoes rank number 10 on the EWG's list of fresh produce that has the most pesticides so we recommend choosing organic. EWG also has a handy list of canned whole organic tomatoes.
To bolster the argument that organic is better when it comes to tomatoes, NPR reported on a meta-analysis by the British Journal of Nutrition, showing "… that organic crops…have substantially higher concentrations of a range of antioxidants and other potentially beneficial compounds."[4]
Is there a way you can't eat tomatoes?
Pureed, chopped, blended, roasted, smashed or sliced, the ubiquitous tomato shows up in just about every imaginable dish from sauces to salads to sandwiches. That's a good thing because no matter how you slice it, a tomato is chock-full of flavorful goodness.
One of its star nutrients, lycopene, is more easily absorbed when combined with olive or coconut oil or when it is processed or cooked, making it an easy to give your family and yourself delicious doses of nutrients.
With their perfect combination of tangy and sweet, tomatoes even shine in desserts like popsicles, cookies, gelatos, sorbets and more. These rosy wonders also are terrific in smoothies like this carrot and tomato concoction from Food.com.  Made with lightly frozen tomatoes and carrots plus celery, salt and pepper and lemon juice, it's a tasty summer treat.
We found these recipes in our spa recipe hall of fame. The bright and sunny tomato-rosemary salad from the spa chefs at Pritikin Longevity Center puts plentiful herbs and tomatoes to good use and it is full of lycopene and antioxidants.
And we hope you enjoy Spafinder's take on the classic watermelon and tomato salad from the New York Times. This delicious variation combines fresh basil (you can grow some on your windowsill) watermelon, grape tomatoes and feta cheese, plus just two tablespoons of virgin olive oil and balsamic vinegar and a dash of salt and pepper.
When it comes to enjoying tomatoes, we think heirloom varieties are worth the extra cost, especially in fresh salads and simple sandwiches.
Thinking of raising your own tomatoes and herbs? Check out this article on "growing your own."
[1] OneGreenPlanet.org, "Tomatoes: Benefits of this Common Superfood," Jennifer Novakovich, August 2013
[2] Ibid
[3] The Telegraph, "The humble superfood in your salad," Chloe Rhodes, February 2008
[4] NPR, "Is Organic More Nutritious? New Study Adds To The Evidence," Allison Aubrey, February 2016.