Healthy Ingredients Spotlight — Aloe Vera, Coconut Oil & Avocado
Published: Tuesday, May 3rd 2022
by Spafinder
---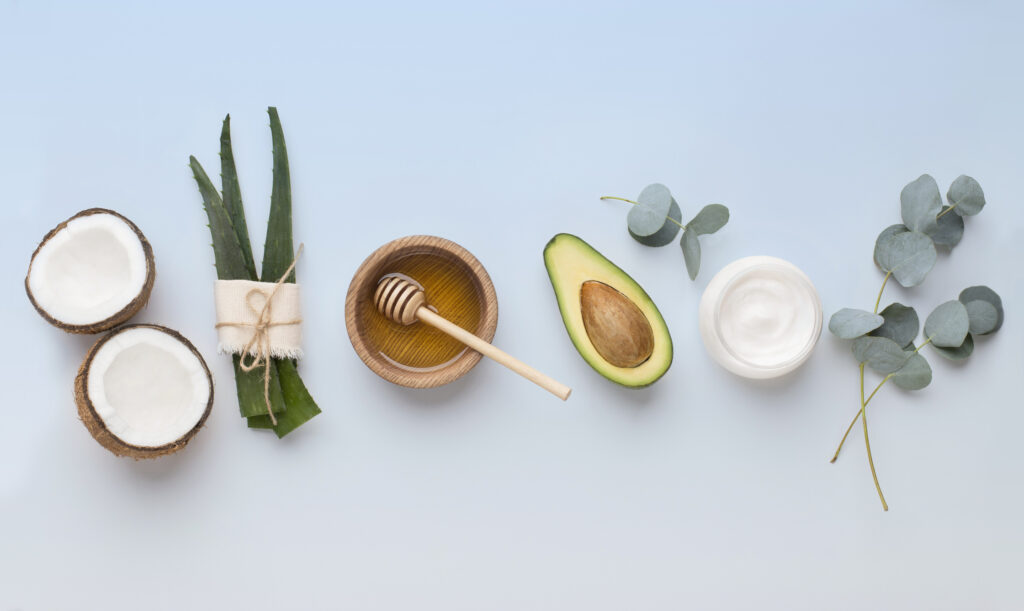 "These things belong both in your kitchen and in your skincare routine… go!" No, we're not playing Jeopardy, but instead telling you about the beautiful benefits of coconut oil and avocado. Plus their soothing sister aloe vera, of course. These healthy ingredients feel even better on your skin than they do on your avocado toast or cookies with coconut oil, and they can also be incorporated into massage, candles, shampoos and other tools to blend skincare and self-care. Each is unique in your own way, and you just need to find your healthy skincare soulmate. For example, avocado is a triple threat for the hair, skin, and gut, helping you get a glowing complexion and cholesterol-free healthy fats. Meanwhile, coconut oil is a cleansing and hydration hero and aloe vera will soothe your skin to perfection.
There's plenty of items featuring these healthy ingredients in our product guide, AKA known as the Spafinder Shop, which you can purchase with a Spafinder Gift Card. We are also sharing recipes old and new. Here are our favorite self-care tools featuring avocado, coconut oil, and aloe vera!
Coconut Oil
Coconut oil is famous for its facial cleansing abilities. It's proven to be a natural way to remove dirt, grease, and leftover makeup from your skin without stripping essential oils in the process making it a superstar of our featured healthy ingredients. It also has antibacterial, moisturizing, and wound-healing abilities! You'll get all that and more with this facial cleanser by Primal Elements, which features skin-cleansing coconut oil and a tropical scent of coconut, sweet apple and anise wrapped in vanilla. Talk about a hydration vacation and healthy skincare.
Have you ever tried a shampoo bar instead of a shampoo in a bottle, an eco-friendly and extra soothing alternative for all hair types? You can now with this coconut-rich favorite from Foamie. This plastic-free bar contains coconut oil and wheat proteins to deeply clean and nourish. You'll improve hydration, reduce frizz, and add shine with every rub against your strands… without the damaging chemicals that often come with liquid shampoo. Add it to your haircare routine to discover the excess hydration and healing power that people love about coconut oil!
Aloe Vera
Remember the aloe vera that your mom used to smear on your skin after a really bad sunburn? This mask by Aloisia Beauty is a bit similar, but adds a lot more self-care to your skin-soothing efforts. Aloe Vera Leaf Extract is the main healthy ingredient, which calms down inflammation and redness caused by sun damage, acne, or environmental stress. Whether you spent too long at the beach, are in the midst of a blemish breakout, or tried a skincare product that irritated your sensitive skin, this aloe vera mask is here to help. It also contains Ganoderma Leaf Extract, Hydrolyzed Collagen, Sodium Hyaluronate, and natural marine and botanical extracts to further chill out your complexion.
Moisturizer is a must-have for your beauty routine at any age, as hydration is the key to soft, glowing, and youthful skin. You'll get that and so much more with this formula chock full of healthy ingredients from Travertine Spa. Plus, you'll love the cooling and soothing effects of aloe that are boosted by vitamin-rich sea minerals. There is also jojoba oil for acne prevention and hyaluronic acid for extra hydration. Both men and women enjoy this aloe vera moisturizer. Men can hydrate their naturally drier skin, while women love the flawlessly natural glow it leaves behind!
Avocado
Let's take a break from healthy skincare and dig into this healthy snack… literally. It combines two universally-loved foods, chocolate and avocado, to create a creamy mousse that's nutritious and delicious. Avocados are known as a healthy fat that's rich in vitamins, magnesium, and potassium, and come together with dates and cacao for the most tasty chocolate mousse ever. Follow this recipe to make it as an after-work snack or serve it at parties to give all your friends a sweet dose of self-care.
"Get quenched and chill out with this deep dip of cool hydration!" The opening line of the Guac Star product description says it all, as you'll be feeling cool for the spring, summer, and beyond with this soothing avocado hydration mask. Made with fresh avocado butter, extract and oil from California-grown non-GMO creamy avocados, this self-care essential will make your friends green with envy. It helps to moisturize, soothe, nourish and reduce inflammation and redness, leaving you with a fresh and natural glow. You love avocados on your toast, why not put a healthy ingredient on your face too?
We also love the FarmHouse Fresh initiative to save animals. In a given month, profits from purchases of FarmHouse Fresh® products help buy 14,000 pounds of hay, 1,000 pounds of grain, and nearly $2,000 in medical expenses for the FarmHouse Fresh® Sanctuary animals. Happy animals, happy planet!
Most recent from Products We Love