Keeping Your Home Clean – Naturally
Published: Tuesday, April 13th 2021
by Spafinder
---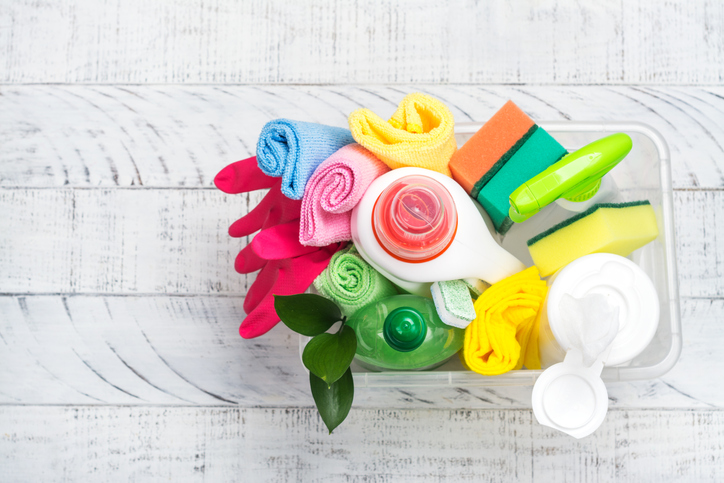 Natural. Organic. Clean. Green. Eco-friendly. It's hard to keep up with the buzzwords, especially when it comes to home cleaning products. If you want to live in a non-toxic environment, knowing the difference between cleaning products that are truly better for the environment and those that greenwash is essential. Plus, in the U.S. there aren't regulations that require cleaning product manufacturers to list their ingredients – except for lucky people in California and New York – so even careful shoppers have trouble figuring it all out. We're here to help you sort through the mystique and start living a cleaner, greener life with these natural cleaning products.
DIY Recipes for Non-Toxic Natural Cleaning Products
This article from the Spafinder archives has tried and true recipes for cleaning the kitchen, bath, living room and more. You probably have many of the basics in your cupboard but who knew vodka is an excellent addition to DIY room sprays?!
Baking Soda – cuts through grease, cleans and disinfects
Distilled White Vinegar – grease-buster, floor cleaner and window sparkler
Lemon Juice – we love the fresh scent or lemons – also removes mold and grease
Essential Oils – adds natural scents to cleaners (handy if you don't like the scent of vinegar)
Hydrogen Peroxide –hydrogen peroxide is a common way to clean and disinfect cuts. It also works as a disinfectant in non-toxic DIY cleaners and stain removers.
3 Favorite Off-the-Shelf, Eco-Friendly Cleaners
Mrs. Meyers's, Clean Republic and Dr. Bronner's top our list of natural cleaning products.
• Mrs. Myers's home cleaning products are biodegradable and they do not contain ammonia, chlorine or phosphates. Plus, because they include essential oils, just about everyone likes their scents (lavender, geranium and lemon verbena). Favorites include the all-purpose cleaner and countertop spray.
Explore the product lineup here and find Mrs. Meyers in most grocery stores.
• We've tested Clean Republic products and are impressed. The all-purpose cleanser is eco-friendly, non-toxic and made from ingredients Mother Nature provides (no green washing here). We also love that there is no odor, and products are safe to use around humans, animals and plants. Used for years in high end hotels and spas, Clean Republic is now available for everyday people like us.
Clean Republic sells their natural cleaning product non-diluted (mix one part active solution with 10 parts water). Purchase in the Spafinder Shop.
• Dr. Bronner's Sal Suds Biodegradable Cleaner does it all: floors, laundry, dishes, furniture, even car. It's a gentle plant-based cleaner that biodegrades quickly and has no synthetic dyes, fragrances or preservatives. And Dr. Bronner's is never, ever tested on animals.
Find Dr. Bronner's Sal Suds here.
Plus, You Deserve Clean Beauty
As described in Spafinder's "4 Clean Beauty Products You Have to Try," we define clean beauty as products or treatments that won't damage human (or animal) health and do not contain ingredients that could cause harm.  Check out four of our must-have clean beauty products – all available in the Spafinder Store.