Serve Up Frose Fridays and More This Summer
---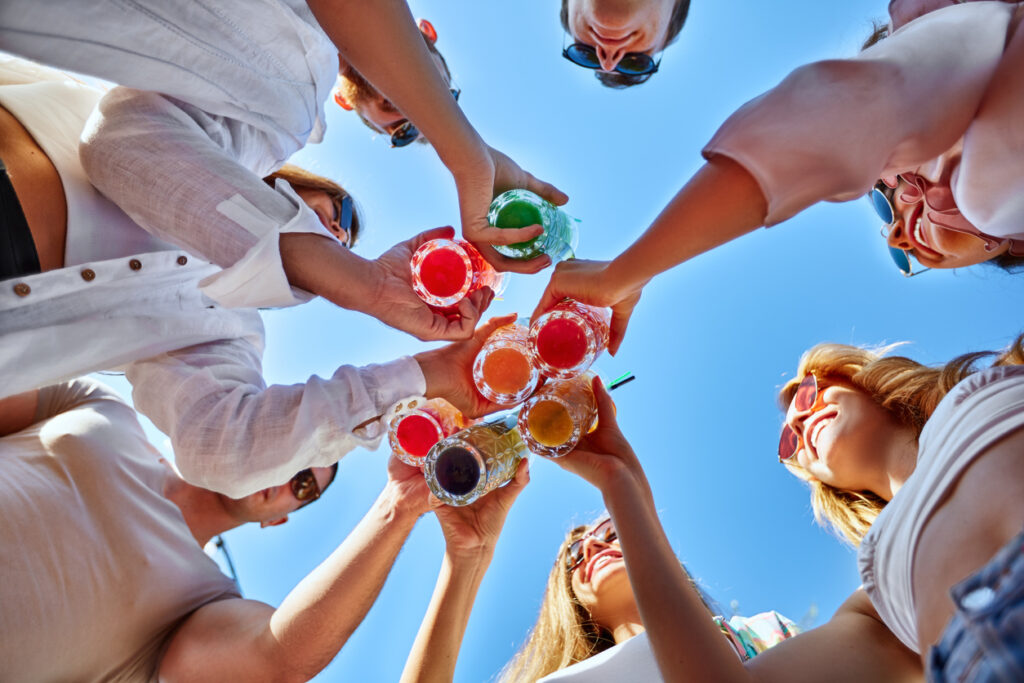 Ready to start feeling fine with summer wine or dare we say frose? Also, martinis, spritzers, and more refreshing cocktails to sip on all season? Don't mind if we do. Just like you choose which bikinis to buy or girl's getaways to book, one must also decide which summer drinks will become their go-to. We've told you all about the various ways to sip Rosé, plus the most unbeatable summer spa spritzers… but there's still so much more to explore. Get ready for a fruity and fresh way to sip your poolside concoctions; you only need to pick a favorite below!
Frose
When you can't choose between a crisp glass of Rosé and a sweet slushy to beat the heat, the Frose provides the best of both worlds! It's exactly what it sounds like… a frozen version of your favorite pink wine that provides the ultimate summer cool down. It's not just the quintessential cocktail for your bridal party or girl's getaway, but also a yummy anytime treat that looks as incredible as it tastes. 
Ingredients
1 bottle of rosé wine
1/2 cup of strawberry syrup
1 cup of ice cubes
Fresh strawberries (for garnish)
Directions
Pour the rosé wine into ice cube trays and freeze overnight.
In a blender, combine the frozen rosé cubes, strawberry syrup, and ice cubes
Blend until smooth and slushy.
Pour the Frose into glasses and garnish with fresh strawberries.
Lychee Martini
Martinis are often considered one of the most classy cocktails around, and this summer-friendly version takes the elegance to a whole new level. You know your favorite spa day, with soothing aromas, sweet fruits, and surreal relaxation? Imagine all of that in one divine drink, and you've got the Lycgee Martini. It tastes like a combination of grape, strawberry, and melon with a sweet-tart finish, and provides the calming essence of a massage from the comfort of your martini glass.
Ingredients
2 ounces of vodka
1 ounce of lychee liqueur
1/2 ounce of fresh lime juice
Lychee fruit (for garnish)
Directions
Fill a cocktail shaker with ice.
Add vodka, lychee liqueur, and lime juice.
Shake vigorously until well chilled.
Strain into a martini glass.
Garnish with lychee fruit.
Campari Spritz
You can't go wrong with a Campari Spritz, the holy grail of refreshing summer drinks! Perfect for poolside lounging, patio chats, and so much more, this sweet-and-chic spritzer is satisfying yet so easy to make. Seriously, all you need is dry rosé and lemon soda! Together, they produce a red hue that's reminiscent of a summer sunset, and looks beautiful in your hand as you receive an outdoor massage by the pool. And then there's the citrus flavor, which is a seasonal delight in its own right.
Ingredients
2 oz. Campari
3 oz. dry Rosé
Splash of lemon soda
1 lemon wheel
Directions
Pour Campari and rosé into a rocks glass filled with ice.
Finish off with a soda of your choice, and stir gently to blend together.
Add a lemon wheel to complete the drink.
Mango Pineapple Martini
You already have Frose Friday, so why not Martini Monday, too? There are countless renditions of this cocktail that you can enjoy this summer, and the mango pineapple is a personal favorite. This vibrant cocktail takes your taste buds on a journey from the first sip, blending the lusciousness of mangoes with the tangy sweetness of pineapples for ultimate island vibes. Yes, even if you're just hanging out at home!
Ingredients
2 ounces of mango vodka
2 ounces of pineapple juice
1 ounce of lime juice
Fresh mango and pineapple chunks (for garnish)
Directions
Fill a cocktail shaker with ice.
Add mango vodka, pineapple juice, and lime juice.
Shake vigorously until well-mixed.
Strain into a chilled martini glass.
Garnish with fresh mango and pineapple chunks.