How to Find Spafinder Locations Near You
---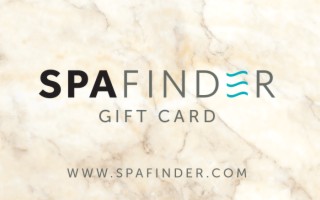 If you have a Spafinder Gift Card and want to find a nearby spa to use it, we can help you track down an amazing treatment right in your backyard. Of course, if you live in an area that doesn't have a ton of spas, you can use your gift card at thousands of Spafinder locations around the world. In Spafinder's database, you'll find tons of options to relax, unwind, and destress.
Using the Spafinder Search Database
To check the spas in your area, head to spafinder.com and type in the kind of treatment you are looking for and your location (either city and state or your zip code). You can also grant the website permission to use your location if you prefer that. Then you can search our database for spas anywhere from 10 minutes to 50 miles away from you. You can also limit your search by customer ratings if you'd like.
Be advised, the ratings are local to Spafinder so just because a spa doesn't have any reviews, it doesn't mean it's not a great spa. If a spa looks like it could be your ideal experience, try cross referencing with Yelp, Google reviews, and TripAdvisor.
Remember that Spafinder Gift Cards are also accepted at wellness and beauty providers.
So if you don't define what type of treatment you are looking for, fitness studios, salons, and nail facilities will be included in your search.
Search at Home or Away
While it's always nice to discover a great spa right in your home town, some places just aren't large enough to support a wide array of spas. If that's the case, try planning a fun day trip to a nearby larger city or save your Spafinder Gift Card to use while on vacation or while on a work trip. Because Spafinder Gift Cards are universal, they can work at any Spafinder location not just at one specific spa.
Just enter the destination spot into our search function and check out all the possibilities. Spas in larger cities often offer a wider array of treatments so you can try out that new facial you've always wanted or just keep it simple and stick to your tried and true favorites. And don't forget you can always use your Spafinder Gift Card at our spa shop.
Check Out Our Recommendations
We have a collection of our favorite Spafinder locations in major areas like New York City, Los Angeles, or Las Vegas. We also have ranked our favorite spa brands. These are spa chains that are located in lots of different places but maintain their same level of quality any place you are. You can also book a special destination spa visit with some of our favorite hotel and resort spas for an extra special day of pampering.
Locations featured in our recommendations may also offer special deals so be sure to check those out before you book.
To look beyond the major spa hot spots of the United States, check out our Editor's Picks section of the blog. We feature our favorite spas in cities across the world, as well as, our favorite products and wellness trends.
Search By Special Offer
Are you always on the lookout for a great deal, then search our Special Offers page for fun Spafinder exclusive deals at some of the top rated Spafinder locations. This is a perfect way to really get a lot of bang for your buck when cashing in on the Spafinder Gift Card.
And remember, your Spafinder Gift Card can be used for regular wellness experiences like work out classes, haircuts, or a manicure and pedicure. It doesn't have to be a special experience to enjoy your Spafinder Gift Card, just a chance for you to relax and unwind.
Spafinder Gift Card Defined
Spafinder Gift Cards are a universal spa gift card that can be used at thousands of spas, salons, fitness and wellness studios around the world. They can also be used to purchase spa quality products such as apparel, jewelry, exercise equipment and beauty produces in our online shop. The Spafinder Gift Card means you can give a thoughtful and very desirable gift without having to guess which spa they prefer— or even knowing their area at all. It avoids issues like a spa closing down before you get a chance to use your gift card or trying to guess what treatment they might prefer at the moment.
But feel free to use our database to just find a spa or search for a treatment. Don't let not having a Spafinder Gift Card stop you from finding your new favorite spa!
Where to Buy a Spafinder Gift Card
Maybe you've already enjoyed a Spafinder Gift Card of your own and you want to pass on the gift or you are a last minute shopper hoping for a miracle. Whatever the reason, Spafinder has you saved. To buy a Spafinder Gift Card, simply head to our website here and choose your ideal amount. Then pick whether you'd like the card emailed, mailed, or a printable version so you can hand deliver the gift certificate to the lucky recipient. Or you can buy a Spafinder Gift Card at retailers like grocery stores or Costco. Those provide a lovely wallet sized gift card that works just like a debit card but for spas.
Spafinder Gift Cards work for literally any occasion for any of the adults on your list. Men often wish for their own chance to refocus and relax at the spa. Plus, who doesn't love fresh and glowing skin? So don't be too hasty about crossing them off your spa gift card list.
Plus Spafinder Gift Cards make excellent perks for your clients and customers at work. So if your company is looking for a new way to reward hard work and loyalty, be sure to check out our corporate incentive page for more information.
Nervous About Going to a Spa?
If you are a spa first timer, we've got you covered with our intensive spa experience & etiquette guide. These helpful do's and don'ts will help you figure out how to best plan a bachelorette spa day or answer your questions about nudity at the spa. We've tried to answer every possible question you could have about going to any of our Spafinder locations so you feel comfortable when donning that robe.
Or Just Hit the Spa Shop
If there are absolutely no partnered Spafinder locations around you and you've decided you never want to leave the house again (we get it!), then simply head over to our Spafinder Shop and pick out a few of the best spa and wellness products ever made. We offer everything from CBD products to spa apparel. It's the best way to feel pampered without going anywhere.
However you use our database, we hope you find a spa you love and a new treatment that improves your life for the better. We, here at Spafinder, love spas and are proud to support smaller independent spas and provide exclusive deals at larger chains across the globe. And now we hope you know how to find the perfect one for you. Just start searching!