How to Redeem a Spafinder Gift Card
---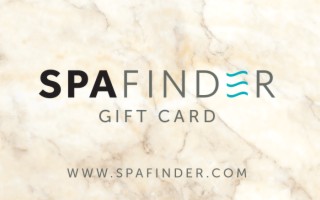 Did someone get you a Spafinder Gift Card and now you are looking for a way to enjoy it? Well, you've come to the right place. We'll show you the ins and outs of how to redeem your Spafinder Gift Card and use it in the best way for you. From spas to salons to our online shop, there are a ton of ways to enjoy your Spafinder Gift Card and start building wellness into your life. Your body and mind will thank you, we promise.
What is a Spafinder Gift Card?
Spafinder Gift Cards are a universal spa gift card that can be used at thousands of spas, salons, fitness and wellness studios around the world. They can also be used to purchase spa quality products such as apparel, jewelry, exercise equipment and beauty produces in our online shop. The Spafinder Gift Card means you can give a thoughtful and very desirable gift without having to guess which spa they prefer— or even knowing their area at all. It avoids issues like a spa closing down before you get a chance to use your gift card or trying to guess what treatment they might prefer at the moment.
How Do I Use My Spafinder Gift Card?
Once you have the Spafinder Gift Card, simply go on our website and search for what treatment you might want in your area. Our system will filter the best spas in your area who offer what you are hoping to indulge in. Maybe you want a deep tissue massage or an infrared facial? Well, different spas are going to specialize in those treatments and guess what, they are both covered by your Spafinder Gift Card.
Pick out your spa and then book directly with them —either online or via the phone. When you book the appointment, be sure to mention that you'd like to pay with a Spafinder Gift Card as you can double check that their policies haven't changed. And then, you'll head off to your appointment, get primped and pampered until all your stress melts away, and pay at the end with your gift card. Easy as that.
If you have a balance on your gift card, you can either tip with the card (depending on individual spa's policies) or you can keep the rest for another spa visit. It's your choice!
Single Use or Multiuse Spafinder Gift Cards
At this point it's a good idea to know if your Spafinder Gift Card is a single use or multiuse card. What's the difference between the two? A multiuse gift card operates like a debit card and maintains a balance. And a single use gift card must be used all at once.
If you are unsure which type you have, check out the back. Is there a pin number on the back? it's a single use Spafinder Gift Card. If you have a CVV2 number, then it's a multiuse gift card.
If you have an older one without a pin, they are still valid for use. But you cannot check their balance online. But if you have any questions on how best to use them, simply call up our customer service line at 855-521-1743 and we'll walk you through the process.
Plus, you don't have to only use your Spafinder Gift Card for spa treatments if you don't want to. You can use it to try a new workout routine, pop in for a mani/pedi or even stock up on DIY beauty essentials.
Shop Spa with a Spafinder Gift Card
Whether you live in a rural area or prefer to stay in control of your own beauty routine, using your Spafinder Gift Card in our Spa Shop might be the best way to redeem your Spafinder Gift Card. You can browse through hundreds of beauty products with a variety of price points and styles. And when you visit Spafinder.com, you can also check out a few of our favorite spa and beauty product round ups like our Staycation Gift Guide here. Either way, you are going to find some incredible products made by the very same spas we are proud to be partners with.
Where to Buy a Spafinder Gift Card
Maybe you've already enjoyed a Spafinder Gift Card of your own and you want to pass on the gift or you are a last minute shopper hoping for a miracle. Whatever the reason, Spafinder has you saved. To buy a Spafinder Gift Card, simply head to our website here and choose your ideal amount. Then pick whether you'd like the card emailed, mailed, or a printable version so you can hand deliver the gift certificate to the lucky recipient. Or you can buy a Spafinder Gift Card at retailers like grocery stores or Costco. Those provide a lovely wallet sized gift card that works just like a debit card but for spas.
Spafinder Gift Cards work for literally any occasion for any of the adults on your list. Men often wish for their own chance to refocus and relax at the spa. Plus, who doesn't love fresh and glowing skin? So don't be too hasty about crossing them off your spa gift card list.
Plus Spafinder Gift Cards make excellent perks for your clients and customers at work. So if your company is looking for a new way to reward hard work and loyalty, be sure to check out our corporate incentive page for more information.
What Spas Accept Spafinder Gift Cards
We work with spas ranging from the small and local to unique luxury destination experiences. Some of our spas operate out of four star hotels and others can be located just down the street from you in your neighborhood. We do not work with budget massage chains like Massage Envy as they offer their own rewards programs. We also pride ourselves on promoting boutique wellness experiences created by small, local, and independent wellness providers. Their spa experiences tend to feel less corporate and more personalized. And you in turn know that the service provided is created out of love and passion rather than just a bottom line.
To find a spa that will accept your Spafinder Gift Card, double check with our database to make sure they are part of our wellness family. Remember that even some fitness studios accept Spafinder so always double check before venturing out to try a new exercise routine.
When Should I Use My Spafinder Gift Card
Spafinder Gift Cards never expire so you can hold onto them until you find your perfect experience to book. If your gift card has an expiration date (some older cards do), don't worry, your balance is safe with us.
If you do have any questions in regards to your Spafinder Gift Card, simply get in contact with our customer service specialists who can help you find a spa location, check your balance, or answer any questions you might have about the experience.
We do encourage you to make use of your gift card though. Fifty percent of adults are holding onto unused gift cards according to Best Life. So why not live a little and book your spa experience today! You won't regret it. (And if you want to luxuriate again, simply get another gift card and rebook!)
Find a Spafinder Experience Near You
If you are looking for a fun Spafinder Experience, head to our blog for location round ups where our spa experts are constantly featuring fantastic spa experiences. For example, if you are on the lookout for a great spa in California where you can redeem your Spafinder Gift Card, check out these wonderful locations.
Or if you are interested in a wellness vacation in Texas, you might check out this list of spas that take Spafinder Gift Cards.
Literally any location you can think of, there is a Spafinder partner that accepts Spafinder Gift Cards. We have International wellness destinations and spas dedicated to providing relaxation in your own backyard.
We encourage you to decide whether you'd like to find a fantastic spa where you can become a regular or splurge on a special once in a lifetime experience and go all out at an International hot spot. Both have lasting positive benefits as any wellness experience improves your mental and physical health. (Basically all you have to do to become a healthier you is to find the spa and book!)