What Can You Use A Spafinder Gift Card For?
---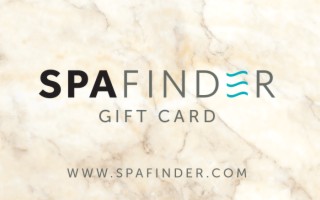 When you think of Spafinder, I bet you immediately think of gifts. I mean, we're a gift card company so yeah, that makes sense. But we're also so much more. Time to explore how you can use your Spafinder Gift Card for more than just awesome presents that everyone can enjoy.
Let's Start with the Obvious—Spafinder Gift Cards As Gifts
Might as well start with the big one. A Spafinder Gift Card makes an awesome gift. Whether it's for a mother (or father!) for a relaxing escape, an incredible hostess gift, or a corporate perk, Spafinder has you covered. As people prioritize wellness more and more, a trip to the spa or salon becomes top of mind, as it's an excellent way to boost your mood, lower your stress levels, and recenter yourself.
And because Spafinder Gift Cards can be used at thousands of spas and wellness locations across the world, it's the perfect gift for everyone on your list. It can be used while on vacation or at home—even if you move before getting a chance to use it. The gift card never expires so take it with you and use it whenever and wherever you are.
How Do You Redeem a Spafinder Gift Card
You have the gift card, now how do you use it? Go online to Spafinder.com and browse the spas in whatever area you choose—remember Spafinder Gift Cards work world-wide. You can search by spa or treatment type depending on what you are looking for.
Peruse the spas or wellness locations and decide on which one you'd like to go to. On the Spafinder profile, double check that they accept Spafinder Gift Cards. The large majority of spas accept both multi-use gift cards and single use gift cards. A small percentage have different policies. Be sure to check their profile.
Book an appointment with the spa for your desired treatment. While on the phone, mention you'd like to use a Spafinder Gift Card. It's always good to give the business a heads up in case their policies have changed.
If your treatment costs more than your Spafinder Gift Card, then you can simply pay the difference. If it is less and you have a multi-use Spafinder Gift Card, then you can save your balance for another treatment at the same or another spa, exercise studio, or even shop the Spafinder Shop. If you have a single-use Spafinder Gift Card, we recommend you add on some treatments to get your monies worth. Or inquire about the spa's tipping policy—some spas allow tips to be covered by a Spafinder Gift Card.
Single Use Gift Cards VS Multiuse Gift Cards
What's the difference between a single use gift card and a multiuse Spafinder gift card? A multiuse gift card operates like a debit card and maintains a balance. And a single use gift card must be used all at once.
If you are unsure which type you have, check out the back. If you have a pin number on the back, it's a single use Spafinder Gift Card. If you have a CVV2 number, then it's a multiuse gift card.
If you have an older Spafinder Gift Card without a pin, they are still valid for use. But you cannot check their balance online. But if you have any questions on how best to use them, simply call up our customer service line at 855-521-1743 and we'll walk you through the process.
Where to Buy SpaFinder Gift Cards
Spafinder Gift Cards can be purchased directly on the Spafinder website. You can mail, email, or print out the gift certificate for an instant gift (no horrid lines at the shops or unpredictable delivery times). Or you can buy them on the go at retail locations like grocery stores and Costco.
Spafinder Gift Cards want to make the experience of going to a spa as stress-free as possible (that's the whole point right?!?) So pretty much anyway what you think of it, we can help you gift a little bit of happiness to a loved one.
Explore Different Fitness Routines
If you are looking to shake up your exercise routine, you can try out new options using Spafinder Gift Cards as tons of yoga studios, Pilates classes, and lots of different exercise experiences are searchable through Spafinder's database. It's a great place to start to find fun classes like indoor surfing, boxing, and Zumba.
So if you are trying to break out of your gym routine and try something new, don't hesitate to use your Spafinder Gift Card on exercising your body. Work outs release endorphins and improve your overall mental and physical health. Which means, whether you are sweating in a sauna or a cardio dance class, you are taking a moment to improve yourself. Talk about selfcare!
Stock Your Beauty Routine With the Spafinder Spa Shop
Maybe you have only a little bit left over on your Spafinder Gift Card or maybe you just don't feel like leaving the house? Both are perfectly valid reasons to use your Spafinder Gift Card on hand selected beauty and wellness products featured in our Spafinder Wellness Shop. From apparel, lotions, eye creams, and face masks, you can find products at every price point that are sustainable, organic, and cruelty-free. For something fun and different, check out this handy round up of beautiful spa and wellness inspired jewelry or these fun spa outfits that are ready for every day wellness wear.
This is a perfect way to stock up on products for an at home spa day with friends, family, or just yourself. Our only advice is once you get the product, use it! No need to wait for a special day. Take advantage of that wellness routine and get on the fast track for glowing, healthy skin.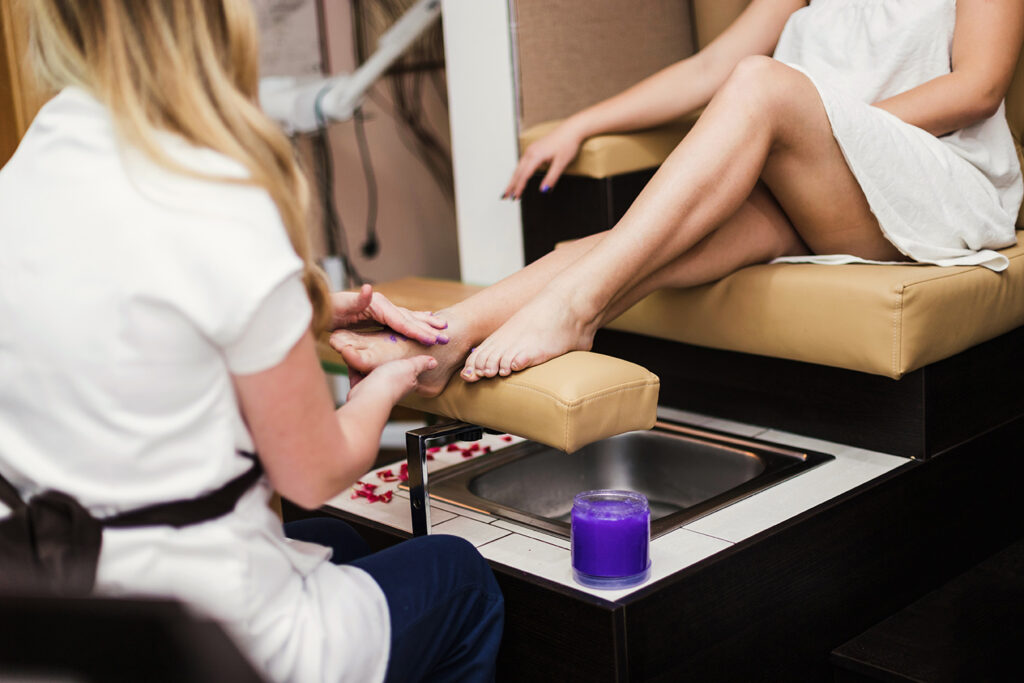 Get Pampered at a Salon
Use your Spafinder Gift Card for a trip to the salon for a new do or a classic mani/pedi, because all pampering doesn't involve a terry cloth robe. Update your look with a fancy dye job that you've always wanted to try or get that Brazilian blow out you've been waiting for. Or even get that bikini wax you've been putting off and off. The options are endless! If it's a beauty or wellness treatment found at a salon, you can use your Spafinder Gift Card for it!
Every day is a chance to add some beauty in your life and reap the new found confidence and compliments.
Start a New Routine
Sure, you could save your Spafinder Gift Card for a rainy day or you can kick start a new wellness routine. Studies show that regular massage treatments can have lasting health and wellness benefits. And spas are responding with special deals for people interested in signing up for monthly programs or packages. Or treat your skin to regular facials for that continued glow. While it might seem extravagant, there are real long term benefits to building in a wellness routine.
Save Money With a Spa Vacation
Check out our blog and email newsletter to find special Spafinder exclusive deals on incredible spa and wellness destinations. You can find deals for amazing spa hot spots (some with hot springs!) like these Greater Palm Springs offerings. Check out more special deals on our features page. A spa near you (or near your next vacation) might be offering a bargain that's too good to pass up.
Whatever you do with your Spafinder Gift Card, you really can't go wrong. From workouts to mud baths, there is something for every activity level, every price, and everyone.