Girlfriends Getaway Alert; Pack Your Bags, Grab Your Girls and Head to Florida
Published: Wednesday, July 7th 2021
by Spafinder
---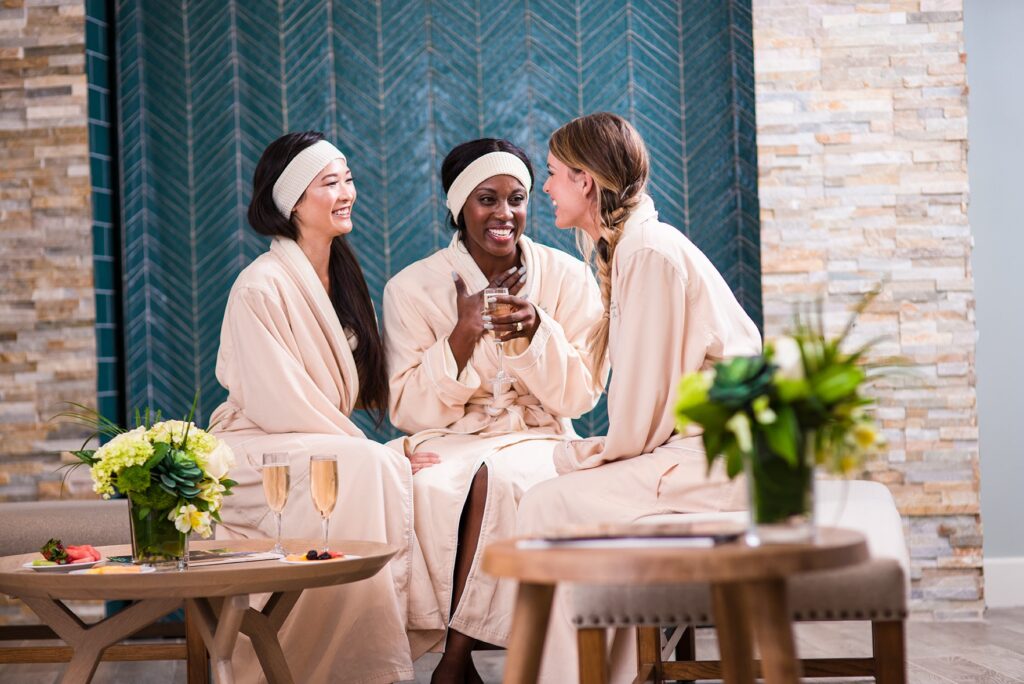 Is a relaxing day on a Florida beach appetizing to you? Lounge on a massage table? Get pampered with friends? Yes, Florida is the ultimate spot for a girlfriend's getaway at a luxury spa resort. Welcome to dreamy spa amenities for relaxation and rejuvenation.
Mani/Pedi or Massage? Choose Both!
Are you a pedicure kind of girl while your best friend is interested in a hot stone massage? Find yourself a spa that can do both, letting you bond with your besties over a shared love of pampering. As you can expect, Spafinder has a few suggestions for resorts that you should check out first. We're starting with the Don CeSar resort on Saint Petersburg Beach then on to the Serenity by the Sea at the Hilton Sandestin Beach Resort. Both are in Florida and perfect for girlfriend getaways
Don CeSar Resort. A Golden Spot for a Girl's Getaway
Once you arrive at Saint Petersburg Beach and walk up to the Don CeSar resort, you'll find it's the golden ticket for a girl's getaway. The exterior is a massive, pink palace fit for all queens. Spa Oceana has every treatment you and your crew could want, including manicures and pedicures, facials, full-body massages, hair treatments and more.
Discover why St. Petersburg is the perfect spot for a Florida spa vacation.
Tropical Spa. Tropical Treatments
Did we mention that many treatments have tropical themes? Bahama Mama Body Polish & Massage, Watermelon Vodkatini Manicure & Pedicure, and Strawberry Daiquiri Facial are all girl's getaway favorites – providing a head-to-toe glow as you overlook the ocean. Focus on your favorite features, with a rejuvenating eye treatment or exfoliating lip process that helps you look flawless in your group selfies. Don CeSar has all the spa essentials you need for a gorgeous Florida getaway with your girls!
Find Relaxation at Serenity by the Sea
Looking to go a little farther north for your spa day? Get the girls and head to Serenity by the Sea, a full-service spa located at the Hilton Sandestin Beach Golf Resort & Spa in Miramar Beach. Enjoy a group package, full-body massages and wraps. Then head to the fitness center, book a treatment; pedicures, hydrafacials and other renewal pleasures.
Learn more about Serenity by the Sea here.
Discover a Spa Gem
We think Serenity by the Sea Spa is one of Florida's undiscovered gems. Located in northwest Florida, Serenity by the Sea is inspired by its beautiful seaside setting in South Walton's Miramar Beach. Start your spa experience with an invigorating workout in the state-of-the-art fitness center. Unwind with your girlfriends and bask in the spa's many services, like facials, massages and body treatments. We can't wait to start relaxing!
Planning your girl's getaway to the Don CeSar in Florida? Spafinder is here to help with this special offer. Or treat yourself to savings on a Moroccan Body Melt at Serenity By the Sea.
Need a gift for a special occasion or just to say Thank You? Spafinder is the answer.