Escape from New York: Spa Trips without the Travel
Published: Friday, September 14th 2012
---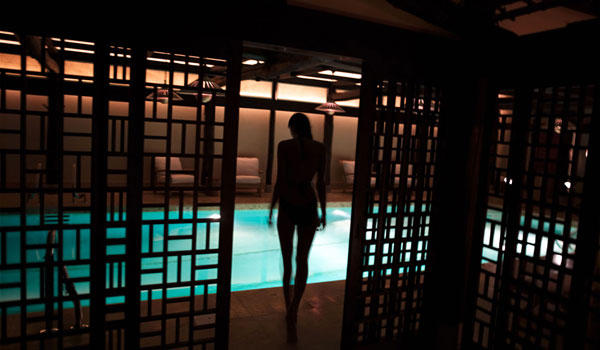 Escape from New York…no, we're not talking about that Kurt Russell film; we're not even talking about technically getting out of the city (it is, after all, the time New Yorkers drift back to the daily work grind following the summer season). We locals know that the nonstop exhilaration, constant crowds and pulsating traffic can make us feel as though we never took that summer vacation—which is why we're sharing a list of 10 spas in New York City with truly dazzling designs that transport you to a different world…France, Rome, Morocco, 1940s Hollywood…the chaos of the city will seem miles away.
These are just a few of the city's fab spas—if you have a fave NYC spa to escape to that's not on our list, share it in the comments!
Photo courtesy of Greenwich Hotel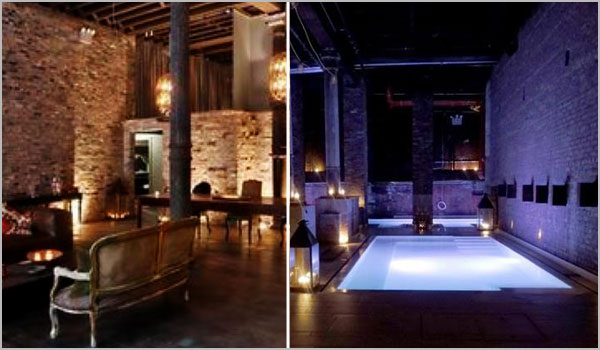 Bring yourself back to Greek and Roman times in the midst of present-day trendy Tribeca. And when in Rome, do as the other bathing beauties do by tapping into the thermal experience—varied-temperature baths, an aromatic steam room and saltwater pool—while appreciating captivating design elements. Located in a former textile factory building originating in 1883, the bathhouse exposes its original architecture, with handsome bricks, wooden beams and centennial columns mingling with exotic decor: a fountain from a 16th-century palace in Granada, mortar urns from the Italian Toscana and custom-made lanterns from Marrakesh.
Learn more about AIRE Ancient Baths on SpaFinder.com.
Photos courtesy of AIRE Ancient Baths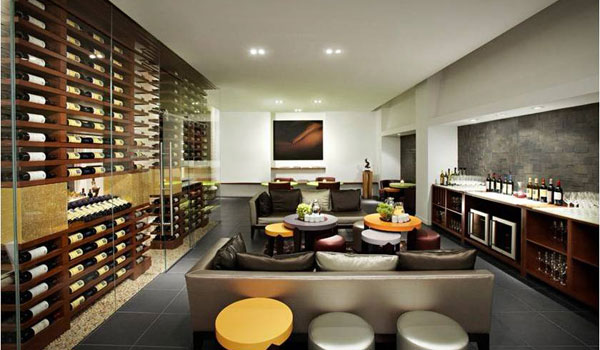 Find your inner French girl at Caudalie Vinotherapie Spa: Treatments are based on wine-related extracts (think Crushed Cabernet Scrub, Fresh Grape Massage and Red Vine Bath), and a French Paradox Wine Lounge and spa sommelier await with wines from the Bordeaux region and the Chateau Smith Haut Lafitte vineyard (where Caudalie originated).
Read more about vinotherapy or about our Caudalie visit.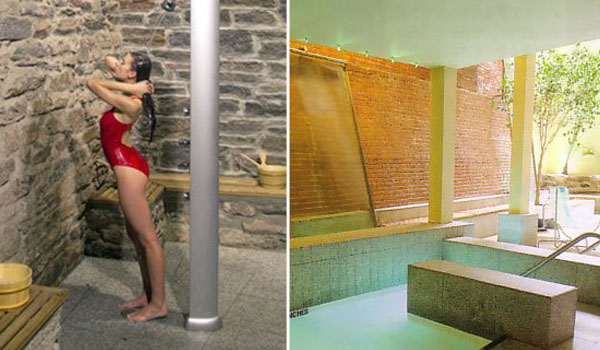 The cavernous Great Jones Spa in Manhattan's NoHo neighborhood is about as far away from urban as you can get, with a famed wet lounge that includes a three-story indoor waterfall, subterranean pools, river-rock sauna, chakra steam room and more.
Learn more about Great Jones Spa on SpaFinder.com.
Photos courtesy of Great Jones Spa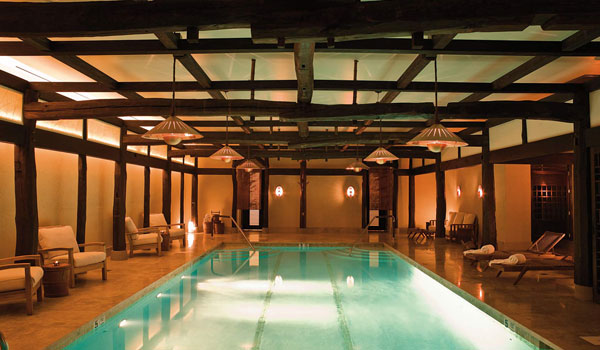 The luxury hotel by Bobby DeNiro (Hollywood royalty or not, we New Yorkers feel we can be on an informal basis with one of our own) in trendy Tribeca is one of the chicest in the city, which transcends to its Asian-style Shibui Spa, exclusive to hotel guests. The simple splendor of nature and unobtrusive beauty of time-honored Japanese traditions (the distinguished Ofuro bathing ritual, matcha tea service, etc.) combine with elements like lantern-lit spaces and a 250-year-old farmhouse, constructed of wood and bamboo by Japanese craftsmen, that envelops the indoor pool. Roll out the red carpet—we're on our way!
Photo courtesy of Greenwich Hotel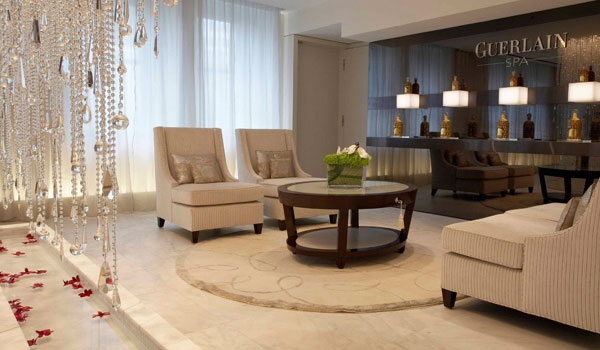 Guerlain's haute-luxury spa experience, inspired by its original vision for a French woman to be "shining for an evening," channels 1950s glamour with a grand salon (relaxation lounge), champagne, small tastes and final touches like complimentary makeup application, shoe shines or clothes pressing. Even the treatment areas are luxe: They feature heated tables, cashmere throws and private bathing lounges.
Learn more about Guerlain Spa at SpaFinder.com.
Photo courtesy of Guerlain Spa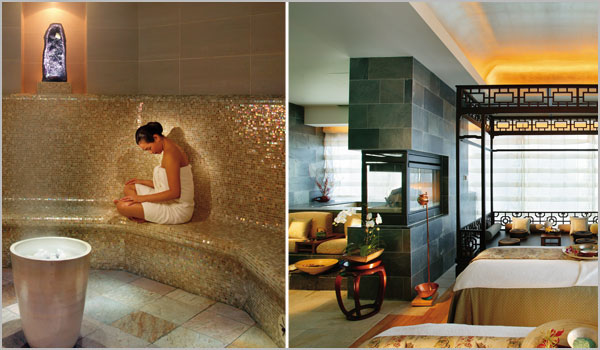 Okay, okay, so we know you can still see the Manhattan skyline (strikingly so) from the two-story Spa at Mandarin Oriental, New York, in Columbus Circle, but the spa's modern design esthetic—complete with Asian furnishings, gold leaf details, bamboo and natural stone—along with fab amenities (amethyst crystal steam room, vitality pool and signature services) transform you immediately from the city's hustle and bustle to a Zen escape.
Learn more about Spa at Mandarin Oriental, New York on SpaFinder.com.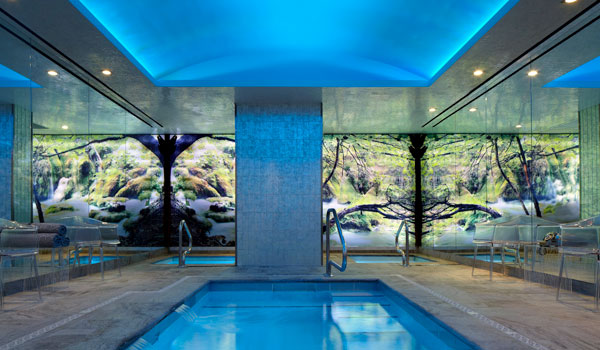 Take a Bow: Red Door Spa at The Chatwal New York
This iconic spa and hotel is NYC amplified—right off of Times Square along the Great White Way in the theater district—but from the inside, you'd never know it. Relaxation takes center stage at the Art Deco-designed spa sanctuary, which fuses legendary Elizabeth Arden Red Door Spa services with luxuries like indoor saltwater and Jacuzzi plunge pools.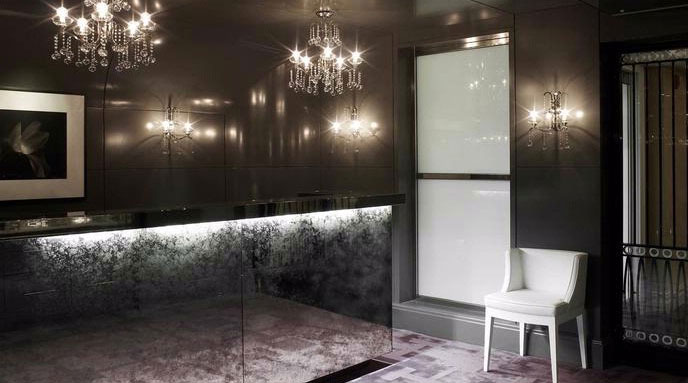 Imagine being immersed in the era of 1940s Hollywood glamour—that's what spa-ing at the historic Carlyle hotel is all about. The Carlyle's guest list reads like a "who's who" of political and royal dignitaries and entertainers, and the legend is echoed in its spa design, which begins with a barrel-vaulted, platinum mosaic-tiled stairway and concludes with black and grey tones, deep charcoal faux leather floors and glittering English chandeliers.
Photo courtesy of Carlyle Hotel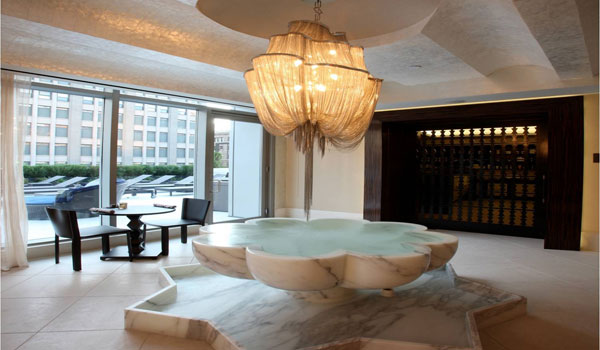 The jewel of Trump's hotel is its Moroccan-style spa, designed in Turkish decor and boasting NYC's first authentic luxury hammams, allowing you the chance to try the bathing traditions of Turkey and the Middle East right in NYC's SoHo neighborhood. Sounds refreshing, no?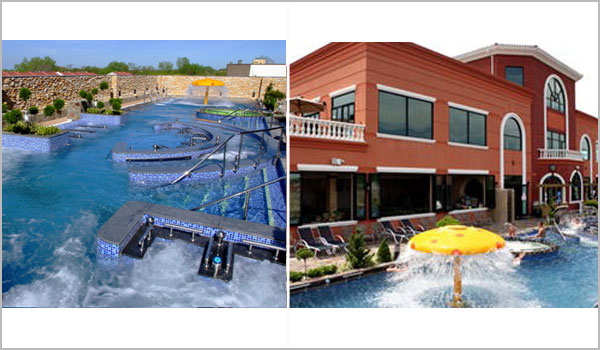 The five-story Spa Castle in Flushing, Queens, offers endless possibilities spanning five floors. This mega spa, inspired by Korean and European spa traditions, features gender-separated bathing areas with several heated mineral pools, a steam room and cold baths; a unisex sauna village complete with seven different sauna rooms (like the Gold Sauna!) each designed to treat different health concerns; indoor and outdoor pools and Jacuzzis; a swim-up bar; and spa facilities, all fit for a king, queen or us commoners looking for great girls' spa day.
Read about our Spa Castle visit.
Photos courtesy of Spa Castle
Read More:
Most recent from Travel & Play