Jetset Edition: The Benefits of a Post Trip Massage
Published: Thursday, July 25th 2019
by Spafinder
---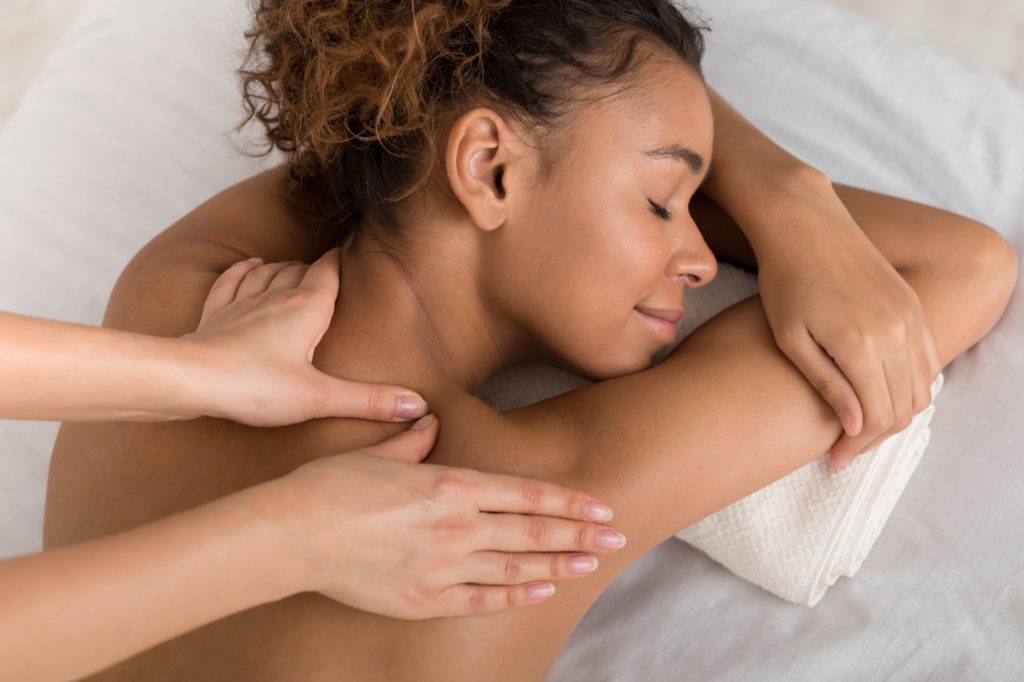 Cramped seats, heavy luggage, long lines and travel stress. The stage is set for neck and back pain, which is why savvy travelers book a massage before they arrive at their destination. In this special Jetset Edition, we take a look at the toll traveling can take on your body and how a post trip massage can relieve aches and pains and avoid long-term complications.
Spa on Arrival & On The Way
Once upon a time, spa treatments were a luxury, perhaps a weekend treat or an experience during a vacation. Now, however, people recognize that taking care of your body (and mind) is a necessity and wellness treatments like massage are a way of life. In addition, massage is no longer something you enjoy in your home city or when you're at a spa resort. Today, smart travelers know a healing massage is the best antidote for the sore muscles they picked up en route. Plus, according to a Spafinder Trend Report, all types of massage are an excellent way to get a head start on relaxation and kick-start productivity by shaking off travel fatigue. 
Massage Does Our Body Good
Scientific evidence shows massage has real benefits, from relieving neck and back pain, to reducing inflammation, to improving blood flow. In fact, The American College of Physicians, issued new guidelines for acute and chronic lower back pain, "…recommending non-invasive, alternative approaches like acupuncture, massage, exercise, tai chi, heat wraps and mindfulness/yoga first – and prescription drugs only as the last resort."[1]
In addition, a massage can help business travelers be sharp and focused when they arrive for meetings, even after red eye flights, time changes and cramped seats. Plus, it's important to start recovering from long flights as soon as possible so that pain in your back doesn't become a chronic condition. While Swedish and deep tissue massage are the most common for travelers, other types–such as reflexology and aromatherapy–have beneficial results. (Explore popular types of massage.) And if you're in a hurry, a 15-20-minute chair massage is a great quick fix.
Tip: Book a massage in your hotel or at a nearby spa before you arrive. Be sure to let the spa know you are traveling and ask about the cancellation policy–just in case your flight is delayed.
Maximize Your Time Off
Spafinder defines Wellness Travel as feeling healthier and happier when you check out than when you checked in. Because so many of us have limited time off, it's important to maximize those precious days away from work. That means you need to start relaxing quickly and massage, acupressure, reflexology and other bodywork are excellent ways to jump start stress reduction and relaxation, both during your trip and after you arrive home.
Tip: Spafinder has special offers at leading spa and wellness resorts around the globe. Click here to explore wellness getaways.
Travel Massage: Where to Find It
As Spafinder predicted, airports have gone from hellish to healthy and spas geared to travelers can be found at most major airports. Brands like XpressSpas, with 24 locations in U.S. airports, and Be Relax, a 52+ French-based airport spa chain have popped up in airports. And d_parture spa™ at Newark Liberty Airport offers the flying public on demand spa and beauty services ranging from 10 minutes to two hours.
Tip: If you have a long layover, check to see if the airport has a spa.
Spa: The New Necessity
More and morepeople are booking a massage as soon as they touch down–or pre-booking a treatment at their destination. And it's not just high-powered executives, elite athletes and actors and models that are enjoying the benefits of massage while traveling. Today, it's common knowledge that massage and physical activities are the best antidote to the stress of air travel and can boost recovery time considerably.
We think putting massage and spa services at the top of your travel itinerary makes perfect sense!

---
[1] WellnessEvidence.com, Research Spotlight
Most recent from Travel & Play