10 Most Popular Types of Massage
---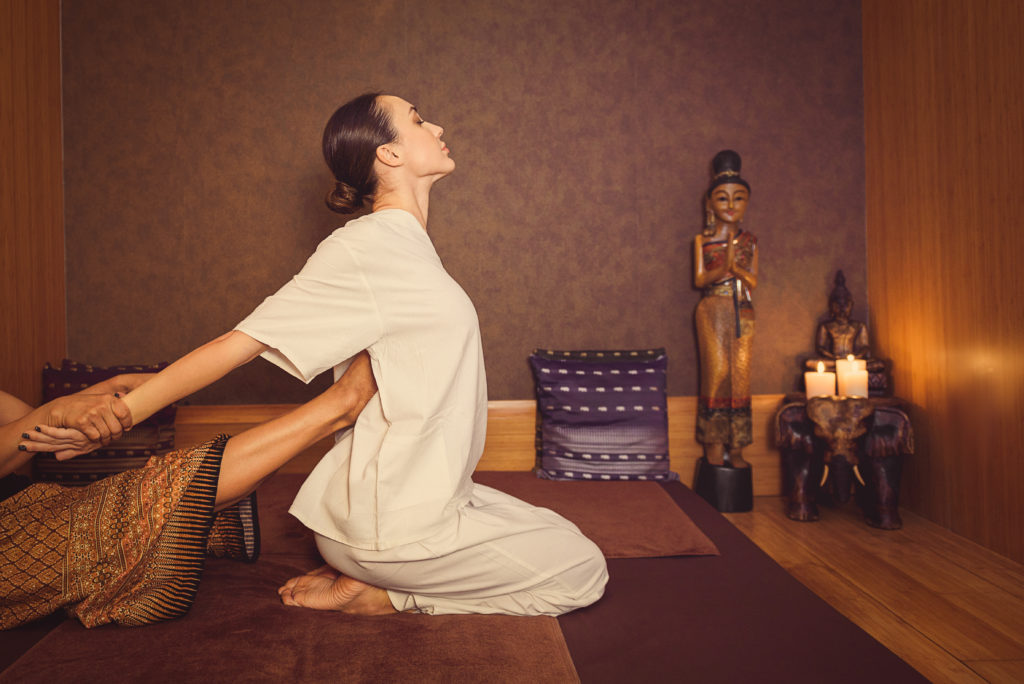 Open a spa menu to the massage section and you're bound to see a healthy number of modalities. So how do you select which massage type is the best fit for what you're feeling (stressed out, sore muscles and so on…)? Here's a good start before booking your next spa appointment. We're sharing the ten most popular types of massage to help you choose your favorite.
Swedish
Swedish massage is arguably considered the most popular massage type, appearing on a majority of spa menus worldwide. This Western massage utilizes the following techniques—effleurage (stroking), friction (rubbing), petrissage (kneading) and tapotement (rhythmic choppings)—for a truly relaxing spa treatment experience. It's a good form of massage to book if you're a spa newbie.
Couple's
Revel in a side-by-side massage of choice with your favorite person, whether that's your spouse or your sister. A couple's massage provides the opportunity for partners and BFFs to unwind together in the same treatment room as one therapist works on each person. Read more about couple's massage.
Hot Stone

You can amp up your massage experience with a hot stone massage incorporating warm basalt stones, heated anywhere from 120° F to 140° F, for enhanced relaxation. Your massage therapist will apply hot oil to the stones so they glide more along the body, which is a precursor to the stones resting along the back and on the palms and stomach.  In a word…heavenly.
Deep Tissue

This therapeutic massage is a favorite with athletes and those with tight muscles. A deep tissue massage combines short, slow strokes and strong pressure (from the therapist's thumbs, forearms and elbows) to break up tight, knotted muscles and eliminate tension.
Thai Massage
We confess–Thai massage is one of our favorites. In Thai massage the therapist puts you through a series of stretches that cover your entire body. (Think of it as a great yoga session where someone else does the work.) During the massage, you wear loose fitting clothing and lie on a floor mat or on a table wide enough to accommodate the therapist and you.
Reflexology
Reflexology is a deliciously healing type of massage that involves kneading the soft fleshy ball of the foot, pulling on the toes, tracing around the heel and pushing deep into the arch. Much more than a foot rub, your reflexologist will stimulate points on your feet that correspond to specific organs.
Myofascial Release
Myofascial release is different than most types of massage because it focuses on the fascia, the thin tissue that covers all the organs of the body, rather than just the muscles. The theory is that when muscle fibers are injured or stressed, the fibers and the fascia surrounding it become short and tight. Myofascial release treats these symptoms by releasing the uneven tightness in injured fascia.
Aromatherapy
Using essential oils is an added element that heightens a massage. The fragrant aromatic extracts, derived from herbs, flora and other plantlife, not only stimulate the senses but have added therapeutic benefits: calms body and mind, boosts mood, promotes sleep, etc.—all effects we expect while partaking in a massage.
Pregnancy/Prenatal Massage
Pregnancy massage, aka prenatal massage, is a favorite with moms-to-be looking to relax and relieve tired back and leg muscles.  This type of soothing massage is said to be especially helpful in the second and third trimesters when expectant moms are carrying extra baby weight that can put a strain on your back. It's very important to check with your doctor before having a prenatal massage–and be sure your therapist is trained to work with pregnant women.
Scalp Massage
Let's face it: there is nothing more relaxing than a scalp massage. During this ultra-soothing treatment, your therapist will massage warm oil throughout your scalp, working to relax tight muscles in the temple and neck region.
Send a Spafinder Gift Card. Perfect for everyone in your life.
Join Spa Insider today. Save up to 50% on spa offers and more.