Giving "Hot Yoga" a Whole New Meaning… Naked Yoga Gains Popularity
---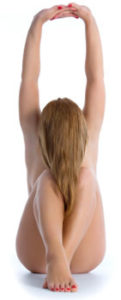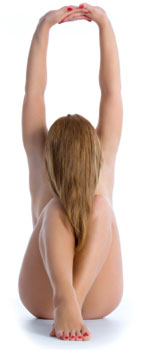 If you've ever felt even mildly embarrassed with your butt in the air as you move into downward facing dog, then this new trend in yoga practice is probably not for you. However, if you're a yoga-pro and don't have a shy bone in your flexible body, then perhaps we can interest you in yoga's new trend: nudity.
Turns out, in yoga studios across the country, yogis and their students are stripping down to nothing and embracing a new freedom in their yoga practice.
While co-ed classes are available it seems that male-only classes are increasingly popular, "A lot of people, especially living in New York, don't get the opportunity to connect with people in an intimate way," says Aaron Star, a leader in the naked yoga movement.
Most naked yoga enthusiasts state emphatically that the community they are building in studios after shedding street clothes and typical yoga gear, is completely non-sexual.
"This is about yoga and appreciating your body," John Cottrell, a 40-year-old yoga instructor professes. He identifies the classes as a safe space, "to help men especially look at themselves in a different way".
However, the claim that the classes are entirely non-sexual doesn't seem to hold up when the partnering starts. Many nude yoga classes involve a series of partner postures which inevitably end with two people startlingly close to each other's private parts for such a public place.
Yogi Isis Phoenix teaches a class in New York that she says attracts a well-rounded group of participants, ranging in age, gender and sexual orientation, but says that men out-number women two-to-one. She believes that men need the added incentive of nudity to practice yoga and that, "men often fall into a general greater ease with their bodies than women do".
Check out naked yoga classes in New York like NakedYogaNYC or in LA at Naked Yoga Los Angeles. If you prefer less naked yoga, check SpaFinder.com for wellness listings!