Spa Treatments Dads Love
Published: Wednesday, June 8th 2011
---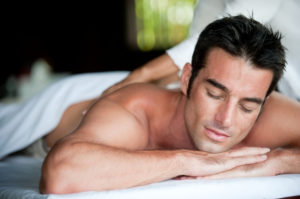 It's almost Father's Day and it's time to figure out what Dad needs this summer.  We know it's not another necktie, golf bag, or DVD holder, so why not give Dad the gift he may not think to give himself and grant him the ability to take some time just for him with a Spafinder Gift Card that will give him access to thousands of spa and wellness options?
Of course Dad doesn't need your permission to pamper himself, but receiving the gift of spa with access to thousands of spa and wellness options is a great excuse for Dad to take time out to focus on relaxing the body and mind!
Here are some tried and true treatments that men love, and that we're sure your father will, too, this Dad's Day:
Sports Massage: Great for Dads who are (or were) athletes and may be suffering from injuries or chronic pain…or even Dads who get sore just from watching sports! Similar to Swedish massage, which is gentle and great for all, sports massage focuses on a problem area and can sometimes incorporate trigger point therapy.
Gentleman's Facial: The Gentleman's Facial is a great skincare treatment that Dad's sure to love. Focusing on the specific concerns of men, like ingrown beard hairs or irritation caused by shaving, this service involves softening exfoliation that will have Dad's skin looking and feeling smoother than ever.
Deep Tissue Massage: Another great massage treatment for active fathers who may be sore after a day on the golf course, a tough workout or some heavy lifting around the house, the deep tissue massage will help to work out any knots or tension that Dad may have!
Man-y/Pedi: Getting his nails done may not be the first item on your Dad's to-do list, but everyone needs to maintain the appearance of their hands and feet – that's just Grooming 101! You can be sure that after Dad has indulged in a proper manly manicure and pedicure, complemented by an awesome hand and foot massage, he won't be going back to his nail clippers at home.
Close Shave: Bespoke barbershops are popping up all over as men's grooming makes a comeback. Treat Dad to a great shave and haircut (or a proper beard trim and oiling) at a spa or barbershop near you!
Is there a treatment you know your Dad loves?  Share it with us in the comments!
Also check out some spa products Dad's love!
Most recent from Relationships