Spa-ing After Flying
Published: Tuesday, June 22nd 2010
in Beauty
---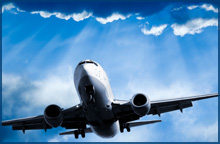 Flying can be stressful. From schlepping your heavy bags, removing your shoes, and sitting in a cramped seat for hours, traveling by air can be a very draining ordeal, and not to mention dehydrating!
However, SpaFinder's favorite kind of trend is hitting airports: the spa trend.  More and more international airports around the world are installing in-terminal spas, so when you land in London or touch down in Tokyo you can unwind before you even pick up your checked baggage!  Check out our directory of airport spas before you fly, and keep in mind some of the best treatments for curing post-flight stress.
Lymphatic Drainage Massage:  Stimulating the body's lymphatic system through a series of gentle strokes, this treatment allows for the fluids that are stored in the lymphatic vessels to move, resulting in decreased swelling often associated with flying.  Lymphatic drainage massage can also improve immunity and soothe muscle soreness, so it's really a perfect post-flight treatment.
Scalp Massage:  A great way to de-stress after a flight of any length.  Feel all of your frustrations fall away during this head and neck treatment, as your therapist massages warm oil throughout the scalp to relieve built-up tension.  Scalp massage can treat headaches and migraines and will also help with circulation.
Oxygen Therapy:  Oxygen has been a staying trend in spa as of late, but it makes a lot of sense at an airport spa.  Oxygen facials are a great way to perfect pores if you are flying to a big event, but oxygen therapy can be a great way to invigorate anyone in just a few minutes after touch down.  Oxygen scented with oils is administered in a comfortable setting through a two-pronged tube inserted into the nose.  Oxygen therapy helps with relaxation and can boost immunity.
Have you made time in your travel schedule for a stop at the airport spa?