Three Massages to Tap Into Happy
---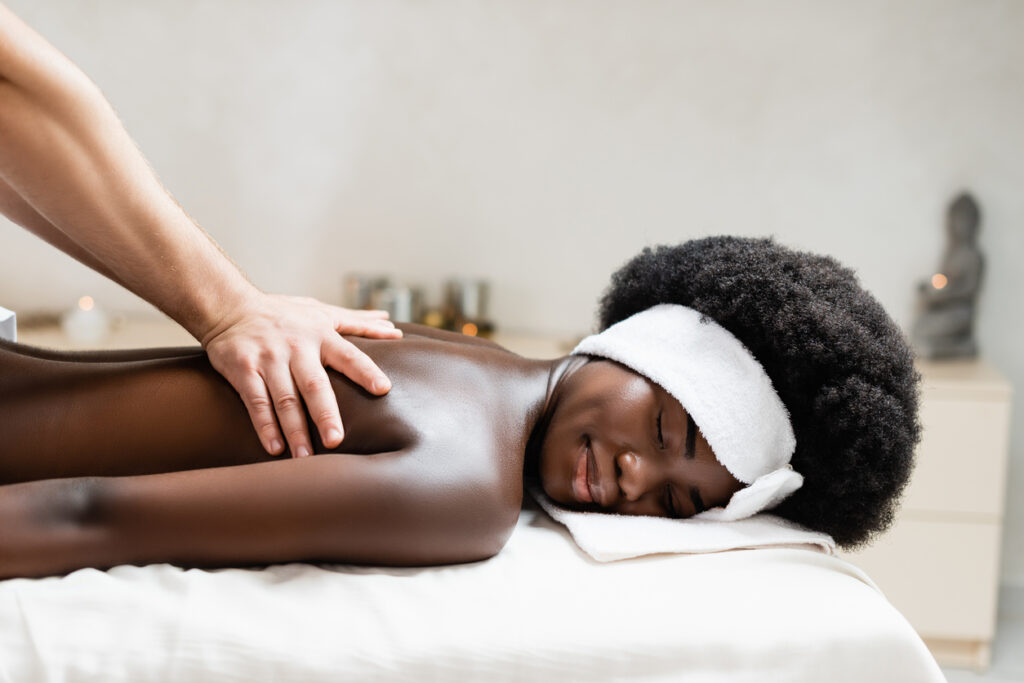 Happiness is a state of mind, and you can boost it with a beautiful massage! International Day of Happiness is on March 20 and the entire month is a perfect time to reflect on our inner selves and decide what brings us joy. Family, friends, work, and good food often top the list… but massages also deserve a spot. These treatments nourish your body inside and out. Plus, they release tension from the body and mind to make you happier than ever. Research has shown that regular massages decrease your levels of the stress hormone cortisol, and also have the ability to reduce depression, anxiety, and mood disorders. With these statistics come health and happiness, and we can't think of a better way to celebrate March 20 than with a stress-reducing spa day. Improve your happiness and more with these three massages made for you:
Swedish Massage
You can't go wrong with the classics, and a Swedish massage is the all-in-one treatment you need for health and happiness. It's one of the most popular massages in the world for a reason. This treatment is composed of deep-kneading techniques across the entire body that release tension from the muscles and the mind. Studies have shown that a Swedish massage relaxes the nervous system, aids circulation, and helps with detoxification, all of which lead to a happier mindset. Whether you're getting one to ease muscle aches from your physical job, reduce migraines, or simply get a healthy dose of self-care, a Swedish massage is the universal treatment that all can enjoy. Our recommendation for this March? Sign yourself up for a spa subscription and monthly massage. With a Swedish massage to look forward to every four weeks, you'll be happier every month.
Tip: To bare or not to bare? Save these to do's for the ultimate advice on nudity, including during massages.
Reflexology
You may have joked with your partner that a foot massage is the way to your heart. Well, a reflexology treatment takes the term literally. Originating in Chinese medicine, this ancient practice promotes the idea that your foot is a map of "pressure points," which are linked to certain areas of your body for overall wellness and happiness. The padded part of your foot connects to the lungs and heat, midsection to the kidneys, and perhaps most importantly… the big toe to the head and brain. Believers in reflexology believe that seasoned practitioners will help you tap into happy while nourishing your organs in return. Is there any better method for a happier and healthier you than with a foot massage? Try one today!
Tip: Learn more in this article from the Mayo Clinic.
Aromatherapy Massage
A great way into your heart, brain, and mind is through your nose, which is why you need a destressing aromatherapy massage with the best essential oils. This is a loving take on the most luxurious massages, like Thai and Deep Tissue, and pumps oils into the air (along with into your skin) to release muscle tension and improve your mood. You can pick the best essential oil that matches your values and vibe, and go from there! Jasmine and Lavender are romantic scents with a proven ability to create productive thoughts, while peppermint and vanilla are a foodie's dream that give you a fresh outlook on life. Switch up your scent during every monthly massage visit, or find your favorite and make it a staple for your aromatherapy spa sessions. The power of these essential oils is in your hands (and on your body!).
Tip: Discover which massage is best for you in this Spafinder guide.