Make Room for Your Meditation Practice with Calm
---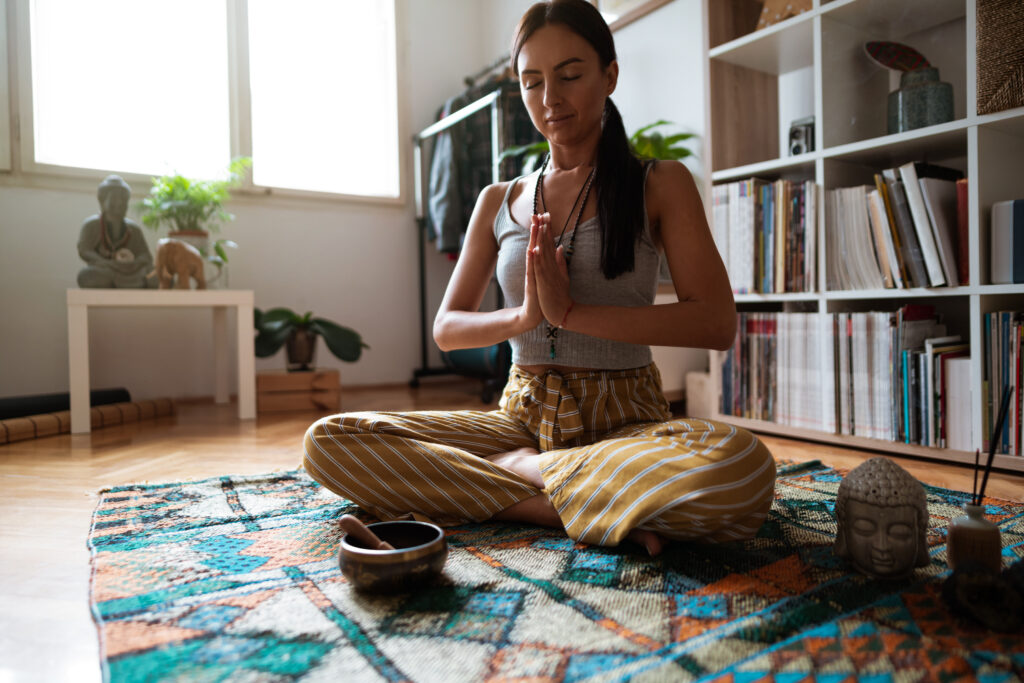 The best part of meditation is that you can practice literally anywhere – your house, your office, your car. All you need is a bit of quiet and maybe a wonderful guide (Hello, Calm app!) to help you clear out your mental clutter. But creating a special space just for meditation can encourage your practice and allow you to continue building the mental agility that meditation brings you. Here are a few tips on how to manifest your meditation corner.
Build a Peaceful Meditation Oasis in the Chaos
Your physical space is a reflection of your mental status. If your house is dirty, your mind is probably feeling stressed, distracted, and overwhelmed. But being in that mindset is probably when it's the hardest to do the heavy lifting and clean! By creating a calm corner, you can help ensure you always have a place to recharge and refocus. Hey! If your phone charger gets a dedicated plug, you can have a dedicated meditation corner! You deserve it — just make sure it stays a laundry pile free zone.
Think of the Three S's – Sight, Sound, Smell
Meditation is all about quieting your mind and realigning your body. So when crafting a space for you to do your daily practice think of all the ways your body will experience the space.
Sight is all about creating a visually pleasing spot that makes you relax simply by looking at it. While certainly the image of meditation is sitting on the floor, that doesn't work for everyone. Your meditation corner can be a pillow on the floor, a comfy chair, or even a giant beanbag. It's whatever makes you feel comfortable — and whatever you can sit up and ground yourself with. Beyond that you can decorate how you see fit but we recommend plants – being around nature can restore you (check out our favorite forest bathing!) and simply surrounding yourself in greenery can bring the forest to you. It's incredibly calming and all that extra oxygen can be nice for those deep breaths you'll be taking.
Sound means shutting out the noise of the day to day and allowing yourself to sit in the quiet. You should be able to tune out the excess noise and really focus in on your guided meditation. If you can't close the door on all that sound, then embrace a pair of noise cancelling headphones. After all, you can't focus on yourself if you can't hear yourself think!
And finally — Smell. Yes, smell. Aromatherapy has been found to assist in meditation and certain scents restore and calm your body. Lavender is especially good for helping lure people into blissful nights of sleep. So whether it's a candle, a diffuser, or a perfume, don't forget smell when you are coming to your meditation practice. After all, scent is one of the strongest sense memories so once you get your signature meditation scent installed, your brain will lock it in and simply smelling that smell in the wild will cause your body to instantly relax. Not bad for a nose, right?
No Space, No Problem
If you don't have any space to dedicate your meditation practice or you can only find 10 minutes to realign yourself between meetings, soccer practice, flights or whatever, don't worry! You can take your meditation practice with you! Yes, having a dedicated space is nice but a lot of time we don't have any space left to dedicate. Sometimes you have to reverse Field of Dreams it – build the practice and the space will come. That's why the Calm app is right there on your phone ready to bring meditation to you not the other way around.
This is why we here at Spafinder have partnered with Calm, the leading mental wellness brand, to bring the app to subscribers at a discounted price through January 31. The offer, which is a first for Spafinder, is available to those who subscribe for Spafinder's bi-monthly newsletter—whether you are a new subscriber or an existing one. The special promotion is 50 percent off Calm's annual $69.99 subscription and available to Spafinder subscribers. The discount is solely for new Calm Premium members. And to reward existing newsletter subscribers, Spafinder will distribute a Calm promotional communication to ensure that everyone has a chance to focus on their mental fitness.