Aromatherapy: Scent with Intent
---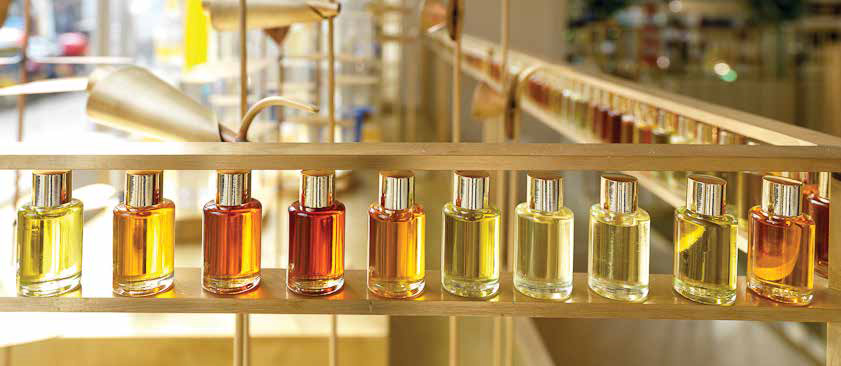 Refreshing water with slices of citrus and white fluffy robes – these are the simple amenities spa visitors have come to expect and delight in. But there is another ambient detail that gets overlooked since it usually hits us on a more unconscious level: the calming orange blossom and lavender scents that often waft through spa lounges, treatment rooms, and hallways.
These aromas have been part of spa and wellness experiences for years. Taking its cues from ancient Egypt, China, and India – where fragrant plant oils were used for religious, cosmetic, and medicinal purposes – the spa industry latched onto scent early on as an essential component of wellness and helped launch aromatherapy into the mainstream.
Now aromatherapy is moving in bold directions and playing a greater role in the treatment of pain, as a mood enhancer, in sleep therapy, and to improve cognitive function. And for an industry intent on promoting natural, holistic treatments, it is a perfect fit: Ideally, there are no synthetic chemicals involved, since in its best application, aromatherapy involves the use of absolutely natural oils extracted from many parts of plants, including flowers, bark, stems, leaves, and roots.
But we're entering a new era of customization. As the power scent has on our memory, emotions, and body becomes even more valid – and greater efforts are made to wild harvest the most effective botanicals – spas have been motivated to reimagine their aromatherapy approach from the more generically pleasant to the personalized and transformative. In 2014, there will be a growing effort to craft an aromatherapy of intention, working in tandem with botanists and even high-tech digital technology. In addition, inspiring, local, and natural scent will play a bigger role in the business world and in public spaces (restaurants, retail, hotels, hospitals). Call it beyond sachets and cinnamon candles.
Fueling the Trend
Increased Demand for Organic
With a greater emphasis on organic botanicals, and given the almost immediate impact essential oils have on our mind and emotions, more people are utilizing aroma to enhance their everyday environment, from their cubicle to their living room. Over the last two years, sales of aromatherapy and body oil products in Natural Supermarkets grew 15%+ annually.1 And this has upped the aromatic ante not just in spa environments, but also in public and domestic spaces.
Stress Reducer
We live in a stressed world, and the evidence around aromatherapy's power as a stress-reducer may be the standout. For instance, one study 2 analyzed 340 dental patients waiting for appointments, and found that those who received lavender aromatherapy showed significantly lower levels of anxiety than those who did not.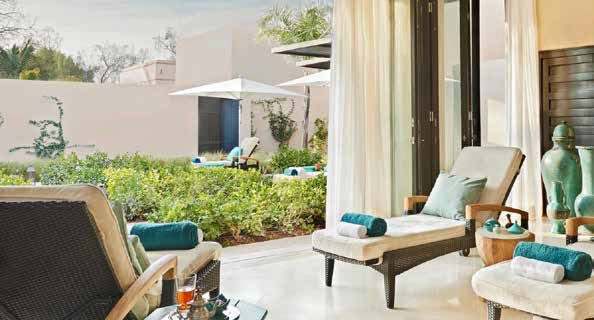 Proven Health Benefits
Aromatherapy's effects, according to a National Institutes of Health site,3 "are theorized to be the result of the binding of chemical components in the essential oil to receptors in the olfactory bulb, impacting the brain's emotional center, the limbic system. Topical application of aromatic oils may exert antibacterial, anti-inflammatory, and analgesic effects." Most medical studies on aromatherapy are understandably small (and more research needs to be done), but the positive clinical evidence around aromatherapy, especially for "quality of life" measures, continues to expand. For instance, trials4 have indicated its benefit in reducing: stress and anxiety, insomnia, depression, tension headaches, systolic and diastolic blood pressure in people with hypertension and agitation/emotional problems in people with dementia. It has even helped curb nicotine cravings in smokers.
Use in Other Industries
Based on scientific studies, businesses are recognizing the strong connection between scent and memory and using aromatherapy in retail environments, restaurants, hotels, etc. As reported in the Daily Telegraph5, there is a growing body of research that reveals smells connection to memory and improved recall. For instance, a Harvard University study showed that when people were exposed to a rose scent while they slept after studying, that had greater recall of the material.
Mood Booster
Smell is also increasingly being recognized as an instant mood-shifting and brain-engaging sense. Research shows that the sense of smell is 10,000 times stronger than our other senses, which must travel through the body before reaching the brain. Only the olfactory response is instantaneous and leads directly to the brain, giving our central nervous system direct exposure to the environment.6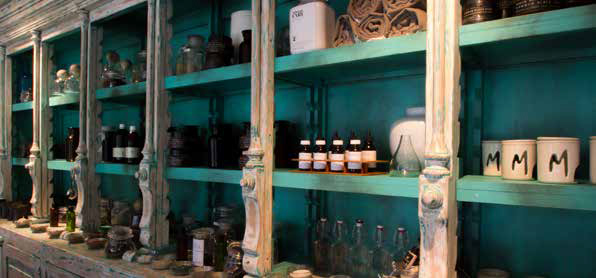 Greater Personalization & Custom Blending in Spas & Resorts
Generic use of aromatherapy is on the way out as more spas and hotels develop custom approaches based on personal needs and preferences. "As we look more to holistic wellness, the mind and emotions are becoming more and more important," explains Geraldine Howard, president of Aromatherapy Associates and creator of Inner Strength bath and body products. "Spas are moving away from the 'fashionable and mainstream' marketing ploy of aromatherapy and are beginning to use essential oils and the power of scent for their true purpose-sing quality products for their innate therapeutic healing qualities. And spas and wellness businesses are taking the 'old aromatherapy' in new directions."
This new trend is exciting and personal. Imagine going to a spa and receiving a treatment with essential oils based on your immediate needs and desires? At the worldwide Westin Hotels & Resorts' Heavenly Spas, a partnership with Aromatherapy Associates has resulted in clients receiving customized treatment based on their "How do you want to feel?" Wellness Wheel. To achieve the client's intention, the therapist will carefully select essential oils and techniques, music, and offer health recommendations. Meanwhile, Spa Matilda at Hotel Matilda in San Miguel de Allende, Mexico invites guests to concoct their own personalized blend of natural remedies and scents with the help of the spa's Apothecary Concierge, who schools them on the beneficial properties of local artisinal ingredients such as rosemary, sage, mint, juniper, and cocoa. The Concierge then concocts the personalized blend, which is used in body treatments and aromatherapy during the stay and/or at home.
Then there's Natural Le Spa at Four Seasons Resort Marrakech, which has introduced a head-to-toe Aromatherapy Signature Treatment to its menu, featuring the personalized use of aromatic herbs grown in the resort's organic garden. Rosemary, mint, lavender, and verbena are all picked for their specific healing properites to rejuvenate, harmonize, and relax the body and mind.
Meanwhile, the Hypnôze Spa, in Cuzco, Peru's Palacio Nazarenas, has two local shamans guiding them in the production and personalized applicationof its own essential Andean oils, while members of the nearby community do the actual harvesting.
At the brand new The Vines Resort & Spa overlooking the Andes in Argentina, the spa's focus is squarely on personalized, multi-sensory treatments and experiences, and has partnered with Argentinean perfume lab FUEGUIA 1833 to deliver this custom fragrance approach.
And at the Hotel Renew, on the island of Oahu, there is actually an aromatherapy concierge program: For their stay, visitors can choose from four custom-blended scents: the Bimbi (omile, bergamot, rose); Isola (gardenia, tuberose, fig); Vaniglia (vanilla, jasmine); or Verde (fresh green notes, melon, tonka bean, jasmine).
Scent Goes High-Tech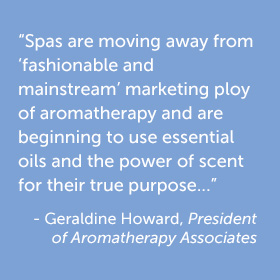 In 2014 we will see even the marriage of authentic spa aromatherapy to the latest personalized app technology.
Nick James, who received a master's degree in botanical science at Oxford University, recently re-launched his 13-year-old aromatherapy company, Body Bliss, which is unveiling the Intentional Aromatherapy App. Available in participating spas in early 2014, it allows spa directors to access deep, "Masters-Degree-in-Botany" levels of information on aromatherapy, but in a simple and easy-to-understand format, so they can deliver professional, personalized, healing, and intentional experiences to clients.
Spa professionals will be able to use the alchemy iPad app along with the in-spa Aroma Design Lab blending bar to create a totally personalized product for their clients – one that is used in treatments and another they can bring home. Using 20 organic and wild-harvested essential oils, the International Aromatherapy iPad App can create up to 250 individual combinations of blends to create specific physiological effects for a specific person.
The app allows the therapist and the client to mindfully collaborate and focus on the specific intention of the treatment. A client can select from four different options: Positive Outcomes (how you want to feel in the moment); Loving Messages (carrying your intention to a recipient, which takes gift giving to a whole new personalized level); Plant Spirits (which focuses on the process of blending); and Special Seasonal Blends for holidays and seasonal treatments.
"Aromatherapy is often overwhelming, but this app puts the power in their hands," says James. "It puts the guest in charge."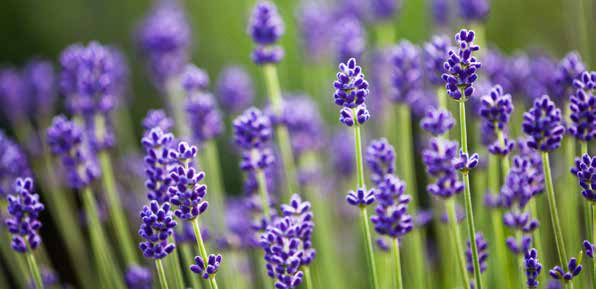 Beyond the Spa Walls: New Scents in New Places
With aromatherapy offering diverse physical and mental benefits – and scent's intense connection to memory – it's no surprise more and more businesses are bringing customized scent to unexpected environments.
Diffused and curated scents are getting a much bigger place in retail shops, hotels and restaurants, as well as healing environments like hospitals. And you could call this aspect of the trend the "spa-ification" of so many other businesses.
It's not necessarily a new idea; for instance, for years hotels have understood the value of having customers associate their brand with a specific scent to create more "memorable" stays. But an increase in awareness of aromatherapy and the power of a scent impression has made the practice more ubiquitous and intentional.
More proof that aromatherapy's usage is getting pushed in unexpected directions: Consider LA-based "aromatherapy artist" Persephenie Lea, whose work goes well beyond the old scented perfumes and candles, to handcraft exotic, fragrant jewelry, candies, ceramic vessels and other uncommon objects – even scented paint – in a space that is equal parts ancient apothecary and art gallery. (And where individual perfumery sessions are on offer, to create 100% bespoke scents.)7
Retail: From Playlists to Scientists
In 2014 scent will grow as the new emotion-targeting tool in more retail businesses, adding another layer to environments that already include carefully designed ambient lighting and highly curated musical playlists. According to a large survey by independent institute BVA and Air Berger, scent marketing is a powerful sales and customer loyalty weapon: when used 78 percent of customers report they intend to return to that store, and it increases impulse purchases by 38 percent.8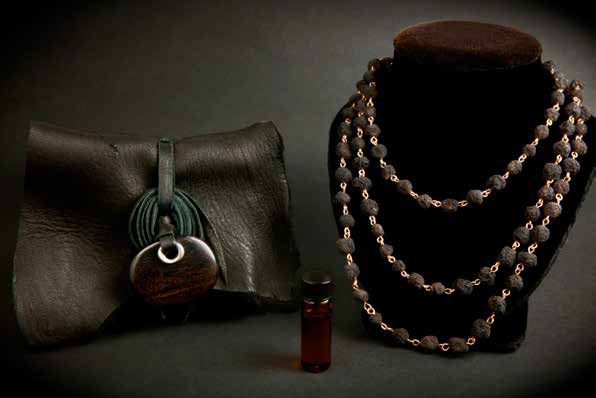 Restaurants: More Than A Great Taste
You'd think delicious-smelling food would be enough, but trendy, experimental restaurants are getting really creative, and more are incorporating enhanced scent to create dynamic, five-sense experiences. Baum & Whiteman's 12 Hottest Food & Beverage Trends for Restaurants and Hotel Dining for 2014 report states, "Food is not enough… restaurants are enhancing the dining experience by fiddling with our senses… redefining 'eatertainment.'"9 For example, Shanghai's Ultraviolet uses four smell diffusers along with a myriad of other sensory additions, while the Casino de Madrid's invitation-only techno-dining room diffuses aromas like mushrooms and grassy wetness at different points throughout the multistage, multisensory meal.
Hospital Scents by Design
Hospitals are increasingly using "emotional design" to positively transform their reputation from being cold and stressful places, to being warm and healing ones. For example, many more hospitals, like Mãe de Deus Hospital in Porto Alegre, Brazil, are now diffusing aromatherapy blends throughout the air in rooms and public areas. But aromatherapy is showing even more applications in basic patient care. And that's because the medical research indicates its benefit in diverse clinical/hospital scenarios: from studies that show it can contribute to reduced pain intensity during dressing changes in wound care – to those that show it can help relieve anxiety, pain, nausea and/or vomiting, or to strengthen contractions, during childbirth. Hospitals are known to have a chronic insomniac patient problem, and with research10 showing that patients given lavender aromatherapy treatment generally have an easier time sleeping – even with the distractions of the ICU and CCU – its usage is on the rise.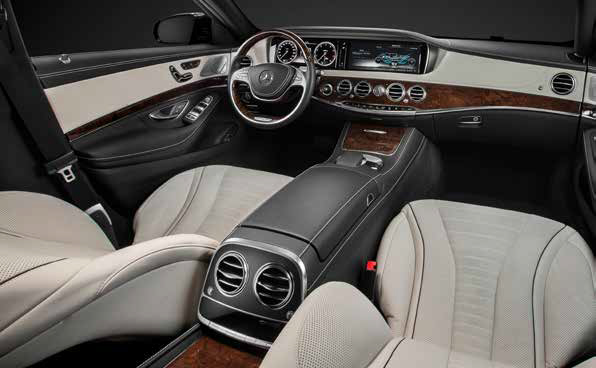 Even in Cars
Yet another example of the wild expansion of spa-pioneered aromatherapy is the new 2014 Mercedes S-Class. Not only do the car's seats simulate hot-stone massage, drivers can select from a variety of aromatic blends (like "Sports Mood" or "Downtown Moods"). There is even an option for drivers to create an organic and wild-harvested blend for a custom ride.
Down the Road
Customized aroma will only get more specific as technology keeps innovating. Will the science of scent allow people to alchemically concoct the aroma of their grandmother's unique, perfect blueberry pie? Let's hope so. Until then, the trend away from more ho-hum, "spray and pray" aromatherapy approaches in spa/wellness businesses, to far more personalized, intentional applications (using a wider array of botanicals and pure essential oils) will continue to fuel people's needs for the right aroma at the right moment, and for the right therapeutic mind-body effects. The medical and marketing research on aroma's effect on our brains and body mounts. And at a time when people want a very quick way to alter and enhance mood – and relieve stress in our frantically stressed-out world – aromatherapy is proving to be a healthy and natural way to do just that.
SPINS. [2012]. Aromatherapy & Body Oils: Snapshot Report- Data Ending 03-17-12, Supplemental Insights Analysis. Schaumberg, IL: Winters, D.
"The effects of lavender scent on dental patient anxiety levels: a cluster randomised-controlled trial." Community Dent Oral Epidemiol, 2010.
See: http://www.cancer.gov/cancertopics/pdq/cam/ aromatherapy/healthprofessional/page5
As with most clinical trials, most aromatherapy studies have been done on people in hospitals or with serious medical conditions/illnesses.
The Daily Telegraph, May 12, 2010 6 Serene Aromatherapy
7 Los Angeles Times, 2013
8 BVA survey for Conforama
http://baumwhiteman.com/2014TrendForecast.pdf
10 http://www.ncbi.nlm.nih.gov/pmc/articles/PMC3203283/
TOP 10 SPA & WELLNESS TRENDS FOR 2014
MORE SPA & WELLNESS TRENDS