Relax at Home with Lavender Scents
---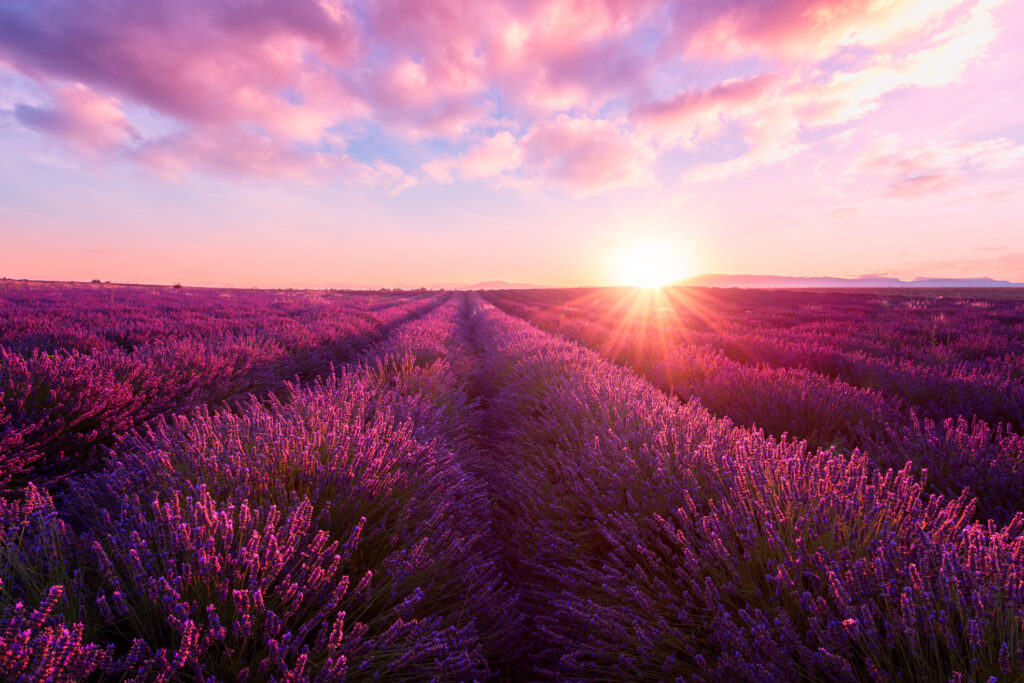 Here at Spafinder, we have nothing but love for lavender. The majestically purple herb is an aromatherapy essential with benefits for calming the nerves and nourishing the mind. Lavender is known to release physical and emotional tension. And is proven to encourage positive thoughts — simultaneously easing anxiety, depression, and insomnia. It's also a wonderful bonus during your monthly massage. And as much as you love it at the spa, the lavender scent is even more magical in your living room. Your home is your safe haven, and you can provide calming, soothing, spa-worthy scents with the best wellness products. And we're not just talking about sheet masks and candles (though we don't rule them out). We also love blankets, mists, and more to soothe your mind and soul. Stress less and heal more with the loving scent of lavender in products from the Spafinder Shop.
Tip: Use your Spafinder Gift Card to purchase top beauty brands like Jurlique, Spa Ritual and Comfort Zone in the Spafinder Shop. Now that's relaxing!
Weighted blankets are already a popular accessory for calming you down and helping you snooze. Good news — this lavender-infused Blankie has benefits that take healing to the next level. Weighing around four pounds, the weighted blanket helps to soothe both your muscles and mind. Moreover, the moist warmth and scent infusion relaxes achy and tired joints along your shoulders, legs, back, and stomach, especially when the blanket is heated up.
The scent of lavender also delivers other physical benefits that lay comfortably within your weighted blanket. Research shows that it can even help to improve migraines, hot flashes, and menstrual cramps in certain cases! And this is in addition to the mood-lifting and anxiety-easing powers that made you fall in love with this scent at the spa. Your mind will always be at ease with the Lavender Blankie neatly folded at the end of your bed, for a multitude of reasons.
As the beloved TikTok trend says… "now let's skip to the good part." There's something incredibly calming about the act of lathering sweet smelling beauty products on your skin. And this is especially true when it's not just your face that gets a healing refresh, but also your whole body for a head-to-toe glow. Inner and outer wellness is practically guaranteed with this Botanical Body Scrub by Privai. It utilizes sugar crystals to exfoliate and remove dead skin for a radiant look. It only gets better with the powerful essential oil blend, mixing lavender with verveine and lemon to make your shower equivalent to the most relaxing spa massage or steam room session.
Bath bombs are the ultimate self-care tool, on par with sheet masks and scented candles. All of these things are better with a luxurious, calming lavender scent. Which is exactly why you need these bath bombs from Primal Elements! Simply drop one into your tub to watch the magic happen. And by magic, we mean a fizzling selection of rich purple bubbles with a soothing scent that makes your bath time that much better.
It's a treat for all senses, including smell, sight, and eventually touch! While you're soaking in the beauty of this lavender bath bomb, it also releases a blend of moisturizing shea butter, coconut oil, argan oil and vitamin E into the water. You're left with soft, smooth, and stunning skin that's packed with moisture. We say these bath bombs are the best all-in-one lavender wellness essential.
Wake up, make up, and get a dose of healthy hydration with this healing sweet smelling mist from JL Essencials! Just spritz it on your skin for an all-day natural radiance, and your skin will feel rejuvenated, hydrated, and forever glowing. Whether used on top of makeup or on its own, you're destined to get your most flawlessly dewy skin. Plus, Balance Simply Lavender Mist is made with a blend of botanicals including lavender oil and extracts of gotu kola and goji berry. These botanicals invigorate the senses and give major spa vibes. And a few spritzes will result in gorgeous skin and a soothed mind, which sounds like a spa day to us! Try this magical mist today to infuse lavender into your most luxurious everyday looks, whether you're doing a full face of makeup or going natural.
It's no secret that the scent of lavender does wonders for the mind. It's why it's utilized in aromatherapy in nearly every spa across the country. However, the essential oil is also considered sensational in a variety of other settings. One study shows that lavender aromatherapy helped to calm down women in the postpartum stages. And another proved that dental patients found solace in the scent. Have we yet convinced you that you need the invigorating lavender scent in your home? If so, you need to try this candle by Kalyan Wax Co.
Whether you're enjoying a relaxing bubble bath, reading a book, or applying a sheet mask for a double dose of self-care, this lavender and bergamot candle adds ambiance to any activity. It's infused with lavender, orange, lemon, and cedarwood essential oils to bring the spa vibes right to your sofa, while helping you feel safe and soothed at home for the best of both worlds. Calling all may be avid candle collectors… this lavender-infused essential will make your home feel earthy and exquisite!