Special Delivery: Hair Removal for Dad
Published: Wednesday, May 26th 2021
by Spafinder
---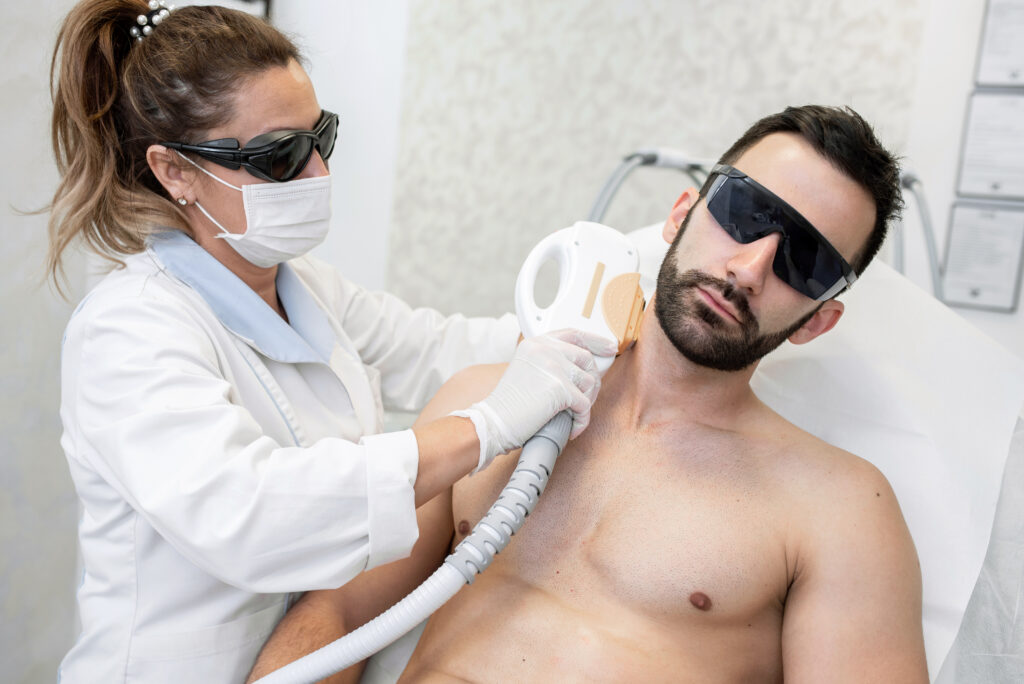 Dad may not be outspoken on the topic of manscaping (or maybe he is). But, whether secretly or not, there are plenty of men who wonder about hair removal or are curious about a more groomed look. So, just in time for Father's Day, we're shedding light on the topic with a crash course on what to know about getting rid of unwanted hair.
Is it true men do laser hair removal or get waxed?
Absolutely! And manscaping, or male grooming, continues to become more popular. Men are ditching the razors and DIY creams (and the nicks, cuts and burns that come with them) in favor of longer-lasting (and even permanent), smoother results.
What is Laser Hair Removal?
• Laser hair removal treatments use laser light to target the melanin in hair follicles. The laser light destroys hair follicles without damaging the surrounding skin.
• Men usually will need a series of 6-8 treatments to remove hair thoroughly—but results can be permanent.
• Cost: Sessions vary pricewise; you'll pay out of pocket anywhere from $100 to $500 per session. (And, as stated above, you typically need up to six sessions to achieve desired results.)
What is Waxing Hair Removal
• Waxing uses wax—hard, soft or strip—to remove hair from the root, therefore damaging the follicle.
• Waxing creates a smooth surface and results last for two to eight weeks. And because you're damaging the hair follicle when you wax, the regrowth comes in finer and lighter—and sometimes stops growing altogether.
• Cost: Waxing costs depend upon the professional spa or salon but range from around $40 (chest) to $60 (manzilian; back).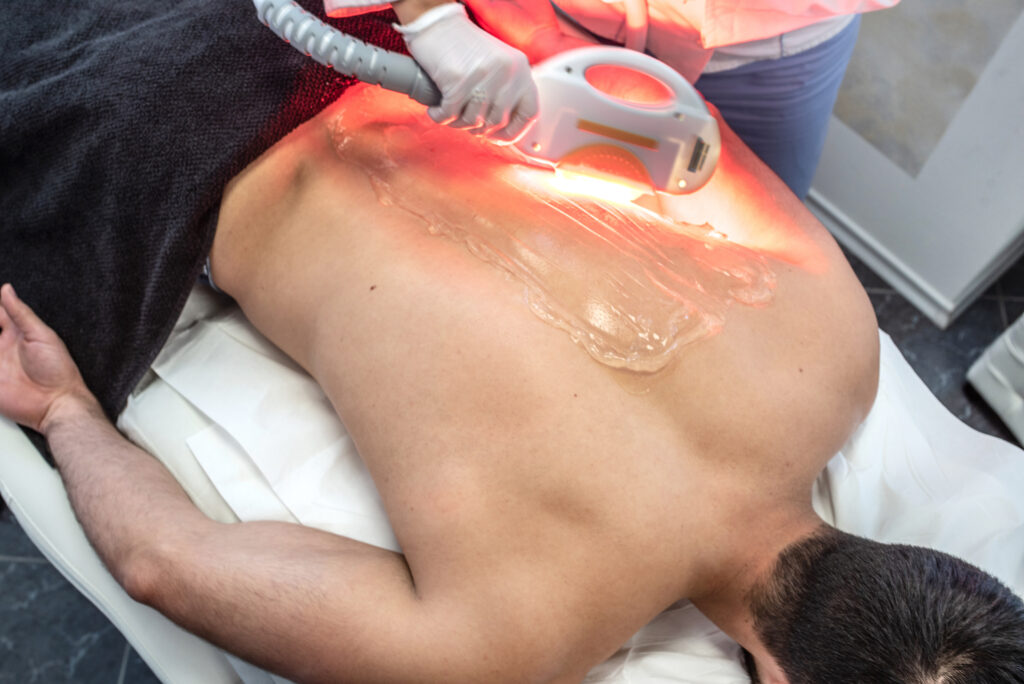 7 Benefits of Hair Removal for Men
Treats unwanted hair on many areas of the body: chest, back, shoulders, glutes and additional nether parts (Brazilian or "manzilian"), beard area, ears, neck and more
Trims grooming time: hair removal is an excellent option for athletes (swimmers, cyclists, etc.).
Workout devotees impacted by sweat, irritation, chafing, friction from exercise equipment, tight attire and other elements associated with exercise appreciate less body hair. (However, it's best not to work out 24 to 48 hours post-laser or post-wax treatment.)
Elevates self-confidence for those uneasy about their excess hair
Allows the opportunity to display muscle definition, tone or even tattoos
Potentially helps those prone to getting ingrown hairs
Acts as a dual skincare treatment: Waxing, in particular, exfoliates the skin while eliminating unwanted hair.
Things to Consider about Hair Removal Treatments
Commitment: Laser treatment sessions will be scheduled once every four to six weeks.(And again, you'll need multiple appointments to reach optimal results.)
Maintaining a proper waxing routine means returning to the spa/salon every few weeks for at least three appointments to ensure all hairs start growing at the same rate.
Laser hair removal doesn't necessarily work on everybody. Best candidates include fair-skinned people with dark hair. (Read more about laser hair removal.)
Treatments are not painless: Many compare the laser hair removal process to a rubber band snapping, though numbing creams may help ease any discomfort.
Waxing, meanwhile, is quick but there can be some discomfort. And the more you wax, the less painful the process.
Common side effects tend to be on the mild side and include discomfort, redness and swelling for one to three days.
If entirely hairless isn't your thing, rest easy: Laser hair removal and waxing doesn't have to leave you 100% bare; you can request thinning or trimming the hair as much as you'd prefer.
With both laser and waxing hair removal services, do your research, and book an appointment with to a reputable practitioner, board-certified dermatologist, professional spa or salon. Find these services near you at Spafinder.com.
Have an occasion to celebrate? Gift Spafinder Gift Cards.