His & Her Valentine's Day Massage Treats
---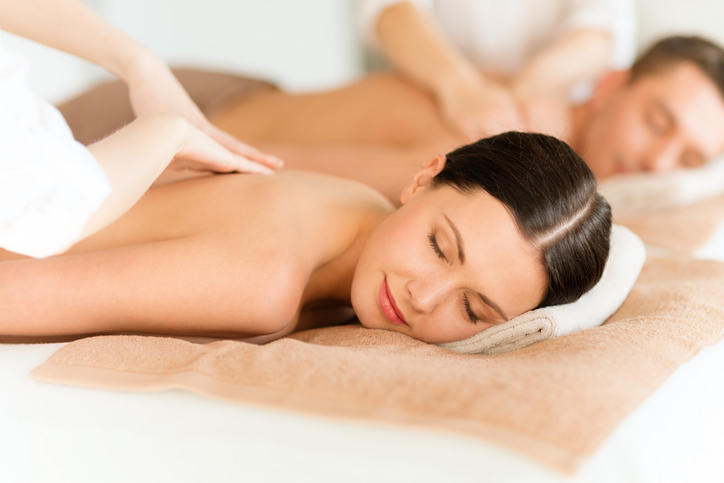 Just thinking about Valentine's Day makes us hunger for a dreamy massage. And for couples, a romantic couples' massage immediately come to mind. Whether you're planning an outing or celebrating at home, here are tips to enjoy this special day.
Be Soothed with Soothe®
Enjoying a massage at home is the ultimate Valentines' Day experience. You can add your own romantic touches (a glass of wine, scented organic candles, fresh flowers, your favorite music). And, a couple's massage in the privacy of your home can be very romantic.
Soothe, the at-home massage specialists offers a range of massages, including deep tissue, sports, prenatal and of course massage for couples. You can schedule your service on the web or in the Soothe app for any day from 8 a.m. to midnight. A vetted, background-checked professional massage therapist will arrive at your door with everything needed for your service. Soothe also offers at home or office skincare, hair and beauty services and is available in 70 cities.
Tip: If you're thinking about a Valentines' Day massage, be sure to plan ahead and book early.
Getting Ready for Your At-home Massage
Whether you're having an individual massage or a couples' treatment, make time to prepare the room in advance (flowers, music, wine at the ready). It's also thoughtful and relaxing to take a bath or shower shortly before your therapist(s) arrive. If you'd like your pet to stay in the room, just be sure puppy or kitty is well behaved, Otherwise, another space is best.
What Do I Wear?
Dress or undress to your level of comfort. Your therapist will drape you during your treatment so no worries about being exposed. If you are modest, it's fine to wear panties. We suggest undressing and wearing a robe before your massage so it is easy to slip it off.
Indulge in the Extras at Your Favorite Spa
If you'd rather celebrate Valentines' Day at the spa – and enjoy the extra amenities like saunas, water treatments, etc., review the spa menu in advance. To help you select your favorite, here are the top 10 most-popular-types-of-massage.
Tip: Spafinder Gift Cards are accepted at thousands of spas and salons and they can be used for top beauty brands in the Spafinder Shop.