Essential Oils for Calm This October
---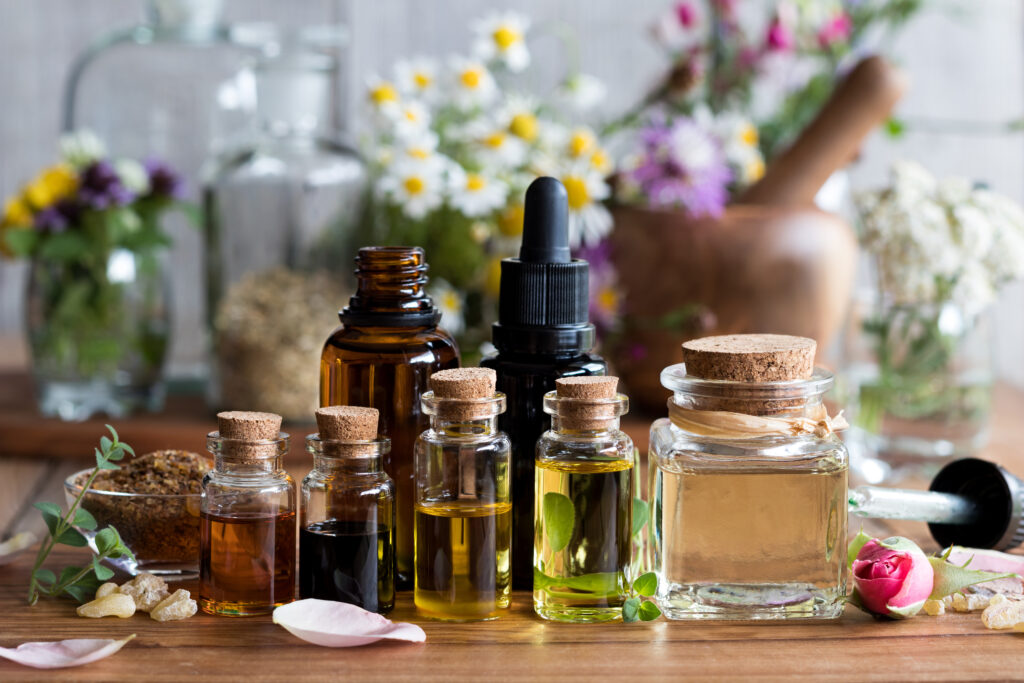 There are a lot of things to love about the fall season, from leftover Halloween candy to all the rainy day movie marathons you could imagine. However, there's also a darker side of the season, and we're not just talking about the way the sun sets earlier. Things like early holiday shopping and work deadlines can put a damper on your fall mood and cause unneeded stress. It's not the ideal situation, but it's also completely preventable with the best essential oils for fall. We've already told you about the ultimate destress tip, but things get even more fresh and fall-centric with the likes of peppermint, nutmeg, cedar bark and more. Are you ready to incorporate the best autumn scents in your home? Reduce stress and upgrade your fall senses with these essential oils.
Cinnamon
Great in your cookies, and even better on your skin! Cinnamon essential oil is a sweet and spicy way to take care of your complexion and beyond this fall. When used in an aromatherapy massage, it invokes feelings of relaxation, richness, and most of all comfort. Basically, if sitting on the couch watching a Christmas movie while cinnamon cookies bake in the background was a scent, this would be it. From a skincare and wellness standpoint, the benefits are even more dreamy and delicious. It's believed to help reduce inflammation, ease muscle and joint pain and enhance circulation, along with treating things like acne, rashes and dryness for your complexion. This is super helpful during chilly autumn days, with cinnamon helping to prevent the air from stripping moisture from your skin and causing it to go out of whack! This oil is also known to boost immunity and help ward off those seemingly inevitable autumn colds. We think it's the greatest oil ever for your autumn essentials.
Peppermint
Peppermint is a perfectly invigorating, ultra-soothing essential oil that blurs the lines between all three end-of-year holidays—Halloween, Thanksgiving, and Christmas. Talk about a seasonal treat. While it's often associated with food items, it's also the best in your moisturizers, scented candles, facial massages and more. Peppermint essential oils are commonly used to soothe nausea, reduce chronic pain, treat migraines and produce more energy. It has an uncanny ability to relax and recharge you simultaneously, which you'll understand during your first peppermint aromatherapy treatment. You know, the one that you got with your Spafinder Gift Card you were presented with as a pre-Thanksgiving gift (hint hint!).
Nutmeg
Even the word "nutmeg" floods the brain with endless amounts of fall festiveness, so you can understand why it's one of the top choices of seasonal essential oils. It contains the chemical compound Sabinene, which is believed to give nutmeg both its sharp and spicy aroma and an endless amount of physical benefits. These include helping to alleviate muscle and abdominal pain, aiding digestion and reducing bloating, plus a decrease in menstrual cramps for women. It's your go-to for gut health, a major wellness trend. And remember, gastrointestinal issues after a big fall feast, and the power of nutmeg, don't stop at your stomach. It's also known as a stimulant and sedative, helping to lower blood pressure and ease tension in the brain for increased mental clarity and improved mood. Get an aromatherapy massage with nutmeg this fall to enjoy these inner and outer benefits, and beyond!
Bergamot
"Seasonal depression" is a very real thing, but you can eliminate it and invoke beautiful feelings with one of the best fall essential oils: bergamot. It's known as one of the top oils for your mental health, with multiple studies showing that it lowers feelings of anxiety, fatigue, depression and stress while promoting more positivity. Bergamot helps to signal to the brain when you need more "feel-good" hormones, serotonin and dopamine, and makes an incredible addition to your aromatherapy massage or bubble bath. From a physical wellness standpoint, it's also known to help lower cholesterol, reduce chronic pain and inflammation, and provide hair and skin health for a beautiful and beaming fall season.