5 Hacks into Parenting Twins
Published: Tuesday, March 8th 2022
by Spafinder
---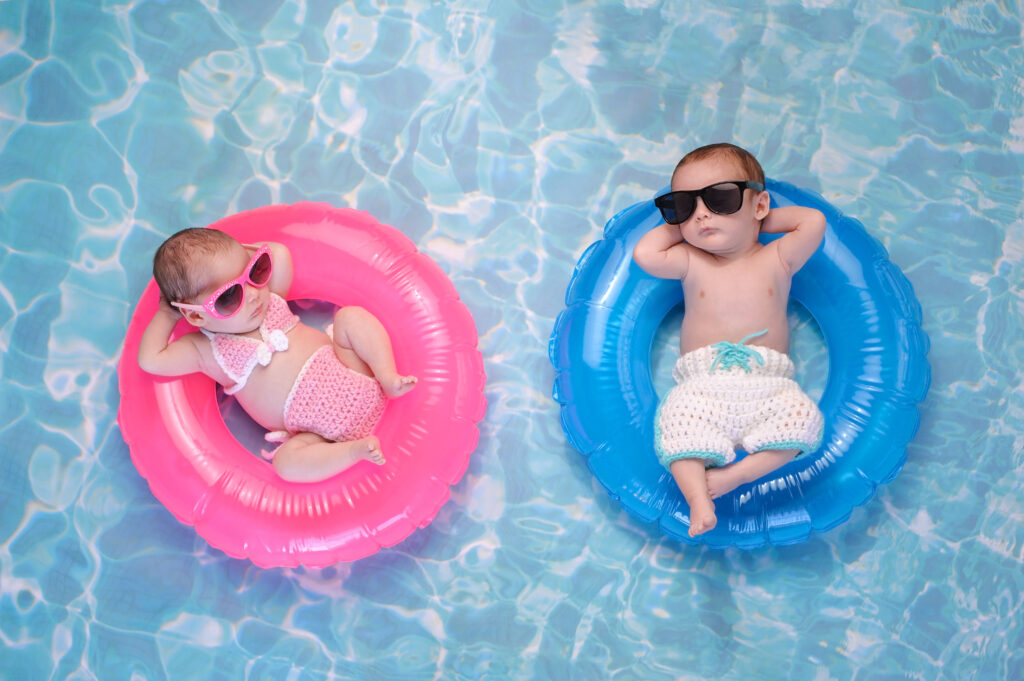 Life as a new parent is stressful enough, but what do you do when you discover that you're in for parenting twins? The best part is, you'll get double the love, double the cuteness, and double the photos for Instagram. However, you must be prepared for a parenting style that's very different from your peers. You'll be filling up two bottles and taking walks with a special type of stroller. Plus, there's a nearly one-hundred-percent chance that both of your babies will cry at the same time. That being said, it all becomes worth it when you see your infants smile at you. And you'll have a magical period with your multiples as long as you do your research. Here are a few parenting twins hacks to take you from stressed to super-parent in no time.
Keep a scheduling book
Your brain already has about a million things to track with your newborn twins. Why not make it easier for yourself by transferring them to the page? You can record nap times, diaper changes, feedings and more to monitor your babies within the first eight weeks. And you'll be able to take note of successes and failures to find the best schedule for you both. For instance, maybe your twins shouldn't sleep more than a few hours during the day to prevent nighttime screams. Or they prefer morning walks in their double carrier that put your babies in the best mood. These are the types of things you can determine by tracking your schedule in a journal, which you can also keep as a memento for when your children are grown!
Ask for help
All parents of newborns need a bit of assistance, and this is especially true for twin moms and dads. You're taking care of two precious humans, and should never be afraid to ask for help. Essentially, we're telling you that pride takes a backseat with parenting twins, as a whole new world opens up when you have an extra set of hands. Maybe it's your partner who gets up more frequently to feed them as you get much-needed rest. Or you have a loving mother-in-law who will happily change diapers and soothe the babies to get precious time with her grandchildren. You can also consider investing in a night nurse. Or look into sleep training your twins for easier snoozing and some much-needed rest.
We like these parenting hacks for raising twins from Today's Parent.
Wear them with pride
You'll definitely need a double stroller to take your twins on outings. (Check out Lucie's List for ideas.) We also recommend holding them in a twin double carrier as long as you can. For one, they grow up extremely quickly, and you have way less time than you think before they become too heavy for daily wear. This act also creates intimacy between newborn babies and their parents, while mom and dad have a hands-free way to bond with their little ones. You can do light tasks around the house, such as phone calls and paying bills, or go for a walk while the babies bounce happily on your chest. What's not to love about this scenario?
Find a soothing method they both like
One of the most difficult aspects of having twins? Treating them like the two separate individuals they are, while also forming a routine that fits both their personalities.. But there are ways to bond with them both. Twin parents have recommended a variety of soothing methods, including infant swings, funny dances, ambient music, serene smells and quick strolls. The list goes on and on. It may take a while to find an activity that works for both your babies but it will be so rewarding to see the two of them smiling at you when you do.
Tip: Learn the many benefits of baby massage in this article from the Spafinder archives.
Practice self-care
We know you love your newborn twins more than anything in the world, but you have to love yourself, too. A little self-care can help you be a better parent, as it decreases stress and anxieties while providing a more positive mindset. You can do this with the best essential oils like lavender and jasmine, a casual stroll through the park, a virtual Pilates session, or even a quick massage to make you feel relaxed and rejuvenated for your babies. Even a little bit goes a long way, as we know how busy you are, but you can't forget to practice self-care when parenting twin babies.
Most recent from Relationships