Hello Kitty Super Mario Bros.? 10 Themed Spas & Gyms
Published: Monday, August 27th 2012
---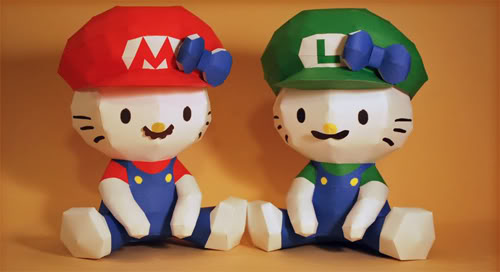 What do Hello Kitty and Super Mario Bros. have in common? Besides the adorable photo to the left, they're also both themes for spas and gyms. We've rounded up ten of the cutest, coolest and kookiest themed spas, health clubs and hotels from around the globe. Anyone who's ever wanted to get pretty with Hello Kitty, parkour in a Super Mario Bros. playland or work on their fitness with Madonna should definitely keep reading!
Sanrio Meets Spa
Hello Kitty is "all about sugar and spice and everything incredibly nice!" So it's no surprise the world's first-ever Hello Kitty Beauty Spa in Town Centre, Jumeirah, Dubai, is the ultimate pink destination for girls. Choose from fun services like the Kitty-cure, Kitty Glam Facials and Hair-dooz among others. And obviously, guests should fly over on the Hello Kitty Airline!
My Day with Marilyn
Thanks to Niki Bryan of Niki Bryan Spa Management Company, and Al Weiss, former president of worldwide operations at Walt Disney Parks and Resorts, we all may have a chance to experience our very own day with Marilyn Monroe – or at least some really gorgeous pictures of her. In the coming months the pair plans to begin rolling out the Marilyn Monroe Spas concept, which will include branded nail spas, "glamour rooms" (nails plus hair and makeup) and luxury spas.
Sip, Sip, Scrub
The Yunessun Spa Resort in Hakone, Japan, truly believes in the importance of bathing and a good drink – so naturally, they tied the two together to create their Saki, Green Tea, Wine and Coffee Baths. Guests can pick their favorite flavor and head over to the bath of their choice – each is decked out to the nines, and has its own benefits for the skin. Past themed baths at the resort have included chocolate and ramen noodle!
Drink Up!
Sometimes, a good glass of wine can help make even the worst of days disappear. Well, Caudalie Paris believes that a good glass of wine and a stellar vinothérapie treatment is enough to make it the best day ever! The spa in New York City features an entire menu of wine-infused treatments, like cabernet scrubs, wine maker's massage and barrel baths filled with vine-based extracts. Not to mention, the wine room in the spa's lobby is to die for!
Read about Caudalie's under-an-hour treatments!
"Life's Too Short For One Scoop"
Great Wolf Lodge, a popular family destination in the picturesque Pocono Mountains has opened up its very own ice cream-themed Scooops Kid Spa. For everything from celebrating birthdays to "just because" treats in life, the spa serves up ice cream-"flavored" mani-pedis, as well as facials for tweens. Of course, each service is topped off with a free ice cream at the nearby? Bear Paw Sweets & Eats.
What's Your Fantasy?
From an African Safari suite to a Railroad room, Fantasyland Hotel in Edmonton, Canada, pretty much takes care of it all. Their eleven themed suites run the gamut from pick-up truck beds, igloo artic adventures to Hollywood glam. Whatever your fantasy, you can live it up at Fantasyland Hotel.
"Harder is Better"
Madonna doesn't just believe that "music makes the people come together," she also believes in the power of hardcore fitness – I mean, have you seen those guns? The Queen of Pop's Hard Candy Fitness Clubs in Mexico City, Moscow and Santiago were developed after years of training in some of the top health clubs with the best trainers in the world. Madonna wanted to take fitness to the next level where exercise was anything but a chore. The state-of-the-art clubs offer everything from group classes to an energy bar and a sound and light experience to motivate members. Oh, and there are obviously the Madonna jams.
Heavy Hitters
UFC has hit the world by storm – and when I say hit, I mean throwdown. Taking mixed martial arts (MMA) cage-fighting to WWF-style fame and glory, UFC has branched out to open its own brand of gym with four locations across California and a brand new gym in Honolulu, Hawaii. The gym features cardio, free weights, group fitness and of course MMA training that will get you in prime BJ Penn and George St. Pierre shape.
From Bottles to Body Wraps
Centered on purity, health and youthfulness, the first ever evian®SPA launched in May 2012 in Japan. Located on the 5th floor of the lavish Palace Hotel Tokyo, the luxury mineral water brand's first concept spa covers 3,937 square feet and features six treatment rooms, a fitness studio, swimming pool with terrace and decor inspired by French savoir faire and Japanese tradition melding together. Starting this month, the brand plans to take the concept international.
Most recent from Editors' Picks