DIY Home Spa—Create a Sanctuary in Any Space
---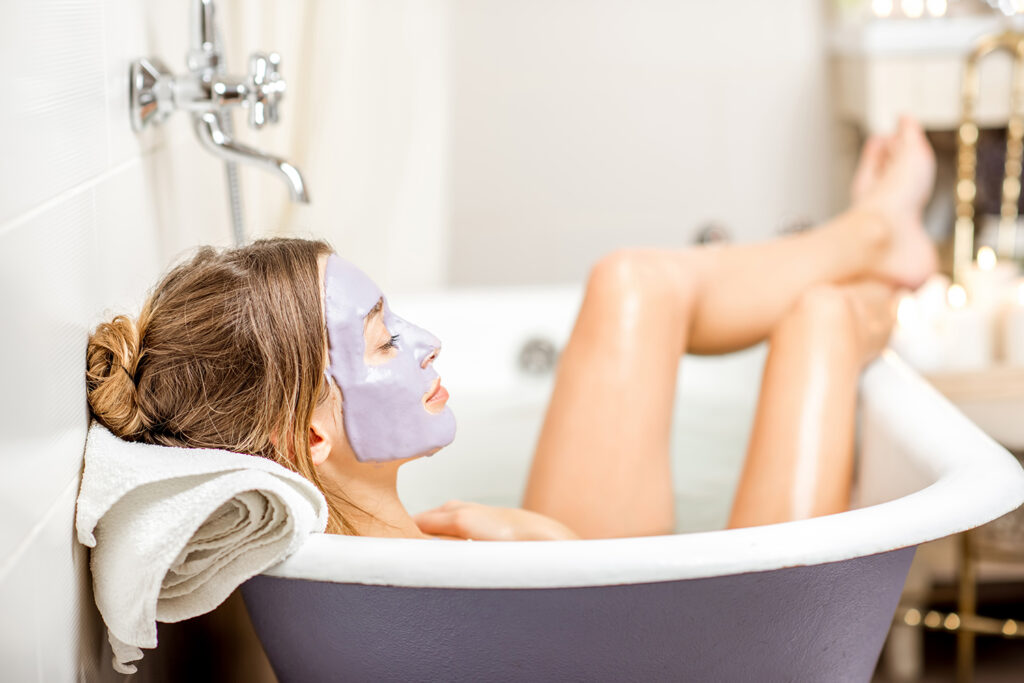 Home is where your candles are…and body soaps and skincare products, too! While we all love a trip to the spa, it's also a joy to transform your favorite room into a wellness haven. Since home is where you spend most of your time, why not build a personal sanctuary for a sense of inner peace, balance and detoxification? All it takes is a few personal touches, a quiet room and your favorites from the Spafinder Store to make your home a sacred place for self-care. Check out these wellness essentials from the Spafinder Store that every DIY home spa needs.
Lavender + Bergamot Dignity Series Glass Jar Soy Candle by Calyan Wax Co.
No home spa is complete without a sweet-smelling candle…and it doesn't get much better than this soothing aroma from Calyan Wax Co. You may recognize lavender and bergamot as some of the best essential oils to help you unwind on the massage table. And believe us, they're just as effective (if not even more!) from the comfort of your couch. This candle is also made with orange, lemon and cedarwood, which serve as the ideal scented backdrop for meditation, journaling, reading and more relaxing activities.
MBK Microdermabrasion by MBK Skincare
Remember when at-home skincare reached peak levels of popularity when we all stayed home 24/7 a few years back? It's still a must-have for your home sanctuary, especially the all-in-one microdermabrasion device by MBK Skincare that you'll find in the Spafinder Store. By gently exfoliating with a vacuum lift system, it helps to increase blood flow and release more oxygen to your skin. As a result, you'll end up with a more even tone and natural glow, plus a significant improvement in wrinkles and acne scars. It's like a handheld facial that you can receive while watching your favorite TV show!
Guac Star Soothing Avocado Hydration Mak by Farmhouse Fresh
Did your favorite snack just become your new self-care essential? Absolutely. This avocado face mask is a go-to for healthy hydration and protection against environmental stress. And yes, you definitely do still need key fatty acids to shield against free radicals even while you're hanging out at home! What else in this tasty mask, you may ask? A powerful antioxidant blend of goji berry, pomegranate and coffee seed, plus anti-irritants like green tea and allantoin. They all come together to deliver much-needed moisture to the skin and keep your complexion safe from harm. Talk about the perfect home spa pick!
Quintessence Diffuser by Yon-Ka Paris
Aromatherapy is an ancient holistic healing treatment that we all love at the spa. But did you know that you could bring the good vibes and grand scents home with you? All you need is this Quintessence Diffuser by Yon-Ka Paris! It dispenses the best essential oils into the air for up to seven hours of continuous atomization, helping to elevate mood, reduce anxiety and more. You can easily pick your favorite oil, whether it's lemon, jasmine or peppermint, to become your sanctuary's signature scent. However, you can also take things day by day and switch them up for a custom mood-boosting blend.
Yoga Mat by Therabody
As you build your sanctuary of holistic wellness, there's one meditation-meets-fitness essential that you can't forget…a yoga mat. Yoga has been around for centuries and continues to be a beloved exercise to this very day…due to its vast mental benefits and improvements to your physical health. From better sleep and mood to reduced back problems and a proven decline in stress and anxiety, there's no limit to the benefits of a yoga session! And the best part? You can do it right from home. Save time and money as you grab your mat and laptop, practicing your poses with yoga lessons for incredible results.