How to Fit Fitness Safely Back in Your Routine with Spafinder
---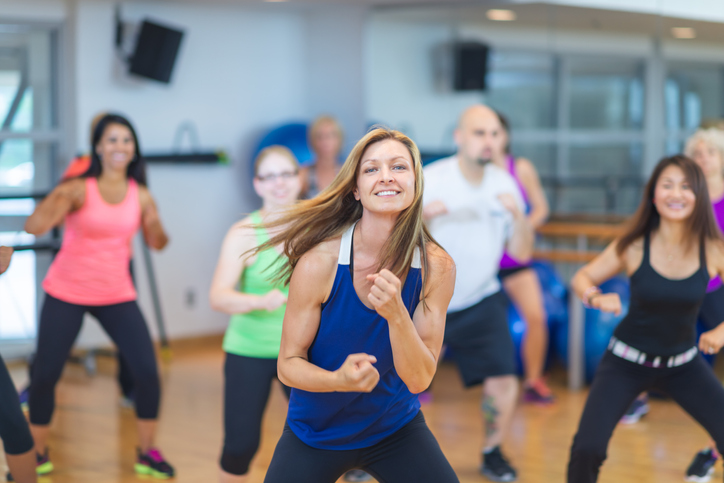 Yearning for the gym or a yoga class? Hankering for a new fitness experience? No sweat, Spafinder has you covered. Read on and discover fun new ways to get back into a fitness routine and learn how to return to classes and gyms safely. Our motto? Know before you go and Spafinder is here to help you do just that.
Pilates: Any Fitness Level and Countless Benefits
We know, Pilates is so 2000s. But if you haven't tried this ingenious fitness routine, don't knock it. First, hats off (or legs up and abs in) to Joseph Pilates for inventing a discipline that is adored by dancers and loved by anyone who wants a long, lean, toned body. Once upon a time, Pilates was only taught in dedicated studios but today you can find Pilates in just about every gym, community center or spa. It's become one of the most popular kinds of fitness around the world and it is especially helpful for those stuck in chairs and banging on keyboards. (Sound familiar?) There is a lot of talk about strengthening your core and your powerhouse but don't let the jargon deter you. The bottom line is you can soon feel firmer, your back pain can disappear and you'll look better in your bathing suit.
Learn more here and find a class near you by entering Pilates in the search bar at Spafinder.
Tip: If you can, try a few private lessons before you jump into a class. Individual instruction makes a world of difference.
Yoga: More Options, More Ahhhs
Sure, a lot of us kept up our yoga practice with classes during the pandemic. And those wonderful online instructors kept us sane and limber during the last year. Moreover, we'll keep logging on for more poses for our tired hips, tight backs and stiff knees. But a real, live instructor is motivating and will provide corrections – and your classmates give you a boost just when you need it most.
Plus, there are lots of types of yoga so odds are, you won't get bored. You can explore hot yoga, power yoga, Ashtanga yoga, Kundalini yoga, Hatha yoga and prenatal yoga – and that's just the beginning. Most Western yoga derives from Hatha and consists of asanas (physical yoga postures) and pranayamas (breathing exercises), and this handy guide from Yoga Journal has wonderful information.
Learn more and find a class near you by entering Pilates in the search bar at Spafinder.
Tip: Yoga is a discipline that uses the mind-body connection to reduce stress, increase flexibility, and enhance wellbeing. In short, it's a lot more than a fitness class.
Personal Training: The Ultimate Fitness Program
You earned it. You deserve it. We think the absolute best way to get back into working out is to book sessions with a private trainer. They will help you choose a routine that is best for your body and fitness level. And they are there to be sure you don't get hurt or strain your muscles unnecessarily. Many gyms and fitness centers have personal trainers, as do many resort spas. And trainers will often come to your home.
If you've been struggling with motivation or want a more personalized fitness routine, personal training is a terrific option. You will be more energized and enthusiastic –and you'll notice a difference in your body. After all, isn't that what counts?
Start your fitness journey here.
Tip: Most trainers offer special prices and some will train two people at the same time.
Stay Safe, Be Smart
As we begin our fitness routines post-Pandemic, you'll find a lot of information about staying safe and COVID-free. Spafinder suggests you review these five quick tips, ask questions and always, always trust your own judgement.
• Ask before you go
Find out what your gym or fitness studio is doing to protect clients. Are they conducting temperature checks? Is equipment placed at safe distances? How often is the facility disinfected?
• Bring your own water, towel and sanitizer
Be sure your bring enough water to keep you going throughout your workout. And if you bring a towel, don't throw it just anywhere (yuck, germs). We suggest you use disposable towels or wipes for your faces or hands.
• Keep it clean
Before you get on a mat or touch a piece of equipment, clean it with a disinfect wipe – that's before and after! The facility may be cleaning equipment but nothing beats your personal attention.
• Practice the basics
You know the drill: wear a mask, practice social distancing and wash or disinfect your hands a lot. The basics are essential – even if you are vaccinated. And if you have any symptoms at all, please stay home.
• Take it easy in fitness classes
Check out class sizes before you go and try not to work out behind other people.Outdoor classes are still best and plenty of ventilation is crucial.