Graduation Day Gratitude Ritual
---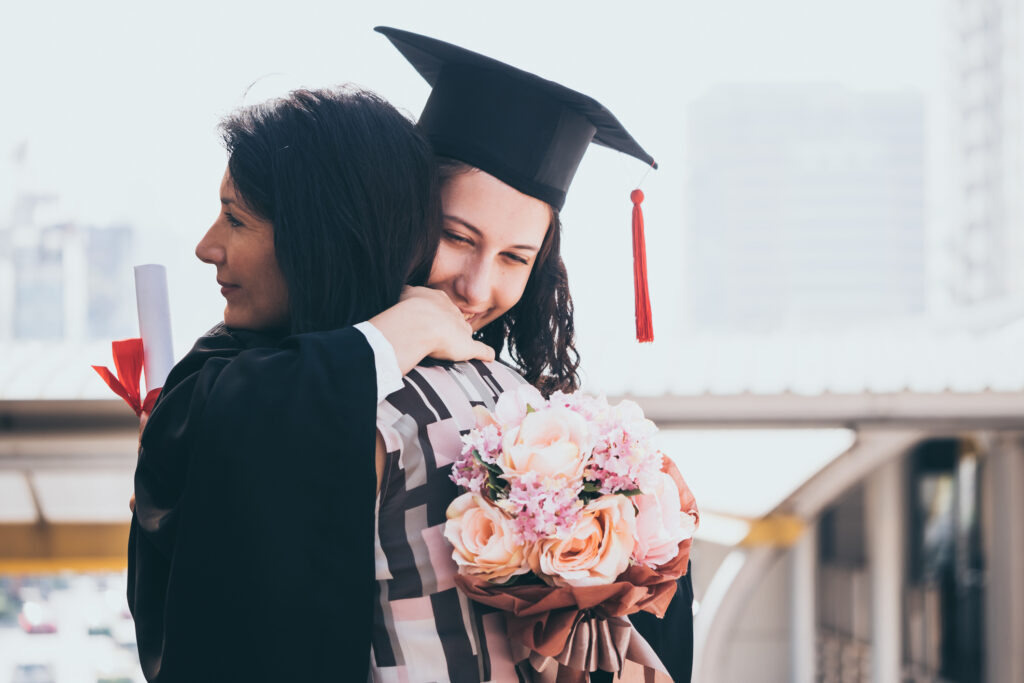 One thing you'll always want to have in your back pocket on graduation day? Gratitude. Receiving your diploma or degree is a major accomplishment that took years of hard work and sacrifices. And it's crucial to show appreciation for your journey. This includes everybody who's helped — think professors, parents, and most importantly you. Plus, it's important to be grateful for the things that kept you sane (like sheet masks!) and the goals that have kept you going. A graduation ceremony marks a new chapter in your life, and the right gratitude ritual can help you look and feel instantly better for your big day. If you're not sure where to start, here are a few tips for your graduation day gratitude ritual:
Set your future goals
It's safe to assume that you had a handful of goals throughout high school or college. These can include getting a "B" in your chemistry class, attending as many football games as you can, and meeting your future besties, just to name a few. Now that you've accomplished these goals and more, it's time to make new ones. Make a mini five-year plan for yourself, and set goals based on your realistic desires for the future. Maybe you're hoping to get into grad school or begin an incredible post-college career. Or perhaps your goals are a bit more personal, such as wanting to spend more time with your friends and family or starting your wedding planning. Also, never forget that your goals are constantly shifting and can be altered at any time. Part of your gratitude ritual is understanding that each chapter of your life produces its own unique goals, and this process provides a blueprint for the beautiful days ahead.
Write down your feelings
We're major fans of the gratitude journaling ritual, which helps you write down your feelings for both ordinary and special days. For a major event like graduation, you may experience quite a few emotions. Happiness and excitement, definitely, but it's also okay to be frightened or even a bit sad about the closing of this chapter. You should never feel ungrateful for having extremely valid feelings, such as anxiousness about the future or missing your college friends. And you can look back on these pages in the future to recall the good, the bad, and the best about your graduation day. A journaling practice you may want to try? Life coaches often recommend the 5×55 method, which consists of writing down your goals or affirmations 55 times in the span of 5 days. One example: writing down "I will get into the USC Master's Program" repeatedly over almost a week. The 5×5 method is said to help you believe in yourself and manifest your dreams. Not a bad way to prep yourself in the week before graduation day.
Treat yourself to a spa treatment
There are dozens of reasons why a spa treatment like a facial, massage or mani-pedi before your graduation ceremony is a good idea for your gratitude ritual. The biggest one is that you've worked incredibly hard to get through school and deserve a little treat in the form of a relaxing spa treatment. Beautifying facials also provide a fresh complexion that looks flawless in your graduation pictures. Plus, a spa treatment is also a wonderful way to bond with your family before the big day. Seriously, nothing says "my child is about to graduate" like a mother-daughter facial that leaves mom and you glowing inside and out. Choose your favorite type of facial treatment or massage, and let loose before walking up to the podium and collecting your diploma. You've earned it!
Recall the challenges you faced and overcame
You may be thinking, "I'm about to graduate, why do I need to recall that time I almost flunked out of algebra?" But here's the thing, your challenges have all brought you to that podium. You developed resilience, strength, and compassion for yourself that wouldn't have happened without a few bumps in the road, and you're now better equipped for future challenges. Not to be a downer, but life doesn't always turn out how you would hope. Layoffs, breakups, and senseless tragedies happen every day. You can choose to give up or become a fighter. (Spoiler alert: it should always be the latter option.) It may not be fun at the moment to recall your friend breakups or struggles in school, but it's a part of your gratitude ritual. Recall how you worked through them and you will be better equipped for the real world as a result.
Celebrate someone who helped you
While graduation day is mostly about you, you can also show gratitude to the special someone who helped you the most in your graduation journey. Whether it's the parent who paid for classes, a best friend who soothed you in stressful times, or a partner who loved you unconditionally, it's important to let them know just how much they mean to you. We're not saying that a Spafinder Gift Card is the only gift for "your person," but we think its tops the list! With Spafinder, they can choose a Swedish massage, hair treatment, facial or even a spa or beauty product that they know is your gift of gratitude. It will make you both feel great on graduation day!