Men's Grooming Essentials — Man Facials, Scrubs & More
Published: Wednesday, May 11th 2022
by Spafinder
---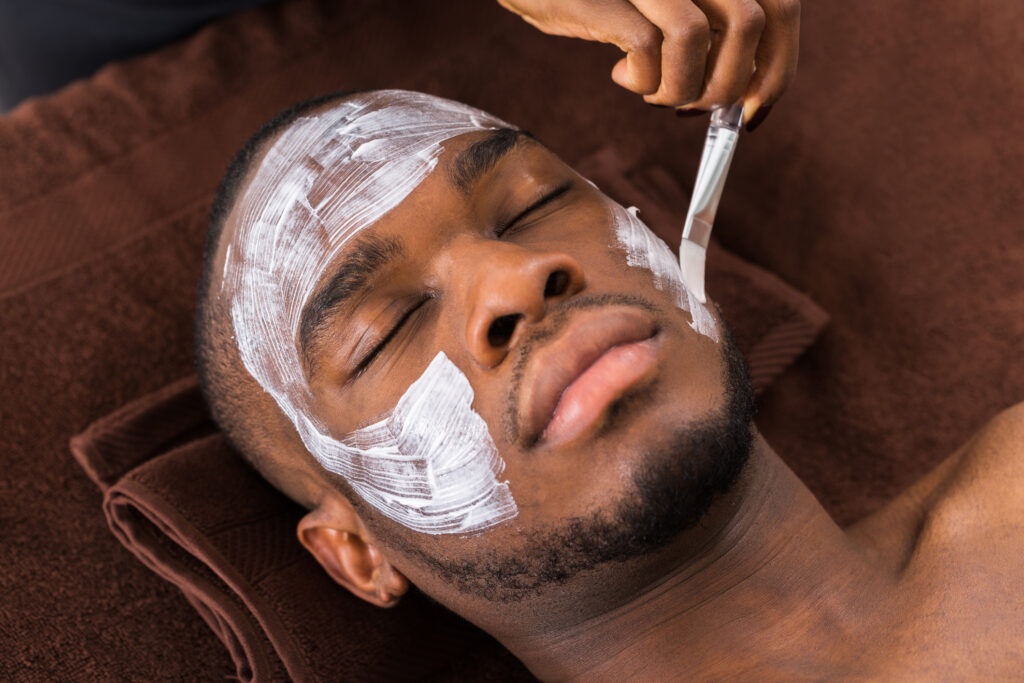 Men's grooming is getting more popular every day. Brands like Clinique and Kiehl's have skincare lines made for men, while more guys are joining their girlfriends at the spa for an intimate couple's massage or exfoliating pumpkin facial. In fact, that's what we're here to talk to you about. Spas have an incredible lineup of products to treat the most common men's grooming concerns, like acne, blackheads, dryness and more. Whether you're in the mood for a relaxing facial or shopping spree with your Spafinder Gift Card, you have the best exfoliating scrubs and brightening serums right at your fingertips. Remember last year when we told you about Movember and how to treat your skin, beard, and hair with kindness? It's time to take your men's grooming routine to the next level with the following products and treat yourself to a man facial.
And we think Father's Day is the perfect time to introduce dad to a healthy skincare routine!
Man Facial – the Facial for Men
Pumpkin Peel
You know how your girlfriend loves pumpkin spice lattes? Get him a men's facial that's pumpkin spice and everything nice. This gourd has enzymes with incredible exfoliating ability, removing yucky things like blackheads and oil and unveiling the flawless complexion below. While chemical peels are known for being a bit intense, deep cleaning your skin by "peeling" away the bad stuff, with the naturalness of pumpkin, will make it a bit gentler for beginners.
Pumpkin contains Vitamin C to eliminate dark spots and firm the skin, Zinc and Cooper for a brightness boost, and antioxidants to shield against sun damage. Can you think of anything better for your next spa trip? Book your pumpkin peel today and make it a habit for skin that's healthy and flawless.
Dermalinfusion
This man facial is a three-in-one treatment to recharge the skin in a natural way, perfect for men who want nice skin that doesn't sparkle too obviously. Your technician will use a handheld pen to deep clean the pores and extract impurities like blackheads, dead skin, and dirt, giving your skin a transformative glow up that's youthful and energized. At the same time, the technician will also inject a custom serum to treat your skin's specific needs. Want less dark spots? Try Vitamin C. Need a hydration boost? Hyaluronic Acid is your friend. And then there's Retinol, which helps fight lines before they even form. Dermalinfusion is an innovative treatment that you need to try, because we promise you'll soon be telling your boys all about it.
Exfoliating scrubs
Men have roughly 25% thicker skin than women, which makes it easier for blackheads, dead skin cells, and other impurities to get stuck within the pores. It's not an ideal situation, but all the more reason for a good exfoliating scrub in your men's skincare routine. Like this one by Shankara, perhaps? It features a blend of sea and mineral salts to purify the skin and deep clean your pores. This removes impurities to refine texture and ward away things like acne, dryness, and early signs of aging. This exfoliating scrub works so well, we can't guarantee that your partner won't want to borrow it from time to time!
Privai is perfection for your men's skincare routine, and the Botanical Body Scrub features all the exfoliating action you need while still showing kindness to your complexion. You know how much we love lavender scents, and this product provides healing energy and healthy skin, among many other things. It utilizes sugar crystals to exfoliate and eliminate dead skin for a radiant and refined look. It only gets better with the powerful essential oil blend, mixing lavender with verveine and lemon to make your shower equivalent to a full-body spa massage or steam room visit.
Hydrating serums
Hydration is the key to healthy skin, there's no doubt about it. It fills in the cracks that lost collagen leaves behind to prevent fine lines, while keeping your skin bright, soft, and smooth.
Pretty cool, right? This serum by Yon-Ka Paris takes hydration and anti-aging to the next level, with an advanced complex of re-densifying and regenerating hibiscus peptides, soy peptides and marine collagen. It also contains Vitamin C-enriched rosehip extract to protect and nourish, checking all the boxes for the best men's skincare routine. Use it daily to keep your skin healthy, happy, and hydrated for years to come!
The serum that's so nice, they had to name it thrice! Get that natural French guy glow with this serum by Foreo, which helps to preserve youthful skin and intensely hydrate to perfection. Hyaluronic acid and squalane are the moisture magnets you need to penetrate your thicker skin, while an antioxidant-rich formula shields against environmental stress. AKA, the top cause of skin aging. It's lightweight, luxurious, and looks beautiful on your beauty vanity… making it the perfect self-care treat for your nightly man facial.
Brightening essentials
We don't know who needs to hear this, but just because guys have oilier skin than women, doesn't mean they don't need to moisturize! In fact, moisturizer in the AM and PM is a must-have for your men's skincare routine. Especially when it's as nourishing, rich, and brightening as this one by Travertine Spa. The cooling and soothing effects of aloe are boosted by vitamin-rich sea minerals, plus jojoba oil for acne prevention and hyaluronic acid for extra hydration and glow. This aloe vera moisturizer is made for both men and women, but men will find it perfect for their beginner grooming routine.
Good news! You can purchase these skin and body products in the Spafinder Shop with your Spafinder Gift Card. Learn more.
Most recent from Products We Love