Pregnancy Without the Pause
Published: Wednesday, April 21st 2010
---
Seven safe pregnancy spa treatments
by Alexia Brue
When I got pregnant, I was prepared for the nine-month moratorium on sushi, margaritas, and unpasteurized cheese. Modern American pregnancy, as everyone knows, comes with a long list of dietary no-nos. What I didn't realize is that the list of spa prohibitions is just as punishing. Hot baths were a daily de-stressor, and the news that I'd have to give them up, along with saunas, steams, and a handful of spa treatments, dismayed me. Frankly, it's hard to imagine a more welcome time for any spa treatment than when your lower back and shoulders are aching from your newly recalibrated center of gravity, your feet feel fat as flippers, and your supposed pregnancy glow is mottled with new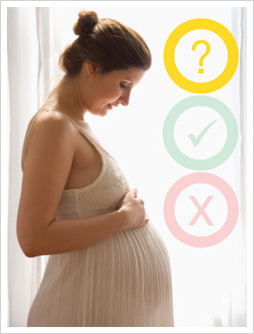 freckles.
What I longed for was a menu of coddling, calming, and—yes—cosmetic spa treatments that I could enjoy with a doctor's blessing. So I labored with experts Heidi Moon, the owner of Manhattan's Spabébé; Stacy Denney, founder of California's Barefoot and Pregnant spa; and Joel Evans, M.D., author of The Whole Pregnancy Handbook, to cherry-pick this list of safe pregnancy spa treatments. And it includes some surprises—baths, reflexology, and even first-trimester massage.
Many prohibitions have been repealed as old-fashioned or because specialized pregnancy spas have emerged with solid staff training, says Moon. Of course, spa-going during pregnancy still requires caution—that's why I've also listed five spa-going no-nos—and it's verboten for at-risk pregnancies. (Sorry.) But there's now real expertise at spas about what's okay and not okay for pregnant women, says Dr. Evans.
Seven safe pregnancy spa treatments:

Mother May I? Yes, You May

Seven pregnancy spa treatments that have the support of physicians
1. Prenatal Massage
It's perfectly safe—even in the first trimester—as long as it's with a well-trained prenatal therapist and you're having a normal pregnancy, says Dr. Evans. Research done by the Touch Institute in Miami confirms that prenatal massages relieve back pain and improve sleep and mood; and regular massage decreases stress (measured by the amount of norepinephrine in urine) and reduces labor complications. Prenatal massage is best given while you lie on your side propped up by pillows. (Moon says the safety of massage tables that are scooped out in the belly area is questionable.) Neck and shoulder massage is a safe sitting-up option, as well.
2. Facials
These can treat newly mottled skin and dehydrated or pimpled complexions and restore the promised pregnancy glow, says Dr. Evans. Barefoot and Pregnant's founder, Stacy Denney, favors facials with gentle, all-natural skin-care products. Steam on the face doesn't raise your core body temperature, she notes, so even normal pimple extractions are fine. (Just hold off on chemical peels and hydroquinone, a brightener.)
3. Acupuncture
Medical-journal studies show that during pregnancy, acupuncture can help with morning sickness, migraines, and back pain, says Spabébé owner Heidi Moon. "It's also used to induce labor in women who are overdue."
4. Reflexology
While the feet and hands do contain pressure points that can cause contractions and stimulate labor, a well-trained reflexologist can easily avoid them and instead focus on those that relieve heartburn and other pregnancy symptoms. "It's simply not contraindicated across the board," says Dr. Evans. (Reflexology also helps with postnatal milk supply and normalizing the menstrual cycle, says Moon.) If you're not visiting a pregnancy spa, Moon suggests asking for the therapist's prenatal-reflexology résumé to make sure their training and experience are just as thorough.
5. Warm, not hot, baths
Dr. Evans says it's fine to be in hot water for a brief period, but if you want to linger in the tub, the water should be warm. Rule of thumb: If your face is sweating, the water is too hot.
6. Leg treatments
Fluid retention, especially in the legs, is one of pregnancy's primary discomforts. So targeted "tired leg" massages address this condition, as well as achy legs and feet. If you're noticing new varicose veins, hold off on aggressive treatments for now. The Mayo Clinic's literature states that these often improve without medical treatment within three months of delivery.
7. Manicures and pedicures
It's getting easier to find polishes without controversial chemicals (SpaRitual contains no DBP, toluene, or formaldehyde, for example) and spas that use them. But plan to bring your own nail tools, and ask that the footbath be cleaned right before your service, says Moon. And since nail technicians aren't pregnancy-trained reflexologists, you may want to ask them to skip the foot and calf rub, says SpaRitual's Shel Pink.
NEXT: Five spa treatments to skip if you're pregnant
The Forbidden Five
Spa Treatments to Skip During Pregnancy
1. Hot baths, steam rooms, saunas (traditional and infrared). Why? Heat and sweat cause decreased blood flow (and blood to pool in your feet), which means the baby gets less oxygen, says Joel Evans, M.D., author of The Whole Pregnancy Handbook.
2. Contrast hydrotherapy (alternating hot and cold pools or rooms). Constant temperatures are best.
3. Body wraps that cause perspiration and raise core body temperature.
4. Detoxifying body scrubs. It's possible these may release toxins into the bloodstream, not a good idea since a very tiny person is sharing it, explains Spabébé's Heidi Moon. Consolation prize: Light body buffs for itchy and dry skin are safe.
5. Essential oils (concentrated plant extracts) are verboten during the first trimester, according to Dr. Evans. It's safe to reintroduce rose, lavender, and chamomile during the second trimester, as long as they're diluted with twice the amount of carrier oil. But peppermint, rosemary, sage, and jasmine shouldn't be used at all, Dr. Evans explains, because they can trigger uterine contractions.
Find spas offering prenatal spa treatments in your area.
Most recent from Relationships