Essential Lavender Body Scrub: An Easy (Relaxing!) Way to Reap the Benefits of Lavender
---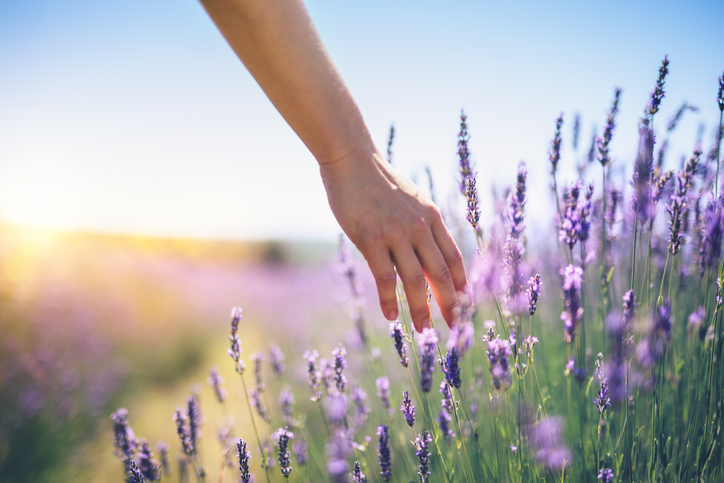 Lavender. Just typing the word makes us feel calm. (Maybe because it conjures up images of stunning purple fields in the French countryside?). The fragrant lavender is a major staple in our wellness routine, particularly in its essential oil form. We incorporate it almost daily—we'll further explain all the benefits of lavender below—but here's a hint: body scrub! Whew! Relaxed already.
Benefits of Lavender
But first, a quick snapshot of the (several) benefits lavender brings to one's mental, physical and emotional wellbeing, according to various studies.
Boosts relaxation and calms anxiety
Preps you for slumber and better sleep quality. (We've even dubbed lavender as "nature's chill pill.")
Alleviates skin issues like psoriasis, eczema and acne, thanks to its anti-inflammatory properties…
…and smooths fine lines and firms aging/mature skin
Possibly prevents hair loss
Eases headaches
How to Incorporate Lavender into Your Wellness Routine
Add a few essential oil drops to a diffuser.
Apply oil to bottoms of feet, behind earlobes, on wrists and/or neck. (Tip: We're fans of oil rollers, which are less messy.)
Combine lavender oil with a bit of carrier oil and add to your warm bath for a wellness, restorative experience. And clear some space on your shower shelf for your daily dose of lavender (keep reading!).
Add a few droplets of lavender oil to sheets, blankets or pillows at bedtime.
Self-Care Shower: Lavender Body Scrub Options
As we previously mentioned, there's an extremely easy way to incorporate lavender into your everyday routine (therefore, reaping its wellbeing benefits!). If oils aren't necessarily your thing, try a lavender body scrub. It's an essential in our skincare routine. Here are a few options available in the Spafinder Shop, from lavender scrubs to bath bombs to blankies. (Yes, you can buy beauty products and more with your Spafinder Gift Card!) And here are some of our favorite lavender scrubs.
Primal Elements | Lavender Sugar Whip Body Scrub
U.S. made, with pure lavender essential oil and ultra-moisturizing glycerin (and comes in lovely packaging, too!). (10 oz.; $21)
Bonblissity | Shower Sprinkles
The Lavender Luxury version of Bonblissity's "3-in-1, scrub-to-lotion"-type body scrubs is derived from pure cane sugar and delicate salt (along with cocoa, shea and avocado butters—our skin feels softer just thinking about this combo). (3 oz; $10)
Bonblissity | Mini-Me Pack: Sweet+Single Candy Scrub
There's no excuse not to spend some much-deserved me time, even while traveling—Bonblissity offers single-use, wrapped versions of its scrubs. And like its Shower Sprinkles Lavender Luxury scrub, this beauty product provides a classic lavender aroma enhanced by hints of musk and amber. Super soothing (super fun!). (12 pack; $9)