Online Wellness Gaming
---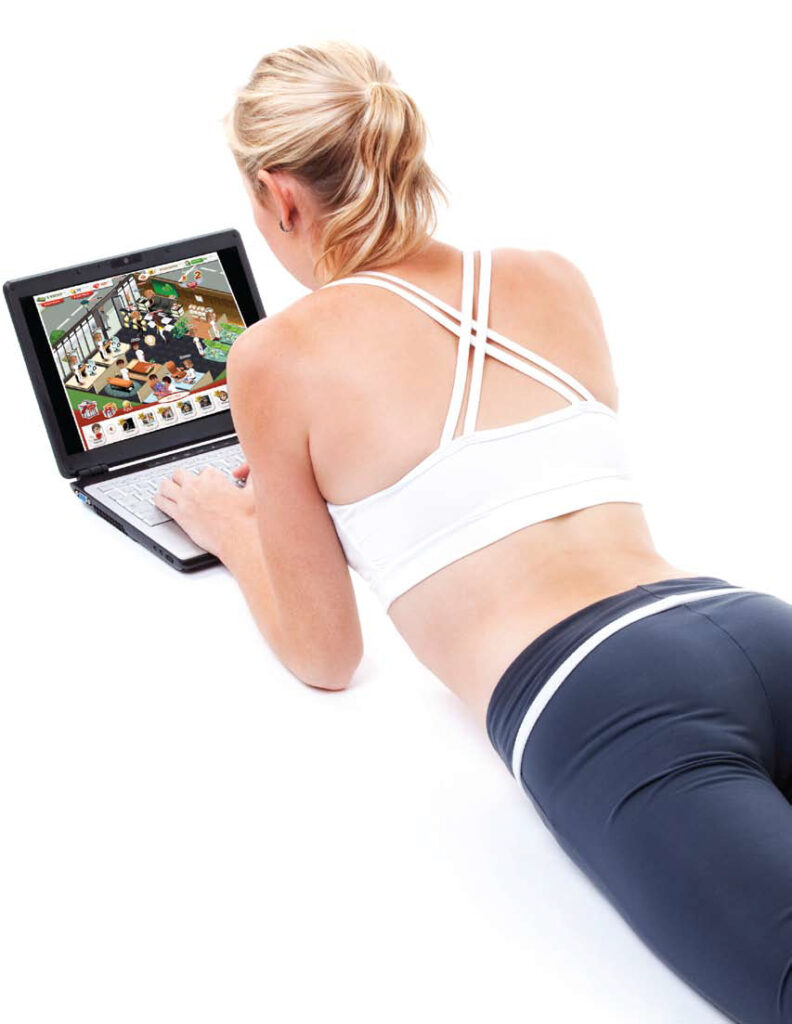 Gaming is not just about zapping virtual enemies or for Farmville residents anymore.
With everything-themed games now, millions of people worldwide have played dozens of spa-focused games, including Sallie Spa, Sara's Super Spa or Spa Mania.
And French beauty powerhouse Clarins just took the spa-themed game to a new level with its "Spa Life" on Facebook, where players compete to manage an ever-rising flow of clients in search of treatments, and where they can redeem points for Clarins products.
But the big, powerful, serious, truly game-changing "gaming and wellness" connection lies ahead, as more medical experts agree that gaming could actually be the key to changing the world's health, given the unique power that its core mechanisms (especially social dynamics) have on sustaining wellness goals.
Countless medical studies show that the old directives from doctor to patient dramatically fail to keep people on track. But, as so many experts point out, the "gamification" of adhering to regimens (whether fitness, diet, stress reduction, even beauty), with core game elements like voluntary participation, rules, points, levels of achievement, challenges/goals, rewards and a social feedback system, may be the best weapons ever invented for keeping people in the health "game."
When you add the social gaming layer (peer/network pressure), research shows people are radically more likely to adhere. Add the new gadgets that make monitoring bio-information, and connecting the results online, easier (every vital sign, every calorie eaten or burned, every step taken can get uploaded), and the game can suddenly get very precise and real.
While hundreds of fitness/health games (like the Wii "Fit" or Nintendo's "Let's Yoga!" etc.) have been around for years, wellness gaming concepts are suddenly getting far more serious and complex.
Improving health behavior is a massive $2.5-trillion opportunity (and stakeholders include hospitals and doctors, insurance and pharmaceutical companies worldwide)⁵— so the medical establishment is now getting involved.
The leader in this movement is the U.S.-based "Games for Health" project which brings medical professionals and game developers together to study how cutting-edge games (i.e., exer-gaming, physical therapy, biofeedback, nutrition, emotional health, games, etc.) can improve people's health and governments' healthcare policies.
World-renowned medical institutions like the Mayo Clinic (U.S.) are now holding conferences like "Games as Life-Changers." And insurance giants are increasingly betting on gaming: Aetna just partnered with wellness game developer MindBloom to launch "Life Game," designed to make it fun, rewarding and social for members to achieve wellbeing goals, whether drinking more water or planting a tree.
Life Game wants to "gamify" everything from spiritual to relationship wellness, and serves up personalized content like daily imagery and audio to help people meditate.
"SuperBetter" is a new game from Social Chocolate, a digital "serious games" company recently launched by gaming guru, Jane McGonigal.
Its stated goal is "to turn everyday folks into superheroes for health," and it revolves around a social platform that allows people to recruit their friends, family and physicians as allies in their quest for better health.
New sites like HealthyWage.com allow dieters to bet their money (and profit nicely) if they lose weight.
Nike+ and FitBit (and a whole host of other GPS- and bio-based fitness tracking apps) allow exercisers worldwide to do things like archive their workouts and compete in challenges they throw down to their online network.
"Skimble," a mobile fitness platform that schedules short workouts into a busy day, shares people's progress socially on Facebook, Twitter, etc. "OptumizeMe" lets users dish out/accept physical challenges like run five miles or do 50 push-ups.
Soon-to-launch, tween-focused "Zamzee" uses hip-worn sensors to reward kids for all physical activity, awarding "points" that can be redeemed for shopping, etc.
Corporations (given their crippling healthcare costs) will continue to ramp up the games, partnering with new companies like Keas that get employees to eat better and exercise through a live and virtual gaming mix; their on-site fitness challenges are praised for delivering tangible, effective motivation for a community of people that already work together.
Spas, fitness and wellness centers are ground zero for kick starting healthy lifestyle changes — so the opportunities for integrating gaming/game mechanisms are uniquely logical and powerful.
Mind-body guru Deepak Chopra has a brand-new meditation game, "Leela," that uses 43 interactive exercises, focusing on the body's seven energy centers, to help people relieve stress.
Chopra spent three years designing "Leela," and has explained that it was the addictive nature of video games that attracted him, allowing his philosophies to reach and engage far more people.
Destination spa Canyon Ranch (U.S.) now offers an entire suite of iPad apps called "360 Well-Being" (with fitness, meditation and healthy cooking videos, etc.).
Were they to add layers like challenges, phases of achievement, rewards and a social network, that "app" would easily be transformed into a "game."
Wellness gaming is projected to generate $2 billion in revenues by 2015,⁶ and the challenge for the spa/ wellness industries will be to create truly engaging games (whether online or off) that creatively connect their clients to the spa's programming, experts and special community, whether they use/customize third- party gaming platforms or unleash their own.
Spas have a strong advantage in wellness gaming because they forge powerful, real connections with — and between — guests, far more real than the generic, purely virtual, wellness gaming communities.
Gaming delivers unimagined client engagement and connection. And that's why the spa world will ultimately jump further into the wellness game.
SOURCES
Reality is Broken, Jane McGonigle, 2010
Cited in: Can Games Fix American Healthcare? Shaun Quigley, 10/2011
RealNetworks Data, 2009
TOP 10 SPA & WELLNESS TRENDS FOR 2012
MORE SPA & WELLNESS TRENDS