Spas Use Vibration, Sound, Music & Color
---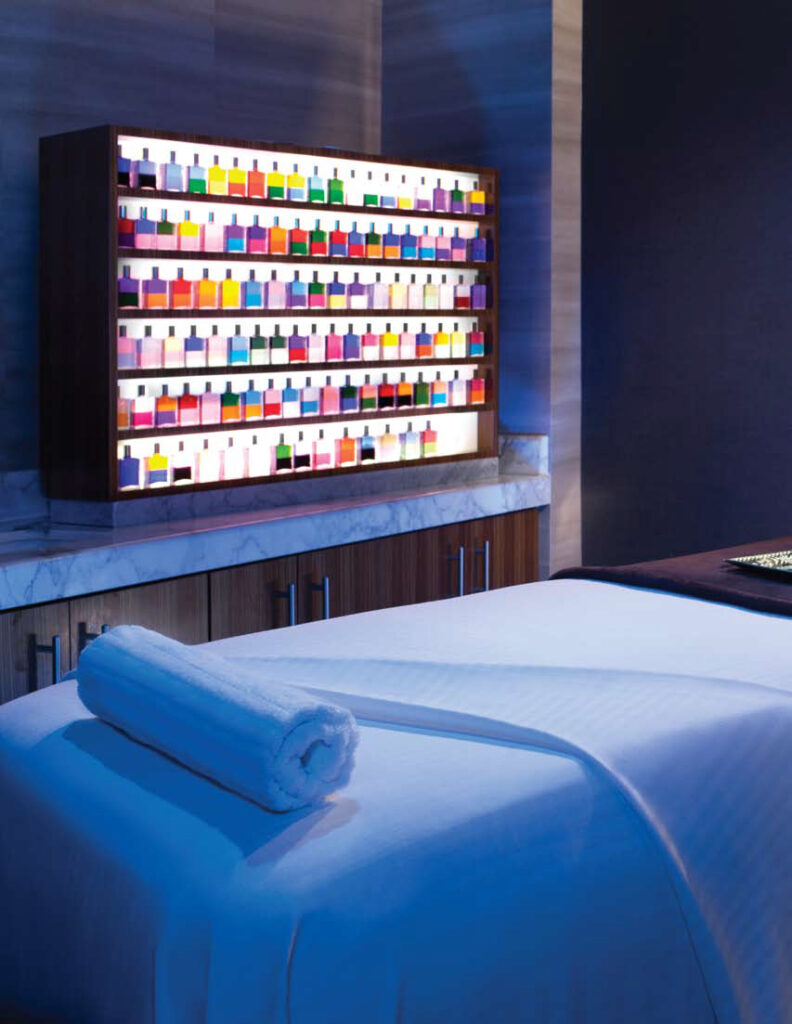 Spas have traditionally spoken to our sense of touch (via massage, etc.), and to a lesser degree, our sense of smell (aromatherapy). Now, more spas will impact our eyes, ears and bodies with an explosion of "good vibrations."
We already know how deeply these forces impact us: how sounds of nature can help relax us; how drumming sounds can energize us; how walking into rooms of different colors can alter our mood; how stepping into bright sunshine enlivens us; how rocking calms us down.
New technology (often in the form of devices, chairs and "pods") is driving these innovations, as is our need for solutions that radically disengage us from our increasingly anxious, stressed-out minds.

In addition, new scientific evidence about how frequencies and vibrations affect us both physically and emotionally is bolstering the trend. Some of the new approaches are based on "vibrational medicine," the concept that various systems (and organs) in our bodies vibrate at different frequencies, and disruptions can affect our health and wellbeing.
While the science supporting these individual approaches is strengthening, the new multi-sensory spa concoctions are just that —very new. Less is known about the net results of these sound/music/light/color cocktails, but there's no doubt it will be fun to find out.
Sound and music: Music in treatment rooms is expanding to many channels, including options like white noise — and spa professionals report a strikingly wide variety of preferences.
A breakthrough that's re-inventing the idea of passively listening to the old "massage music": a new software innovation out of Italy, MUUSA, that creates real-time treatment music (with tones, beats and sounds like wind rustling and rivers flowing), directly generated by the therapist's hand movements and the client's bodily responses.
Clients then depart with a CD of the "wellbeing music-art" they created in tandem. Taking it one step further are those who incorporate live music. Canada's Spa Eastman offers "Harp Therapy," where the melodic and therapeutic sound of the live harp accompanies the treatment and makes it adaptable to the emotional state of the massage recipient.
At Toskanaworld locations in Germany where "Liquid Sound" is the norm, live concerts are interspersed on special occasions.
More music therapy examples: Vermont's Stowe Mountain Lodge (U.S.) has unveiled a new "Zen Sound Therapy" program, while Fonteverde (Italy) reports that its pioneering "Music of the Brain" program is still popular.
The medical evidence strongly backs music therapy: Natural Standard, a research collaboration that reviews global scientific evidence, gives it a straight "A" for its ability to enhance mood and reduce anxiety.
We're seeing more spas like the Lodge at Woodloch in Pennsylvania (U.S.) or comfortzone's Soul Space spa in Florence, Italy, implement ancient Tibetan sound massage, using "singing bowls" designed to balance the body/mind through vibrations.
Tuning forks are increasingly being used in facials and with acupuncture.
Sometimes the trend is about sound, and other times its absence: at MAVIDA Balance Hotel & Spa in the Austrian Alps, the salt water "floatarium" lets people float weightlessly in a totally soundproof room.
Color and light: Color is reflected light that hits our retinas through vibrating wavelengths (which is then interpreted by our brains) — so color is both a physical sensation and a vibration.
Chromatherapy is based on the principle of using colors to generate electrical impulses, or "fields of energy," said to activate biochemical and hormonal processes that either sedate or stimulate us.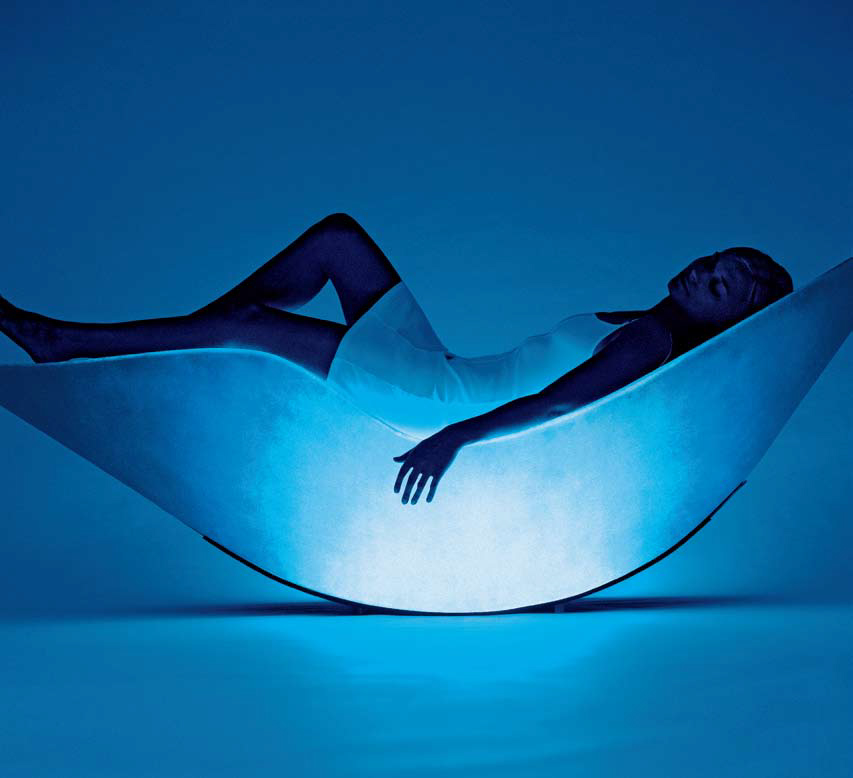 Research has shown that color has measurable psychological and physiological effects: Warm colors, like red, act as stimulants (and have been shown to elevate heart rates and arouse feelings of excitement), while cool colors, like blue, have a calming effect.
Color therapy is gaining momentum as more spas incorporate Ayurvedic medicine, an approach that conceives of the body in terms of seven chakras, each associated with a specific organ, and each, in turn, associated with a color. In Ayurvedic thinking, physical imbalances can be improved via color therapy.
More hydrotherapy experiences are incorporating color/color sequencing, and more massage therapists are adjusting color and light to maximize treatments.
New York City's Yelo Spa (U.S.), the pioneer of the napping pod, highlights sunsets and sunrises simulated via color and light to help regulate circadium rhythms.
At Barcelona's Spaciomm at Hotel Omm (Spain), relaxation rooms feature rocking gravitational beds with chromo-therapy.
At Arizona's Mii amo spa resort (U.S.), Qua Baths and Spa at Caesars Palace Las Vegas and in many UK spas, "Aura-Soma Color Reading" is now available.
This unique experience has a spa guest select four bottles from a vast display of colored liquids, and a practitioner guides him or her through the significance of his or her color choices and combinations.
Light therapy may have the most science to back it: High-intensity light is shown to improve skin, mood and sleep disorders, and its impact on treating seasonal affective disorder is well known.
LED light therapy for aging and damaged skin is one of the hottest skincare treatments, and more spas like Acqualina by ESPA in Miami (U.S.) and Mandarin Orientals around the world use red and blue LED technologies to repair/renew skin cells.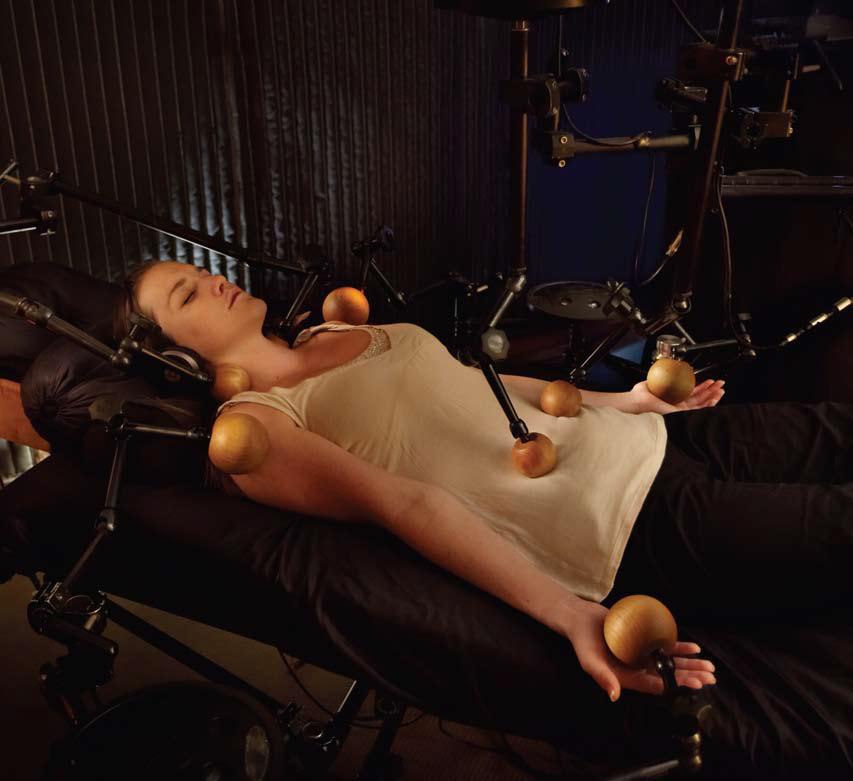 Multi-sensory experiences: The blended, multi- sensory "good vibrations" approaches are perhaps the most exciting aspect of the trend. We're seeing an explosion of new spa products like saunas, steam capsules, lounge chairs, massage tables, tubs and experiential "pods" that interweave light, color,
sound and music/rhythm together.
These high-tech experiences are designed to release people from "self" and stress quickly and intensely, and their oft-stated goal is to plunge people into new experiences of space, time and consciousness.
For some spa- goers, they may deliver unprecedented bliss, while for others, the dazzle could feel like sensory overload.
The fusion of sound, music and water is one approach. For instance, Kohler's new "VibraAcoustic" baths (at many spas worldwide) broadcast sound waves through the water, all choreographed to music and chromatherapy.
In Germany, the Toscana Therme Spa brand has introduced "Aqua Wellness and Liquid Sound," or "bathing in light and music," designed by a well-known multimedia artist.
Spa-goers float weightlessly in warm salt water and are gently cradled and manipulated by therapists, as the underwater music transforms the pool into a concert hall.
At the spa's Bad Sulza location these effects are often combined with laser light shows and electro-acoustic music.
And then there are the futuristic massage tables and experience pods. Major spa designers like Gharieni, Klafs, Schletterer or Thermarium are all rolling out variations of multi-sensory devices. We are seeing spa tables that can incorporate "vibromotors," "musical massage" (with tables shaking to musical frequencies) and "oscillating waves" combining music and chromotherapy.
Arizona's Miraval Resort & Spa (U.S.) recently introduced its instantly popular "Taiz Sensorium," a unique therapy that integrates vibrational medicine, music therapy, gentle human touch and aromatic oils to "fully engage the full spectrum of senses."
One of the most high-concept, mind-melting, sense-blending spa experiences comes from Viennese artist, sha., whose award-winning "AlphaSphere" (at spas like Berlin's Mandala Hotel ONO Spa or Bulgaria's Kempinski Hotel's Zalez spa), encases spa-goers in blue light, sound and vibrations, while their bodies sway to the rhythms of their own breathing.
Klafs's new "WOLKE 7 CLOUD 9" designed with sha.'s input is a pure "ritual of the senses."
A spa-goer reclines in a canopied, warm cradle-pod and experiences image and color "clouds," featuring incredible cloud scenery and color transitions based on the real sky.
Immersive sound "clouds" are formed out of the rhythms of the swinging cradle and the user's own breathing, creating the three-dimensional "music," all while soft vibrations caress the entire body.
The result? "An all- encompassing body/mind effect that begins to work almost immediately."
Spas are definitely picking up good vibrations — and it can't help but give people some real excitations.
TOP 10 SPA & WELLNESS TRENDS FOR 2012
MORE SPA & WELLNESS TRENDS