My Fitness. My Tribe. My Life.
---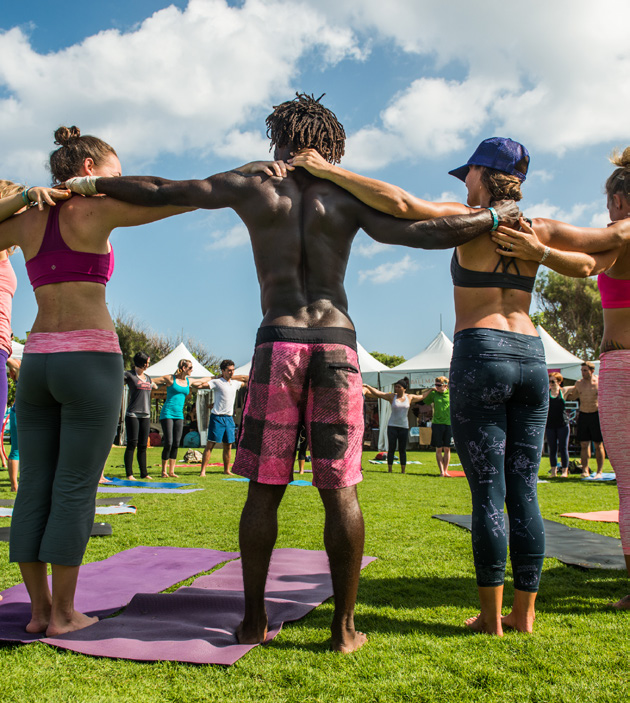 As trend forecasting becomes trendier – rowing is the new spinning…hot Pilates is the new Bikram…party fitness is the new Zumba – fitness fads of the minute garner deserved attention from the media, wellness influencers and the physically active public. But these persistent hyper headlines warrant some big picture reflection before chasing the latest fads once again. The big story is that the fitness landscape is shifting permanently.
In this report we are stepping back to recognize a colossal socio-cultural evolution within the fitness boom that has been taking shape for more than a decade–and shows no sign of stopping. The new and lasting trend is the deep impact of fitness on an individual's identity and his or her community, and how fitness studios have become the important "third place" for the pursuit of health, happiness and social connection, with lifestyle implications reaching far beyond the workout itself.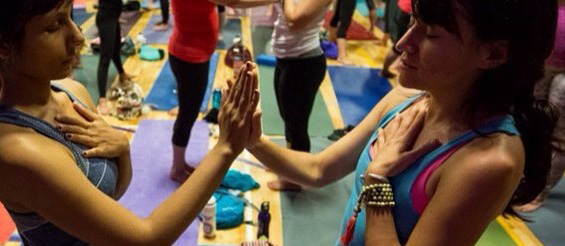 The community and social components surrounding fitness offerings – from the abundance of free yoga in the park events to the explosion of neighborhood boot camps, and Pilates, yoga and spin classes– is at the core of how the health-conscious are living their lives today. And this uber-shift is affecting how people dress, what they eat, who their friends are, who is in their professional network, which celebrities they follow, how they spa, how they raise their children, where they vacation, and more.
Given the unprecedented hours people work, and their paradoxically disconnected lives spent in front of screens, fitness studios and classes are becoming the place where increasingly rare human interaction takes place. And loyalty to instructors and relationships with classmates are fulfilling basic human needs to connect. For today's fitness fanatics, the beating heart of their social circle – their fitness "tribe" – is in many ways, a life-definer.
As Alyssa Carter, co-owner of MetroBeat, a fitness and dance studio in Crystal, MN, describes it, "The entire social life of many of our clients revolves around the studio. They work out with new fitness friends, meet for lunch at the studio, celebrate birthdays, and even vacation, together. It's gratifying to see our members not only enjoy the health benefits of working out, but also know that we're helping them enjoy a happier, more fulfilling life."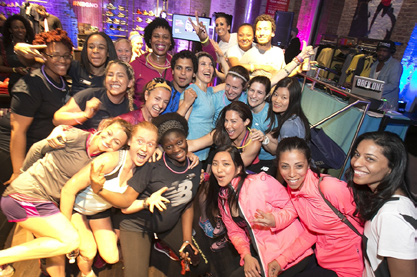 FUELING THE TREND
Need for Community in Age of Loneliness
A combination of forces – the breakdown of traditional communities, the rise in single-person households, extended work hours, urbanization, and lives lived in front of screens – has led social scientists to argue that we're living in an unprecedented new era of loneliness. Globally, more people live alone than at any time in history, with single-person households increasing 50 percent in the last 15 years1 to become more than 15 percent of all households, a number forecast to skyrocket to 60 percent in thirty years.2 The living alone phenomenon is even more pronounced in cities: In Stockholm and Amsterdam, 60 percent of all households are single, and in Munich, Frankfurt, London, Paris,3Manhattan and Washington DC, 50 percent.4 And it's rampant in the developing world, with India, China and Brazil's single population growing fastest worldwide.
The Proliferation of Technology
Technology has led to a breakdown in work-life barriers, and the stressful, always-connected to- work reality is making the 40-hour workweek obsolete. The social media revolution means that we all spend countless hours in front of screens, being "alone together."5 Consider this: U.S. adults spend almost twelve hours a day glued to screens/media,6 while Britons spend almost nine7 – more than either population sleeps on average. In the 1980s, 20 percent of people reported they were lonely at any given time; that number has now doubled to 40 percent.8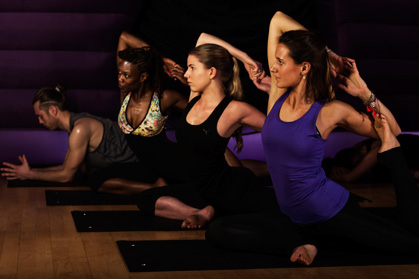 Women's Economic Power Surging
While the passion for boutique fitness/yoga classes is rising among men, this trend is led by women, who have never had so much spending power to devote to their health and wellness. Swedish economist, Dr. Kjell Nordstrom, recently described our global future as an "urban and female Gaga,"9 meaning that cities (where women are disproportionately represented) are fast overtaking countries as the powerhouse economic unit, and that increasingly, women will out-earn, and take more graduate education degrees, than men. The Boston Consulting Group forecasts that women will control 75 percent of all discretionary spending worldwide by 2028, with Nielsen estimating that at that point, women will out-earn men in the U.S. From 2013-2018, women's annual, global consumer spending will jump from $20 trillion to $28 trillion – with their earned income growing 40 percent faster than men's annually.10

Fashion Industry Keeps Fitness Fast-Moving, Fun & Aspirational
As noted in the Spafinder Wellness 2013 Trend Report, "Label Conscious Fitness," fitness/yoga brands have been savvy in broadcasting what's new and hot (and not), and what celebrities are doing to keep fit and beautiful. This aspirational pursuit not only keeps fitness fun, it has transformed consumer behavior, making boutique fitness class (and fashion) consumption a kind of retail therapy, where shopping the newest fitness craze provides pleasures/status similar to snagging that latest "it" bag. And this historic fusion of fitness and fashion is, of course, translating into big business. For instance, in the U.S. the fitness industry is now worth $22.4 billion, with boutique fitness grabbing ever-bigger market share, to account for more than one in five fitness dollars spent.11 And fitness is quite literally fashion: the craze for athletic and yoga apparel is outpacing the practice of fitness itself: while yoga participation grew 4.5 percent in 2013, sales of yoga apparel were up 45 percent.12
ASPECTS OF THE TREND
Engaging in healthy behavior together is habit-forming and by most accounts, far more fun. Gatherings like after-work drinks, all-night clubbing and boozy Sunday brunches have all been encroached upon by socialized fitness. And, while fitness-tracking mobile apps and streaming fitness classes have proliferated, they are by no means a replacement for good, old-fashioned human contact and cheerleading.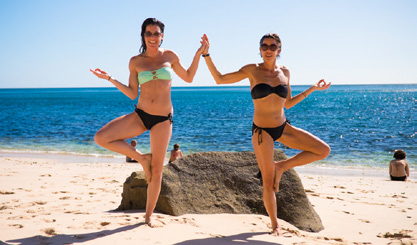 The shift towards social fitness is extraordinarily positive – rather than tackle fitness in isolation, people get motivation, feedback, and encouragement from togetherness. And it's especially helping the young, working woman demographic become empowered and embrace a healthy lifestyle. International athletic footwear giant New Balance recently plugged into the growing social fitness trend with a multi-city Girls Night Out (#NBGNO) event to celebrate and connect like-minded active women. After a warm-up, stretch and group run, the participating New Balance store event then offered women demonstrations with health experts, snacks, drinks and premium gift bags. Events like these result in women finding group runs, new routes, hangouts, and then sharing their selfies across social media channels.
Now fitness is packaged as a party, often with DJs, bright lights and a rave-y vibe. For instance, alcohol-free morning dance parties like Morning Gloryville (born in London) or Daybreaker in Los Angeles, let those who want to start the day the healthy way sweat alongside shiny, happy, like-minded people. Another powerful social angle: the membership models of a Soulcycle or Flywheel ensure that die-hards can find their cycle sisters and brothers at the dozens of locations in cities across the U.S. when they travel.
With extreme exercise brand Crossfit, known for high-intensity strength and conditioning, participants are encouraged to get comfortable sweating on strangers. Between the small coed class sizes, frequent chatty breaks, and a tribal community, both camaraderie and even romance are fostered. Dozens of Internet videos attest to Crossfit's share of marriage proposals by couples that fell in love amid kettlebell swings.
And for the community of fitness addicts chasing every next, new thing, the options are literally endless. Bored by traditional yoga? Try Hot Pod Yoga (an inflatable, heated space), Yogabeats David Sye (driven by beats and rhythm), Tequila Yoga (said to loosen the practice), Yoga in the Clouds (the highest in the world, at London's Shard building) or Singles Yoga, where you might meet your new significant other.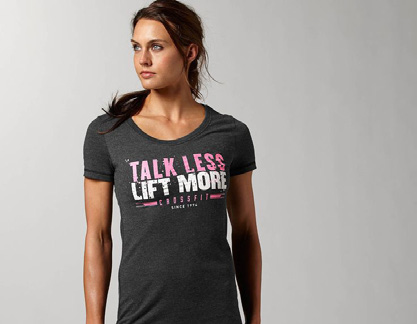 Looking the Part: Fitness Fashion
Due to the explosion of social fitness, working out is far more glamorous than ever before – it's not just that yoga pants are worn like jeans, brands are designing for women who want to express themselves comfortably and creatively. Big name designers like Tory Burch and Stella McCartney, as well up-and-comers dedicated to sexy-cool fitness fashion, are creating collections being worn from the studio to the street. Activewear is suddenly being launched by unexpected brands like boho-chic Free People and Urban Outfitters.
And fitness brands are deep into the fitness fashion game. Zumba-branded harem pants scream Zumba-lover. Pure Barre's logo-donned headbands and their "new mommy" sticky socks in blue or pink, inspire people to endorse their chosen fitness franchise. Sassy graphic tees labeling oneself a "Spiritual Gangster" (by Carbon38) or plugging one of Crossfit's many mantras, "Talk Less Lift More," are letting people make bold statements about fitness-as-their-life.
Sports heroes still continue to drive spending, fueling the success of Olympian Kristi Yamaguchi's fitness apparel line Tsu.Ya, designed for busy, on-the-go lifestyles, like her own as a mom. The UK's Sweaty Betty features sport-specific fashion for barre, cycle, dance, run, ski, swim, yoga and statement apparel. The retailer also offers in-store classes and at-home workout videos, fostering community.
Travel with the Fitness Tribe
The social fitness boom has bubbled over into the travel industry, illustrating once again how a fitness family becomes life, and influencing where people choose to vacation, and with whom. While there has already been a steady uptic in wellness tourism over the decade (now a $494 billion global industry*), loyalty to boutique fitness offerings has people traveling on fitness-themed retreats with their favorite instructor and class pals.
Another sign of the social wellness tourism phenomenon is the explosion of global yoga festivals. Modeled after epic, days-long rock festivals, events like Hanuman and Wanderlust are held in stunning natural settings around the world and attract thousands. Beginners, yogis and even families are traveling to Colorado, California, Australia, Whistler, New Zealand, Chile and beyond for "mega-classes" with famed yoga teachers (that include renowned musicians and speakers) for a mindful, celebratory experience. "Bring a friend or make a whole group of new ones," Wanderlust's website tells first-timers. Through the discovery of food, wine, craft-making, adventure activities, dancing, and, of course, yoga practice, connections are born in the fun. The Standard Miami hosted Yoga Fest, a daylong retreat offering guests classes by elite instructors amidst a spa, hydrotherapy and hammam playground.
Rustic yoga retreats like Silver Island, set on a private island in the Greek Aegean, offer simple accommodations, but with only ten guests per retreat, they create an intimate, friend-making experience.
Wellness vacations like Perillo's Learning Journeys, a yoga volunteer program, are offered in destinations like Costa Rica, Greece, Hawaii and India. Travelers create an itinerary based on personal learning goals, and by helping out in a shelter or school, they gain a meaningful connection to the local people.
Because of rising demand for transformative, communal travel, we've seen exponential growth for yoga and fitness travel specialists and tour operators, along with fitness/yoga retreat and festival rankings by popular travel publishers. For people with predilections ranging from budget all-inclusive, to women-only, to vegetarian or Ayurvedic meals, to "unplugged," to super-luxury, a new breed of specialist helps seekers find their tribes. The Travel Yogi, a travel team who visits and handpicks all of their listings, aims to "help yogis unroll their mat on the beach, in the mountains, by the sea or under the stars." Yogathemed combination tours are rising in every shape imaginable, from yoga safaris in Africa, to yoga-surf cruises in the Galapagos, to yoga-cooking retreats in Tuscany. Or for lovers of both happy hours and health, one can experience yoga and cocktails with celebrity instructor Tara Stiles at the W Hotels Retreat and Spa in the Maldives, or yoga-wine weekends at The Westin Verasa in Napa.
Moving into the Spa World
The "fitness family" trend is also spilling over into day spas and stay spas in other ways, as they are upping their game by offering more boutique fitness weeks, fitness packages and outsourcing their fitness studios to branded yoga, barre and Pilates providers. This is helping spas attract new customers, along with the local market, as their offerings become more focused on comprehensive, daily wellness rather than mere pampering. The once often isolating, hushed spa experience is getting significantly more social as well, as more spas and hotels rethink facilities and create more playful community spaces for both fitness and spa.
More Inclusive: Men, Children and More Affordable Options
Social wellness is not just for upper-class women anymore. Men are embracing group fitness in droves, particularly with obstacle/mud runs, extreme fitness, triathalons, spinning, and Broga® Yoga (geared specifically for men). Athleisure retailers like Prana and Lululemon are selling far more than one style of men's yoga pants.
And children are part of the growing social fitness demographic. Yoga for kids and even programs like CrossFit Kids are creating the workout habit even before adolescence. And the boutique fitness pursuit, that some have deemed classist (single classes can cost as much as $70) or cultish, is now there for the moving masses. Offerings like Treadmill Class, TRX and generic spin classes are available at community centers across the U.S., and free outdoor yoga or YMCA events are making communal yoga more experiential and accessible.
THE FUTURE
Social fitness is a mega-trend, and the connection-hungry demographic will only continue to grow as long work hours and global loneliness sharpen. In 2015 and beyond this trend will expand beyond early adopters and go mainstream, as more people experience the value of sharing goals, values, support, get-healthy tactics and time with a fitness family.
This trend will continue to have profound ripple effects, as we continue to favor day-long dressing in "athleisure" over jeans, Instagram ourselves and our besties at a barre studio opening where devotees and celebrities are invited, spend happy hour on a hotel rooftop practicing yoga with co-workers, vacation with our favorite instructor at a yoga retreat– even meet our significant other at a cycling class.
And the trend is rapidly spreading beyond Europe and the U.S. to Asia, South America and other developing regions. We'll see more branded gyms/studios with a global membership model, and more warm weather fitness/yoga festivals multiply in locales worldwide.
Although an uber trend, it's still in its infancy. And we predict exponential growth in, and for, businesses and brands that cater to our deep need for both social connection and a healthier lifestyle.
SOURCES
Cited Marie Claire, "Rise of Single Person Households," September 2014.
Swedish economist Dr. Kjell Nordstrom speaking at the 2014 Global Spa & Wellness Summit.
Euromonitor data, 2014.
The New York Times, "One's a Crowd," February 2012.
Phrase used by Dr. Kjell Nordstrom in his keynote at the 2014 Global Spa & Wellness Summit.
eMarketer Report, 2013.
Ofcom survey, 2014.
Cited by John Cacioppo in his TedX Des Moines talk, 2013. Keynote at the 2014 Global Spa & Wellness Summit.
Stats cited in Forbes, "Power of Just One Woman," 2013. International Health, Racquet & Sportsclub Association
(IHRSA), "2014 Health Club Consumer Report "
Wall Street Journal, "Yoga Poseurs: Athletic Gear Soars, Outpacing Sport Itself," 8/2014
TOP 10 SPA & WELLNESS TRENDS FOR 2015
MORE SPA & WELLNESS TRENDS