Wellness Traditions from the Islamic World
---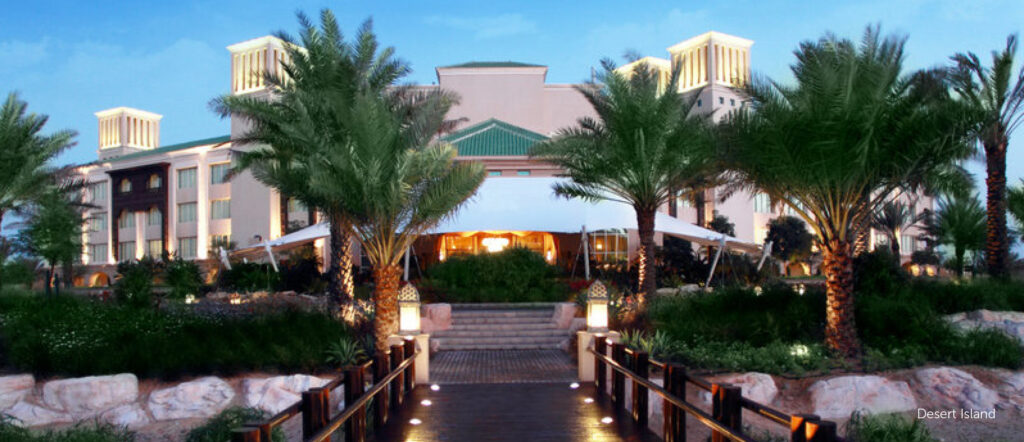 There is no more powerful consumer trend across the developed world than the hunger for all things authentic and indigenous, impacting what we now most want to eat (the latest global "superfoods" and ancient grains), to where we most want to travel (suddenly a far wider, exotic map). It's why the spa/wellness scene is increasingly a global village, with approaches like Indian Ayurveda and yoga and Traditional Chinese Medicine now embraced worldwide.
Given this massive authentic-experiential trend, it's puzzling that the world has been unable to "see" just how much the wellness traditions of the wide Islamic world offer–with 1,000+ years of sophisticated, nature-based traditional medical systems and countless beauty solutions and body treatments. And this is a vast "wellness" map that stretches from Middle Eastern countries like Saudi Arabia and the UAE to North African nations like Morocco and Egypt to Sub-Saharan countries like Nigeria and Sudan to Central Asian states like Turkey or Kazakhstan and Southeast Asian nations like Indonesia and Malaysia.
And the "Islamic world" is wider and more complex than many think. Sixty-two percent of the Muslim population resides in Asia, 20 percent in the Middle East/North Africa and 15 percent in Sub-Saharan Africa, but significant populations stretch from Surinam in South America to Western China. There are 65 countries/states with a majority or significant Muslim population, from secular republics like Indonesia to democracies like Malaysia. And wellness traditions (like all cultural traditions) thrive beyond national borders: More than one-fifth of the world's Muslim population lives in countries where Islam is not the majority religion. India has the third-largest population worldwide, China has more Muslims than Syria, while Russia is home to more than Jordan and Libya combined.
But what people perceive, and ultimately understand and experience, is of course, conditioned by the media: For instance, we're bombarded by news of Middle East violence, and the image stream from Africa often revolves around disease. The upshot of this perhaps understandable, but unfortunate, media myopia? Most people don't associate Africa and the Middle East with wellness, even though advanced food-as-medicine, and anti-aging and healing systems, have been refined across these regions for over a millennium.
Many people are only familiar with a handful of traditions…a few Middle Eastern super-spices…that Moroccan argan oil in their hair…a Turkish hammam. But we predict that more of the world will experience nutritional, preventative health, beauty and "spa" traditions central to Islamic worlds in 2015 and beyond – even though they might not even know it.
FUELING THE TREND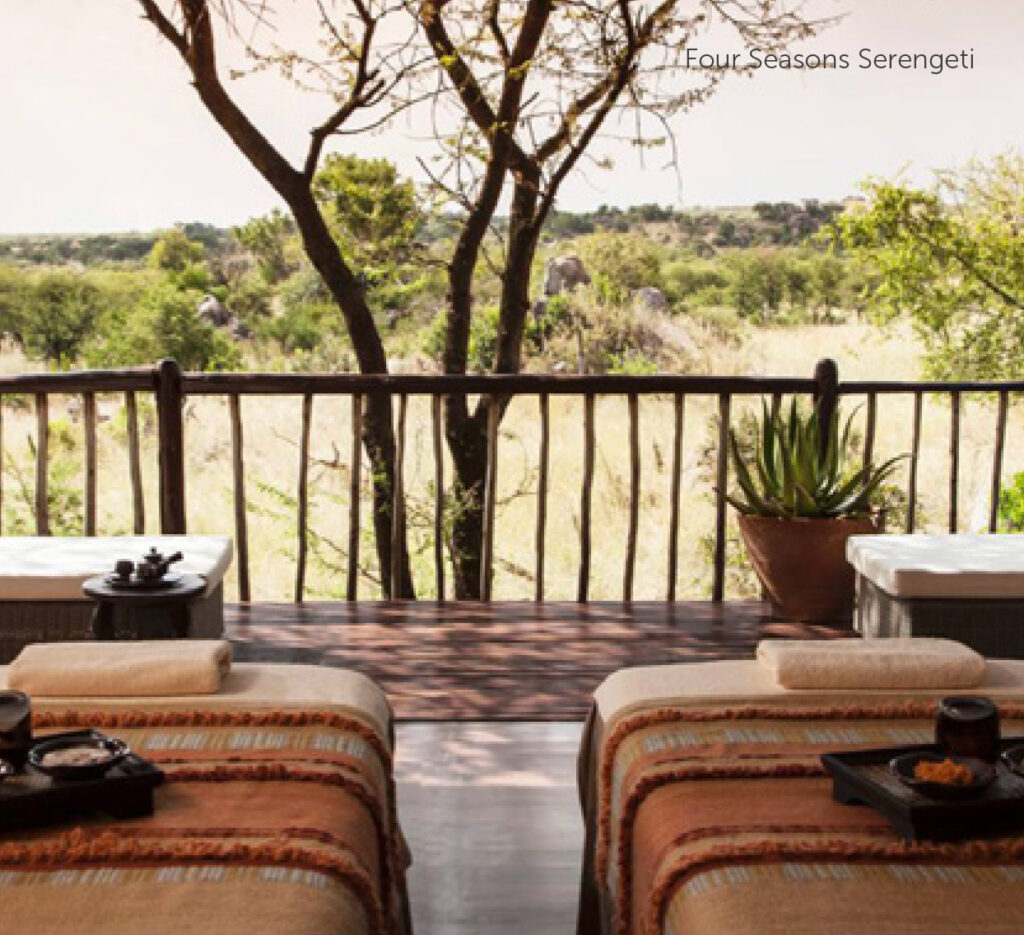 Hunger for the Authentic & Indigenous
As globalization and the march of corporate brands creates a generic world, a natural reaction has been a fascination with the real, the unique, the handcrafted, the culturally exotic – and for brands/experiences with an authentic "story." This will drive an increasingly powerful interest in wellness traditions from every corner of the world – from Bahrain to Bolivia.
Explosive Wellness Tourism Growth in Middle East & Africa
The Middle East and Africa, and countries like Malaysia or the "Stans," are clocking some of the fastest growing inbound tourism, and with visits come appreciation (and social media broadcasting) of the food, culture and local wellness experiences. Africa saw a 90 percent increase in tourism from 2012-2013, and inbound trips to the Middle East are forecast to grow at least 10 percent in both 2014 and 2015. On the wellness tourism front, there's no faster growing markets than the Middle East/North Africa and Sub-Saharan Africa: the former saw 39 percent growth and the latter 57 percent, from 2012-2013, both growing more than twice as fast as the next biggest gainer, Asia-Pacific. In Central Asia "the Stans" (like Uzbekistan and Kazakhstan), usually forgotten by travelers, are suddenly making top 2015 travel lists. And even Malaysia, with two tragic travel years, grew arrivals 10 percent in 2014.
New Research, Republishing of Historic Texts
More academic research on traditional health practices from Islamic societies will keep appearing, not only a clear sign of ramped-up interest in the topic, but also an important channel for spreading the information. In 2013, "Avicenna's Medicine: A New Translation of the 11th-Century Canon with Practical Applications for Integrative Health Care" was published, the first, modern, English translation of this 1,000 year old text, whose theories underpin many wellness practices across Islamic societies. Not only did the book have a highly credentialed editorial team of scientists, it translates Avicenna's more medieval, mystical concepts into accessible integrative medicine applications. An abridged version of Prof. Bodeker's book on "Wellness Traditions from the Islamic World" is on the drawing board for 2016. And the Avicenna Center for Arabic Medicine @ Georgetown University, conceived and led by Algerian researcher, Dr. Hakima Amri, is in the development stage – a striking affirmation of medical relevance from a respected Catholic/Jesuit university.
Chronic Disease Epidemic in Middle East/Africa
With development comes bad "Western" habits, and across all developing nations an alarming chronic disease wave is underway. In the Middle East/North Africa, for instance, diabetes has grown 87 percent, heart disease 44 percent, and high BMI by 138 percent, in the last 20 years. The Gulf Region has spiking diabetes rates, and cardiovascular diseases cause 45 percent of early deaths. Dubai even recently offered bars of gold for citizens that lost weight. More people in these regions, must, and ultimately will, rediscover their own diet and wellness traditions, which are more culturally appropriate for most than jogging or yoga. The resurgence of these indigenous wellness traditions will also be driven from "within."
Paradigm Generated by Prof. Gerry Bodeker
This trend's title and conceptual framework comes from Professor Gerry Bodeker's (Chair, Global Initiative For Traditional Systems of Health, and Dept. of Primary Health Care Sciences, Oxford University) recent, pioneering research into the vast array of traditional wellness practices in 20+ countries across Southeast Asia, the GCC nations and North Africa, and parts of Sub-Saharan Africa and Eastern Europe. This recently completed project, privately commissioned by the non-profit Qatar Foundation, involved a team of nine researchers and resulted in a 300-page privately published report documenting what had not been documented before: the diverse traditions of healthy living across Islamic worlds.
While it's impossible to summarize Prof. Bodeker's analysis here, which draws on extensive work with the World Health Organization and others on global trends in traditional and complementary medicine, his research concludes that that there are a deep, unifying (if informal) assumptions that underpin wellness traditions across Islamic societies.
Arabic medicine is a sophisticated, 1,000+ old written tradition that has had wide impact on Islamic cultures. The Persian philosopher Avicenna's (980-1037 AD) central work, "The Canon of Medicine," has been called the single most influential text in the history of medicine. And while summarizing Avicenna's 14-volume medical encyclopedia is also impossible here, his still-relevant thinking on personalized healing through diet, medicinal plants, exercise, sleep, hydration and body manipulation – and his humoral system focused on how hot/cold, wet/dry continuums and imbalances play a role in health and aging – has had a profound influence on health practices across Islamic cultures. In fact, Avicenna's ancient system is still practiced in parts of the Middle East and Asia today.
Islamic wellness traditions place the highest possible value on Nature and its beneficence, and have evolved a complex understanding of how the human body specifically responds to natural ingredients. (Reverence for nature is why many Islamic flags are green.)
These traditions are obviously differentiated by how they apply the above knowledge/principles to the local "nature" on tap: the specific climates, plants, herbs and minerals people have interacted with across key regions.
So, while no cultural traditions are fixed in time (over centuries there is much interplay, i.e., African tribal medicine mixing with Arabic medical knowledge, etc.) – the concept of "wellness traditions from the Islamic world" represents an important new lens to "see" and newly understand a rich knowledge base on wellbeing. And it's meant to start a new conversation…
"The nutritional, healing and beauty traditions across Islamic cultures are the last, lost, great bodies of traditional health knowledge that must and will be discovered," said Bodeker. "We're just at the tip of the tip of the iceberg in uncovering the wealth of health resources that exist here."
THE TREND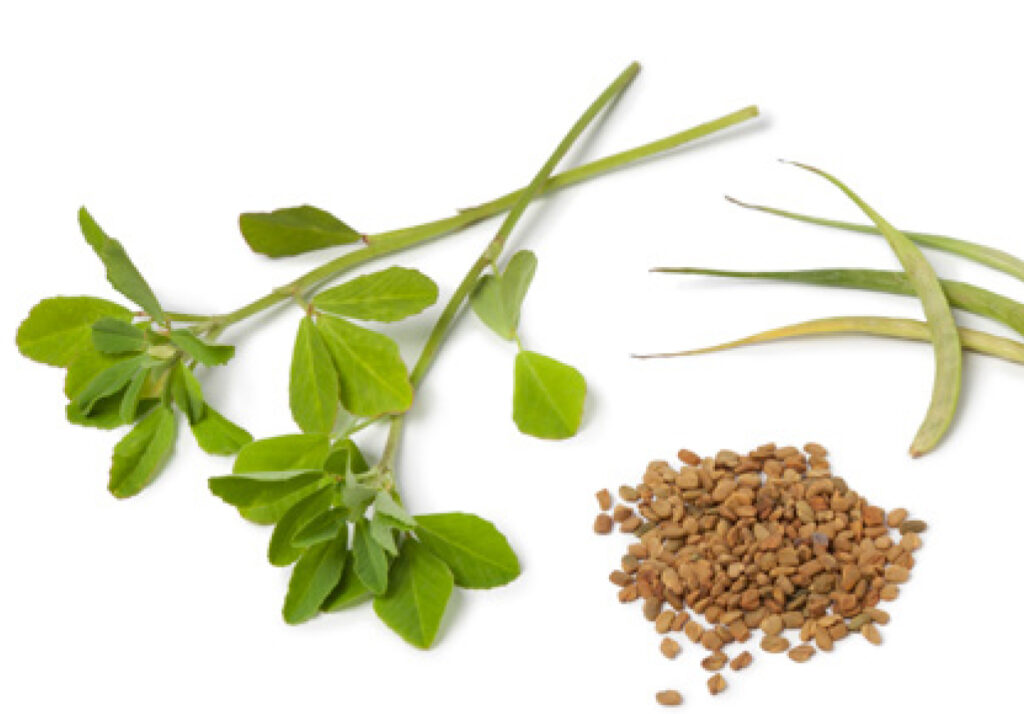 I) Superfoods from Middle East & Africa Surging
After winnowing down key examples of nutrition across Islamic cultures in Africa, the Middle East and Asia –where food and medicine are often interchangeable – we then watched the avalanche of global 2015 food trend forecasts roll in. We were amazed. Not only did multiple forecasts concur that Middle Eastern, North African and Malaysian ingredients were next year's headline news, but specific ancient grains, spices and fruits identified–from freekeh and fenugreek to teff and turmeric–were splashed across trend-spotters' lists.
We live in a "foodie" meets wellness-crazed world, but the food-as-medicine traditions from Africa, the Middle East and Malaysia have been under-explored, and the fact that they're trending is welcome news. And while forecasters necessarily present "hot" ingredients, from baobab fruit to camel's milk, in piecemeal fashion, one way to conceptualize what's unfolding is a heightened interest in healthy ingredients from across the wide Islamic worlds.
The following snapshot is also necessarily piecemeal, omitting dozens of foods, herbs and spices.
The New/Old Super Grains
Teff: In the quest for the "new quinoa," the ancient, gluten-free grain teff, long produced from Yemen to East Africa (and now only majorly grown in Ethiopia, where it provides 2/3rds of the nutritional diet), stars on numerous 2015 top food trend lists. Leading all grains in calcium, and high in protein, iron, amino acids and fiber, teff is a tiny, sweet, nutty grain moving into sweet and savory dishes of all kinds – from cereals to salads.
Freekeh: This fantastically named, quinoa-contesting, Middle Eastern super-grain is made from green wheat, roasted to give it a smoky flavor, and is also featured on many food trends slideshows, with fans like Oprah and celeb chef, Jamie Oliver. Packed with protein and fiber, more trendy kitchens are using it as a rice or couscous substitute.
Medicinal Plants & Spices
Turmeric: Ever since health experts revealed this spice rack staple to be a powerful anti-inflammatory and antioxidant, it's been a trending culinary ingredient globally. And it's still making its way onto 2015 trends lists ("bitter" flavors are hot). In Indonesia turmeric has been the cornerstone of the herbal medicine system known as Jamu for 4,000 years, taken daily by tens of millions for myriad health/beauty benefits. What few in the West know is just how big Jamu is becoming as a commercialized, packaged drink in SE Asia (a few products like Sajen Jamu have hit Whole Foods) – and this is a trend that should pick up globally. Spas are taking note of "turmeric power," for instance at the Four Seasons Toronto (as part of the brand's new energy-focused treatments) cold-pressed juices including turmeric are delivered to guest rooms daily.
Fenugreek: This ancient, rich in vitamins and minerals, sweet herb/spice/leaf is becoming a trending seasoning. Used in Oman by women as a restorative after childbirth, research indicates that it increases milk production and helps rebalance postpartum hormones.
Other spices surging from the Middle East/North Africa: Egyptian Dukkah, a blend of toasted nuts, seeds, coriander and cumin; Za-atar, a mix of sumac, thyme, sesame seeds, oregano and marjoram; and ras el hanout, or the 80-plus-ingredient "Moroccan spice," used traditionally to boost digestion and vitality.
Fruits
Cran-cherry-like Goji berries have been celebrated as a superfood for years, with one of the highest antioxidant/anti-inflammatory powers of any fruit. Few people know their main source is Ningxia, an autonomous, Muslim region in NW China.
Sidra Fruit: And few people know about the deep nutrition of the Sidra tree, used as medicine in the Middle East since antiquity. Often consumed as dried fruit, it has 20 times the vitamin C as citrus, is mineral-packed (K, P, Mn, Ca, Na, Fe and Cu), and is used to boost the immune system and treat insomnia/anxiety.
Other Trending Foods
Further confirmation that Middle Eastern/North African ingredients are ascending worldwide…Baum & Whiteman's "Hottest Food & Beverage Trends for 2015" spotlights the rise of savory yogurts without the "candy-level calories" (Think beet and butternut squash, or topped with hummus, za'atar, cucumber or mint –the latter long standard in the Middle East.)Their report also notes that hummus is now out-trending salsa, and available in dozens of flavors at most supermarkets. And Datamonitor's 2015 forecast pegs North African harissa, a spread of hot chilis, roasted peppers, garlic, caraway, coriander and olive oil, as "the next sriracha" for the West.
Ingredients Used for Both Food AND Beauty
The following are ingredients traditionally used for both nutrition and beauty. And it's striking how few beauty products from the Middle East/Africa are on the world's radar. Yes, there's shea butter, and we've lived the Moroccan argan oil sensation (now we're even seeing brushes/styling irons from the brand Cricket infused with argan oil) – but there's so much more to explore.
Camel's Milk
The world has seen a parade of "it"/alt milks (soy, almond, coconut, etc.), but camel's milk is a new headline grabber. Camel milk and related products have been a Middle East staple: in Dubai there are brands like Camel-icious, and now U.S. brands like Desert Farms are at Whole Foods. The swirl of articles about new superfoods often over-hype their "mysterious powers," but coconut-ty camel milk does have unique qualities: lots of immune-boosting antibodies, and three times the Vitamin C, ten times the iron, more absorbable calcium, and less fat, than cow's milk – and great for those allergic to the latter. For now it's expensive, as camels produce one-sixth the milk of cows, but demand means production is stepping up globally (and in the U.S. camels are being raised on Amish-Mennonite farms). It's getting the trendy treatment: at Desert Islands Resort & Spa in Abu Dhabi, the centerpiece dessert is camel's milk crème brulee – in the UK, there are several camel milk ice cream brands, with Simply Ice Cream planning to head to Harrod's soon – and at Al Nassma's Majlis Café at the Dubai Mall, camel lattes and camel-cinos are poured (one hump or two?).
And because it's antibody- and protein-rich, camel's milk is making its way into more skincare products: from Shea Terra's Moroccan and Lava Camel's Milk Masque, to the new U.S. camel's milk skincare line, Skinue, which is distributing to spas.
Black Seed Oil
Made from the seeds of the nigella sativa plant, it's referred to by the prophet Mohammed "as the cure for all except death." Super-high in anti-oxidants and essential fatty acids, it's traditionally been both eaten and used topically to beautify hair and skin. And interesting medical research lies behind it studies indicate it's an immune stimulant and antihypertensive (with benefits for diabetes, asthma, arthritis, etc.) – and that its unique chemicals thymoquinone and dithymoquinone exhibit anti-cancer activity on numerous cancer types.
A star example of this super-oil's expression in a new beauty product: the Tiossan skincare line (the first luxury beauty brand from Senegal), created by entrepreneur Magatte Wade (and one of Forbes "20 Youngest Power Women of Africa," who based her black seed oil-centered formulations on the recipes from the village traditional healer her own grandmother nourished her skin with daily. Tiossan has launched successfully online and at Birchbox, and is now fast moving into U.S. Nordstrom department stores, with the brand to add subgels, so it can deliver blackseed oil health both within and without. Wade has many powerful visions for the Tiossan brand: for one, she's planning to build a model mini-village in Senegal where all production will take place, and where workers will live in a community with advanced schools and sustainable, indigenous Senegalese architecture.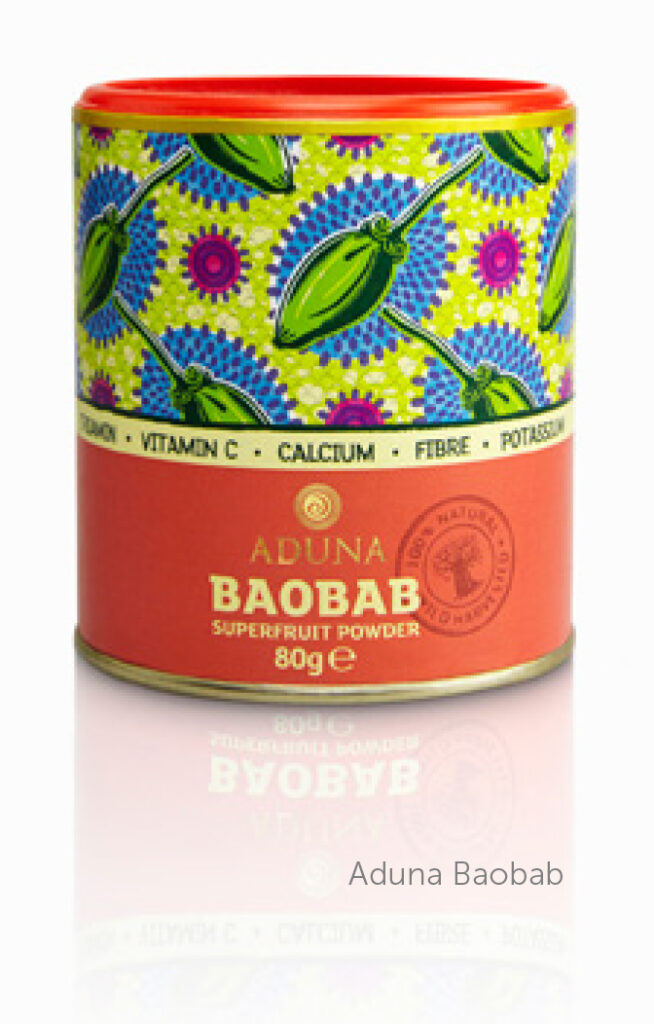 Baobab Fruit & Oil
The Baobab tree, one of the weirdest-looking trees on Earth, bears fruit that trend-spotters like the Specialty Food Association say will explode on the scene in 2015. It grows in Africa and the Arabian Peninsula, and the mango-sized fruit (which reportedly tastes like grapefruit/pear/vanilla) opens to a powdery, nutrient-packed center. Baobab earns the name "super-fruit': Africans have used it for centuries as a cure-all, and it has six times the Vitamin C of oranges, six times the potassium of bananas, twice the calcium of milk, exceptional fiber, and tons of B vitamins, iron, magnesium and anti-oxidants. The big industry is exporting dried baobab powder that can go into just about anything. Aduna, a business that advocates for small-scale baobab producers, and whose baobab powder is available at 130 Holland & Barrett health stores, has launched a "Make Baobab Famous" campaign – and it's working. Both Waitrose and Marks & Spencer in the UK are launching baobab juices.
And because baobab's dense antioxidants, Vitamin C and polyphenols are skin wonders, it's moving into beauty products and spa treatments. London's sleek K West Hotel & Spa recently launched a "Baobab Feel Good" treatment using Germaine de Capuccini baobab-based scrubs and oils – all followed by a Baobab smoothie (a portion of sales go to the Aduna Foundation). At London's new super-social Aqua Bathhouse & Spa at the Mondrian, the resident pharmacognosist (a doctor specializing in medicinal herbs) matches baobab teas to treatments. The new Mbuyu Experience at Four Seasons Safari Lodge Serengeti is a full baobab ritual: you drink a baobab infusion, have a baobab oil massage, and leave with a baobab tasting sampler and recipe book. Just a couple of baobob-centric beauty lines: Allafia skin cream and Beauty Biologie hair products and body scrubs.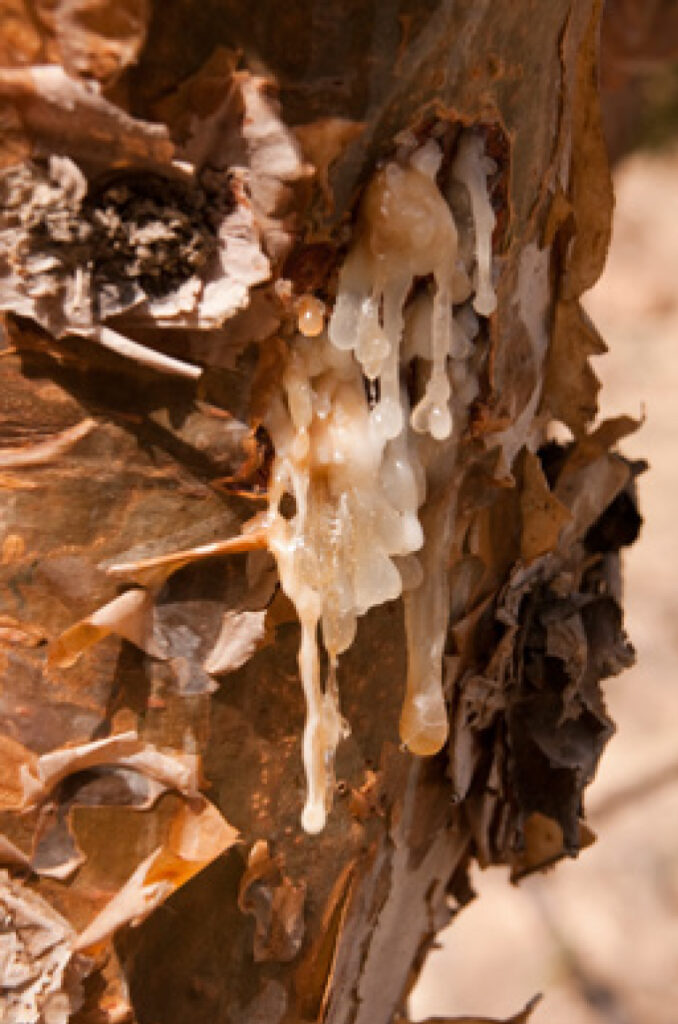 Frankincense
When many western people think "frankincense," they think Christmas, but this resin from the boswellia sacra tree was used an ingestible/topical medicine on the Arabian Peninsula 3,000 years before those three Magi. Rich in anti-inflammatory boswellic acids and monterpenes (great for aging skin) it's headed into more skincare products, like Neal's Yard's central product, "Frankincense Intense," (mixed with baobab, turmeric and argan oil). And frankincense is central to more aromatherapy lines, like the UK's Aromatherapy Associates, so it's wafting through many spas. Even the flavor is trending: cocktails with frankincense recently started pouring at the swanky Artesian Bar at London's Langham Hotel.
Breaking the African Beauty Barrier
Although more than 25 percent of the planet's botanical species originate in Africa, less than one percent ends up on beauty retailers' shelves. But that's thankfully poised to change with the appearance of more African-based beauty brands, like Tiossan or Healing Earth (which also incorporates indigenous African botanicals).
Magatte Wade of Tiossan notes, "A woman recently said to me, 'It never occurred to me to equate Africa with beauty products or rituals' – but people just don't understand the sheer, incredible diversity and efficacy of beauty and body healing traditions across the dozens of African countries. Nor do they grasp how intensive the wellbeing concept can be for us: western women focus everything on the face, but in Senegal we have a 'whole body' approach, where hours can be spent on healthy, self-care rituals. The world's skin is at the most fundamental level the same: yes, we have dry, oily, young and aging skin worldwide, but it is universally the role of skin to take in nutrients and expel toxins. The world needs to open its mind to the power of African beauty solutions, and it will be great ingredients and brands that will ultimately break those global barriers."

III) "Spa" Experiences
Any attempt to describe the many body treatments across Islamic cultures is impossible here. In Indonesia every region has unique forms of massage and oils – in Morocco massages are tailored for specific ailments. How little we know about post-childbirth ventral massage in Indonesia, involving special fabrics and turmeric, or traditional laurel leaf and grape seed massage in Uzebekistan to support men's vitality or Sudanese scented smoke baths ritually performed by women.
A few of the treatments with global traction:
Hammamania Forever
The hammam experience (traditional to Eastern Europe, the Middle East and North Africa) may be the one Arabic spa tradition that the world knows. Spafinder Wellness named it a top trend back in 2010, but the number of new resorts featuring this deep-cleansing ritual of heat, scrubbing and soaping has only gained steam – with roughly a quarter of the top, new global spas featured in Condé Nast Traveler and Tatler these last couple of years launching with a hammam. They have gone from novelty to near ubiquity: the just-reopened Condado Vanderbilt Hotel features "Puerto Rico's first hammam," and when the Ritz-Carlton Langkawi (Malaysia) opens this year it will unveil a Turkish variety.
Rasul Rooms & Mud Rising
Some Moroccan hammam experiences involve application of local rasul mud and clay. But now we're seeing more standalone, Arabic-inspired rasul mud-rooms appear. The experience: a shower, then a slathering of mineral-rich, exfoliating muds in different colors and textures (applied to different body parts based on sensitivities), then an herbal steam and shower. Rasul experiences are popping up everywhere: from Ramside Hall Hotel (UK) coming this spring, or at the award-winning Salamander Resort & Spa in Virginia (U.S.) horse country. And at what must be Africa's coolest, most conservation-focused, culturally-immersive wilderness lodge, Segera Retreat (Kenya), the spa uses local soil and spice scrubs, traditional medicinal plants, and centerpiece experiences like a rock bath with camel's milk and a fabulous rasul steam tower. Traditional rasul treatments have certainly influenced another trend in hip Western spas: outdoor, public "mud bar" playpens or "lounges" (like at the Standard, Miami or the just-expanded Bacara Resort & Spa, Santa Barbara) – where the young and beautiful roll around wearing nothing but mud.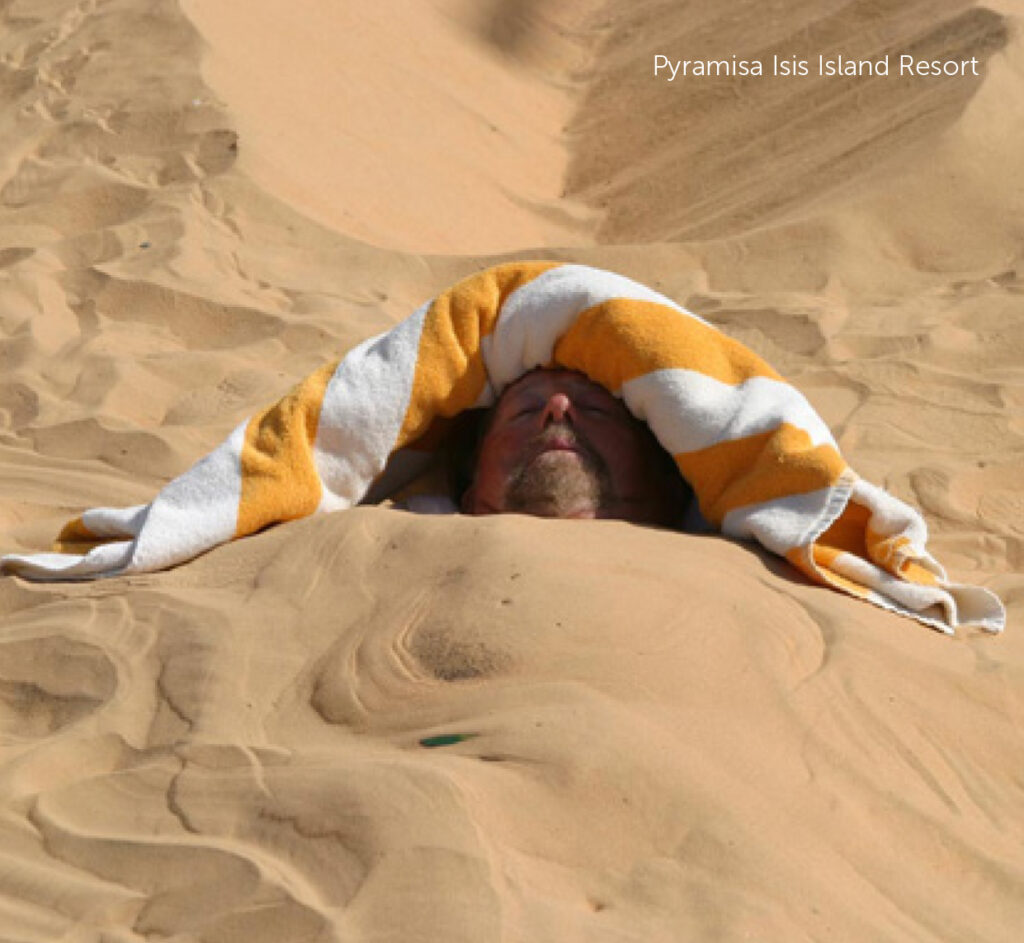 Sand Baths
"Psammotherapy" means the therapeutic application of sand, and the first written description of the benefits of a hot sand burial/bathing was recorded in Siwa in ancient Egypt. The ancient medical pantheon, Herodotus, Galen and Avicenna, all wrote about sand bathing's healing properties. Traditionally, holes were dug in the morning, and people were buried (head free) for 20-30 minutes during the hottest part of the day. Because sand has high heat capacity and low thermal conductivity it uniquely warms the body gradually and uniformly, to help with musculoskeletal and arthritic pain/inflammation. And it also results in a lot of instantly absorbed sweat (so no overheating, and temporary weight loss). If Eskimos have an elaborate vocabulary for snow, desert people have the same for sand, and throughout the Middle East/North Africa people for centuries have traveled to experience the most therapeutic sand (like to Aswan, where you can experience it now at the Pyramisa Isis Island Resort).
Sand bathing has experienced crazy global migrations. It's big in volcanic-sand-rich Japan (called suna-buro) at many onsens. It became a trend in places like Paris, Chicago and San Francisco around 1900. It was popular in Soviet Russia in regions like Crimea. Today sand bathing is happening everywhere from Madeira to Uzbekistan to Korea, and in spas in the Middle East, Europe and Asia. Forward-thinking Brenner's Park (Baden-Baden, Germany) has had a hot sand therapy cabin for 20 years. And it's on the rise in places like Merzouga in Morocco, where local Berbers have a brisk trade burying tourists. Luxe versions can be found in spas like Qasr Al Sarab Desert Resort by Anantara in Abu Dhabi. And the Saudi government's massive tourism/entertainment city, Al Uqair, set to open in 2017, will feature an entire "arenotherapy" (sand bathing) center. In it's supreme, authentic simplicity, it seems that more beach/desert spas should and will follow suit.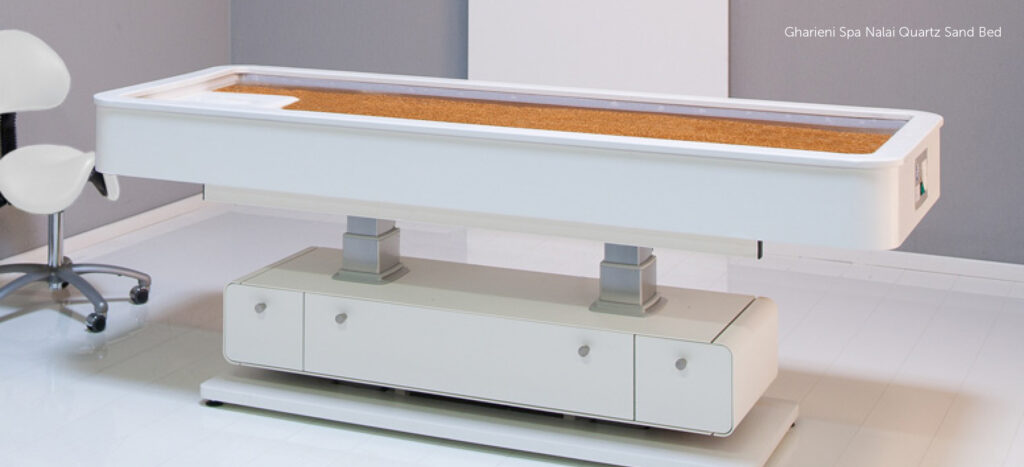 Sand Massage Tables
New sand massage tables are bringing the deep, penetrating heat of Arabic sand baths to any spa. Pioneer Gharienihas rolled out their MLX Quartz sand table: spa-goers are immersed in a heated bed of warm sand and quartz, with technology that allows the shifting sand to gently massage from below while therapists massage above. These innovative sand tables are going into many top spas, from Spa Nalai at the buzzed-about, new Grand Hyatt in Manhattan (InStyle magazine just gave this "sandy" experience a warm thumbs up.), to the just-renovated Four Seasons Hotel Riyadh in Saudi Arabia. And Trautwein also just launched their Vulkanosand table, also channeling the sand baths of Egypt. Sammy Gharieni, Gharieni's founder and CEO, notes that, "Sand tables are so popular, that in 5-10 years they look to become standard at spas."
The "Gritty" Spa
So, while spas aren't typically "gritty places," top, trending treatments revolve around sand, mud, clay, and intense full-body scrubs (the "scrub" has established itself as the spa world's "third treatment") – and Arabic traditions are the big influence.
Spa Resorts Inching Towards the More Indigenously Authentic
There are no faster growing spa markets worldwide than Sub-Saharan Africa and the Middle East-North Africa (the former, admittedly, from a small base): Sub-Saharan Africa nearly quadrupled spa locations from 2007-2013 (to 1,544) – while the MENA region more than tripled them (to 3,889). Across MENA, Morocco, the UAE and Saudi Arabia are clocking the biggest market growth – with Morocco accounting for nearly half the spa locations in the region. If, in 2007, only 14 countries in Sub-Saharan Africa had spas, now 42 do, with Nigeria and Senegal big growth leaders. There spa is oft-paired with safari/adventure, and there are an estimated 9,000 safari lodges in Africa today, up from 400 in 1995.
If these are the spa markets to watch, it's striking how many spas across the Middle East/Africa revolve around non-indigenous Thai, Balinese, Ayurvedic or Western treatments/products. But change is underway: hundreds of spas are at least nodding towards local ingredients, brands and experiences. Local cultural/wellness immersion is happening at Six Senses Spa at Sharq Village (Doha, Qatar), gorgeously modeled after a traditional Qatari village, with a spa menu focused on Qatari ingredients/techniques. Or at the new, breathtaking Alila Jabal Akhdar resort (Jabal Al Akhdar, Oman), built by local masons from local stone, with the décor, art collection and library all-things-Omani, and a spa menu rich in local ingredients like frankincense and juniper. (Oman is the Middle East's next wellness resort hotspot: Anantara has three more in development, Radisson Blu and Kempinski are coming, and W, Four Seasons, Fairmont and Aman have plans for this beautiful nation.)
Game-Changing Concept
A destination wellness resort planned for 2017 in Doha, Qatar represents a ground breaking concept: Zulal Destination Spa would be the world's first destination to immerse guests in the medical/wellbeing traditions from across the Islamic world (combined with modern healthy living practices). This 365-degree program based on traditional Islamic healing would go deep into the medicine, food and nutrition, beauty, massage, aroma, water, movement, purification, balance and energy practices from across 20+ Islamic nations. And the project has strong partners and research behind it: led by the Qatar Foundation and their subsidiary Msheireb Properties (the sustainable developer currently transforming downtown Doha), and initially developed with GOCO Hospitality, a global wellness consulting and management leader, the founding concept was built on Prof. Bodeker and his Oxford University team's extensive research, with other research partners including Harvard and Stanford Universities. A landmark destination like this could define what could be done with these wellness traditions in a retreat setting, would likely further jumpstart the trend, while positioning Qatar as a pioneer in wellness.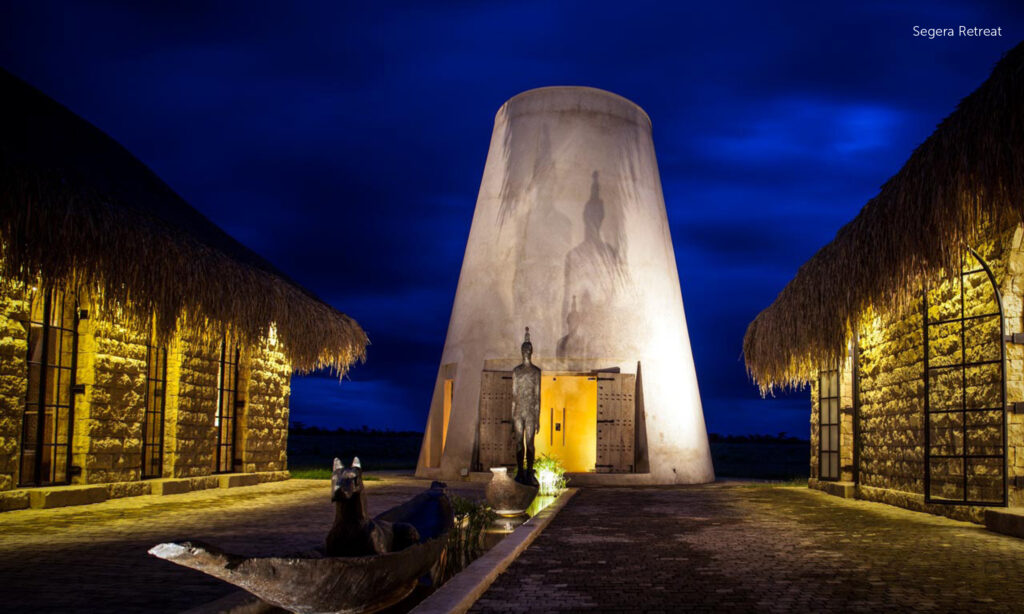 THE FUTURE
Wellness practices of the wide Islamic world do represent one of the "last, lost, great bodies of traditional health knowledge," and we predict that slowly, but surely, they will be discovered by the world – and travelers will increasingly headed to the Middle East, Africa, Central Asia and SE Asia, hungry for authentic everything.
And Ingo Schweder, founder and CEO of GOCO Hospitality, that has numerous local-treatment-and-ingredient-focused wellness projects under development from Bali and Costa Rica, to Istanbul and Dubai, explains why indigenous practices will ultimately be re-embraced "from within."
"In developing countries, from the Middle East to Africa, with newfound economic power comes an understandable, initial desire to break with the past and consume everything "western," from food, to clothes, to design – which is why there are so many spas in big, generic glass towers with menus of Thai and Swedish massage," said Schweder. "And with wellness traditions, it typically takes excitement from the rest of the world (for instance, the Germans/Swiss made Ayurveda popular), before it starts getting re-developed back home. It's a boomerang effect, and it's why I believe that so many traditions from the Islamic world – whether their beautiful, brilliantly functional architecture (which ingeniously manages heat, air and water flow) – to their food-as-medicine philosophies – will ultimately be re-embraced back home."
This trend report could only offer an extremely limited sampler of some key foods and beauty ingredients (and new products incorporating them) – and body therapies – central to Islamic worlds. We didn't even explore fitness, and how little the world knows about approaches like Turkish Riyazat, which can be likened to yoga (a series of postures/movements) on horseback – or the Indonesian/Malaysian martial arts/movement tradition, Silat.
This is just the beginning of a conversation on a new, conceptual category of wellness. And if one turns off the TV and all its bad news, and "re-sees" these cultures through the lens of their indigenous wellness traditions – so much good news opens up.
The future? Experts on traditional health from these regions need to keep documenting their knowledge base on wellness and sharing it with the world. More scientific research needs to to illuminate the human health impact of these indigenous ingredients and practices. There is just so much more to do – and explore.
SOURCES
Pew Research, "Mapping the Global Muslim Population," 2009
A snapshot of Bodeker's research on "Wellness Traditions of the Islamic World" was presented at the 2014 Global Spa & Wellness Summit. Without his insight this trend report would not be possible.
The Qatar Foundation is a non-profit organization dedicated to furthering the human, social and economic development of the nation.
CNN, "Stressed out? Find sanctuary in sub-Saharan Africa," 11/2013
WTM, "Global Trends Report," 2014
Global Wellness Institute, "Global Spa & Wellness Economy Barometer," 2014
The Daily Beast, 12/2014
Marc Micozzi, MD, former physician for the National Institutes of Health; professor, Georgetown University School of Medicine; and founding director of the Policy Institute for Integrative Medicine; Hakima Amri, PhD, professor of biochemistry and co-director CAM graduate program, Georgetown University; Mones Abu-Asab, Ph.D., senior scientist at the National Institutes of Health
World Bank and the Institute for Health Metrics and Evaluation(IHME), 2013
For instance, the Institute of Food Technologists' 2015 forecast named Middle Eastern/North African food/flavors one of their top 5 trends; the Daily Mail UK's, "Food Trends of 2015 Revealed" featured Malaysian street food/ingredients; and the Telegraph UK's "2015: Top Trends to Watch," spotlighted how "Persian food will go mainstream."
Just one example: Everyday Health, "Top 10 Healthy Food Trends for 2015," 12/2014
Sreeja et al. 2010, Westfall 2003, Bingel and Farnsworth 1991.
See Memorial Sloan Kettering Clinical summary at: http:// www.mskcc.org/cancer-care/herb/nigella-sativa
Cited at Aduna website, 2014
Global Wellness Institute, "Global Spa & Wellness Economy Monitor," 2013
Former chairman of the African Tourism & Travel Assn., cited at CNN, "Stressed out? Find sanctuary in sub-Saharan Africa," 11/2014
TOP 10 SPA & WELLNESS TRENDS FOR 2015
MORE SPA & WELLNESS TRENDS