Parenting Well: Serious Spa & Wellness for Kids
---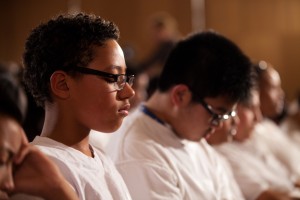 Parents are learning that to raise healthy children in the 21st century means more than just teaching them to eat their vegetables or look both ways before crossing the street. The poor diets, technological obsessions, and ubiquitous stressors that plague adult life offer no immunity to the young. Playtime is being threatened by busy schedules; recess is becoming endangered because of high-pressure testing; and childhood obesity and Type 2 diabetes (once a disease for our parents and grandparents) are global epidemics. If anything, children are especially vulnerable to these factors, and any harm caused in the midst of their development can reverberate through the rest of their lives.
Tuned-in parents, armed with more options and resources than ever before, are looking to the same spa and wellness therapies and techniques they've relied upon to improve their own lives to now nurture their children's. In addition, there has been a realization that making long-term lifestyle changes is exceedingly difficult, and it would be much easier if the need for these changes had never developed. Thus, parents are increasingly aware that they can spare their children the hardship of making changes later in their lives by instilling healthy habits at an early age.
And many wellness practitioners have, in turn, come to recognize children's wellness as a literal growth industry. Whether the ailment is acute or chronic, the condition physical or emotional, the child pre-K or pre-med, wellness practices help ensure that the kids are all right—and we forecast that serious treatments and programs, from healthy cooking classes to yoga and meditation, designed with children in mind will be the biggest growth factor in the spa and wellness industry for years to come.
FUELING THE TREND
Modern Threats to a Child's Development
Our children might be living in the most health conscious period in history, but, sadly, that doesn't guarantee they're healthy. Rates of childhood obesity have more than doubled in children and quadrupled in adolescents in the past 30 years in the US, reaching 18 percent for children 6-11 and 21 percent for children 12-19.1 While the U.S. leads the pack, the issue is global, with the OECD reporting one in five children in developed nations as overweight or obese,2 and the WHO estimating 42 million obese children under the age of five worldwide.3 And type 2 diabetes, a disease once largely reserved for adults and caused by poor lifestyle habits, is rapidly overtaking type 1 diabetes as the most common form in children.4
Screen Addiction
Children are not immune to forces that have driven many adults toward healthy lifestyles and spa and wellness therapies. They too are living in an electronic-gadget-obsessed world, crouching over devices, as they're fed information and images at incredible speed. Children spend more time than ever hunched over glowing screens—an average of six to seven hours a day according to a recent UK survey—and nearly half of parents claim their children are addicted to smartphones and tablets.5 This obsession, paired with a generally sedentary lifestyle, can lead to myriad health concerns. For example, doctors are reporting an alarming increase in "tech neck" in children, a backwards curve in their neck and spine caused by staring down at screens for extended periods. This strain can result in headaches and a hunched back in the short term, and mood disorders and permanent spinal damage in the long term.6
Stress & Anxiety
Even more fragile than a child's physical health is his or her mental health, and anxiety, stress, and depression are on the rise amongst our youth. In a 2013 survey by the American College Health Association of 100,000 students, 51 percent reported feeling overwhelming anxiety, 60 percent felt very sad, and 84 percent felt overwhelmed by their responsibilities.7 This issue is well reported amongst older children and students, but still prevalent amongst younger generations. Some estimates suggest that as many as four in ten children have trouble sleeping at night due to stress.8 Other common symptoms in children are headaches, stomachaches, irritability, and behavior problems. While the causes may be complex—pressure to succeed, traumatic home lives, the overuse of technology, poor diet and exercise, etc.—the effects are simple: unhappy, unhealthy children. While this data is based on U.S. studies, it is fair to assume that global studies would show similar results.
Distribution and Availability of Organic Goods
The effects of agricultural pesticides and the pervasive use of antibiotics in the meat, poultry and dairy industries have parents worldwide very concerned about the kinds of food and drink their children consume, thereby adding to the ever increasing demands for organic and locally sourced foods. As many parents want foods to be labeled and meat and poultry animals be humanely treated, the global food retail industry has responded—mega-retailers like Costco, Walmart, Tesco and Loblaws now sell organic foods, grass fed beef and cage-free eggs. Farmers markets have become more prevalent, and not just in high-income neighborhoods. All of this has lead to an increase in accessibility to organic meats, dairy and produce.9 And, according to an October 2015 article on Ecowatch.com, in Europe…."a total of 19 European Union countries have 'opted out' of growing genetically-modified (GMOs) crops within all or part of their territories."
Empowered Parents Turn to Alternative Approaches
For much of recent history in Western cultures, an appointment with a doctor and a trip to the hospital were a parent's only source of expertise and treatment when it came to his or her child's health. But many of today's parents—a mix of younger Gen-Xers and older millennials—were some of the earliest adopters of the Internet and social media, and now use these tools to find advice, amass resources, and even develop a sense of community. A Pew Research Report, conducted in the U.S., shows that 74 percent of parents who use social media get support from friends and peers, and 71 percent provide answers to posted questions. Over a third ask parenting questions via social media, and two thirds use social media to find parenting information and advice.10 These parents are empowered, open to solutions that might lie outside a doctor's office, and deeply invested in their children's happiness and success (while also cautious of the risks of overextending their efforts and becoming "helicopter parents").
Many parents, having sought out more holistic practices and remedies for their own health and comfort, are both familiar with these alternative approaches and willing to introduce them into their children's lives. A doctor's clinical office can hardly compete with the welcoming atmosphere of an acupuncturist's or massage therapist's facility. And non-toxic, natural remedies and noninvasive techniques such as mindfulness and meditation tend to carry a much lower risk than medications and surgeries. Just as importantly, because most holistic practitioners encourage patients to take an active role in their treatment, healing becomes a more collaborative process.11 This approach is especially vital when treating children; parents and children become partners with the practitioners, and an informed, comfortable child is sure to be more receptive to treatment.
Popularity of Authentic, Indigenous Wellness Modalities
In Spafinder Wellness 365's eighth annual 2015 State of Wellness Travel Report, travel agents in the U.S. and Europe rated spiritual healing, alternative healing and alternative medical services above traditional medical services, when asked, "What Wellness Elements are Most Important to Travelers?" Respondents also said the top three trends in luxury travel include travelers increasingly seeking destinations with healthy body/mind offerings. This snapshot offers insight into a new breed of travelers and wellness consumers: people (including parents) who are looking for wellness options that have served people in other cultures for generations. Consider the recent demand for Ayurvedic medicine and the decades old popularity of Asian acupuncture and herbal medicines in the West.
ASPECTS OF THE TREND
Mindfulness after Math Class
A popular new term in child rearing is self-regulation, a strategy by which children are taught to control and guide their own thoughts, behaviors, and feelings. Many wellness-inclined adults see an obvious parallel to an idea they've been practicing for years: mindfulness. Programs such as the U.K.'s Mindfulness in Schools Project and Amsterdam's Centruum voor Mindfulness are partnering with parents, educators and youth organizations to bring the practice of mindfulness to thousands of children and families. Mindfulness and meditation help students to not only handle stress, but also to develop their socio-emotional skills.12 And schools become de facto wellness providers for lower income students who may not have access to therapy and quality health care.13
Oakland-based Mindful Schools trains adults online in a curriculum geared specifically to teaching mindfulness to K-12 youth, and since 2007 the organization has reached over 300,000 children in over 60 countries. The David Lynch Foundation implemented its first Quiet Time school meditation program in Los Angeles in 2010 with stellar results: "Youth who meditated at Quiet Time schools showed improvements in interpersonal relations, quality of sleep, and self-esteem; and significant reductions in depressive symptoms and anxiety."14 Across the board, these programs have reduced school violence, improved students' attitudes, and increased academic scores.
And at the 2015 Global Wellness Summit, delegates saw a wellness-focused school in action when second graders from Mexico's innovative Instituto Thomas Jefferson took the stage to teach wellness executives lessons in empathy, optimism, anger management, goal setting and gratitude. As the school's head of educational development, Esther Oldak, explained: "As CEOs, we forget the basics. We're so caught up with success that we don't realize that someone who isn't happy cannot be truly successful. Children can teach you how to enjoy the path to success and be happy." This was the first time that children appeared on the Summit stage in its nine-year history. (The video can be seen at https://www.youtube.com/watch?v=UTrglX80u4g)
Kids Take to the Mat
This past July, India's Minister of Human Resource Development, Smriti Irani, announced that yoga would be added to the curriculum for all upper primary and secondary students.15 For the millions of global adherents singing yoga's praises, this decision couldn't have come soon enough. The benefits of yoga are well documented, and as the dozens of famous child yogis on Instagram can attest, you're never too young to start.
Yoga studios and retreats are getting in on the action, with family packages and lessons on integrating yoga into a child's daily routine. Karma Kids Yoga bills itself as New York City's only studio dedicated exclusively to kids and families, while Yogaloom in London offer kids classes at its studio, as well as child-friendly retreats in both England and Greece.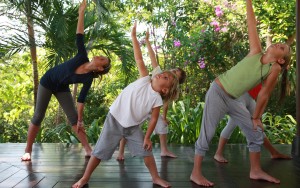 The Ashram de Yoga Sivananda in the Loire Valley has 'Yoga for the Family' with special yoga classes, games, and activities, and the Viveka Yoga Retreat Centre nestled in the woodlands of southern France provides family yoga holidays with crafts, nature activities, and child-inspired workshops to round out the day. Shining Bay Yoga Retreat, on the remote coast of Nova Scotia, even features a yoga package designed specifically for girls between the ages of nine and 16.
Yoga offers children calm, focus, and fitness, but beyond its general wellness benefits are its merits as serious therapy. Since 2011, the Children's Hospital in Colorado has run a highly regarded yoga therapy program for children with a wide variety of physical, developmental, emotional and psychological issues.16 Louise Goldberg, author of Yoga Therapy for Children with Autism and Special Needs, has been teaching exceptional children for almost 30 years. "Yoga therapy affords children an opportunity to play and learn in an environment that embraces their uniqueness and supports their strengths," she writes. "It's a therapy that meets children wherever they are."17
Yoga therapy affords children an opportunity to play and learn in an environment that embraces their uniqueness and supports their strengths. It's a therapy that meets children wherever they are.

Louise Goldberg, author of Yoga Therapy for Children with Autism and Special Needs
Body Work Instead of Homework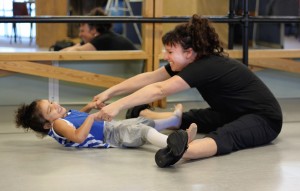 The Gyrotonic® and Gyrokinesis Method®, developed by Juliu Horvath, an ethnic Hungarian, professional dancer from Romania, is taught in 3,500 studios around the world. Horvath's methods focus on continuous, flowing movements in conjunction with specific breathing techniques. Proponents of these harmonious, full-body workouts claim they do wonders for mobility, circulation, balance, and coordination in adults—there's a reason it was once billed as "yoga for dancers"—and now more children are reaping its rewards.
Kate Russel, who is based at the 1617Lab in Santa Monica, has seen great success with clients who are children. "I worked with an eight-year-old girl who had a stroke and was experiencing lingering spasticity (stiffness) in one arm. The Gyrotonic® and Gyrokinesis Method® is unique because it has strong neurological benefits, which is particularly good for stroke recovery, and it was exciting to see her regain the use of her arm." Russel notes that as a child's physical prowess returns, so does her self-confidence and sense of play.
She also points out that young athletes and dancers' bodies are often stressed because the trend towards early specialization in a sport and intensive training damages young bodies–a big topic of discussion in the fitness industry right now.
In-Spiraling (Los Angeles) director and neuromuscular healer Jessie Rice and his team also treat children with digestive or sleeping problems, often related to emotional anxiety or academic stress. Rice says one of his chief challenges is the aforementioned tech-neck and other technology-based ills: "Looking down at iPads and phones creates a strain in their necks and affects their spines, sometimes even causing a hump. I even had a client who was texting while I was working with her." Rice added that he has treated toddlers and that many children "mimic" the same posture as their parents, which too often results in life long pain and disability.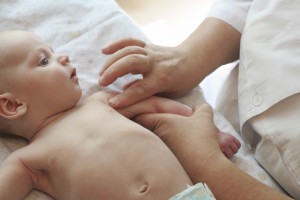 Other wellness practitioners emphasize that you can never be too young to take care of your body, literally. Experts in Mayan abdominal massage help expectant mothers ease birth and reduce strain on the baby. Sonia Rochel's "baby spa" gently immerses and washes newborns, supposedly simulating their time in the womb, and a video of her technique in action has gone viral with more than 24 million views. And Paule-Dominique, a family-focused massage therapist from Voila La Familia in San Francisco, is particularly passionate about infant massage. Paule-Dominique teaches parents techniques that soothe and reassure their newborns, support parent-child bonding, and foster their infant's emotional and cognitive development.
A Family Vacation for the Wellness Inclined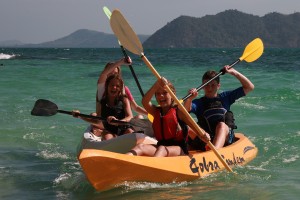 Resorts and hotels are starting to recognize that wellness is a family affair, and many seek to diversify their programs and activities to ensure that both parents and children get the most out of their stay. Some focus on teaching children the benefits of good health and self-care, with yoga sessions, cooking classes, and spa treatments. Others take advantage of their often pristine, natural settings by encouraging children to learn about the local culture and native habitats.
Cradled within the gorgeous blue waters of the Laamu Atoll in Maldives, Six Senses' children's club The Den offers music mediation class, yoga, and tai chi along with organic gardening, beach play, dance, and snorkeling. The chef designs custom Children's Wellness Menus full of healthy versions of kids' favorites, and families staying in a Beach Villa have glass-bottomed bath tubs and their own private beach garden—perfect for exploring the ecosystem while still having fun.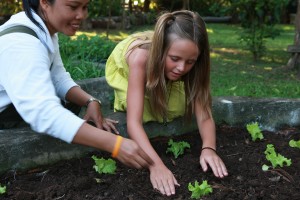 Ritz-Carlton's newly opened Reserve destination in Ubud, Bali includes Green Camp at Mandapa, with opportunities for kids to explore, play, and create while learning about Balinese culture and its native environment. The Kid's Hut features yoga classes, traditional Balinese games and crafts, chocolate making workshops, native plant study, and even nightly constellation walks through the rice fields.
After an 18-year hiatus, Family Week (usually the first week of August) has returned to Rancho La Puerta, or "The Ranch" as it's affectionately called by visitors. During Family Week, Rancho La Puerta encourages families to get to know the kids and grandkids of other longtime ranch-goers. Family hikes, cooking classes, cultural music and arts programs, and yoga sessions all contributes to what feels like an intergenerational summer camp.
At Plum Village in southern France, a monastery and the home of famed spiritual leader Thich Nhat Hanh, family wellness takes on a more serene hue. Their summer retreat offers classes in mindfulness, among other activities. Younger ones learn mindful outdoor play and meditation while teens learn how to use mindfulness to strengthen their communication and relationship skills.
And, as mentioned above in "Kids Take to the Mat," yoga holidays are not just for the super-flexible and carefree yogini anymore. Many yoga retreats are now offering family packages that teach parents how to integrate yoga into their child's daily routine.
Healthy Plates, Not Clean Plates
The pervasive use of pesticides on produce and antibiotics in meat, poultry, and diary, coupled with the marketing of a cultural avalanche of high sodium, high sugar, and high fat junk food, has left parents deeply concerned about what the children eat and drink. Millions of people, many parents among them, clamor for grass-fed beef, cage-free eggs, and readily available organic and locally sourced food, and the food industry has moved to satisfy that demand.
The organic focus at grocery stores like Whole Foods is fast becoming the norm instead of the exception; as mentioned, major grocery retailers like Waitrose and Tesco in the UK, Loblaws and Sobeys in Canada and Costco and Walmart in the U.S. have developed extensive organic sections. Overall organic food sales in the U.S. increased from approximately $11 billion in 2004 to $27 billion in 2012.20 Farmers markets have also become more prevalent, and over 5,000 farmers markets across the U.S. accept benefits from the government's Supplemental Nutrition Assistance Program (SNAP) and Women, Infants and Children (WIC) Program.21
School systems all over the globe are working to institute healthier menus for children. Japan stands as a model of success, having designed a healthy school lunch program 40 years ago that's gone largely unchanged since. Japan's school lunches are made from scratch with locally grown ingredients. They're never frozen and rarely fried, and you won't see vending machines or dessert (other than fruit and yogurt) in their cafeterias.22 All of which seems like the obvious choice, but schools in many countries are only now looking to systems like Japan's for inspiration, rather than classifying ketchup as a vegetable.
THE FUTURE
In the Maasi culture, a typical communal greeting and response goes, "And how are the children?" "All the children are well." That the health and wellbeing of a community is determined by the health of its children is a concept the world is slowly but surely beginning to embrace. As wellness attitudes, strategies, and techniques trickle down the family tree, bettering the lives of children, just as they have for their parents, we expect interest in spa and wellness treatments and programs geared to children to blossom. Yoga will find its way into gym classes, mindfulness will become an integral component of playtime, and family vacations will eschew buffets and roller coasters for local cooking classes and nature hikes. Massage therapy will become the go-to treatment for children of all ages who suffer from injury, sleeplessness or pain. Ayurvedic medicine and acupuncture will become parents' first choice for their children—and antibiotics and surgery the last.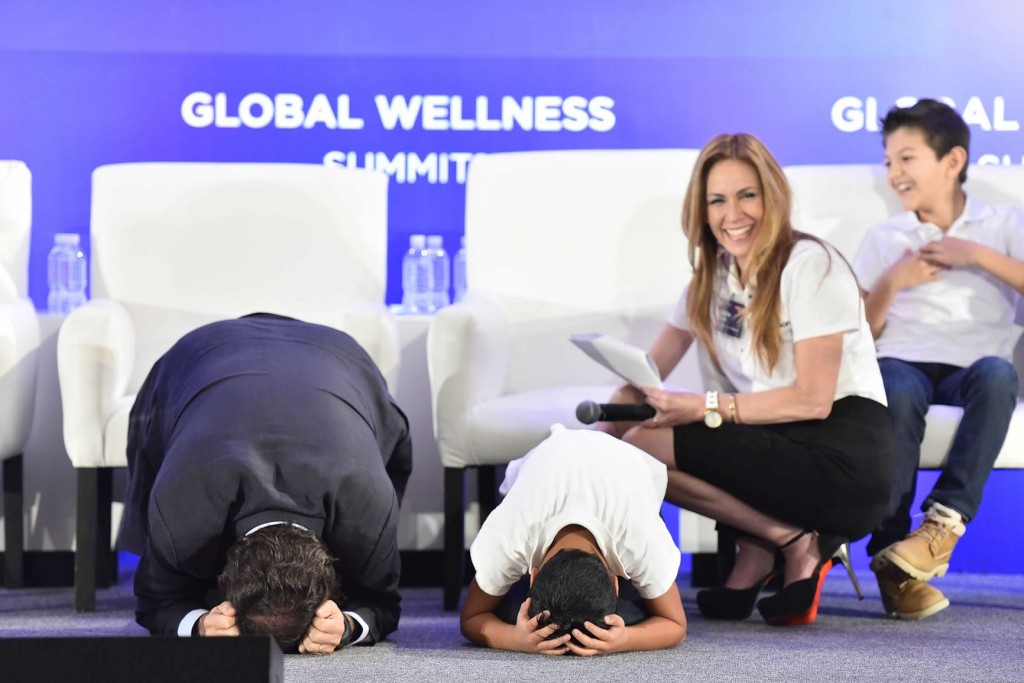 It's likely that wellness-inclined toys, video games, and kids apps will proliferate. Savvy wellness clothing and accessory company Lulu Lemon has launched ivivva, a clothing line for active girls designed to help them feel…"grateful, refreshed and ready to tackle the day." And Namaste Kid offers kid-sized yoga mats, clothing and DVDs.
By discussing the various ways in which children are already part of the wellness culture and that more and more businesses are tailoring programs to families and children, we can easily see what kind of impact this will have on the industry. Children who are raised within a lifestyle that values fitness, healthy eating, and self-care are already developing the habit of seeking strategies that contribute to their physical, emotional and spiritual wellbeing.
But improving children's wellbeing isn't just an industry—it's an obligation.  We cannot build a well world without ensuring the health and happiness of our society's youngest, most innocent, and most impressionable members.  If, as they say, children are our future, then the future of wellness lies in children—and the spas and wellness facilities that design programs and treatments with children in mind will drive growth in the spa and wellness industry for years to come.
TOP 10 SPA & WELLNESS TRENDS FOR 2016
MORE SPA AND WELLNESS TRENDS