Surf's Up! The New Wave of Wellness
---
"Let's go surfin' now, everybody's learning how, come on a safari with me."

– The Beach Boys, 1962
It's hardly breaking news that surf culture has been established as the apex of cool. The worship of surfing "style" took off in the '60s when the Beach Boys harmonized about a world where "everybody'd be surfin' like Californ-i-a, and Bruce Brown's documentary The Endless Summer brought images of boy-tribes on their globe-trotting quest for perfect waves to the world. And since the '80s when surf clothing brands exploded, you've been almost as likely to see a kid in Mumbai sporting Quicksilver as one in Malibu. Surfing itself has also boomed: growing from small, wave-obsessed clans from Hawaii, California and Australia, to the more than 35 million global surfers1 catching waves today.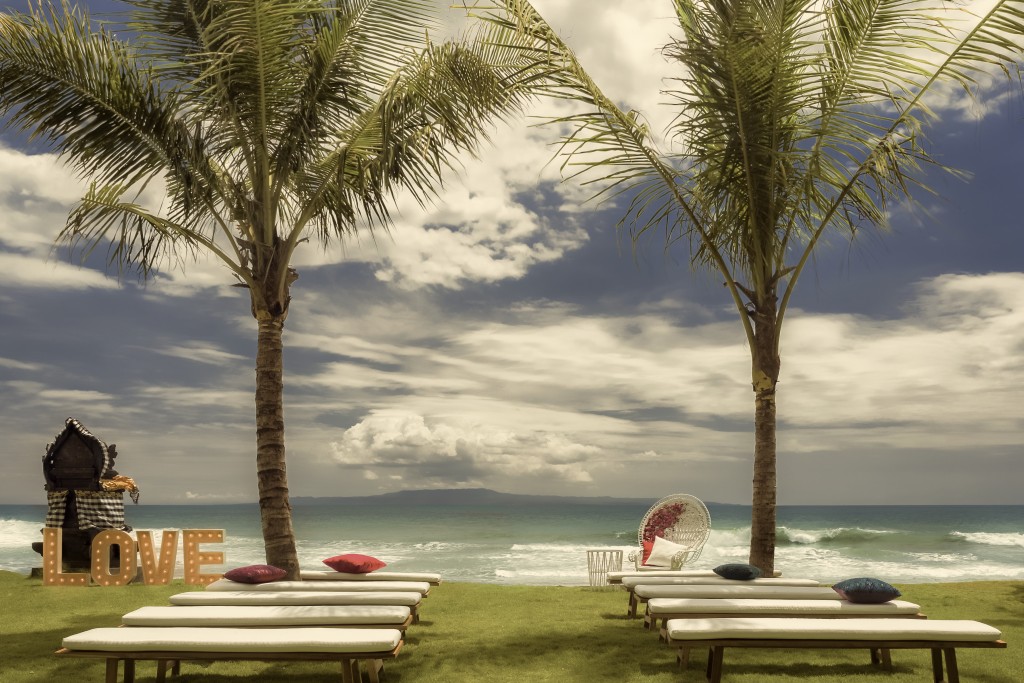 But across these decades of surf-worship, for most of us millions who didn't jump in, surfing has remained a rather mysterious endeavor. Well, that's changing fast, and surfing (along with spin-offs like stand-up paddleboarding) is fast becoming one of the world's hottest wellness travel trends, expanding its demographics and global reach in extraordinary ways. It is also one of the hottest fitness trends, and surfing today is about girls and women, entire families, Silicon Valley execs, and the locals from Brazil to Bali, jumping in.
And as beaches in original surf meccas like California and Australia become overrun, surfers keep pushing to increasingly remote destinations in search of uncrowded waves. (Experienced travelers know that if you want to find the next great beaches, follow the surfers.) Surf tourism is now happening in at least 160 countries.7 Anywhere there is an ocean, people are carving up the waves: from the balmy North Shore to the frigid North Sea, from Biarritz to Bali, from Cape Town to Cabo San Lucas, from San Sebastian to Sri Lanka, from Ghana to Guatemala to Guam.
FUELING THE TREND
Surfing Is Big Business
It's odd how ignored surfing has been by the travel industry. For decades surfers have been maxing out credit cards on trips, turning to websites like Surfline or Magic Seaweed (UK) to zero in on destinations. But the world is waking up to the fact that surfing (with travel the biggest share) is a $130 billion annual2 market. More than nine in ten surfers have taken an international surf trip within five years; 20 percent have taken more than 20.3 Tourism boards are now wisely promoting surfing: even Kim Jong-un recently took steps to rebrand the decidedly "un-chillax" North Korea as a surfing hotspot.
Surfers Invented "Parts Unknown" Travel
Watch an early surf documentary like Endless Summer to see how surfers have been pioneering experiential travel for 50 years. In their quest for perfect waves, they revealed cultures no one had ever seen. And this surf travel "mindset" dovetails perfectly with what travelers crave now: not stuffy luxury, but the authentic and exotic; healthy, local food; and real community. The new surf + wellness properties hit just these notes.
Surfing Is Fashion
Since the 60s, when the Rip Curls and Quiksilvers brought surf fashion to the masses, hundreds of brands have sold the surfer look on mainstream shelves. Surf fashion is a multi-billion-dollar business, but one that works by a tricky mechanism: because surf culture is intensely anti-commercial, when brands go big, they're rejected as uncool. So the surf fashion mechanism—always chasing the indie—never stops spinning. And now that women are jumping into surfing (and paddleboarding), there's as much haute couture in women's surfwear (i.e., $300 rash guards) as there is for yoga. Who would have thought 20 years ago that chic surf shops would be all over Manhattan, London and Paris?
Women & Girls
Surfing has long been male-dominated. But now an unprecedented number of women/girls are paddling into the line-up. Consider: 36 percent of U.S. surfers are now women.4 And it makes sense as surfing doesn't require brute strength, and women, often shorter, lighter and more nimble, actually have an advantage in normal waves. Celebrity male surfers like Mick Fanning (AU) and Gabriel Medina (Brazil) now share headlines with women like Carissa Moore (Hawaii) and Stephanie Gilmore (AU). The Women's World Surfing Championships drive big sponsorship money, while a new pack of pro-surfers-turned-models, like Alana Blanchard, draw Twitter followers in the millions. And women surfers are also driving the sport's globalization, as girls worldwide perceive the "surfer chick" as an emblem of empowerment. Like teen Bangladeshi surfer, Nasima Akter, who's winning local contests, despite a taboo against women swimming in her country…much less surfing.
Demos Go High-End
The surfer stereotype: a broke, young beach bum cruising beaches in an old van. Reality: the average surfer today is in his/her 30s, well educated, and earns $75K a year.5 The surfer demographics are shifting everywhere: mindfulness-crazed Silicon Valley start-ups are starting surf clubs, and a rising trend is well-heeled surfers buying second homes at un-crowded surf-breaks. Surfing, mindfulness and money are increasingly intertwined.
Surfing as Super-Fitness
More people are embracing surfing because of a rising recognition that it's an extraordinary type of fitness. As Tony de Leede (who knows a few things about fitness, as founder of Australia's famed Gwinganna Lifestyle Retreat and the new, surfing + wellness-focused Hotel Komune) notes, surfing delivers the "trim, tight body that is in now in, rather than the old, bulky 'gym' body."
De Leede explains surfing's workout: "Paddling delivers intense cardio expenditure, as it builds arm, shoulder and back strength; popping up and down on the board engages all core muscles; balancing builds leg strength and flexibility. It's interval training: aerobic bursts, followed by rest. It's low-impact, functional cross training, covering things it would take many machines and classes to do." Medical studies also show surfing prevents depression/stress.6 And if surfers are perpetually "stoked," studies suggest why: wave turbulence releases charged ions into the atmosphere, which release endorphins in people.
ASPECTS OF THE TREND
1) Surfing + Wellness Properties—A New Genre of Wellness Travel
Not long ago surf camps were often bare-bones dives that only a die-hard surfer would stay in. But because of the swell of well-heeled, wellness-seeking and women surfers, there is now an explosion of surf + wellness properties just about everywhere great waves break. Properties originally focused on surfing are adding wellness experiences (from yoga to spas), while resorts at great surf breaks are adding surfing schools. It's a smart move: when the waves aren't breaking, it gives guests much to do, and keeps the "surf widow" (who may now be a man), happy and healthy.
These surf + wellness properties represent a new "genre" in wellness travel. And they come at an astounding array of price-points, including Four Seasons or Six Senses uber-luxury.
But the heartbeat of this property trend falls comfortably in the middle: smaller, authentic, affordable retreats that deliver great surfing and a lot of meaningful, if straightforward, wellness. Common elements: rustic or mod design (on the eco-lodge model); all-inclusive packages, with healthy meals; a social atmosphere; great waves for advanced surfers and gentler beaches for the surf school; oceanfront yoga; and small spas, or just terrific massages.
In general, a lot of "beachy" (not bank-breaking) health and happiness. What many travelers want…even if they have no interest in surfing.
It's painful to limit examples: for every category spotlighted, dozens were omitted.
Shining Example – Hotel Komune
What do you get when the founder of a world-famous destination spa, Gwinganna Health Retreat (Tony de Leede, Australia), hatches the idea (along with partner Tony Cannon) to open properties at the world's best surf breaks? You get Hotel Komune, whose flagship Hotel Komune Bali represents the most evolved example of the surf-meets-wellness trend. Komune opened in 2012 for the surfing at Karamas Beach in East Bali. But in 2015 they completed an innovative "Health Hub," morphing the surf resort into a comprehensive fitness/wellness destination.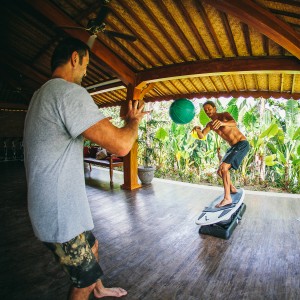 Komune delivers "destination spa" levels of wellness. Multiple conventional/functional equipment training areas and a lap pool. Three gorgeous yoga pavilions with top-notch instructors. A full-blown spa. Classes in everything from surfing, paddleboarding, Surfset, boxing, healthy cooking, and qi gong. Hiking, scuba diving, white water rafting and mountain biking. Organic gardens, and a new organic agriculture specialist, to supply the Health Café. And the first floodlit night surfing in the world… cool for surfers, and spectacle for guests. And it all starts at $89/night.
De Leede notes, "Komune Bali is essentially 'Gwinganna Lite' married to incredible surfing. And blending surfing with wellness experiences meets a real, global demand, and is an exciting new direction in wellness travel."
Komune is on the march: with plans underway for an amazing upgrade to their Komune Gold Coast (Australia) property by 2018, overlooking the famed Superbank surf break and home to the Quiksilver Pro WCT event: with cool, wave-inspired architecture and a comprehensive Health Hub like Komune Bali's. The Bali property is building more luxe villas, and they're eyeing new locations from Lembongan island (off Bali) to Portugal (near big wave-break "Landings").
Surf + Wellness in Established Hotspots
Costa Rica: Travel agents recently named Costa Rica the fastest-growing wellness travel destination,8 and with its extraordinary nature, beaches and national obsession with all things "Pura Vida", it makes sense. Surfers represent a quarter of inbound tourists,9 so Costa Rica abounds in affordable and luxe surf + wellness resorts. At the all-inclusive Surf Simply (Nosara), it's all about taking surf coaching to another level (for both beginners and the experienced), combined with yoga, massage and healthy meals. At The Harmony Hotel (Nosara), there are expert surf lessons, a great juice bar, open-air yoga studios and a spa/healing center with edible, all-natural treatment ingredients.
Morocco: Morocco's massive coast has become the European surf and wellness seekers' backyard (replete with camels on the sand). And from ancient Essaouira down to Agadir, surf resorts/schools are proliferating. The chill Paradise Plage (Taghazout) runs a Rip Curl surf school combined with daily yoga and healthy food. Surf Maroc offers all-inclusive retreats for the surf- and yoga-obsessed at four Moroccan locations.
Europe is surf-mad, from Donegal, Ireland to Portugal…and everywhere in between. Just one example of Europe's suave surf + wellness resorts: the Scandinavian-hip Surfer's Lodge (Peniche, Portugal), created by a former Swedish surf champ, with its unique Surf Academy, yoga classes, massages, organic food—and even circuit training specifically designed for surfers.
U.S. – Beyond California: California is U.S. surf central, with too many surf + wellness resorts to name: from San Diego's historic Hotel Del Coronado, with its great spa and spinning and surfing classes on the beach, to the Fairmont Grand Del Mar, marrying surf lessons with a 5-star spa. But surfing is hot on the "other" U.S. coast, from Maine, to the Outer Banks of North Carolina. Just one example of the chic properties: the Surf Lodge (Montauk, New York), combining farm-to-table cuisine, an amazing roster of star-taught fitness classes, and surf lessons. Website Well+Good even held a series of "Surfside Salutations" events here, days of classes with celebrity yoga, stand-up paddleboarding and cardio instructors.
New Frontiers from India to Iceland
Surfers seeking empty, Edenic waves are pushing to every corner of the world, where the locals are getting surf-crazed, too. And the cold zones (from British Columbia to Northern Japan) are surfing's new hotspots—even Russia's wildly remote Kamchatka Peninsula is developing a rabid surf culture. So, cool surf + wellness resorts are popping up in increasingly unexpected places.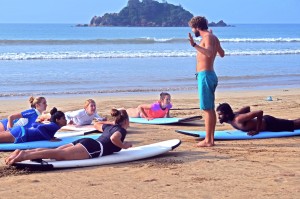 India: It's yoga central, but surfing? Yes. India boasts a vast coastline, and tropical Kerala, "the birthplace of Ayurveda", is surf central. One great property example: Soul & Surf, which combines expert surf lessons/tours with tons of wellness "soul": sunset yoga, pranayama, meditation, massage, Ayurvedic consultations and music programs—and with strong community "giving back," including a surf club for village kids. It nails the nice, affordable, unpretentious and packed-with-wellness surf retreat trend, and has held pop-up retreats in Cornwall, UK. Soul & Surf is also building a new surf + wellness boutique jungle property in Sri Lanka.
Iceland: Even Iceland, chilly land of surreal beauty, is drawing intrepid surfers, and with the summer midnight sun you can surf all night long. One property example: luxury resort Deplar Farm (Skagafjörður) set to open spring 2016, which will blend adventure, surfing and spa. An Eleven Experiences resort (U.S./European wild-adventure-focused properties), there will be surfing, heli-skiing, horseback riding and a cool spa with saltwater floating tanks.
Women-Only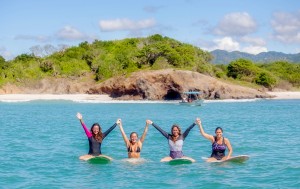 The era of surfing as a Boys' Club is over, and so many more resorts and camps are now focused on making surfing less intimidating for women/girls, with retreats typically blending a whole lot of yoga, healthy food, beauty, fitness, self-empowerment and social fun into the surfing mix. Unexpected brands are even getting into the women's surf + wellness retreat mix: trendy clothing company, Free People, this week launched FP Escapes at Xinalani Eco-Resort (Yelapa, Mexico) with surf classes, star yoga and healthy eating instructors, and women's empowerment workshops (Hawaii and Spain look to be their next destinations).
Las Olas Surf Safaris for Women (Puerto Vallarta, Mexico) pioneered thewomen's surf + wellness retreat concept back in 1997. Their mantra, "Make Girls Out of Women", involves daily surf lessons and yoga, surf-focused massages, cooking classes, salsa dancing, and a focus on bonding with each other and the ocean.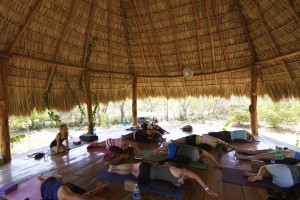 Surf with Amigas, pro-surfer Holly Beck's retreats in Nicaragua, Costa Rica and El Salvador, pack in a week of surfing lessons, yoga, jungle adventure and "feel good" voluntourism. SwellWomen offers a blissful combo of surfing lessons, yoga, massage and healthy food in Maui, Nicaragua, El Salvador and Panama. Surf Sistas surfing+ yoga+ wellness retreats take place in Cornwall UK, France, Morocco, Bali and Costa Rica.
Schools: Just-for-women "day" surf schools are rising. Great example: Surf Sister in the tiny, chilly town of Tofino, British Columbia, known as the town where women surfers rule…in large part because of Surf Sister, which gets more than 5,000 people out surfing a year. (Stay at the lovely spa resort, Wickaninnish Inn, or Pacific Sands Beach Resort, and they arrange your Surf Sister lessons.)
Luxury Surfing = Exclusive Waves & Wellness
The luxury surf resorts of today would be unimaginable twenty years ago. But for more people and families, a dream trip is not only about world-class resorts, but also access to world-class waves. "Exclusivity" takes on new meaning here: often about controlled access to epic, uncrowded waves. And while many surfers more than understandably decry the privatization of waves at resorts, the luxury surf market is there, and for many, these pricier experiences are priceless. The trend is everywhere: tour companies like Waterways Travel arrange $10K+ weeklong surf safaris from Peru to Fiji. Luxury schools like Kalon Surf School (Costa Rica) offer heavily personalized surf coaching, with touches like private chefs and surfing-tailored Pilates and massage.
Luxury Resorts + Residences: A trend is unfolding, "surfer real estate,"10 with surfers snapping up homes where waves break, from Australia's Gold Coast to Mexico. And these real estate developments not only combine resorts with residences, they're integrating comprehensive wellness. Just one example: Tres Santos Mindful Living Community (coming May 2016, Todos Santos, Baja Mexico) will give surf-loving residents a community revolving around organic gardens, yoga and meditation – alongside a new boutique surf + wellness resort, Hotel San Cristobal. On-trend minds are behind it: Chip Conley, head of global hospitality for Airbnb and founder of Joie de Vivre Hotels, is a principle.
Surfer Spa Treatments: The surf and spa connection is so strong that resorts are rolling out surfing-specific treatments. The new retro-surf hotel The Break (Narragansett, Rhode Island) not only offers surf lessons and Surfset fitness, but a "Surfers Massage" – while Aquaterra Spa at Surf & Sand Resort (Laguna Beach, California) has its "Body Surfer" Treatment, rejuvenating skin/muscles after surf sessions.
2) New Wave of Surfing as Fitness
Surf-Based Fitness Brands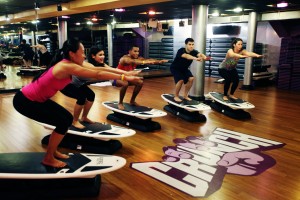 Because surfing is a complete – and uniquely joyous – workout, fitness brands that simulate the experience are a hot trend. The leader is SurfSet Fitness, created by a surfer who wanted to keep his "surf body" year-round. Its RipSurferX, a freestanding board that rests on balancing discs and moves to simulate ocean waves, challenges class-takers to balance, working their core, as they move through a series of exercises. And if SurfSet launched just a couple years, it's on an expansion tear: now taught at over 250 fitness studios across 19 countries: from North America to Asia. And SurfSet can also be enjoyed at spas/resorts, from the Montage, Laguna Beach (California) to Eden Roc (Miami Beach),
Surfing Spinoff Mania: From Standup Paddleboarding to Kite Surfing
Offshoots of surfing, like stand-up paddleboarding (SUP), are, of course, massive trends in their own right. Pro surfers like Laird Hamilton popularized them as an ocean workout when the waves weren't great, and the fact that SUP is easier to learn than surfing (using a bigger, more stable board), and can be practiced on any water (lakes, rivers, resort pools), has helped make it one of the fastest-growing outdoor sports. Consider: in the U.S. paddleboarding participation grew three-fold from 2010-2014.11 And SUP is now being combined with yoga and Pilates in trendy classes like FloYo or Aqua StandUp that can happen in any pool.
SUP + yoga + Pilates is on fire virtually everywhere: from Hong Kong's PilatesAthlete to The Standard in Miami. And it's getting wildly creative: at Washington School House hotel (Park City, Utah), guests do yoga on paddleboards inside an ancient crater in the dead of winter. Almost every surf + wellness resort offers SUP, and because paddleboarding is being embraced by young, old, men, women and children, it's seriously growing these properties' appeal. The surfing-spinoff options will just keep getting spun off, like the kite surfing trend, where you're strapped into a board and winged along by small parachutes.
Simulated Surfing Parks Boom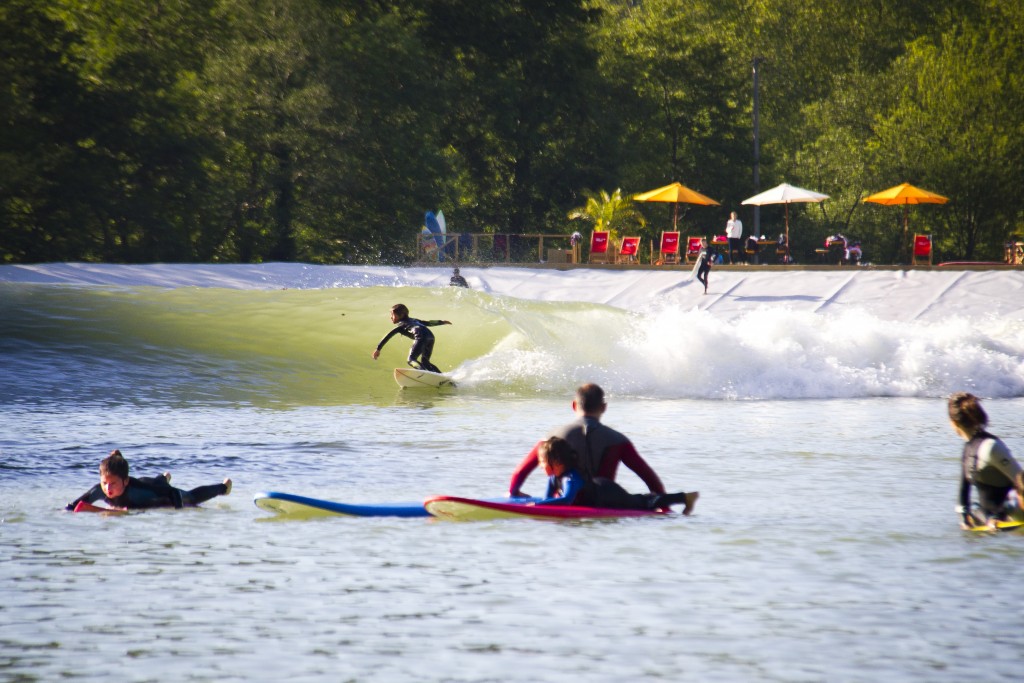 Not everyone lives near a beach, but a global wave of man-made surfing parks is underway. The Center for Surf Research's director has stated that these new surfing pools will, "create an entire new generation of surfers…not just in the U.S., but in Russia, China and Europe."12 And while many surfers will scream "unnatural," others argue that the new technology delivers much-desired wave consistency (good for competitions, like the Olympics, where surfing looks to be added in 2020), and allows people worldwide to give surfing a whirl.
An amazing number of surfing parks are now built, or under development, globally: from Wadi Adventure in the dry United Arab Emirates, to plans to transform part of Rotterdam's downtown canal into a simulated surfing river in 2016. Many more companies are evolving wave technology. American Wave Machines is behind eight surfing parks from Montreal to Sweden – with more coming, like The Wave in Bristol UK slated for 2016. Wavegarden is behind the new Surf Snowdonia in North Wales, the world's longest surfable wave lagoon, which offers lessons, surf yoga and fitness classes. (The technology can still have kinks, as Surf Snowdonia had to shut recently for repairs.) Wavegarden is also behind the massive NLand Surf Park coming to Austin, Texas in spring 2016, as well as six more parks under development worldwide. Even pro surfer Kelly Slater has a start-up wave-tech company.
EXAMPLES OF SPA PROPERTIES WITH SURFING ELEMENTS
The Maldives: Earth's most photogenic islands are also a surfer's paradise, and luxury wellness resorts have them covered. Four Seasons Resort at Kuda Huraa has a TropicSurf school, a "Ticket to Ride" pass allowing only 8 surfers on the boat heading out to the waves, while the ultimate surf-splurge, the Four Seasons Explorer, takes surfers on a seven-day seaplane adventure to hidden atolls. Other standouts: Six Senses Laamu, where daily trips to The Yin Yang, one of the Maldives' famous waves, are arranged, and Maalifushi by COMO, with its expert-led surf sessions.
Indonesia: Bali has countless surfing + wellness resorts, but fewer know about Indonesian islands like Sumba, home to Nihiwatu, with its unique surfing and spa offerings. The resort gives exclusive rights to cultstatus wave ("Occy's Left") limited to ten surfers, and the surf school is run by pro, Mark Healey. Combine that with its creative full-day "spa safari," kicking off with morning yoga, then breakfast in a treehouse, followed by a spa treatment journey in various remote, elevated platforms in nature.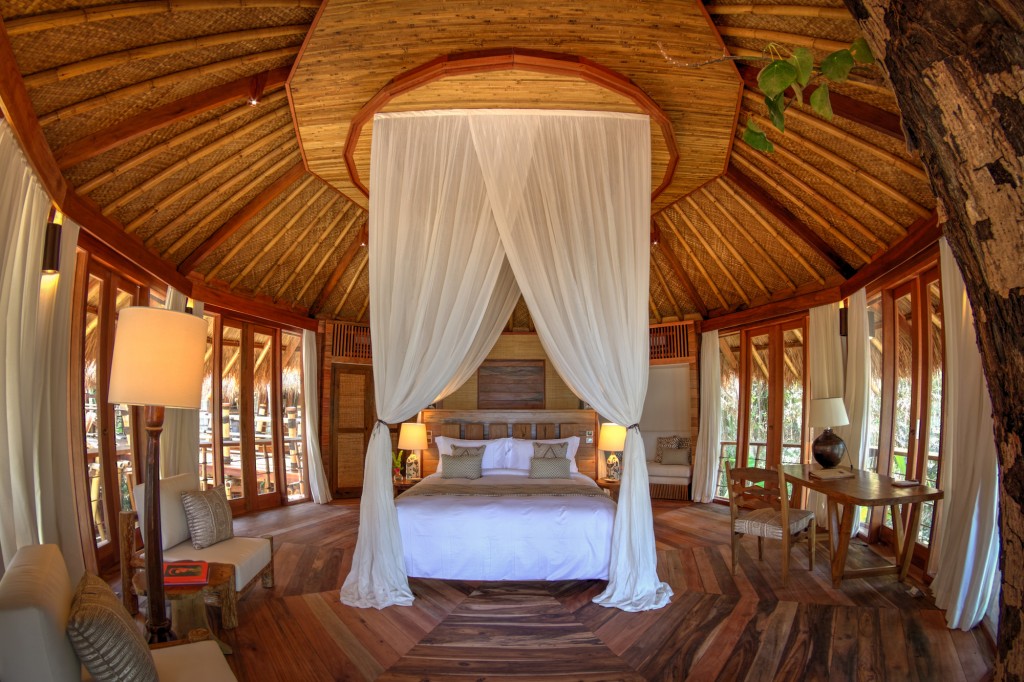 Hawaii: Oahu's North Shore, with its world-famous breaks, is home to Turtle Bay Resort, with its amazing watersports menu and crackerjack, pro-surferhelmed surfing (and stand-up paddleboarding) schools. (Especially amazing for kids, because they use surfing dogs to get them excited). A recent $45 million remodel added heaps of wellness: from the expanded Nalu Kinetic Spa and Fitness Center, to beachside yoga, to healthy dining.
Nicaragua is angling to become "the new Costa Rica", and Aqua Wellness Resort is its surfing + wellness star, a barefoot-luxury, treehouse property near famed waves, with surfing lessons, yoga, meditation, a great spa and organic food. And it's about to get even more high-design and deep into wellness as Lionheart/Six Senses has taken over the property. After the coming $20-$40 million upgrade, it will be the first Six Senses in Central America, and one that looks to have surfing and surf fitness still firmly at its core.
THE FUTURE
The cliché is that surfers never grow up, but surfing certainly has. And all of the trends above will only grow, and more women, more professionals, more families – more people from the UK to Korea—will jump into surfing. Surfing will increasingly be married to more wellness at properties, and as that equation is balanced, these properties will appeal to just about everyone. And the surfing-spinoff fitness mania, along with the wave of manmade surfing parks, will bring "surfer wellness" to more people even if they live far from a beach.
Tooling down the California or Australian coast you see hordes of boys and girls in surf schools/gym classes. It's the new ballet class or tennis camp, and that will grow globally. More people will get introduced to surfing on vacations. And some percentage of these people will be bitten by the surfing bug. Because, as William Finnegan, who has a brilliant new book Barbarian Days: A Surfing Life, put it, surfing isn't so much a sport, as an "addiction…it's monomaniacal."
When you hang out at one of the new surf + wellness retreats, you meet people from all over the world who, even if they just started surfing, have revised their travel bucket lists to hit the wide world of surf spots. We predict that the travel industry will finally wake up to how passionate and high-spending this wellness travel market is. And as the surf "brand" gets increasingly linked to wellness, yoga and all things organic, surfing's appeal will only grow.
Within surfing culture there has been a strong ethic of (and many organizations around) protecting the ocean environment and controlling runaway coastal development. Economists have even pioneered "Surfnomics" to quantify the monetary value of public beaches, as a weapon against over-development. And as surfing (and surf resorts) get built out in so many new nations, philanthropic organizations (from Peru's "Waves for Development" to Panama's "Give and Surf") are forming to ensure that the armies of surfers descending actually benefit local communities. So, as surfing booms, sustainable surf development will become even more crucial in the future, from controlling coastal development to ensuring surf travelers benefit the local community.
Surfers have always known that it's the magical alignment of reef, sand, bathymetry, wind and weather, in an exact location on the planet, to receive the swells created by far-off storms, that turns the ocean into a watery playground.
Surfing IS wellness and it's all about SOUL…and only protecting the oceans and beaches will keep it so.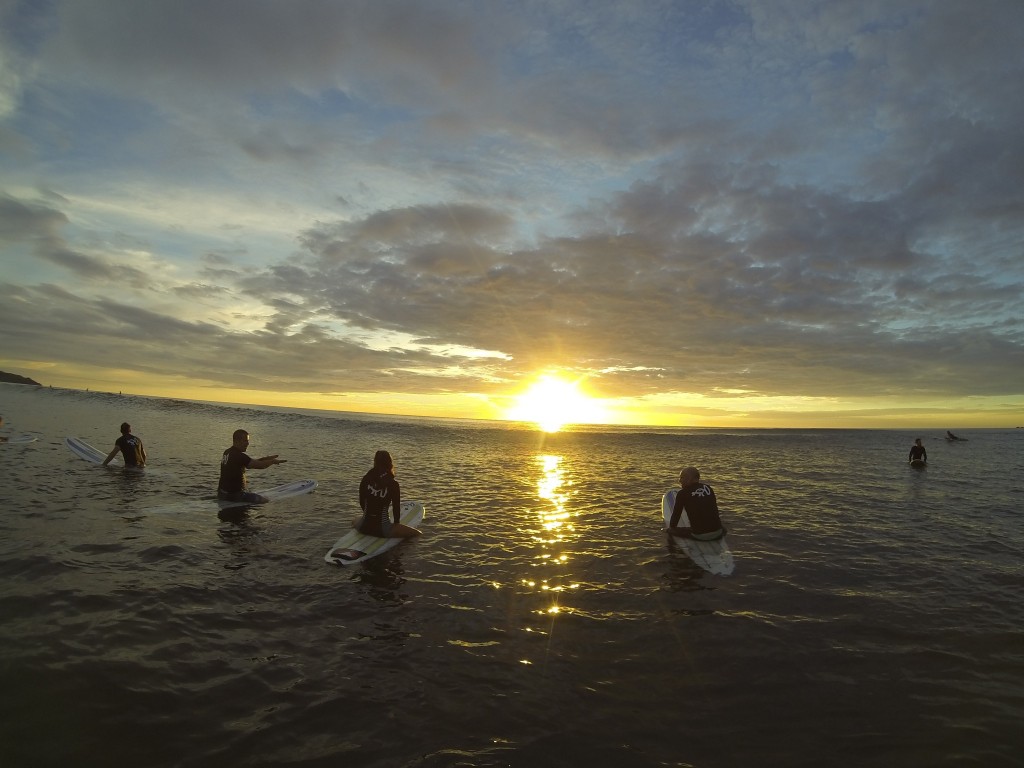 TOP 10 SPA & WELLNESS TRENDS FOR 2016
MORE SPA AND WELLNESS TRENDS