Well-Fests: Festivals Shift from Wasted to Wellness
---
From Bonnaroo to Burning Man, Carnival to Coachella, the thriving festival circuit promises to fill any enthusiast's calendar, with the only limiting factor being lack of funds or perhaps lack of sleep. Last year 32 million people attended a music festival in the U.S. alone – that's more than the population of Texas1. But as the industry expands, a growing number of festivals are celebrating wellness in addition to, or even in lieu of, music, art, and debauchery.
Of course many of the general principles of wellness have long been present amongst festivalgoers, who at least ostensibly endorse mindfulness, holistic therapies, environmental awareness, and dedication toward one's spiritual, social, and emotional wellbeing. Wellness stepping into the spotlight seems a natural extension of much of festival culture. After all, yoga was expanding minds long before Woodstock. But while wellness events have embraced the massive, celebratory nature of other festivals, they also allow attendees to return home rejuvenated, instead of exhausted.
The single defining attribute of wellness festivals, however, is their lack of definition. The diversity and sheer number of wellness events cropping up ensure there's something for everyone. Whether it's an afternoon gathering or a weekend-long experience, a chance to unplug or to get connected, a trip dedicated exclusively to your physical and mental health or a brief stop at the meditation and massage tent between dance parties, the healthy festivals movement welcomes all comers.
FUELING THE TREND
Together, Alone
Paradoxically, the most digitally interconnected period in history also seems to be the loneliest. Over two billion active social media accounts exist as of January 2015, with 300 million people passing around their photos on Instagram, 284 million sharing idle thoughts on Twitter, and more than a billion documenting their lives on Facebook2. At the same time, a Mental Health Foundation survey found rates of loneliness to be widespread and increasing, with people reporting fewer fulfilling personal interactions and only 22 percent of respondents saying they never feel lonely3. Festivals offer a chance for direct, person-to-person contact while also satisfying the same desire to see and be seen that fuels social media. They are, in essence, Facebook live: massive gatherings that encourage both personal interactions and collective culture.
Alleviating Record Levels of Stress
Festivals, and vacations in general, are already a chance to get away from the pressures and anxiety of day-to-day life. Over the past few decades, however, reported levels of stress have increased across virtually every demographic4. With stress a major factor for a whole host of ailments, including obesity, diabetes, hypertensionn, and cardiac arrest5, a vacation has to be more than just time off. Festivals are a form of wellness travel that caters specifically to nurturing the bodies, minds, and spirits of attendees, sending them home refreshed, not to mention equipped with the knowledge, attitudes, and skills to keep stress at bay as they dive back into daily life. Wellness festivals emphasize good times as much as good health, with attendees eager to enjoy themselves and each other's company, reaping the stress-reducingg benefits of, for example, both yoga and socialization.
The Era of the Millennial
With each passing year millennials make up a larger percentage of our consumer base – they're even on track to overshadow Baby Boomers6 – and their attributes and interests exacerbate all of the trends listed above. Eighteen to 34 year olds are our most digitally interconnected generation, but perhaps more surprisingly, they also report higher levels of loneliness7 and stress8 than any other age group. One in five millennials in the U.S. attended a music festival last year9, and according to the European FestivalMarket Report the average festivalgoer is 2610. Polling indicates that millennials also put greater emphasize than non-millennials on ideas like meditation, massage, eating right, and exercise when asked about maintaining a healthy lifestyle11 12. Simply put, millennials enthusiastically endorse both wellnesscentric living and large-scale festivals – it only makes sense that they'd support bringing the two together.
THE TREND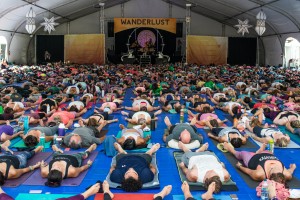 As Lynn Zinser of The New York Times puts it, wellness "can be a rather fungible idea,"13 and nowhere is this more evident than at The Wanderlust Festival. Wanderlust is a heavyweight of the wellness circuit, having expanded from a single event in Squaw Valley in 2009 to a whole suite of festivals scattered across the US, Canada, Chile, Australia, and New Zealand. It bills itself as an "all-out celebration of mindful living,"14 which is, in a nutshell, the appeal of festivals as a form of wellness tourism: the chance to not just focus upon your physical and mental health, but revel in it, all while surrounded by likeminded peers. Attendees run the gamut from families to college kids, from experienced yogis to first timers, but Wanderlust organizers insist that by the end of the festival they'll all be a single community.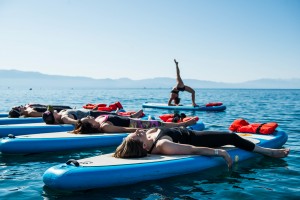 A day at a wellness festival like Wanderlust might begin with a breakfast of organic granola and cold-pressed juice, snacks, and any of a thousand other wellness-related products. Next up is a lecture on healthy living from a panel of experts, and then perhaps a guided nature hike or paddle board class or, if you're feeling really adventurous, a hula hooping session. Grab dinner from one of the many local, sustainable restaurants and, to finish things off with a bang, join your fellow attendees at a feverish concert of music from around the world before collapsing into your sleeping bag or four-poster bed, depending on your accommodations. After a day that busy, both will feel equally refreshing. Throughout your time at the festival you'll be surrounded by thousands of people of all ages (albeit predominantly twentysomethings), unified in their enthusiasm for wellness as both a lifestyle and state of mind.
Wanderlust, although modeled after multi-day music festivals like Coachella, still puts health center stage, but many other festivals such as Symbiosis and Latitude have integrated wellness activities as a revitalizing complement to their music and dance. Areas offering yoga, tai chi, massage, or just a few minutes of peace and quiet have become ubiquitous, with names like Healing Fields, Slow Motion, Sanctuary, and World of Wellbeing.
This wide spectrum of wellness festivals caters to both "the sensibles and the cannibals,"15 those who seek to better their bodies and minds through more traditional means, and those who have no problem pairing yoga classes and wellness workshops with raucous parties and experimentation. For example, the California festival Lightning in a Bottle partners with the organizations DanceSafe and the Zendo Project to provide judgment-free drug education and treatment areas, as well as mental health services for people on psychedelic drugs16. South Africa's SpiritFest, on the other hand, believes that a day full of yoga, music, and dance doesn't have to end with a rave full of dilated pupils and clouds of marijuana smoke. SpiritFest actively promotes itself as a drug, alcohol, smoke, and attitude free event. Their late night DJ dance parties wrap up at 10:00 p.m., ensuring that attendees will rise bright-eyed and bushy-tailed for their sunrise yoga and meditation sessions.
ASPECTS OF THE TREND
TO UNPLUG OR NOT TO UNPLUG?
The something-for-everyone nature of wellness festivals extends beyond one's preference for partying. Many can't seem to unwind without turning off their phone, while others can't relax without checking it every thirty seconds. Most festivals encourage human interaction while also running robust social media pages and proudly trumpeting the popularity of their hashtags, but the UK's Innocent Unplugged has charted a different course, issuing an outright ban on technology. Those looking to flout the ban and sneak a quick text will find that the idyllic countryside has plenty of stunning views, but no cell or wifi signals. In fact, the festival has no traditional electricity whatsoever. Instead pedal bikes and a human-sized hamster wheel provide the only power, and attendees are encouraged to take a spin on either to help generate the bare minimum electricity needed to keep the festivities going. For those who would rather stay on the grid, the week-long yoga I.G. Getaway doesn't just actively encourage social media participation, its selling point is the chance to interact with yoga's social media celebrities. These Instagram yogis may not always appear to be the most traditional of practitioners, but thanks in part to their photos of remarkable poses in equally remarkable settings they've amassed millions of followers. And it's only fitting that a festival built around both yoga and digital celebrity would be hosted in Los Angeles.
THE WIDENING UMBRELLA OF WELLNESS ACTIVITIES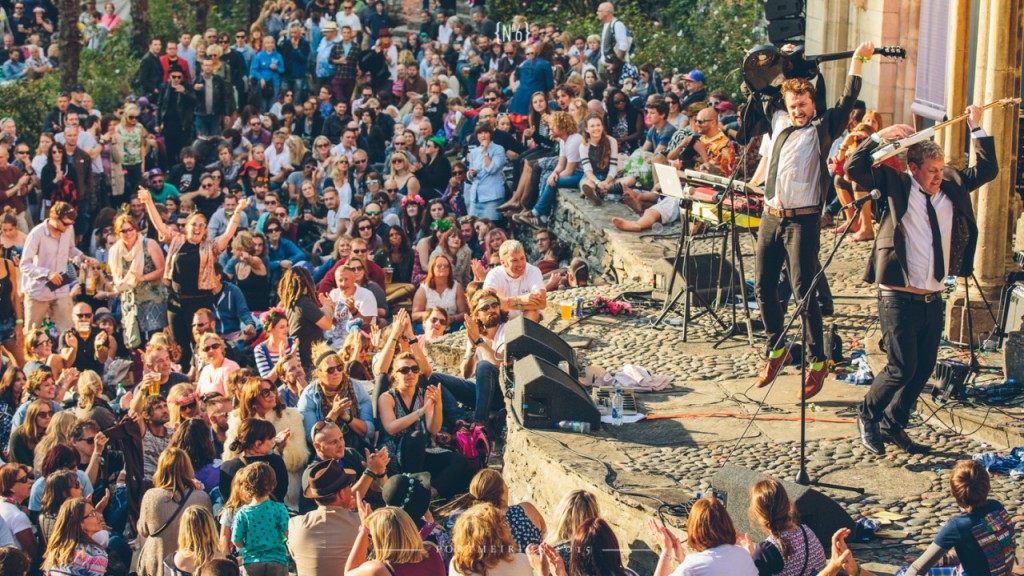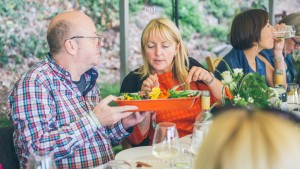 The same creative one-upmanship that's responsible for kaleidoscopic sculptures at Burning Man and raising the dead via holograms at Coachella is also present amongst wellness-inclined festival organizers. In just the UK, Festival No 6 features Tibetan singing bowl sessions, WOMAD (World of Music and Dance) offers gong baths and didgeridoo healing, Wilderness has glitter showers, Glastonbury provides hand-fasting, and the wishfully named Bestival has llama hugging and euphoric acrobatics. Yoga alone, a stalwart of nearly every festival, comes in dozens of varieties, including aerial yoga, hula hoop yoga, acro-yoga, rave yoga, paddleboard yoga, and laughter yoga17. For those curious, laughter yoga revolves around the idea that prolonged, self-induced laughter provides the same psychological benefits as spontaneous laughter18.
TRADITIONAL AND SPIRITUAL YOGA
It's worth remembering that those who long for more traditional, but no less immersive, yoga experience still have plenty of options. The International Yoga Festival in Rishikesh, India, for example, offers a week of yoga classes, sessions, and lectures, with thousands of attendees from over 60 countries. You won't find many of its renowned yogis on Instagram, but you will find spiritual masters who have dedicated their lives to both the physical and metaphysical aspects of yoga. Many Western yoga practitioners focus exclusively on yoga as an exercise, but in India yoga's connection to the teachings of the Vedanta and other holy scriptures is alive and well, as demonstrated by the International Yoga Festival's long roster of swamis and yogacharyas.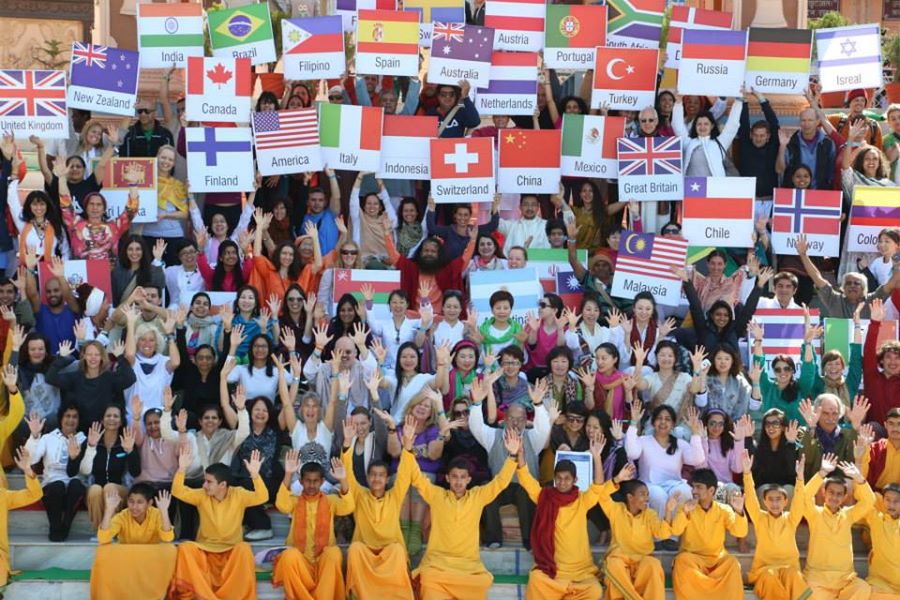 LUXURY FESTIVALS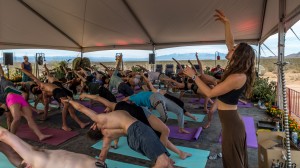 For some the idea of a wellness festival calls to mind images of unwashed hippies lounging amidst muddy tents, but many of these contemporary festivals offer upscale options that would fit in at any boutique. Of course they don't always come cheap; hippie ideals of free love might live on, but not free admission. At last year's inaugural Further Future festival, a three-day music and wellness event in Las Vegas, the cheapest entry ticket was $275, with accommodations climbing over $3,000 for a luxury suite. The festival's amenities include a members-only spa, fine dining, and mini-TED talks on hacking your own consciousness. But for every Further Future there's a Desert Hearts, a festival held on the Los Coyotes reservation that offers no VIP passes or pre-paid luxury accommodations–just a campsite, 100 hours of house and techno music, and a busy schedule of classes in their yoga and healing sanctuary.
SINGLE DAY WELLNESS EVENTS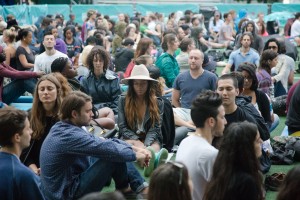 Many of us simply have too many responsibilities or too little time to spend several days at a wellness festival, but plenty of events last only a single day or, in the case of New York's The Big Quiet, just twenty minutes. Hosted by the organization Medi Club, The Big Quiet was a brief group meditation session in Central Park that drew a crowd of over 1,000. Five minutes of instruction were followed by 15 of stunning quiet, and then – in case you thought it had strayed too far from a celebration – more than an hour of joyous dancing to soul and afro-Cuban beats. Jesse Israel, co-creator of The Big Quiet, stated that people, "came to the event not to see one person or one speaker or a movie or a band, but to share one moment together. It's the idea of the audience becoming the focus of an experience."19 Medi Club continues to offer large scale meditation sessions, with attendees of all ages eager to quiet their minds and recharge in a communal setting. Similarly, the White Tour, a traveling yoga event, drew 2,000 people for a massive yoga session at Fort York in Toronto. At previous stops on the tour, 1,500 gathered at the base of the Eiffel Tower in Paris, 6,500 in Montreal's Old Port, and a staggering 10,000 in Central Park. Global Wellness Day, an international festival dedicated to living well, is celebrated on the second Saturday in June. In 2015, 73 countries participated, demonstrating that "One day can change your whole life."
BRANDING OPPORTUNITIES
Wellness is a $3.4 trillion dollar, global industry20, and wellness events are increasingly seen by companies as an ideal opportunity to showcase their brands on an enormous, at times literal stage. While smaller businesses vie for vendor space on festival grounds, and larger ones like Lululemon (at Wanderlust) and KIND Snacks (at Lightning in a Bottle) go the more traditional sponsorship routes, other companies simply create their own festival from scratch. For example, Weight Watchers' MeFest, scheduled for October 29th in Minneapolis, offers free music, food, lessons, and hands-on experiences to feed your mind, body, and soul. And the aforementioned White Tour is entirely the product of sportswear company Lole. Even shopping malls and hotels are getting in on the action. The Americana at Brand, a shopping center in California, is just one example, having recently hosted a Wellness Expo and Family Festival that offers interactive fitness stations for kids and adults as well as Q&A sessions with fitness specialists. In essence, it takes little more than a few healthy vendors and guest speakers to turn a day at the mall into a wellness-branded event.
THE FUTURE
The growing number of wellness events, with their impressive diversity matched only by their equally impressive audiences, indicates that wellness festivals are becoming every bit as mainstream as more traditional concerts and shows. We expect it's only a matter of time until travel agencies and websites include services and sections dedicated exclusively to wellness. A "Wellness Events" tab won't look out of place on Trip Advisor's drop down menu of attractions, snug between Walking Tours and Wine Tastings. Fest300, a website offering a curated list of the world's best festivals in an attempt to help people sort through the ever-expanding circuit, already considers Health & Wellness a category alongside Music, Food, and Religious. As more festivalgoers integrate their health into their celebrations, and as more health-conscious individuals pursue their own wellness in public settings, we predict that these two groups will in essence meet in the middle, discovering that wellness both fosters and thrives in community.
TOP 10 SPA & WELLNESS TRENDS FOR 2016
MORE SPA AND WELLNESS TRENDS