Suspending Gravity
---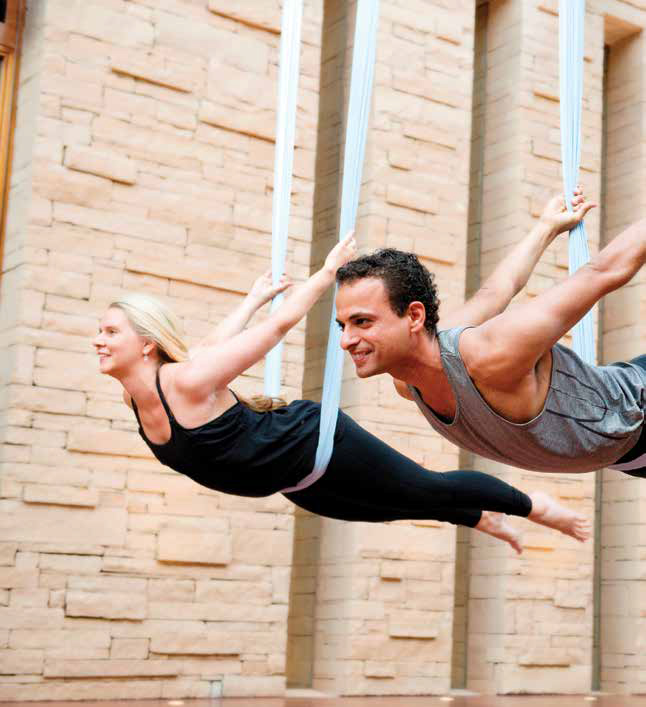 Something's in the air… something's floating out there.
People have a deepening psychological and physical desire to escape from gravity's relentless pull, and a distinct "suspending gravity" or "floating" trend is rising up. We're seeing more weightless, stress – and mind-melting flotation tanks, chambers and pools at spas. On the fitness front: a global craze for aerial and anti-gravity classes and yoga, and new equipment like anti-gravity treadmills. And more spas are incorporating new technologies like anti-gravity massage beds and futuristic pods that simulate the experience of floating on a cloud. There's also a new obsession with in- or on-water flotation experiences and fitness: from classes like aqua-spinning or stand-up paddleboard to new spa properties that actually float. And some downright space-age innovations include a planned Space Resort (Barcelona) where spa-goers will experience the world's first "zero-gravity" spa.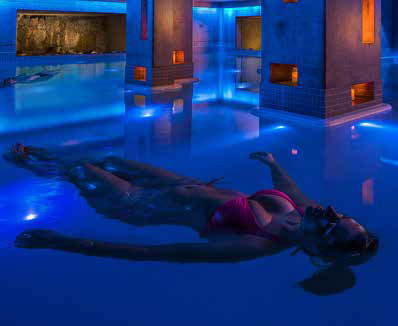 Fueling the Trend
Gravity's Heavy Toll
No other force impacts our bodies so radically, and while you can't see gravity, you can witness its cumulative damage, and downward drag, on your face, neck, back, chest, organs and feet, as you age. Gravity compresses our spine/discs, so we lose an average of ½-inch in height every 20 years, the culprit behind backaches, swollen feet and varicose veins, and it compresses our organs so they function less well.
Flotation's Medical Benefits
Studies1 performed in the U.S. and Sweden indicate flotation therapy (tested in tanks) delivers wide-ranging benefits: significant reductions in stress, chronic pain, swelling, headaches, depression and insomnia while lowering blood pressure and improving skin. Several studies2 show ongoing flotation chamber sessions can positively "reset" stress response hormones like cortisol, ACTH and epinephrine–and much of the research concurs that these positive effects last months after "floats." Studies on flotation's brain impact showed it improved creativity in jazz musicians and boosted focus in academic examinations.3
Fitness approaches (whether aerial yoga, anti-gravity treadmills or in-water workouts) that "unweight" the body from gravity's pull can prevent more injuries, and the wear-and-tear on joints, tendons and muscles, than the earth-bound equivalents.
Given our info-bombarded lifestyles, people are increasingly seeking new experiences that "wipe clean" their brains, and mind-body approaches that might have seemed extreme a few years ago are becoming mainstream. If '70s hippies were the first to embrace flotation chambers, now spas report that it's executives at tech start-ups who are climbing in.
Floating Tanks/Rooms Resurging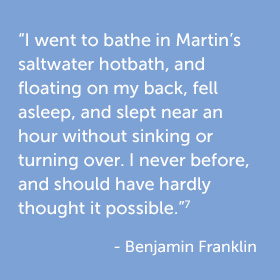 When you think weightless, saltwater flotation therapy, you don't usually think of Benjamin Franklin! (Although his diary captures his astonishment at the profound relaxation delivered.) One is more likely to associate early flotation tanks with the 1980 film "Altered States," based on neuro-psychiatrist John C Lilly's well-publicized sensory-depriving, isolationflotation tank experiments in the 1950s and 1960s, which, while pioneering, took an odd turn, often involving psychedelic drugs. In the late 70s, University of British Columbia psychology professors, Peter Suedfield and Roderick Borrie, began re-investigating flotation tank benefits, rebranding it REST ("restricted environment stimulation technique"), or "floating," to get away from the cultish, "mind-control" Lilly era.
In the 1980s the New York Times4 reported the market was developing (Robin Williams and Yoko Ono were early, private "flotation pod" owners), but until recently, most commercial "float centers" remained rather bare-bones businesses. Now, major media like the Wall Street Journal5 report a bigger, new wave of flotation tanks/rooms underway, with celebrities like Fear Factor host Joe Rogan, now on the pulpit, and stress-reduction and brain performance companies seeking corporate executives as core customers. Evidence is mounting that flotation therapy is not only growing, it's growing up. More sophisticated, suave float-focused facilities are opening worldwide, and some of the most cutting-edge resort spas are now incorporating luxe flotation rooms and pools on their dense menus of relaxation treatments. Portland, Oregon even recently announced an annual research-focused Float Conference.6
How It Works (Now)
In most flotation therapy (tanks, rooms, pools) the water and air temperature is kept at a skin-neutral 93.5 degrees and the water/salt ratio is about 75/25, to create gravity-eliminating buoyancy so that the line between body/skin and water is erased. In classic REST pods, sense impressions are blocked: it's pitch black and ears are below water. Other chambers available now allow floaters to stand inside, and have low, ambient lighting. Floating can be passive and relaxation focused, or can be performed with guided meditation or other education; the idea is that when the body is completely relaxed, the mind opens up. Sessions typically last between one and one and onehalf hours; during the session experts say brainwaves move from alpha or beta to theta, that liminal, fertile "brain moment" time just before sleep (and again at waking).
Floaters report this body-resting, brain-clearing therapy often results in powerful introspection and epiphanies, bursts of creativity and problem solving, and even out-of-body experiences. Not to mention relaxation.
Where to Float
There are hundreds of float-focused centers in dozens of countries, from China to Canada. It has been more popular In Europe (Sweden has been dubbed its capitol, with 120+), but the world is catching up. Floating is growing fast in tech-driven metropolises: California's Bay Area now has ten+ centers. Portland, Oregon's Float On reports they book a thousand floats a month. From Oakland, California's FLOAT, to the spa at the Intercontinental in London, flotation chambers can now be experienced at more – and more inviting – locations.
And some of the most sophisticated (and new) spa resorts are putting unique spins on float therapy. Amangiri's Aman Spa (Utah, U.S.) has a vast flotation chamber built into a canyon cave, packed with Dead Sea salts and combining color therapy. Six Senses Spa at Alpina Gstaad (Switzerland) offers flotation along with sensory pods and a salt grotto. Brazil's new, award-winning eco-spa resort, Botanique Hotel & Spa, includes a floating chamber. And Switzerland's mod Backstage Hotel Vernissage's spa tells earth's creation story via seven treatment "cubes," and Day 5 is a flotation chamber with whale sounds under water and birds above.
More Flotation Pools At Spas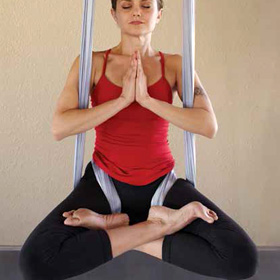 And more spas are taking the salt-dense flotation experience out of the "pod," rolling out new weightless pools. At Jumeirah Emirates Towers Hotel's Talise Spa the Dead Sea flotation experience is available in metro Dubai. Nordik Nature Spas' weightless Källa treatment takes place in the only indoor flotation pool in Canada. Nirvana Spa (Berkshire, UK) just opened a Celestial Floatation Pool, with 60 tons of Dead Sea salts. At Aire Ancient Baths, where ancient Roman bathing meets Lower Manhattan, you drift in the turquoise "floatarium" lit by hundreds of candles, listening to a flamenco flutist.
Aerial Yoga & Fitness Ascending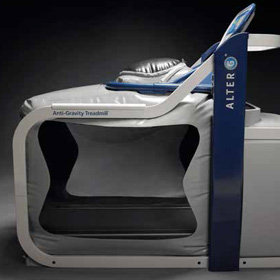 Exercise does a body good, but all the gravitybound running, weightlifting, dance classes and yoga take their toll because of compression fatigue. We know that increasing gravity's force in workouts in bodyweight/resistance training models like TRX Suspension TrainerTM or GTS® (Gravity Training System) has been a hot trend. But now some of the red-hottest fitness classes (whether aerial yoga or aqua-fitness) attempt to cut–or loosen–the gravity cord by "suspending" people in air or water.
Aerial yoga, which began ascending in NYC about seven years ago, is now soaring globally and is on offer at many more yoga/fitness studios, from New Jersey to New Zealand. And it takes many forms including anti-gravity yoga, suspension yoga, upsidedown yoga, "cloud swing," flyoga, etc.
The general principle: suspending people from the ceiling by silk fabrics tied together to make a cocooning hammock. Hung at varying heights, they enable various yoga positions, allowing people to soar, stretch and float through the air, and with "inversions," hang loose upside-down. Instructors report that because a person is supported (with no weight on head or neck), it allows a greater range of motion, longer-held, more controlled positions and deeper stretching. Additionally, space in the back's vertebra open up, and it prevents and relieves back injury/pain.
In almost every major city several studios now offer Ariel Yoga from OM yoga in NYC, to Yogateau in Paris, to Studio Crane in Japan, to Defy Gravity in Miami, to Bodywize in Hong Kong, to Shine Alternative Fitness in Las Vegas, which was started by Cirque du Soleil performers. London's Flying Fantastic seems to teach aerial everything and offers yoga, Pilates and hoops. AcroYoga, which involves two partners (a "base" and a "flyer") is taught at global Equinox gyms. More gyms like NYC's Asphalt Green teach broader Anti-Gravity Fitness, using aerial apparatuses in circuit-type workouts, more accessible aerial excitement for the non-yoga-doer.
More hotel/resort spas will increasingly jump in, like the Meridian Spa in Eppendorf, Germany and the Fairmont Scottsdale's innovative Well&Being Spa, which reports that classes are so hot with guests and locals, they have to keep adding more.
Anti-Gravity Fitness Equipment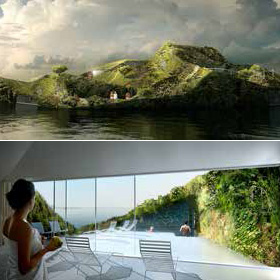 More anti-gravity treadmills are hitting more gyms and spas. Standout brand AlterG, touting NASA-based anti-gravity technology, uses differential air pressure to lift up 80 percent of a person's bodyweight, so "they can find where the pain stops and natural movement feels good again." Superstar athletes like Kobe Bryant are popularizing them as a breakthrough solution for avoiding and recovering from injuries.
A recent, interesting article8 from Best Gym Equipment and the Daily Star analyzed what fitness centers of the future might look like, forecasting the logical progression from anti-gravity treadmills to anti- gravity rooms. Imagine doing 100 percent-weightless yoga and Pilates and the benefits of cardiovascular workouts with near-zero impact on joints, tendons and muscles… plus the boon to marathon runners and older people.
The In- and On-Water Workout Splash
The Archimedes Principle informs us that the fastest way to counteract gravity is to get into water, because as water pushes up, gravity's downward drag is reversed. So, naturally, a key sub-trend within all the gravity-fighting-fitness is many new breeds of in-water workouts. Suddenly the buzzed-about fitness craze (spinning, Zumba) is diving into the pool. Like aerial fitness, water workouts forestall damage to joints/muscles, but because water provides 12- 14 times more resistance than land-based exercise, it uniquely builds strength and drives weight loss, according to Stockholm University College of Physical Education.
Aqua spinning is especially hot (if far less sweaty and loud than the ubiquitous spinning classes.) A French export, proponents say that submerged biking feels weightless and attacks a whole different set of muscles: the abs/core. From Le Kaïla in France to justlaunched, classes at NYC's Aqua Studio or London's spa at Dolphin Square, you can be assured more inwater- spinning is headed to more hotels, spas and gyms in 2014.
More resort/hotel spas are also offering the floaton- water trend of stand-up paddle boarding (SUP), whether at the pool or a nearby lake or ocean. An accessible alternative to surfing, poster girls like Jennifer Aniston and Cameron Diaz illustrate that it's a great body toner. More spa resorts like Raffles Praslin Seychelles are getting guests out SUP-ing, and of course it's getting the requisite fitness fusion shake-up: now paddle board yoga is taking off at places like Paresa Resort in Phuket, Thailand.
From the just-launched Aquapole Fitness classes at Aspria Arts-Loi in Brussels, to aqua aichi at the justopening VANA in India, more "floating fitness" is going to keep bubbling up at more spas.
Gravity-Suspending Spa Amenities
From the simple to the futuristic, more spas are incorporating more amenities/equipment that deliver zero gravity or "floating" experiences. Some simpler executions: more spas stringing up hanging/swinging baskets, cocoons and hammocks up in the trees to give guests private, cool places to relax and sleep or letting people "fly" at more property trampolines.
Massage/treatment beds and chairs, like Gharieni's MLX Wellness Bed and Yelo's anti-gravity sleep pods are re-engineered to enable zero-gravity positions, which is the body's natural resting position and helps blood flow to the body and heart.
And Kohler's Waters Spas (US, UK) now offer WaveMotion Body treatments, 3D movement to create a feeling of weightlessness.
The futuristic: More spas are including multisensory, high-tech "pods" aiming to deliver various out-of-this-world experiences. Consider the Wolke 7 Cloud 9 from spa supplier KLAFS and Viennese artist SHA hitting brand-new spas like Velaa Private Island's Spa My Blend by Clarins in the Maldives. Designed expressly to simulate the feeling of floating weightlessly on a cloud, you burrow into a cloudshaped, womb-like cocoon, which rocks gently like a cradle, and are enveloped in a "multidimensional sound cloud" and CloudSky visuals.
Floating Spas (and Hotels)
And more spas that actually float will appear, often on lakes, rivers and ports near cities: like Bota Bota Spa-Sur-L'Eau inhabiting a recycled barge in Montreal's old port. One eco-extraordinary example is coming in 2014: Floating Gardens set for a lake near Amsterdam. Built with recycled polystyrene trash, and coated in vegetation so it breathes oxygen, it will offer equally cutting-edge treatments focused on psychoneuroimmunology (PNI) and neuroplasticity (how mind and health interweave). Another icecrystal- shaped, floating eco-spa-hotel Krystall is planned for Norway and spas are even being designed for abandoned oil derricks at sea. These floating spas are not merely aesthetic, novelty moves. Given mass urban migration and an unprecedented lack of city space, combined with global warming and rising sea levels/flooding, the most forward-thinking architects worldwide9 are now working on entire sustainable cities, skyscrapers, hotels and retail centers that will float offshore.
And anyone that reads travel magazines knows that eye-boggling, soul-stirring floating or undersea resorts are increasingly getting the salivate-over centerfold: whether the planned Poseidon Undersea Resort in Fiji or the Discus Hotel in Dubai that lets people sleep undersea, or the brand-new Manta Resort on Pemba Island's (just off Tanzania) amazing floating hotel room with undersea bedroom. Soneva Fushi (Maldives) is launching its new Soneva in Aqua concept in 2014: floating yacht villas.
Space – A Spa Frontier
Wrap your mind around Mobilona Global's plans for the world's first "space spa hotel" set on a manmade island off Barcelona. This 2,000 room, zero-emissions property will feature Earth's first "zero-gravity" spa, where guests will board a Space Glider to travel to the spa set in a high altitude park and tropical garden, where they will experience (vertical wind tunneldelivered) weightless wellness and beauty treatments. The "post-treatment room" is a Space Observatory with unobstructed views of the stars. (Similar projects are planned for Hong Kong and Los Angeles.)
The desire to disconnect from the "weight" of the world, and float beyond earth's stress, seems intuitive in our hyper-connected, burned-out world. It feels primal: after all, we sprung from the weightless world of the womb, and as kids we constantly defied gravity on swings or by hanging upside down on monkey bars. To return us to that happier, altered, "floating" state, look for even more gravity-suspending spa and fitness treatments, classes and experiences that can release people from their heavy stress and strain, more quickly and intensely, in 2014.
See, for example, several studies (2005, 2007) by Sven-Åke Bood and the Human Performance Laboratory research group at Karlstad University.
Profs. J.W. Turner & T.H. Fine studies, 1983, 1991
Prof. T.H. Fine, Medical College of Ohio, 1990
New York Times: "Relaxation Tanks: A Market Develops, 1981
"Float Centers Gaining Steam," 2/2013
See: www.floatconference.com
Franklin's diary, recording proto-"spa" trip in Southampton, England, 1783
Daily Star, UK, "Robots, Weightlessness & Virtual Reality," November 2013
See National Geographic (2012) on "floating cities" topic: http://news.nationalgeographic.com/news/2012/07/ pictures/120730-future-floating-cities-science-green- environment/. Or: view projects from design firm Dutch Docklands, working on Krystall, the Norwegian floating eco- spa: www.dutchdocklands.com.
TOP 10 SPA & WELLNESS TRENDS FOR 2014
MORE SPA & WELLNESS TRENDS