Hot Springs Heat Up
---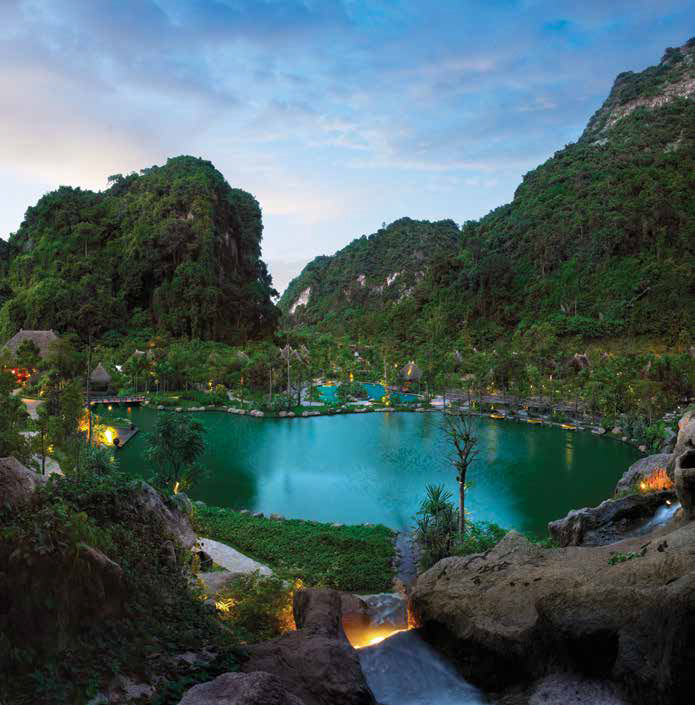 Bathing in hot springs may be the oldest "spa" experience in the world – dating further back than Roman times – but they are also incredibly on trend in 2014. In fact, there's never been a hotter moment for thermal springs with more and more people seeking out this affordable, social and beneficial spa experience. And, with hot springs existing in virtually every corner of the world, governments and developers alike have taken notice and are funding hundreds of new, exciting developments.

Does a Body Good
Hot springs are geo-thermally warmed waters bubbling up from the earth's core, delivering minerals that are said to improve certain skin conditions and relieve pain from arthritis and other musculoskeletal ailments. Before modern medicine, the positive medicinal benefits of bathing in mineral springs were the stuff of legend. Although not scientifically proven at the time, the effect of the heat, the minerals, along with the social aspect of communal bathing and the hygiene that resulted, combined to make almost miraculous results. Even fertility was seemingly cured – in the 1700s, Queen Mary "took the waters" at the thermal springs in Bath, England while suffering from infertility and 10 months later gave birth to her son!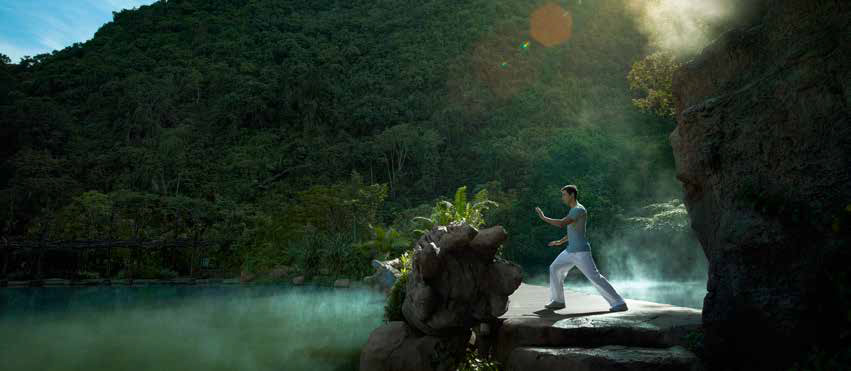 Unlike in the days of ancient bathers, we now have the benefit of clinical evidence to prove that "taking the waters" not only feels fantastic but also does our bodies good. Many countries have embarked on studies to prove the benefits of their waters, and a noteworthy piece of research comes out of Italy (arguably early pioneers in the appreciation of hot springs). The comprehensive NAIADE study looked at data from over 23,000 spa goers in 297 spa centers and found a major reduction in hospitalizations, sick days off work and pharmacological drug use.
During the recent Global Hot Springs Forum, which took place at the 2013 Global Spa and Wellness Summit (GSWS) in New Delhi, India, another sure sign of the importance of this spa modality, the audience was presented with a holistic look at some of the major studies1 on balneotherapy (defined as the practice of soaking in thermal mineral waters that contain at least one gram per liter of minerals). The results showed 100 percent positive outcomes for pain improvement and quality of life. The Bender report concluded, "that balneotherapy with Hungarian thermal water is an effective remedy for lower back pain, as well as knee and hand osteoarthritis."
Fueling This Hot Trend
The reasons hot springs are so hot, hot, hot at the moment are bountiful. Current travel, economic, social and medical trends have converged to make this the perfect time for the development of hot spring destinations around the world.
Hot springs offer authentic/local travel experiences (hot springs, no matter where they are located, are by their nature incredibly unique and local – even down to the different mineral properties of the waters).
Similarly, hot springs inherent sustainability keeps them very on trend with both locals and travelers alike.

Culturally, there has been a marked rise in people seeking out social experiences, and hot springs are great places to relax and connect with friends and family alike.

Economically and medically, "taking the waters" is a uniquely affordable (many hot spring experiences can be had for a relatively modest day rate), yet hugely stress-relieving activity. And when managed and maintained properly, hot springs can be a very lucrative business.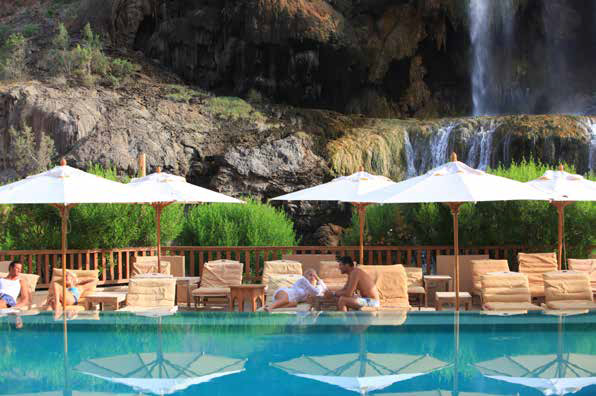 Heating Up: Spa Tourism
This is all good news for the travel and tourism industries: "The rub-off business associated with hot springs is staggering," observes Cary Collier, principal, Blu Spas, Inc.
And the amazing fact is: there are hot springs on every continent and virtually every country around the world.
The number of hot springs and the economic value these destinations bring to nearby communities is only just beginning to be calculated. While efforts to define and track the number of hot springs and their economic value has taken place at the regional level, we have yet to have a global view. One estimate comes from Charles Davidson, an expert in hot springs and founder of Peninsula Hot Springs in Australia, who estimated the global hot springs market size in 2011 (based on statistics from Japan, China and Europe) to be a whooping US$50.4 billion; that number is not far off the 2010 estimated global spa market of US$60.3 billion.
Broadly speaking, there are three main cultural approaches to the use of hot springs: relaxation and connection with the natural environment (Asia); medical/health based treatments (Europe) and spiritual and religious connections (India and indigenous cultures). The globalization in the hot springs industry means a blurring in these distinctions. Of interest, however, is that in past centuries hot springs evolved into a health-focused activity wherever they existed.
Hot Springs Make a Global Impact
The number of new developments and major refurbishments of traditional hot springs around the globe illustrates the intense interest in this segment, and the diversity of these projects (from affordable day spa experiences to the ultimate in luxury) shows that hot springs will continue to deliver for the spa and wellness industry.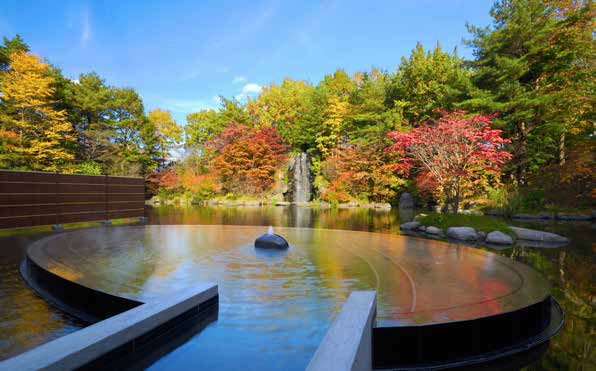 Old Becomes New
Italy, England, France, Bulgaria, Hungary, the Czech Republic, Germany, Switzerland and Austria all have historic towns that have a thermal spa that are hubs of social and economic importance. Illustrating the renewed interest in hot springs in Europe, a recent Hungarian study2 showed a 7.7 percent growth in tourists visiting a mineral spring spa versus the average 3.4 percent tourism growth seen in the country. Most of the exciting developments in Europe are coming from these traditional spa towns.
The Gainsborough Bath Spa (Bath, UK) promises to be the only 5-star hotel in the UK with direct access to natural thermal waters (conversely, the famous Thermae Bath Spa is an affordable day spa). Opening Spring 2014, the master suites in every room will have in-room thermal baths, and guests will be treated to daily massages. There's even a private a 17th-century annex comprised of 14 guest rooms, ideal for large families and bridal parties.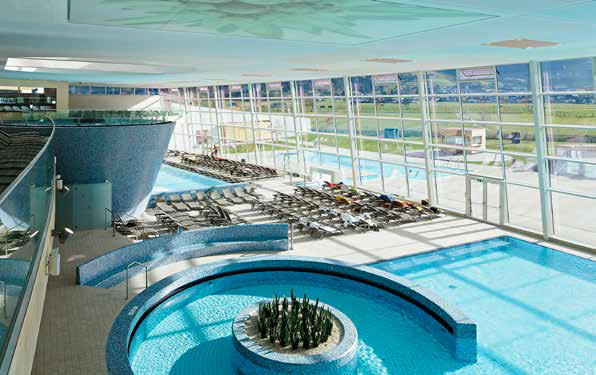 A lesser-known UK spa town, Buxton, is also getting a huge renovation. The Buxton Crescent & Thermal Spa is undergoing a €32 million transformation which will result in a 79 bedroom, 5-star spa hotel incorporating natural baths. This should be to the benefit to the local University of Derby where they run a worldfamous spa management program.
Leukerbad, a spa town in the Swiss Alps that dates back to 200AD, boasts the opening of 51° Spa Residences in 2015. Designed by renowned architecture firm, Michael Graves & Associates, this is the first spa residence to offer private in-home access to the thermal waters of the local springs, which are 51 degrees.
Austria also boasts recent builds of hotels based around hot springs and the alps such as the picturesque Aqua Dome near Tirol and the familyfriendly Tauern Spa near Kaprun.
New and Improved
Hot springs in Japan are big in every way and represent the single largest sector of the domestic tourism industry: over 120 million visitors frequent the more than 3,000 naturally occurring springs each year. For more than 2,000 years, the Japanese have soothed their bodies and souls at traditional onsens, a bathhouse centered around various hot springs. This tradition continues to this day but there is also a revolution happening to make the onsen more relevant to a younger, hipper demographic. Hoshino Resorts is taking the lead by transforming its traditional onsens into luxurious resorts, augmenting the hot springs with additional wellness treatments, including weight loss regimens and even stress management and mental wellness.
In 2012 hot springs became one of China's ten pillars of focus for the national tourism organization alongside hotels, transport, souvenirs and scenic spots–illustrating the huge importance of this segment. Undeniably, in China, people like everything bigger and better. Mission Hills Resort, located within the volcanic region of exotic Hainan Island, has the biggest spa in the world at 88,000 square meters, including a whooping 168 pools (the resort also has the largest collection of golf courses in one development–19!). And, keeping with the bigger is better theme, the resort has over 3,500 guests a day. However, the truly spectacular feature of this spa is something the Chinese aren't often credited with: the entire resort is sustainable.
Currently in development is what is sure to be a great escape from the hustle and bustle of Beijing. Situated on over 100,000 square meters of lush landscaping surroundings, the GOCO Retreat, Niutuo, will emphasize the benefits of the natural hot springs and also offer a holistic program that includes wellness and meditation. Niutuo is children-friendly so that families can enjoy a healthy vacation together.
Other new properties in China include luxury properties from two international spa developers, Banyan Tree and Six Senses. The Banyan Tree Chongqing Beibei opened to guests in the summer of 2013, and each of its 107 suites and villas features private hot spring pools so guests can enjoy the water's healing benefits in privacy and comfort. Six Senses Ninghai is currently in development and will feature 129 villas, some of which will be offered for sale.
Another notable Six Senses Spa is the Evason Ma'In Hot Springs in Jordan where a hot spring waterfall cascades into the spa area against the dramatic desert landscape backdrop.
Kuala Lumpur, Malaysia also features a new luxury hot springs retreat , the Banjaran Hotsprings Retreat, which is found two hours outside the capital nestled in a 16.59-acre valley and surrounded by 280 millionyear old towering Paleozoic limestone hills.
In Turkey, traditional 14th century bath houses, like the Keceli Hamam and Cekirge Hamam in Bursa are undergoing renovations and seeing resurgence. And in New Zealand, plans are underway for a second hot spring site operated by the Moari tribe, which will be developed in Queenstown and expects to attract 300,000 customers annually.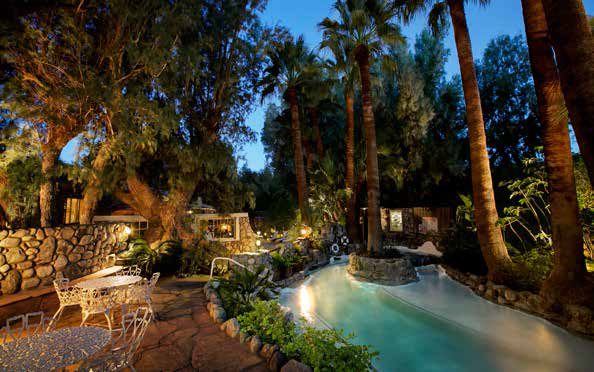 Green Energy and Spas
In the Philippines, Constellation Energy Corp. (CEC) will develop lakeshore areas near its 20-megawatt geothermal power project in Oriental Mindoro into a hot spring and wellness center. The project in Naujan Lake, Oriental Mindoro will aim to showcase a healthy mix of green energy and green tourism. CEC chair, Jose Leviste Jr., said: "Green energy is the way to go. Power, tourism and health rejuvenation can mix. This is possible with renewable power energy."
A similar development comes from African greenenergy company KenGen, which plans to open a geothermal day spa at its Olkaria plant, adjoining Hells Gate National Park in Kenya. The spa will feature several open-air lagoons with water temperatures up to 40 degrees celsius, as well as steamrooms and saunas.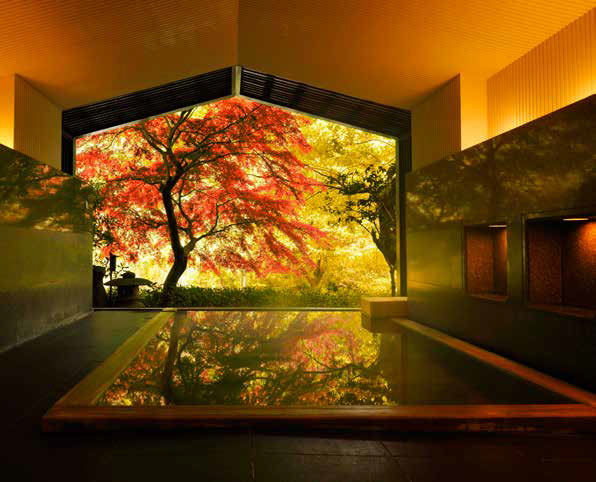 "Trendy" Replaces "Funky" in USA
"Many hot springs locations in the US can be categorized as 'funky' at best," says Cary Collier, Blu Spa Inc. "But there are a huge number of renovations going on and a surprising number of 'new frontier' opportunities in the US – it's an exciting time for hot springs development."
One such new development from Blu Spa Inc. is taking place in Montana's Yellowstone Park. Royal Teton Ranch Hot Springs, located by the Yellowstone River in Paradise Valley, is set to open in the summer 2015. The site will fit in with Yellowstone's camping aesthetic, including a renovated luxury RV park and camping site, restaurant and rustic cabins. The key feature will be an assortment of pools featuring geothermal water from the Yellowstone basin and, in keeping with the spirit of sustainability, the water will then be returned to the Yellowstone River. The spa will also feature lounges and nooks, private spa and pool cabins, a fitness center and treatment rooms, as well as mountain-style sauna and steam rooms, water bars, fire pits and lots of outdoor play.
In California, which is swathed with hot springs from north to south, a huge resurgence is underway. A prime example is the current re-fit of the Hollywood hangout, Two Bunch Palms in Desert Hot Springs, which is being refurbished under the watchful eye of spa industry heavyweight CEO Kevin Kelly. In fact, this well-known haunt, featured in movies like "The Player," is only one of the many hot springs establishments in the Coachella Valley (a mecca of hot spring hotels/ motels) that are undergoing updates. The crystal clear spring waters of this location are known for their rich lithium content, which is considered to be a natural mood stabilizer–the perfect antidote to the stressful LA lifestyle.
Another well-known spa, Homestead Resort in Hot Springs, VA, has updated its famous spa facilities with the help of Aquavana. The waters, which are said to have been used by humans for more than 9,000 years, are famously known for President Thomas Jefferson's regular visits. (He praised the waters for their help with his rheumatism.)
The Future is Hot
Renewed interest in hot springs bathing worldwide will continue to attract entirely new markets to these "fountains of youth" and we can expect greater participation from those who are already devotees.
Recognition of the influence of hot springs on locally economies, as well as the hugely positive affects this generally affordable pastime has on its visitors means that we will continue to see investment in hot spring developments. And as this market becomes less regional and more global in nature, the spa and wellness industry can look forward to benefiting from extensive knowledge sharing and improving development based on these learnings.
Hot springs are the sweet spot (or shall we say hot spot) for the spa industry.
Bender (2013) and Falagas (2009)
International Wellness & Spa Tourism Monitor, 2013
TOP 10 SPA & WELLNESS TRENDS FOR 2014
MORE SPA & WELLNESS TRENDS