Healthy Hotels 2.0
---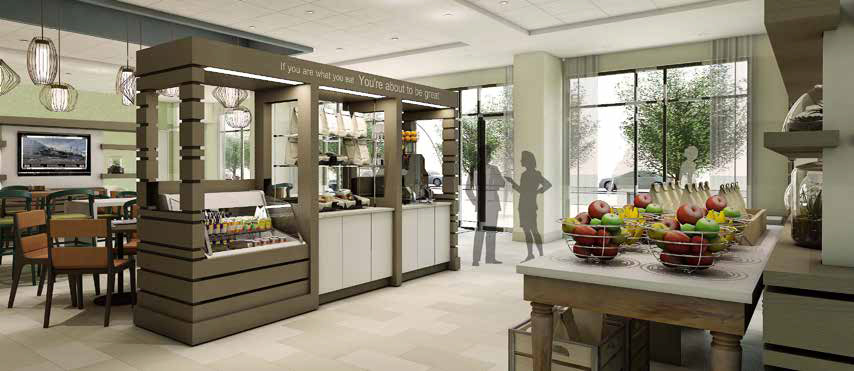 Last year we explored how, after a century of hotel experiences synonymous with bacchanalian excess, more properties were on a new health kick and branding and re-branding around wellness. But the most powerful trends, like "Healthy Hotels," are more than passing news and become megatrends, because they fulfill profound human needs. In 2014, look for hotels to move from healthy as a marketing differentiator to deeper, more multi-faceted programming that stretches well beyond the "free stretch band." The healthy hotel will ultimately become more inspired and comprehensive and move from virtuous exception to part of the hospitality vernacular, because everyone, everywhere, now more than ever, needs travel that restores.
Fueling the Trend
Growing Wellness Tourism Industry
"Healthy Hotels" falls within the category of wellness tourism, which sits right at the explosive intersection of the global US $2 trillion wellness2 and US $6.6 trillion3 travel and tourism economies. A research report4 conducted by SRI International for the Global Spa & Wellness Summit (GSWS) recently found that wellness tourism already represents a US$439 billion market, or 14 percent of world tourism expenditures. And the growing demand for healthier travel of all breeds means this category will grow nine percent annually through 2017, 50 percent faster than "regular" tourism. Hotels are rolling out healthy programming because they're taking note of these facts, and they also like spending by wellness tourists, which is on average, 130 percent more than regular tourists. This trend is good for guests and good for business.
The GSWS report makes a critical distinction between two types of wellness tourism: "primary," or trips taken expressly for wellness purposes, and "secondary," when wellness-related activities are part of a trip. The secondary-purpose tourist drives the vast lion's share of total wellness tourism trips and expenditures (85-percent-plus), and it's these mainstream travelers that are largely fueling the healthy hotel boom.
A Need To Rejuvenate
Given the new, always-on work model, more people aren't just stressed out they're burned out. But they're taking fewer vacation days each year: Americans only take 10 of 14 vacation days given, the Japanese 7 of 18 and South Koreans only 7 of 10.5 When you have one precious week, rejuvenation matters.
Rising Healthcare Costs
Report after report reveals how runaway corporate healthcare costs are devouring corporate profits. More businesses (and their road warriors) are demanding healthier business travel and meetings, a key galvanizer of the healthy hotel trend.
Beyond Healthy Hotels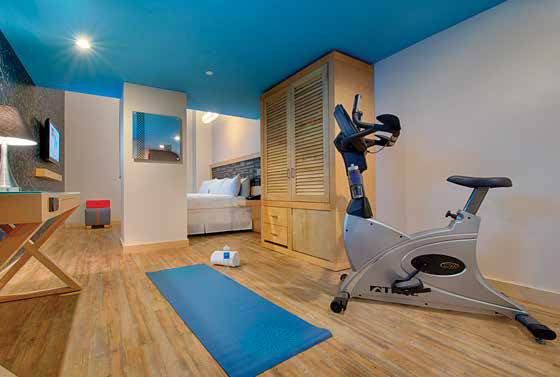 "Lite" Real travelers are driving this trend. And it is not surprising: A recent Spafinder Wellness 365 consumer survey1 found that 85 percent of people have returned from a vacation less rejuvenated and well than when they left. Travelers further report they now want a whole lot of "wellness" in their travel destinations: 87 percent want healthier food, 82 percent spa/massage, 82 percent nature experiences, 73 percent eco-conscious properties, 70 percent gyms with cardio and weights, 54 percent healthy sleep programs and 47 percent meditation/ mindfulness programming.
Branding & Rebranding
In 2013 we analyzed how more hotel groups (like Westin or then-just-announced EVEN Hotels) were branding around wellness, just as more (like Fairmont Hotels & Resorts or MGM Grand) were re-branding around new healthy food, fitness and sleep offerings. Well, that wellness "brand-wagon" has only since shifted into overdrive.
"Pure" Branding Moves
IIHG's all-wellness-focused, mid-priced EVEN Hotels were announced in 2012 and this spring IHG unveils their Norwalk, Connecticut and Rockville, Maryland properties, with three more in Manhattan and Brooklyn confirmed for 2015. EVEN's vast "Brand Experience Space" has given people an idea of what to expect: a "Wellness Island" replaces a traditional reception desk; a centerpiece fitness studio with space for small classes; in-room "Training Zones" and spa showers; open-style markets with super-healthy, grab-andgo food you can order on iPads; and mindful "think healthy" messages painted throughout. EVEN also just launched a website, WellWellWell.com, to help U.S. travelers pinpoint healthy food and fitness options coast-to-coast.
Healthy for guests and for the environment hotels are key to the trend, and Starwood will make brand moves in this direction in 2014. Its more affordable, eco-focused Element (all LEED certified, strong healthy food and fitness offerings, and touches like iPhone-charging stationary bikes) will open outside North America beginning this year: Frankfurt in 2014, China in 2015 and Oman in 2017. And in 2014, Starwood will take the wraps off its eco-luxury 1Hotel & Home brand, with its tagline "100% Natural." Again, all properties are LEED-certified, there's reclaimed materials and the "sounds and smells of nature" throughout, and farm-to-table dining. Miami, Manhattan and Brooklyn open this year, with the first global property planned for Marrakesh.
Rebranding Moves
It's safe to say that most major hotel chains made some wellness re-branding moves last year–and those that haven't soon will. Trump Hotels rolled out "Trump Wellness," revolving around "Nourish" (organic, vegan and gluten-free menus) and "Travel Fit," featuring in-room workout equipment, on-loan exercise clothes and equipment, and maps/playlists for runners. Omni Hotels (53 properties, US, Mexico and Canada) launched "Get Fit Kits" and "Get Fit Rooms" with features like treadmills. Days Inn (2,000 properties from Africa to Argentina) unveiled their "Dayfit" programming, with improved fitness centers and free healthy breakfasts. Sheraton (400+ global properties) will have its new "Sheraton Fitness" in all hotels by year-end 2013: spanning healthy, lo-cal "Color Your Plate" dining, free workout kits, online fitness classes and redesigned gyms with group exercise. Swissotel (30+ properties from Bangkok to Bodrum) took the wraps off its new "Vitality" healthy eating, business meeting and fitness programs.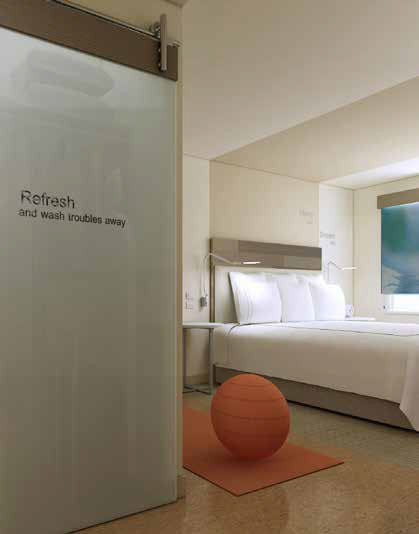 Deeper, More Appealing Fitness
Hotels will just keep upping the fitness ante, with bigger, more spectacular gyms; more inspiring fitness classes held inside and out; more expert-led, local runs and hikes; more free workout gear, bikes and pedometers; more in-room virtual training; and more partnerships with leading fitness consultancies or gym brands to deliver state-of-the art facilities and classes–and even personal trainers and nutritionists. And with more hotels now sporting such dazzling fitness amenities, and classes worthy of Über-trendy urban studios, the buzz is pulling in more locals (and profitable memberships), meaning more hotels are becoming the local wellness hangout.
If the free workout-in-a-bag (variously packed with yoga mats, dumbbell sets, jump-ropes, resistance bands, workout DVDs, running maps, etc.) was catching fire last year, it's now a conflagration. One example: Raffles Praslin in the Seychelles will deliver up all these extras, along with an in-room trainer who leads you through a custom workout.
Many more hotels, like Wyndham's Tryp Hotels (110 across Europe and Central/South America), are offering free workout shoes and clothes, as well as installing sophisticated equipment like elliptical machines into guestrooms. And more hotels are peddling free bikes, like Kimpton's 50+ US boutique properties.
Fitness centers are getting vaster, with distinct areas for cardio, weights, functional fitness and free zones for TRX or kettle bell training. And many more hotels, like The Fours Seasons in Nevis or Omni Hotels, keep gyms open 24/7. Just as more, like Oberoi properties in New Delhi, Mumbai and Dubai, keep their spas open around the clock.
Far more hotels are offering yoga, boot camps and menus of hot, branded fitness classes, at a rate unimaginable just a couple years ago. And they're able to execute these fitness programs either by bringing in local practitioners, or through partnerships with nearby gyms/studios. While free to guests, locals are paying $25-$40 a class to get in on all the forward-thinking fitness fun.
Yoga at hotels is getting especially common and creative: from stand-up paddleboard yoga at places like The Tides Inn in Virginia (where non-guests happily pay $40) and Hawaii's The Fairmont Orchid. Popular aqua-yoga classes rule the pool at The Hotel Wilshire (LA), while Ashtanga yoga with the dolphins makes headlines at The Mirage in Las Vegas. The James Hotel (NYC) proves if you put yoga on a gorgeous rooftop, they will come. Some hotels actually house independent yoga studios, like 889 Yoga & Wellness Spa at Thompson in Toronto, so guests can hit classes anytime, all day. At the Mandarin Oriental in Bangkok an in-house yogi trainer is on call.
More hotels are hooking up with local gyms and studios to offer yoga, Pilates, spinning, you-name-it, classes, just a short stroll away. That's a lot of "bang" for guests with no hotel investment bucks. One example: the Indigo Chelsea (NYC) has linked with indoor cycling studio, Revolve, letting guests redeem free, branded "rides."
Hotels that think "fabulous gym," and then think beyond the gym, to fun classes and outdoor experiences, create a halo of hipness around the property, and it's a smart local market revenue generator. They're turning the lonely, avoided gym routine into a meaningful social activity – and creating more memorable stays.
Airports – From He**ish to Healthy
Wellness is now landing at the stressful pre- and post-hotel experience …the airport. If many airports have become serious mega-luxury-malls, more are now giving travelers what they need far more: rest, relaxation and exercise. Practically every major airport now has a spa, many have gyms, and now airports in places like San Francisco, Chicago and Dallas are rolling out yoga rooms, for pre-flight stressreduction and stretching. Standout Changi Airport in Singapore has a rooftop swimming pool and Hong Kong's airport has a golf course. Studies show airport food is also getting much healthier. Airlines like Malaysia Airlines and AirAsia offer kid-free-seating zones, so screams don't ruin sleep. More airports are launching affordable (as low as $10/hour) soundproof napping pods (with things like Wi-Fi, work spaces, TV, showers, flight information boards that update you on your flight, etc.) from "Snooze at My Space" pods at the New Delhi airport to Snoozecube at Dubai International Airport to Yotel at London's Heathrow and Gatwick airports.
Former WTTC CEO, Jean-Claude Baumgarten, noted at the 2013 Global Spa & Wellness Summit that more travel-time now happens outside the hotel than in, and wondered when we would see "a wellness airline." Even given the airplane space challenges, it's a great question. And we've just heard that Deepak Chopra is working with Qatar Airways on an in-flight wellbeing program. In our "Wellness Travel 2.0" world, one can expect, if not a pure wellness brand, at least a rebrand, coming to all things that fly or swim (cruises) – and all business that touch travelers.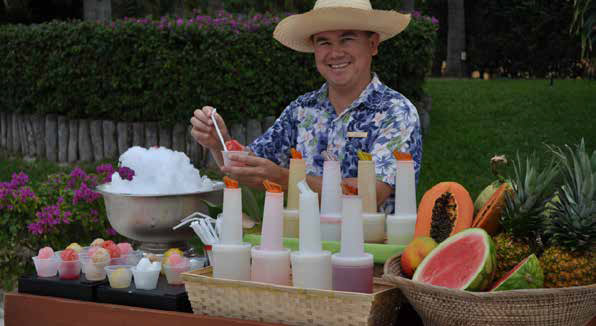 More Wellness Specialty Weeks
Far more hotels are offering destination-spa-like programming during specialty weeks, often headlined by celebrity trainers and wellness gurus. Fairmont is a standout here, with annual programs like their Singapore hotel's "Full Moon Yoga." Properties like Limelight in Aspen, Colorado are even hosting "glamping" weeks, where guests hike from the hotel into the mountains to camp together.
Healthier, Faster, Custom Food
The trend toward more nutritious, diet-customized, farm-sourced food and beverage at hotels is also heating up. And again, more hotels are making healthy F&B offerings more comprehensive and appealing than just a steel-cut oats option at breakfast.
More hotels have more expansive gluten-free, vegan and vegetarian restaurant menus and room service, and this year more "paleo" options (a whole, unprocessed food diet) are added to the menu mix, at properties like Four Seasons Punta Mia (Mexico) or at the Hyatt in Century City (California).
Juicing is not drying up, it's only more juiced—with more hotels offering blend-your-own juice bars where guests check off desired ingredients from seasonal produce lists. And more properties like Four Seasons Resort Marrakech are offering multiday, juice-regimen-themed retreats, combining the "cleanses" with daily yoga and nutritional counseling.
Stuffy, eat-too-much hotel restaurants are being replaced/supplemented by healthy, grab-and-go, in-lobby marketplaces and cafes. And grab-and-go is getting inventive: for instance, at hotels like Les Thermes Marins in Cannes, France it's all about the super-healthy bento box. Another spin on grab-andgo: Marriott is working on a new healthy vending machine concept.
The spa café has been around, but now healthy, light food and juices are becoming more de rigeur than rare at hotel spas. One example: at The Setai Club & Spa (NYC) guests create their own salads and smoothies and can consult with the spa director to design custom meals.
The obsession with farm-to-table, slow, real food (which gets hotel guests farmer's market shopping, gathering in gardens, and cooking) may have been our 2012 trend, but it's grown like weeds. Wellness culinary tourism adventures are especially hot at more hotels, like Aman Resorts (19 luxury hotels from Greece to Vietnam). At Amangalla in Sri Lanka, the chef escorts guests to local markets to select fresh ingredients and then they travel together to a local village to learn how to cook their purchases into clay-pot curries.
Sleep Programming Never Rests
Last year we explained how sleep initiatives at hotels had moved beyond the old "bed wars," to encompass high-tech solutions like total blackout rooms and high-touch ones like sleep-inducing massages. In the past year more hotels have become very serious about the role healthy sleep plays in overall health (and a happy stay). And a just-released, major medical study6 on how insomnia may be the root of much depression, backs up hoteliers' approach.
More hotel brands are rewriting the "turndown," like JW Marriott's "Nightly Refresh" program with nutritionist-engineered, sleep-friendly snacks and aromatherapy at lights out.
More hotels (and their spas) are also offering healthy sleep fitness and treatments. For instance, Park Hyatt Tokyo has a free, instructor-led "Good Night Sleep Stretch" in their fitness studio. Karma Resorts (Bali and Mykonos) have launched the 'Sleep Well Tonight' experience: a morning yoga session followed by a Jade Stone Therapy and evening Soul Reflexology. Six Senses Yai Noi's spa (Thailand) now offers "Deep Dream Massage," followed by a beforebed bath ritual.
Consider how sleep-deep Manhattan's Hotel Benjamin has gone, with their "Rest and Renew" program designed by sleep researcher, Rebecca Robbins. Robbins is the property's official "Sleep Concierge" and her team is trained to deliver proven sleep techniques like progressive muscle relaxation, 24/7. They also have: a menu of pillows designed for whether you're a side, back or stomach sleeper; "power nap" programming like aromatherapy temple treatments; "bedtime bites," special sleep-aiding snacks designed by celeb-chef Geoffrey Zakarian; "work down calls" reminding you to unplug the pods and hit the sack; and personal sleep consultations with Robbins. This is all in a hotel… not a destination spa.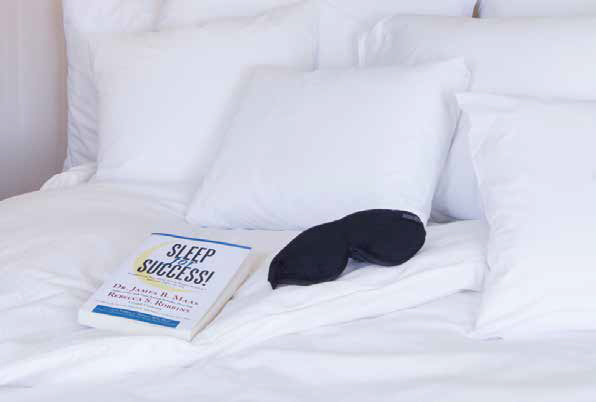 Wellness Design
More hotels will move into down-to-the-hotel-bones wellness, by re-thinking in-room design and "baking in" healthy features like air and water purification, hypoallergenic environments and cutting-edge sleep- and productivity-enhancing lighting. Last year we spotlighted MGM Grand Las Vegas as a first-mover with its "Stay Well" rooms, executed by wellness real estate innovator, Delos Living. These rooms, packed with 18 healthy design features from sleep/wake cycle optimized lighting to anti-bacterial surfaces, have seen an impressive 92 percent occupancy rate, so the original 42 rooms will quadruple to 171 by yearend 2013 – taking over a whole floor. And with Delos Living busy bringing its new "wellness architecture" to private homes (like one just bought by Leonardo di Caprio), office spaces, college dormitories and restaurants, new Delos Living hotel projects seem likely. (In fact, there's a possibility the proposed Miami Beach Convention Center Hotel will be one.)
Other hotels are getting busy devising healthier environments. The environmentally conscious U.S. brand, Adoba Eco Hotels, and the Hyatt Regency Orlando (Florida), have installed Pure Solutions' hypoallergenic PURE rooms, which eliminate nearly 100% of viruses and bacteria and all surface/airborne irritants. Canyon Suites at the Phoenician (Arizona) has taken many steps to protect allergy sufferers and keep guests healthy: from powerful air purifiers to hypoallergenic bedding and products throughout.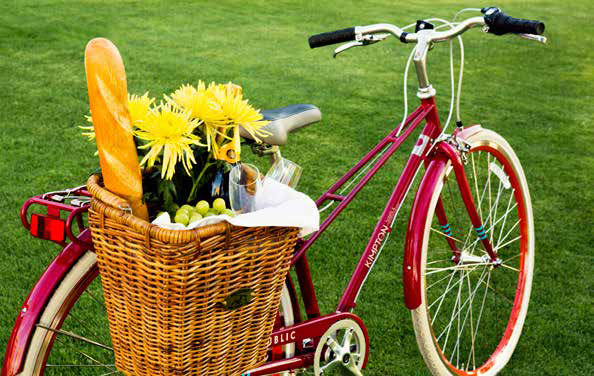 And with recent high-tech lighting advances, that manipulate the blue-white light spectrum to regulate circadian rhythms and moods that got whacked when Thomas Edison invented the traditional light bulb, more hotels and spas (like Miraval in Tucson and all 26 global Six Senses properties) are adopting Lighting Science's new Good Night lighting to improve sleep, and their Awake & Alert LED bulbs in gyms and exercise rooms.
The Future: From Wellness Gesture to Wellness Gestalt
With the spawning workout kits and juice bars, it would be fair for critics to argue there is significant "me-too-ism" on the healthy hotel front. But hotels, we predict, will continue to move from wellness gesture to wellness gestalt, and healthy programming will simply get more meaningful and differentiated to help brands and boutiques stand out in an increasingly crowded healthy pack.
Consider the creative, comprehensive offerings at Kimpton's 60+ U.S. boutique hotels, which include free bikes, workout kits, great gyms, unique yoga classes, fresh juices and healthy food everywhere. But individual properties have surprising, even local, initiatives like the LA properties' "Car-Free, Carefree" packages that get people exploring that trafficclogged city by foot or bike (and reward them with discounts off stays if they do). Or consider Klimpton's Ink48 hotel in NYC where a dedicated fitness curator who will get you up and work out with you – or the yoga roll-out service complete with flavored waters, healthy fruit/snacks and staff setting an inroom yoga/Pilates channel for you.
Hotel guests will ultimately decide what's "well-washing"7 and what's incredibly winning and welcome. But in some ways it's even hard to believe that "healthy hotels" have to be a trend, and one emerging as late as 2013-2014 – and that these moves towards healthier food and sleep; more engaging, deeper fitness; and overall care for a guest's health, are news for the hospitality industry.
But it is news, it will continue to be news, and it's ALL great news for leisure and business travelers (whether they're health fanatics or decidedly not).
3,352 global respondents, October 2013
SRI International, "Spas and the Global Wellness Market," 2010
WTTC data, year 2012
SRI, "Global Wellness Tourism Economy, " October, 2103
Expedia's global "Vacation Deprivation" study, 11/2013
Four new studies coming from the National Institute of Mental Health. The first from Ryerson University, Toronto, found that 87% of depressive patients that resolved their insomnia saw depressive symptoms significantly decline.
A spin on "green-washing" we've heard, describing the marketing world's attempt to apply "wellness" to products and services that are really no such thing.
TOP 10 SPA & WELLNESS TRENDS FOR 2014
MORE SPA & WELLNESS TRENDS