Natural Beauty Meets Social Media
---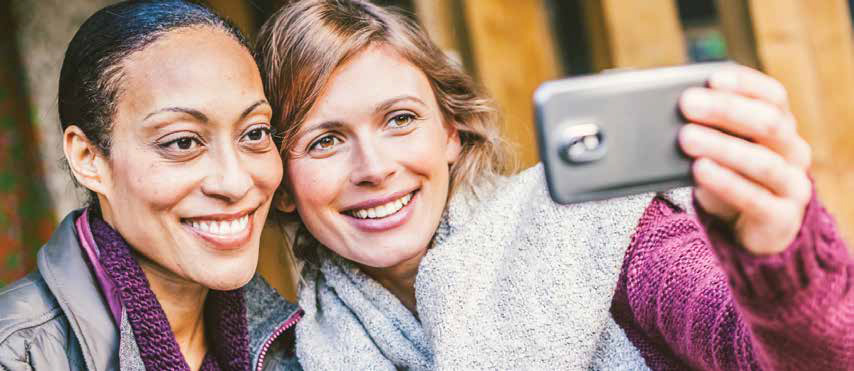 Could it be that we're finally leaving the era of faux beauty? Spas have traditionally embraced and encouraged the value of inner health leading to that outer glow. But over the last few decades, beauty seekers have pulled, poked, painted and prodded, using an ever-widening wide range of hair and beauty treatments and products to make skin look tighter and younger, and hair smoother, fuller and longer.
From red carpets to runways to the office, the "maybe she's born with it" notion of beauty became so outmoded, it wasn't unusual to see people who looked like cartoon versions of themselves.
However in recent years there's been resurgence in less-invasive treatments that revive skin, hair, and nails and make humans look human again. This new era of beauty focuses on the nude, the natural, and a high-tech, low-risk beauty, where organic products, science and technology intersect to deliver minimal-downtime results that are seemingly produced by nature. And with the growing popularity of photo-sharing apps like Instagram and Snapchat and nearly universal use of Facebook and Twitter, the "selfie" trend, where people are expected to look their best 24/7, isn't leaving anytime soon.
In 2014, we'll see even more of this back-to-basics approach, with spas remaining the torchbearers of a whole-health beauty and further establishing their role by offering even more customized treatments. We'll also see "technology as friend, not foe" in the mix, as machines become better designed for a quick route to lasting, natural loveliness.
Fueling the Trend
Organic, Organic, Organic
Demand for natural, organic products shows no sign of stopping. According to a 2011 survey by Kline & Company, sales of "natural" personal care products worldwide rose 15 percent to reach US$23 billion. Asia alone accounts for over 35 percent of the global natural and organic personal care market.1
Consumers Want Less-Invasive Treatments
At the same time the non-surgical cosmetics procedures market has grown by almost 500 percent over the last 20 years.2
All-Natural Even Dominates the Runway
The new natural look is seemingly everywhere on the fashion pages (Think Calvin Klein) and fashion shows are featuring a much more minimalistic approach to beauty. Complexions and nails are left nearly bare and glowing and hair effortless and healthy in order to truly feature not only the clothing but also the natural beauty of the woman wearing it.
The Natural Beauty Industry: Clean and Green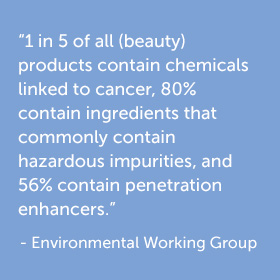 First, the organic and holistic components of natural beauty: The skin is the human body's biggest organ and absorbs 60 percent of topically applied products, according to The Herb Research Foundation. And as people become more aware of the food they put in their bodies – with the spotlight on farm-to-table eating and GMO labeling – they are also becoming more cognizant of what they put on their bodies.
And there's reason for concern. According to the Environmental Working Group, "1 in 5 of all products contain chemicals linked to cancer, 80 percent contain ingredients that commonly contain hazardous impurities, and 56 percent contain penetration enhancers [which make it easier to penetrate the upper level of skin]."3
As awareness of these harmful ingredients grows, so does the trend towards safe, clean, natural and organic skin and beauty care products, free of toxic chemicals and their potential side effects. The beauty industry has even picked up the pace in making new products available. During 2012 the U.S.-based Natural Products Association reported a 50 percent increase in the certification rate of new natural products.4
While spas have traditionally been at the forefront of the clean-beauty movement, they are becoming an even bigger voice. Inspired by the environmental focus of Rancho La Puerta (Baja, Mexico) founder Deborah Szekely, spa leaders have founded the Green Spa Network, which is concentrated on greening all aspects of spa – from design to upkeep to treatments – and whose ranks and outreach continue to grow. The Green Spa Network's official number two tip for a greener spa? "Provide skin care products free from ingredients known to pose health risks such as: parabens, petrochemicals, nanoparticles, and artificial coloring. Instead, look for products that contain natural, healthy, and ethically sourced and produced ingredients."
Hands and Feet – Not Just About the Pretty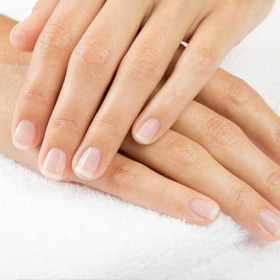 In 2014 we'll see an even greater focus on the gateway spa and beauty treatments – manicures and pedicures – and how they can be yet another aspect of a healthy lifestyle beyond calming breaks and a way to add color.
Take, for instance, mani-pedi innovator Bastien Gonzalez, who helms his highly regarded Pedi: Mani:Cure studios in such places as France, Singapore, Turkey and India. Gonzalez's treatments tout three pillars: podiatry, during which clients are given advice on how to take care of their feet; nail care, which focuses on strengthening and polishing nails by using Bastien's grandmother's technique of reshaping and buffing with chamois leather and pearl buffing cream; and finally a stress-busting, stimulating massage that improves blood circulation.
Also in 2014 look for more spas promoting organic, non-toxic, "fume-free" manicures and pedicures as consumers become even more hip to chemicals – such as toluene, formaldehyde, and dibutyl phthalate (DBP) – used in many nail spas. Karma Organic's polishes and removers are just one of the many products that offer a chemical-free alternative.
Getting to the Root of Beauty: The Scalp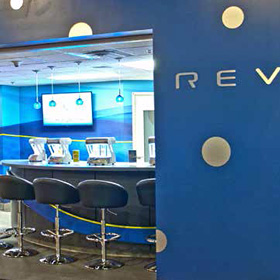 Then there is a growing awareness for clean-beauty treatments on the forgotten skin: our scalp. The human scalp is composed of 230 nerve endings per square inch, so it's a large swath of skin that's more sensitive than we often realize.
Skin care developers, like those behind the vegan mineral scalp therapy masque from California's Sea Awakenings, are concentrating on scalp treatments that are gender specific and mineral- and plant-rich. "We crafted these products specifically for tissue health across the entire scalp using ingredients that are natural, vegan and cruelty-free," says James Davis, Sea Awakening's senior vice president. "They are ultraconcentrated to deal effectively with irritations, scalp damage caused by cancer treatments and follicle pathways obstructed by shampoo and conditioner residue," he continues.
Less is More: From No-Poo to No-Blow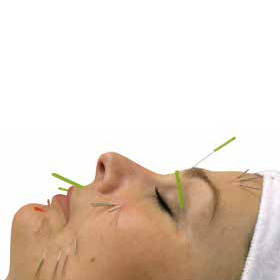 Scalp and hair care, in general, is becoming more strategic by doing less for more. Damage can be done after years of re-texturizing treatments, straightening, daily blowouts, chemical color, hot tools, and the daily two-step shampoo and condition regimen.
To start, salons are encouraging customers to shampoo less, since daily shampooing leaves residue and also triggers the scalp to produce excess oil. Some people are embracing the "no-poo"5 movement and giving up commercial shampoo all together, and many individuals are leaving their shampooing to the experts, making a weekly trip to have it done professionally.
Johnny Lavoy, the owner of Moda-Rey Salon and Spa in West Hartford, Connecticut, told The New York Times: "There's this whole new breed of young fashionable girls who are getting that once-a-week shampoo and blow dry and just milking it."
Too much fuss also can dry out hair, particularly an issue when hair ages. Argon oil, made from the nuts of Morocco's argon tree, has become the natural cosmetics industry's wonder ingredient because it is nourishing and moisturizing yet non-greasy—perfect for hair. It's not surprising it has become a much-desired feature of anti-aging-hair care products, including scalp masks, treatment oils, styling creams, and shampoos and conditioners.
Hairstylist Eric Sebbag developed his hair- and skin-care line, Sebbag Essentials, based on three generations of his Moroccan family using the beloved oil for their hair. Celebrities such as Demi Moore, Jenny Garth, and Kate Upton stand by his products.
Barbary fig oil, made from a cactus fruit, used as an anti-ageing skin treatment, is Morocco's newest beauty export. But it is expensive, approximately 1,000 euros (US$1,440) a liter.6
Beauty from Within: Nutritional Supplements
In 2014 we will see more people opting to occasionally leave the caps on their skincare tubes and bottles in favor of ingesting—or injecting—a supplement.
A 2013 report by Global Industry Analysts currently estimates the global nutricosmetic market will be worth approximately US$5.5 billion by 2018, with Japan and China leading the market with more than 90 percent of that share. These ingestibles work to support healthy skin, bones, nails, and hair by using vitamins and minerals that do everything from increasing the production of collagen in the skin to helping build proteins in hair and nails.
One player in this market is renowned skincare company Skin Authority, which worked with Dole Nutritional Institute to develop the first whole- food source of Vitamin D. While its VitaD Fortified™ Illuminating DUO includes a topical elixir, the power player here is the ingestible, 100-percent-vegan, plant-sourced whole-food powder.
The powder replenishes our body's internal levels of the vitamin, which is essential for calcium absorption, strong bones, and healthy skin. Skin Authority also provides by-phone skin coaches, who will work up a regimen for clients and be available for questions and counsel; they also service their products and provide skincare counseling to many top spas in the United States, Mexico, Scotland, U.S. Virgin Islands, and Canada.
And if you've ever felt so depleted that the only thing you thought could restore your vigor and healthy glow was an IV drip, you can actually do this now as a non-hospital-patient at the new "drip bars" in Miami, Las Vegas, and Scottsdale. The drip bars' main focus, really, is to cure the dehydration of hangovers in a setting that combines the aesthetic of a bar and spa, but Scottsdale's Drip Room, for one, promotes greater health and beauty benefits, including the Anti-Aging Drip, which calls itself: "The ultimate combination of Vitamin C, hyuloronic acid, and glutathione to plump and smooth your skin. Lightens and brightens and helps turn back time from the inside out!"
Acupuncture: Now for Skin
For the last couple of decades especially, the traditional Chinese medicine of acupuncture has become more widely used in the Western world as a treatment for a range of physical and mental health ailments. Therefore, it's not surprising that practitioners have developed a way to apply it to outer-beauty issues as well. Jeanie Bussell, of the Tiffani Kim Institute in Chicago, Illinois, shares her philosophy on what she calls "acupuncture rejuvenation": "Whatever presents itself outwardly in our skin is a manifestation of internal imbalance," she says. "Blemishes and wrinkles are different in each person, based on our DNA and how we carry stress, our diets, our lifestyle and the overall state of our health." The first thing she does as a practitioner is look at what the body needs as a whole, and she includes nutritional counseling in the mix. Once she gets her client's body more in balance, she moves on to the complexion.
Behind the Natural Facade
While the pared-down, clean-beauty approach to beauty is currently de rigueur in the fashion world and a growing trend in general, it must be noted that behind those smooth, makeup-free looks on the red carpet and runways are often advanced technologies that make the natural, minimalmakeup- look possible.
The global economic recovery and peoples' seemingly never-ending desire to reverse the visible signs of aging and improve physical appearance, combined with an aging population, workplace competition and the popularity of reality television programs, are all contributing to a cosmetics procedures market that is forecast to grow to US$17.57 billion in the United States by 2015 and $2.7 billion in Europe.7
For almost 20 years now, laser skin resurfacing has been used to treat blemishes, smooth wrinkles, boost collagen, and zap scars. Microdermabrators, Botox and dermal fillers like Restalyn have also become mainstays at medical spas. More recently, however, newer machines with high tech names like "Diamond Microdermabrasion Peel Machine with LED BIO Face Lift" and "Baby Quasar Plus Red Light Therapy" give technicians better control to treat specific areas and conditions.
And some medical spas report that one of the hottest trends are the new hormone replacement therapies for men, such as testosterone gels, and bioidentical hormone therapy for women. Both promise restored levels of energy, sexuality, weight loss, more attractive skin and more, but it must be noted: The medical community is still evaluating the associated risks, and with so many treatments and machines available, it's important to do extensive research and get recommendations before making a decision on a treatment.
In her new hit album Beyoncé explores the pressure women feel to look beautiful at all times, and as the "selfie" takes over social media, beauty is no longer the product of hours with a make up artist and hair stylist but an expected constant. Women (and men) are embracing options that don't require constant touch ups; in fact, they don't want to have to apply them at all, thus leading to the popularity of long lasting, "natural" solutions.
Whether it's by shampooing less every week (or not at all) or taking advantage of the latest scientific advances, people are clearly finding ways to combine the benefits of both worlds and the new natural look is here to stay. Some people may choose to "go natural" full time, but it is safe to say that nearly everyone is experimenting with the idea of skipping nail polish for a week or wearing no make up when on vacation.
And of course there are those lovely machines and the science that makes it all possible.
TOP 10 SPA & WELLNESS TRENDS FOR 2014
MORE SPA & WELLNESS TRENDS